Colombo, Sri Lanka Passenger Lists 1947-1954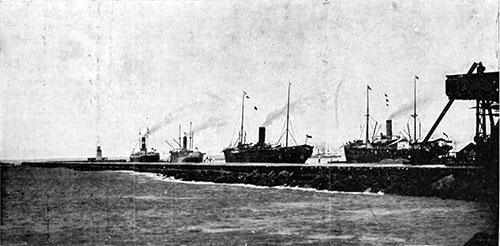 View of the Breakwater at Colombo Harbor. They Syren & Shipping Illustrated, 26 February 1908. GGA Image ID # 1471d3244f
Passenger Lists available from the GG Archives from the Port of Colombo, Sri Lanka. Organized by Date of Departure, Steamship Line, Steamship or Ocean Liner, Class of Passengers, Route, and the Ship's Captain.
Colombo is the largest city of Sri Lanka. It is located on the west coast of the island and adjacent to Sri Jayawardenepura Kotte (which is the official capital of Sri Lanka) suburb or the parliament capital of Sri Lanka.
Due to its large harbour and its strategic position along the East-West sea trade routes, Colombo was known to ancient traders 2,000 years ago. It was made the capital of the island when Sri Lanka was ceded to the British Empire in 1815, and its status as capital was retained when the nation became independent in 1948.