Boston Passenger Lists 1887-1939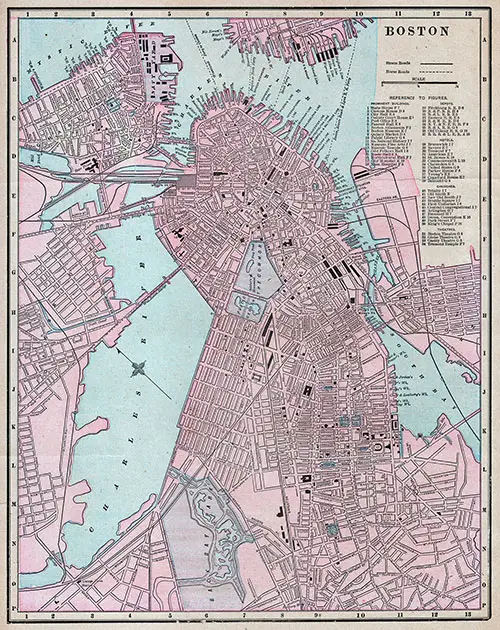 Map of Boston Harbor, 1899. GGA Image ID # 19eb1a7fec
Boston is the capital and largest city of the U.S. state of Massachusetts, officially the Commonwealth of Massachusetts; Boston also serves as county seat of the state's Suffolk County.
Below are Passenger Lists of ships with a origination or destination of Boston with immigrants landing at the Boston Immigration Station or Customs House for processing.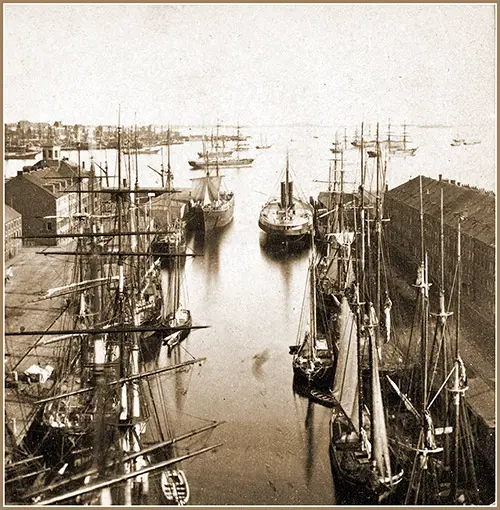 Boston Harbor and East Boston from State Street, circa 1900. Photo by John P. Soule. GGA Image ID # 1d4a2241c5
1880s
Cunard Line
1890s
Cunard Line
Dominion Line
1900s
Cunard Line
Dominion Line
Leyland Line
White Star Line
1910s
Cunard Line
White Star Line
1920s
Anchor Steamship Line
Cunard Line
Fabre Line
Hamburg Amerika Linie / Hamburg American Line (HAPAG)
Leyland Line
North German Lloyd / Norddeutscher Lloyd
White Star Line
1930s
American Export Lines
American Merchant Lines
Anchor Steamship Line
Cunard Line
Hamburg America Line / Hamburg-Amerika Linie (HAPAG)
Holland-America Line
White Star Line
Note: Typically, only the origination and final destination ports are listed in each link. Other intermediary ports of call are not listed.
Cunard Wharf at Boston Harbor. Postcard Published by the Metropolitan News Co., Boston. Postally Used in 1908. GGA Image ID # 1d4a512530
Boston Immigration Service
Long Wharf, Atlantic Avenue (foot of State Street).
Telephone, Main 380.
United States Commissioner of Immigration
Colonel George B. Billings
Assistant Commissioner
Jeremiah J. Hurley
Surgeon in Charge
Dr. M. V. Safford
The principal function of this Bureau is to examine arriving immigrants to see that the provisions of the various laws are carried out forbidding the landing of certain prohibited classes, among which are convicts, lunatics, idiots, persons suffering from loathsome or dangerous and contagious diseases, paupers, persons likely to become public charges, prostitutes, polygamists, contract laborers and others.
Immigrants arrived 1911:
Steerage 39,007
Cabin 22,889
Total. 61,896
Immigrants arrived 1912:
Steerage 48,194
Cabin 23,832
Total 72,026
QUARANTINE DEPARTMENT
100 Summer Street.
Telephone, Main 6084.
Chairman: F. X. Mahoney, M.D.
Commissioner: P. H. Mullowney, M.D.V.
Location of quarantine: Gallops Island, reached by the quarantine boat, the steamer "Vigilant."
Hours of quarantine: sunrise to sunset.
Port Physician: F. X. Crawford, M.D.
Assistant Port Physician: Edward M. Looney, M.D.

The Quarantine Department is under the control of the Health Department of the city of Boston. The Board of Health makes regulations governing quarantine which are enforced by the Port Physician. The Port Physician, Assistant Port Physician, and all other employees on Gallops Island and on the boats necessary to carry into effect the rules, orders, and regulations of the Board of Health, are appointed by this department.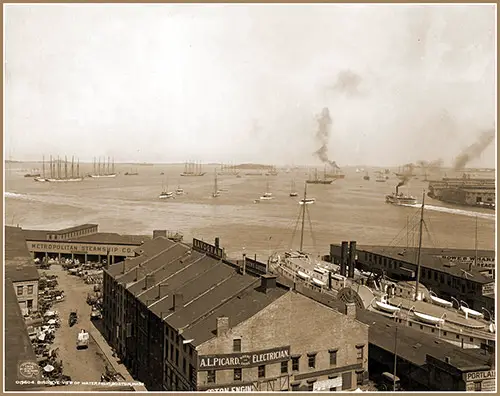 Bird's-Eye View of the Boston Waterfront, ca 1906. Boston Docks and Harbor, With Sail and Steam Vessels, Including Side Wheelers. Detroit Publishing Company. Library of Congress # 2005691058. GGA Image ID # 1d4abdcf7b
The instructions and orders of the national government regarding the quarantine are enforced by the Port Physician through this department. The latter has entire charge and supervision of the quarantine station at Gallops Island where he or his assistant is in attendance continually.
On Gallops Island are located a dwelling house, two hospitals, dining hall, two buildings for the reception and care of immigrants, disinfecting plant, electric light plant, store house, etc.
The quarantine steamer "Vigilant," 73 £ tons burden, about 5 feet in length, 17 feet beams, 8 feet deep, was built in Boston in 1866 at a cost of $18,000; rebuilt in 1912 at a cost of $15,000. The steamer "Relief," which is an auxiliary quarantine boat was purchased in 1904, $3800.
Boston Chamber of Commerce, Handbook of the Port of Boston, Boston: The Committee on Foreign Trade of the Boston Chamber of Commerce, 1913, pp. 144, 212.
Related Categories
Ephemera & History
Steamship & Ocean Liners
Ports of Call Information
SS RMS MV - Defined
PLs By Year of Voyage
PLs By Port of Call
PLs by Region
PLs By Steamship Line