SS Aurania Passenger List - 31 March 1931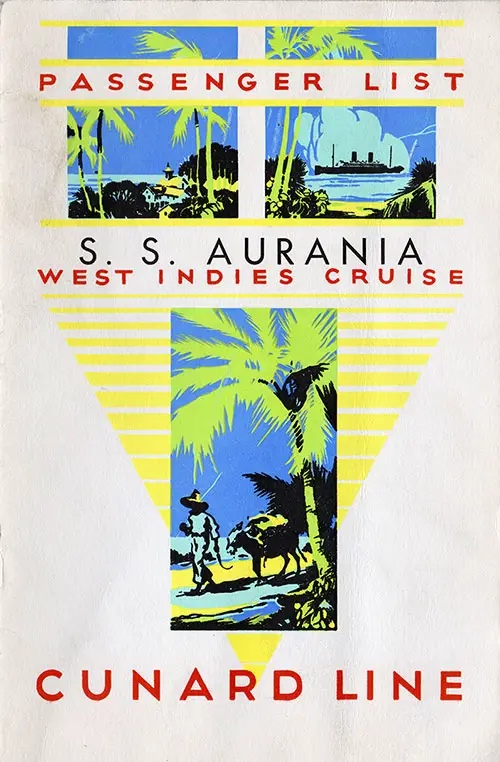 Front Cover of a Cruise Passenger List from the SS Aurania of the Cunard Line, Departing 31 March 1931 from Boston and New York to Bermuda, Nassau, Havana, New York, and Boston, Commanded by Captain G. R. Dolphin, R.D., R.N.R. GGA Image ID # 1613c04bdd
Senior Officers and Staff
Captain: G. R. Dolphin, R.D., R.N.R.
Chief Engineer: J. Bond
Chief Steward: E. Sharp
Chief Officer: E. M. Fall, D.S.C., R.D., R.N.R.
Surgeon: J. D. Doherty
Purser: L. K. Connolly
Assistant Purser: J. M. Carlyle
Cruise Director: S. B. Stewart
Assistant Cruise Director: A F. Donovan
Assistant Cruise Director: E. T. McLean
Assistant Cruise Director: E W. Packer
Hostess : Iras Arnold
Chaplain : Rev. John Sharp
In Charge of Shore Excursions: Charles A. Martin
In Charge of Shore Excursions: James C. Hawkins
In Charge of Shore Excursions: Edward P. Skinner
Cruise Passengers
EMBARKING AT BOSTON
Mr. Clinton Abbott
Mrs. Abbott
Mrs. Allan Barrows
Dr. R. H. Baxter
Mrs. Baxter
Mrs. David Berquist
Miss Grace Berquist
Miss Georgette Binney
Mrs. Laura Bradford
Miss Inez Brown
Mr. Earle L. Browne
Mrs. William C. Canning
Mrs. M. S. Coffin
Miss Ella T. Coughlin
Mrs. IL C. Dowding
Miss Gertrude England
Miss Jane H. England
Miss Ethel Findlay
Mrs. N. M. Flagg
Mr. J. V. Flanagan
Mrs. Mary Flanagan
Miss Gene Flipsey
Miss Alice Gibson
Mrs. John Glennon
Miss Marion Gore
Mrs. George M. Gray
Mr. Gross
Mrs. Gross
Miss Helen C. Hale
Mrs. N. B. Harpin
Dr. A. E. Harris
Dr. Arthur J. Hewett
Mrs. Hewett
Miss Ellen Hewett
Miss Julie Hewett
Mr. Converse Hill
Mrs. Hill
Mr. H. B. Hiller
Mrs. Hiller
Mrs. Robert S. Hillyer
Mrs. H. A. Holt
Miss Edna Hubbard
Mr. James M. Hurley
Miss Pauline Kelleher
Mr. Robert F. Kelley
Miss Margaret J. Knightley
Miss Elsie Lacey
Mrs. C. P. Lafayette
Miss Dolores Ann Lafayette
Miss Catherine E. Laing
Miss Phyllis E. Laing
Mr. J. R. Larkin
Miss Geraldine R. Larkin
Mr. W. F. McColough
Miss Isabel E. McFarlane
Miss Edith McGowan
Miss Katherine M. McHugh
Miss Katherine McLaughlin
Mr. J. Freeman Marstem
Mrs. L. W. Martin
Miss Mary K. Mendum
Mr. W. E. Murphy
Miss Gladys J. Newton
Mr. Oscar A. Nierendorf
Mrs. Nierendorf
Mr. John E. O'Brien
Mrs. O'Brien
Miss Claire O'Brien
Mr. Harold Payson
Mrs. Payson
Miss M. Elizabeth Person
Mr. Stewart L. Pratt
Mr. George J. Purrington
Mr. H. C. Read
Mrs. Read
Mr. Joseph A. Recomendes
Mr. Francis X. Recomendes
Miss Emma Robertshur
Mrs. S. W. Rodgers
Mr. Alfred E. Sebbins
Mr. John H. Tilton
Mrs. Tilton
Mr. Richard Tingey
Mrs. Tingey
Mrs. A. B. Toppan
Mrs. Ruby J. Tracey
Mrs. Fred E. Trecartin
Miss Edna Weber
Miss Marie L. Weld
Miss Vera White
Mr. A. B. Whitney
Miss Ellen Whitney
Mr. Robert H. Wilder
Mr. James Wood
Mrs. Wood
Mr. E. B. Yates
Mrs. Yates
EMBARKING AT NEW YORK
Mr. S. W. Ackerman
Mrs. Ackerman
Mr. Barney Ain
Mrs. Merritt Ashworth
Miss Gertrude Bach
Miss Frances Bach
Mr. D. H. Baird
Mrs. Baird
Miss Margaret Baldwin
Miss Daisy Barnes
Miss Alma D. Bayer
Miss lsabel Beveridge
Mrs. P. E. Bibily
Miss Elizabeth Boyer
Mrs. Thomas P. Brenack
Mrs. Fred Bright
 Mr. John Brooks
Miss Lillian Bryant
Miss M. Bulson
Mrs. Flora A. Cahoon
Miss A. V. Carney
Capt. W. R. Chalmers
Mrs. Chalmers
Mrs. Stanley Chandler
Miss M. Adele Chaney
Miss J. Chester
Miss A. Chester
Mr. Arban Clarke
Mrs. Clarke
Master Lloyd Clarke
Miss Margaret M. Clinton
Miss Margaret L. Colson
Miss Mary Conneff
Miss E. Connelly
Mr. A. George Corben
Mrs. Corben
Miss M. Crowe
Mr. J. R. Crunkleton
Mrs. Crunkleton
Miss M. R. Crunkleton
Miss V. Crunkleton
Master J. R. Crunkleton
Master R. D. Crunkleton
Miss Margaret E. Cunningham
Miss Lucille Current
Miss 1 leien Davies
Miss Aimee P. Dealy
Mr. William K. Dehnert
Miss E. J. Doyle
Miss M. Dwyer
Dr. William M. Dyer
Mrs. Dyer
Mrs. R. Early
Mr. Edward Early
Mr. E. F. Eddy
Mrs. Eddy
Miss Irene Edmonds
Mrs. J. K. Elcock
Mr. William J. Elder
Mrs. Elder
Mrs. Margaret Elston
Mr. Wylie B. Ewing
Mrs. Ewing
Mr. R. S. Feeley
Mrs. Feeley
Mr. Harold H. Feigen
Mrs. Fisher
Mr. Edgar M. Fisher
Mr. J. E. Fortin
Mrs. Fortin
Mr. William French
Miss T. Geffner
Mr. Eugene Goff
Mrs. Goff
Mr. John Gorman
Mrs. Mary J. Graham
Miss Nan Graham
Mr. D. F. Groff
Mr. G. F. Groff
Mrs. D. F. Groff
Miss Ruth 0. Groff
Miss Nettie M. Groff
Mr. Harry E. Hackett
Mrs. Hackett
Mr. Harry Hadfield
Mrs. Hadfield
Mr. Millard Harcourt
Mrs. Harcourt
Miss Mary Harty
Mr. G. Heins
Mrs. Heins
Mrs. H. G. Henwood
Miss Janet Henwood
Mrs. Francis Honeywell
Mr. H. P. C. Hope
Mrs. Hope
Mr. A. C. Howatson
Mrs. Howatson
Mr. W. N. Hubbard, Jr.
Mr. W. P. Hubbard
Miss Mildred Igoe
Miss Marian Igoe
Mrs. F. Sheldon Jaffray
Mr. Moorhouse L. Johnson
Mrs. Johnson
Miss Elsie Johnson
Miss S. Kalstein
Mr. James F. Kane
Mrs. Kane
Master J. K. Kane, Jr.
Miss Margaret Kane
Miss Jeannette M. Kane
Mr. George Kaplan
Miss Hannah Kasindorf
Miss Catherine Kennedy
Mrs. Eugene Kent
Miss Pearl Klick
Mr. George Kollman
Mrs. Kollman
Mr. Louis Kraeutler
Mrs. Kraeutler
Mr. J. G. Kremer
Mrs. Kremer
Miss M. Krohl
Mrs. Charles G. Kutrolos
Mr. M. Lanzner
Mrs. Lanzner
Mr. E. Lascaris
Mrs. Lascaris
Miss Helen Lee
Mr. Louis Lipsius
Mrs. Alice Lloyd
Miss Una Lucas
Miss M. Lukis
Mrs. E. C. McDermott
Miss Frances McGarry
Dr. W. A. McGrath
Mrs. McGrath
Mr. B. J. McGuire
Miss Catherine McGuire
Miss Anna McGuire
Mr. C. J. McKnight
Mrs. McKnight
Mr. William F. Marshall
Mrs. Marshall
Miss Edith M. Martin
Miss Bess Mashbir
Miss Helen Milton
Miss Elsie Moeckel
Mrs. Harry Montz
Mr. Albert Morris
Mrs. Morris
Capt. Emil E. Morse
Mr. Raymond Myers
Miss Laura Nallin
Mr. Carl A. Naugle
Mrs. Naugle
Mr. Russell G. Nesbit
Mrs. Nesbit
Miss Margaret Noon
Mr. J. F. O'Keefe
Dr. M. E. Ornstein
Mrs. Ornstein
Miss Dorothy Painz
Mr. Charles F. Paul
Mrs. Paul
Mr. Roscoe Peacock
Mrs. Peacock
Mrs. David Pearson, III
Mr. William S. Pike
Mrs. Pike
Mr. H. Pinstein
Mrs. Pinstein
Mr. C. R. Pitcher
Miss Marguerite Potter
Mrs. Joseph Paul Quin
Master Joseph Wafer Quin
Miss Hope Rankin
Mr. William T. Reeves, Jr.
Mr. Ray Reid
Mr. C. E. Reid
Dr. George M. Reinhart
Mrs. Reinhart
Miss E. F. Reinhart
Mr. H. C. Reinhart
Mrs. J. H. Rianhard
Mr. Ralph Richmond
Mrs. Richmond
Mr. John M. Robsion, Jr.
Dr. Isabel C. Rockwell
Miss Marv C. Roger
Mr. A. J. Rosman
Mrs. Rosman
Mr. David Rubin
Miss E. Schacht
Mrs. Walter Schaefer
Miss Elizabeth R. Schaeier
Mr. Albert W. Schede
Mrs. Schede
Miss Evelyn Schede
Mr. Alfred Schlessinger
Mrs. Schlessinger
Miss Elizabeth J. Schmidt
Mrs. Helen M. Schramm
Miss Meta Schumaher
Miss I. Scully
Miss E. Sharp
Mr. Wilbur Shenk
Miss Julia M. Sheridan
Mr. J. W. Sherwood
Mrs. Sherwood
Miss A. Shiffman
Miss Hortense Silver
Mr. Robert J. Smith
Mrs. Smith
Miss Carolyn E. Smith
Miss Harriet Spitzer
Mr. Gilbert T. Stodola
Miss G. M. Stolts
Mr. W. L. Stoneman
Mrs. Stoneman
Mr. Charles J. Stones
Mrs. Stones
Miss Rose Strabette
Miss Mary E. Swab
Mr. John Thompson
Mrs. Thompson
Miss Virginia Thompson
Miss Charlotte Thompson
Miss Agnes Tierney
Miss Ella A. Timory
Mr. Joseph Tishman
Mrs. Tishman
Mr. Stewart R. Todd
Mrs. Todd
Mr. Joseph A. Tryon
Mrs. Tryon
Mrs. Thomas P. Tunny
Mr. John Van Vlaanderen
Mrs. Van Vlaanderen
Mrs. Lamar Voorhees
Miss Florence Wafer
Miss L. Irene Wafer
Mr. William W. Walker
Mrs. Walker
Miss Marjorie Walker
Mr. E. M. Walter
Mrs. Walter
Miss Isabel Wamsley
Mr. Lewis D. Waters
Mrs. Waters
Miss Waters
Dr. Harry Weinstein
Mrs. Weinstein
Mr. Joseph Wiekes
Lieut. Otto Wiesendanger
Mr. J. E. Willis
Mrs. Willis
Mr. Joseph C. Wilson
Mr. Richard U. Wilson
Mr. Joseph R. Wilson
Mrs. Wilson
Miss Bessie Workman
Mrs. E. Worthman
Miss Dorothy Worthman
Mrs. E. Zeigenhain
Mrs. Rosella Zeuner
Information for Passengers
MEALS will be served at the following times in the Dining Saloon:—
Breakfast at 8 a.m.
Luncheon at 1pm.
Dinner at 7p.m.
The Bars will not be open later than Midnight, but it is within the discretion of the Commander to close them during the voyage at any time should he consider this course desirable.
SEATS AT TABLE. Application may be made to the Second Steward for table reservations.
DIVINE SERVICE on Sunday at 10.30 a m There are also facilities on board for the celebration of Mass.
DECK CHAIRS AND RUGS may be hired on application to the Deck Steward. Each Rug is contained in a scaled cardboard box. and bears a serial number worked into the material so that passengers will have no difficulty in identifying their rugs. At the end of each voyage, the rugs which have been in use are sent to the store and thoroughly cleaned, before being re-issued. Prices: $1.50 for Deck Chairs: $1.50 for Rugs.
THE SURGEON is authorized to make customary charges for his services, subject to the approval of the Commander.
LIBRARIES. In addition to a Library of Standard Works, a special selection of up-to-date literature is available for the use of passengers.
PORT HOLES. Passengers should request their Bedroom Stewards to open and close the port holes in the Staterooms, as required. It is dangerous for passengers to handle these themselves.
BERTHING OF PASSENGERS. No alterations can be made except officially through the Cruise Director.
BARBER The Barber's Shop is situated on "B" Deck Aft; Hairdressing Salon on "B" Deck Aft.
VALUABLES. The Company is not responsible for theft if valuables or money are kept in the Staterooms. The same should be placed in charge of the Purser for deposit in his safe, and a receipt will be given on the Company's form.
As no charge is made for carriage the Company cannot accept any responsibility for loss or damage however arising. Passengers are accordingly advised to protect themselves by insurance.
BAGGAGE. Passengers are recommended to insure their baggage, as the Company's liability is strictly limited in accordance with contract ticket. All enquiries regarding baggage on hoard ship should be addressed to the Baggage Master.
TRAVELERS' CHEQUES. For the convenience of passengers the Purser is prepared to cash Travelers' Cheques up to moderate amounts. Passengers are particularly requested not to ask for large amounts to be cashed, as in the event of that happening it is impossible to carry sufficient funds to deal with all the applications.
DARK ROOM For the me of passengers who wish to develop photographs, a Dark Roam has been provided on board under the supervision of an experienced photographer, who will render any assistance required.
ORCHESTRA. The "COLUMBIA COLLEGIANS" orchestra will play at various times during the day in addition to the Regular ship's orchestra.
WIRELESS SERVICE. This ship is equipped with special up-to-date wireless apparatus which enables passengers to keep in constant touch with their friends or business houses during the cruise. Messages should be handed in at the Wireless Office where full information regarding rates, etc., may be obtained
SPECIAL NOTICE
In order to insure the cruise schedule being efficiently maintained it is essential that the ship sail from all ports at the advertised time. To effect this all passengers are most particularly requested to inform their bedroom stewards of their return on board after sightseeing, etc., on shore. This is the only way by which your return to the ship can be made known to the ship's officers.