RMS Aurania Passenger List - 20 June 1930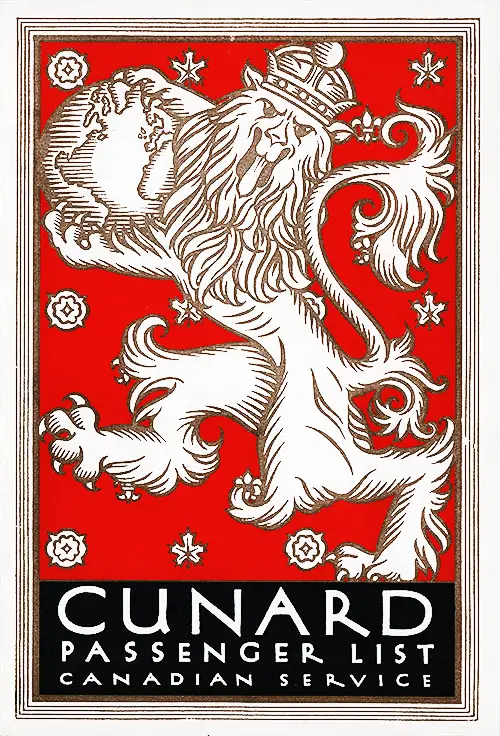 Front Cover of a Cabin and Tourist Third Cabin Passenger List from the RMS Aurania of the Cunard Line, Departing Friday, 20 June 1930 from Montreal to London via Plymouth and Le Havre, Commanded by Captain G. R. Dolphin, RD, RNR. GGA Image ID # 13073e8e31
Senior Officers and Staff
Captain: G. R. DOLPHIN, R.D., R.N.R.
Chief Engineer: G. G. ARMIT
Chief Steward: J. SNOWDEN
Chief Officer: F. C. HARTLEY, R.D., R.N.R.
Surgeon: R. W. G. STEWART
Purser: L. K. CONNOLLY
Assistant Purser: J. M. CARLYLE
Tourist Third Cabin Purser: A. E. SOLLAS
Tourist Third Cabin Steward: S. RANDALL
Conductress: Mrs. A. M. SPOOR
Cabin Passengers
Andrews, Mr. G. S.
Andrews, Mrs.
Argabright, Miss Laveme
Armstrong, Miss Mary
Armstrong, Miss Lola Mae
Armstrong, Miss Edith
Aronin, Mr. J.
Aronin, Mrs.
Aronin, Master I. J.
Aronin, Master J.
Ashley, Miss Lois
Astley, Miss Sheila
Bailey, Miss Kate
Bailey, Miss Ann
Beattie, Miss Jessie
Beckett, Mr. A.
Bell, Miss Nellie P.
Bergman, Mr. H. A.
Bernier, Judge Alphonse
Bernier, Mrs.
Bexon, Mrs. W.
Bigelow, Mr. H. W.
Bigelow, Mr. A. S.
Blanchard, Miss A.
Bond, Miss Catherine
Brock, Mrs. R. A.
Brock, Miss A.
Brock, Miss Ruth D.
Brynolson, Mr. F. G.
Brynolson, Mrs.
Brynolson, Miss G.
Cartwright, Mr. Charles
Chapin, Mrs. Virginia
Chapin, Miss Eunice
Chiron, Rev. J. M.
Chrestman, Judge M. N.
Chrestman, Mrs.
Clark, Miss Grace A.
Clinton, Mrs. L. E. Fiennes
Clinton, Miss E. Fiennes
Coates, Miss E.
Coleman, Miss Julia
Common, Mr. George L.
Common, Mrs.
Cornish, Mrs. M. A.
Coveny, Miss Maria T.
Coughlin, Mr. D. B.
Cowans, Mr. Fred
Cowans, Miss Ruth
Cummins, Miss G.
Curran, Mrs. Emma
Curran, Miss Beryl
Curran, Miss Mary
Cuthbert, Miss A. M.
Davies, Mr. F. H.
Davies, Mrs.
Desrosiers, Mr. L. G.
Deutsche, Mrs. Harriet
Dimberton, Rev. L.
Dobbs, Rev. James
Dobbs, Mrs.
Drean, Rev. J. M.
Dresser, Mrs. F. M.
Dunlop, Mrs. A. F.
Dunlop, Miss D.
Eckman, Mrs. G. P.
Eckman, Miss Margaret
Edwards, Mrs. B. B .
Edwards, Miss E.
Eubanks, Miss Barbara
Eubanks, Miss Rea
Farthing, Rt. Rev. J. C., D.D.
Fitch, Mrs. Geo.
Folchemer, Miss Elizabeth
Fosbery, Dr. C. S.
Fuller, Miss Rose A.
Gardner, Mr. W.
Garrouteight, Rev. J. H.
Gray, Miss Ethel Lee
Gray, Prof. H. L.
Griffith, Mr.
Gruber, Mr. Earl F.
Gruber, Mrs.
Guest, Mrs. John
Gurd, Miss Muriel M.
Hamilton, Mr. H. G.
Hamilton, Mr. H. W.
Hancock, Mrs. J. M.
Hancock, Miss Joan
Hancock, Master J.
Hanlon, Miss Stella
Hatton, Miss G. E.
Hendel, Prof. C. W., Jr.
Hendel, Mrs.
Hendel, Master James
Hendel, Master Charles
Hewston, Mr. E. W.
Hewston, Mrs.
Howard, Mrs. Esther
Howard, Miss
Howard, Miss
Hopkins, Mrs. Maud T.
Howell. Miss Marion G.
Howell, Miss Edith
Hudson, Mr. C. S.
Hudson, Mrs.
Jackson, Miss Bessie
Jacobson, Mrs. Julia
Jego, Rev. P. M.
Johnson, Miss Lillian
Jorgenson, Mr. A.
Kershaw, Mr. F. J.
Kierman, Miss Vera
Kingston, Mr. C. B.
Knudston, Mr. R.
Knudston, Mrs.
Kollmansperger, Miss Martha
Krachcnbuhl, Mr. A. E.
Lake, Miss D. E.
Lane, Miss Jessie
Laughlin, Miss Edith C.
Learmonth, Miss L. E.
Lobbs, Mrs.
MacMurray, Miss K.
Maxwell, Mr. D. R.
Maxwell, Mrs.
Merrill, Mr. Robt. H.
Michler, Mr. Paul
Miller, Mr. D. H.
Milton, Mr. John B.
Morton, Miss Cora
Moulinot, Rev. Jean
Munro, Rev. Kenneth, B. D.
McGee, Mr. J. A.
McGee, Mrs.
McIntosh, Mrs. A. H.
McMurray, Mr. E. J.
Nougier, Mr. Marcel
Oppe, Mr. James
Osborn, Mrs. Orpha
Parker, Mr. Archibald G.
Patch, Mr. Howard H.
Pearce, Miss G. 0.
Peasgood, Mr. M.
Pitts, Mrs. Catherine M.
Plantikow, Miss Lyla G.
Plantikow, Miss Miranda
Provost, Mr. Pierre
Provost, Mrs.
Reiff, Miss Marion
Rindelaub, Mr. R. C.
Rindelaub, Mrs.
Ruetell, Mrs. A. F.
Seay, Mr. George Seay, Mrs.
Shepherd, Mrs. Minnie R.
Skeoch, Mrs. Jane
Smellie, Miss Elizabeth L.
Smith, Miss Florence E.
Stahl, Mr. Rodolphe
Steer, Mrs. C. L.
Steer, Miss Evelyn
Steer, Miss Genevieve
Stoddard, Mr. Ralph
Stone, Mr. H.
Strohmeyer, Mr. Rudolph
Strohmeyer, Miss Harriet
Sutherland, Miss Margaret
Teping, Miss Helena
Terrill, Mr. M. B.
Terrill, Mrs.
Thomas, Miss Ellen
Thomas, Rt. Rev. W. H.
Thomas, Miss Betty M. D.
Thorne, Judge R. J.
Thorne, Mrs.
Townsend, Mrs. C. N.
Tremblay, Miss Gabriel
Townsend, Miss Joan
Townsend, Miss Celia
Tucker, Mr. V. H.
Tucker, Mrs. V. H.
Turgeon, Mrs. Duckett
van Shalwyjk, Dr. L. M.
van Shalwyjk, Mrs.
Vandersoll, Miss
Venting, Dr. Albert
Walker, Miss Laura
Wambough, Miss
Whetstone, Mr. C. P.
Whetstone, Mrs.
Williams, Mr.
Williamson, Miss Alice
Wratten, Mr. Sydney H.
Wratten, Mrs.
Wratten, Miss Joan S.
Young, Mr. R. L.
Young, Mrs. M. L.
Tourist Third Cabin Passengers
Aylesworth, Miss Bessie C.
Alderman, Miss Beatrice S.
Alleman, Miss Julia
Allyn, Miss Florence
Ballman, Miss Anna F.
Beal, Miss H.
Beech, Miss May
Berkleman, Prof. Robert
Berkleman, Mrs. Robert
Billings, Miss Marjorie
Blackstock, Miss Constance
Blandford, Mrs. E. W.
Blandford, Miss R.
Bohlke, Mr. B. L.
Bohlke, Mrs. B. L.
Boland, Miss Ella
Brill, Miss M. L.
Brown, Miss Una K.
 Brown, Miss Dorothy
Brune, Miss H.
Brune, Miss L.
Brownwell, Miss A.
Brownwell, Miss H. L.
Butler, Miss Ellen
Buse, Mrs. Agnes
Campbell, Miss A.
Carney, Miss M. H.
Carney, Mrs. G. D.
Carney, Miss R. N.
Carney, Mr. George D., Jr.
Carney, Mr. George D.
Chantier, Mr. K.
Christy, Miss Elizabeth
Chugg, Miss Maud
Cleaveland, Mrs. R. W.
Clement, Miss Julia
Cram, Mrs. V. M.
Dalzell, Miss Fan L.
Depew, Miss Mary E.
Depew, Miss Lydia E.
Diehl, Mrs.
Dena S.
Dock, Miss E.
Dock, Mrs. F. J.
Dunnett, Miss A.
Edwards, Miss Katherine
England, Miss K.
English, Miss Jeanette M.
Fant, Miss M. D.
Foley, Mr. L.
Freeman, Miss Emily
Fulton, Miss Edith
Gehrman, Miss Agnes
Gehrman, Miss Meta
Gentili, Mr. A.
Gilman, Mr. Drew B.
Goodspeed, Miss Eleanor
Goodwin, Miss H.
Gray, Miss Jane E.
Grover, Miss G. M.
Hallett, Mr.
Hamm, Miss Florence B.
Hamm, Miss Colette
Hanen, Miss Barbara
Hanson, Mr. John R.
Harris, Miss Gweno
Hastings, Mr. A. E.
Hay, Miss O.
Hays, Miss Vivian B.
Hines, Mr. O. E. J.
Hines, Mrs. 0. E. J.
Hogan, Miss Lillian
Horton, Miss Evelyn A.
Hunt, Miss Emma
Hunter, Miss Margaret L.
Hundley, Miss Nancy
Jutras, Dr.
Knight, Miss Rowa
Korista, Miss Frances
Korista, Miss May .
Laug, Mr. G.
Laug, Mr. H. F.
Laug, Mrs. G.
Laug, Miss R.
Laug, Mrs. J.
Lauder, Mrs. A. W. H.
Little, Rev. H. M.
Lloyd, Miss Bertha E.
Lloyd, Miss Ethel S.
Lorenzen, Mr. E. E.
Lorenzen, Mrs. E. E.
Lyon, Miss L.
Macnott, Miss
Maitland, Miss Jessie G. B.
Maloney, Miss Helen
Mallory, Miss Bertha
Masse, Miss Jeanne
Mauzy, Mr. C.
Meeker, Miss Dorothy
Meeker, Mrs. Lewis C.
Mills, Mr.
Mills, Miss E.
Middlemas, Miss M.
Milton, Miss M. M.
Moery, Miss M.
Moon, Miss L.
Moore, Mrs. D. L.
Monroe, Mr. Bob A.
Monroe, Mr. R. E.
Murdock, Miss
McCorkle, Mr.
McCorkle, Mrs.
McCredy, Miss R.
McKenney, Miss Eleanor
Nickens, Miss B.
Neale, Miss Mary M.
Nelson, Miss L. 0.
Newton, Mr. R.
O'Brien, Miss Jean
Ogborne, Mr. H. S.
Oke, Mr. H. R.
Oke, Mrs. H. R.
Park, Miss A.
Parks, Mrs. J. S.
Parsons, Miss Grace
Parsons, Miss Marjorie
Peterson, Mr. John
Peterson, Mrs. Hilda
Pile, Mr. J. E.
Pile, Master Donald
Pitcher, Miss Eleanor L.
Pratt, Miss Alice D.
Putnam, Miss Marguerite
Reed, Miss Helen F.
Reese, Miss Leila
Ressmeyer, Miss Emma
Reynolds, Mr. P.
Reynolds, Mrs. P.
Roberts, Miss Helen
Robins, Mr. J. D.
Robinson, Miss K. U.
Robinson, Miss L. M.
Roop, Miss F.
Roop, Miss L.
Root, Miss Mary
Ross Miss Virginia
Shelby, Miss Jane
Shelby, Miss Rebecca
Sherman, Miss Charlotte
Schimmell, Miss L. W.
Schmidt, Miss E.
Schmidt, Mrs. A.
Schmidt, Miss A.
Scholes, Miss Mary E.
Schumacher, Miss Julia M.
Shuman, Miss R.
Squire, Mr. William E.
Stirling, Mr. C.
Strong, Mrs. Jessie
Sullivan, Miss Elizabeth I.
Tar, Miss
Taylor, Miss J. B.
Thomas, Mr. W. R.
Thomas, Mrs. J. E.
Thomas, Miss M. L.
Timm, Miss E.
Tolerton, Mr. William
Trueman, Miss Audrey C.
Vanucci, Mr. C.
Vandemeulebrooke, Madame B.
Vandemeulebrooke, Mlle H.
Vivier De, Miss Florence R.
Vodenhafer, Miss
Waddle, Miss Virginia
Waite, Mrs.
Waite, Mr.
Walker, Miss Jean
Walker, Miss Mildred
Ward, Miss Marie
Waugh, Mr. Robert M.
Weir, Miss Julia M.
Winter, Mrs. E. W.
Wilson, Mrs. R. H.
Wolff, Miss G. M.
Zeigler, Miss Agusta
Corrections to Cabin Passenger List.
ADDITIONAL
Miss Angelo Beckman      
Miss A. Bird 
Miss O. Hay 
Mr. C. Mauzy
Baron S. Sarorlo
Baroness A. Sarorio
Mrs. H. Schmid
Mrs. L. Schimmel
DID NOT EMBARK
Miss Ellen Thomas
ERRATUM.
Master I. J. Aronin should read Miss I. J. Aronin
Mrs. W. Bexon should read Mrs. M. Bexon
Miss A. Blanchard should read Mrs. S. Blanchard
Miss Beryl Curran should read Mrs. Beryl Curran
Miss E. Edwards should read Miss M. Edwards
Mr. G. L. Common should read Mr. George R. Common
Miss Elizabeth Folchemer should read Miss Elizabeth Folekemer
Rev. J. H. Garrouteight should read Rev. J. H. Garrouteigt
Miss Vera Kierman should read Miss Vera Kummer
Mr. A. E. Krachenbuhl should read Mr. A. E. Kraehenbuhl
Mr. B. Knudston should read Mr. R. Kudtzon
Mrs. Knudston should read Mrs. Kudtzon
Miss L. E. Learmonth should read Mrs. F. E. Learmonth
Mrs. Lobbs should read Mrs. Nobbs
Mr. R. C. Rindelaub should read Mr. R. C. Rindeleaub
Mrs. Rindelaub should read Mrs. Rindeleaub
Mrs. Minnio R. Shepherd should read Mrs. Minnie R. Sheppard
Miss Vandersoll should read Miss Vandersall
Miss Wambough should read Miss Wambaugh
Mrs. Whetstone should read Miss Whetstone
Corrections to Tourist Third Cabin Passenger List
ADDITIONAL
Mr. S. Blackstone
Miss M. Beauchamp
Mr. D. Browning
Miss D. Dobyns
Mr. A. Gow
Mrs. M. Hilliard
Mrs. W. Magor
Miss It. Magor
Miss P. Murdock
Mr. J. Rosseau
Miss J. Sutherland
Miss M. Sutherland
DID NOT EMBARK
Miss Ella Boland
Miss J. Clement
Miss Emily Freeman
Miss H. Goodwill
Mr. Hallett
Miss Macnott
Miss Helen Maloney
Miss Jeanne Masse
Mr. C. Mausy
Mr. McCorkle
Mrs. McCorkle
Miss A. Park
Miss Grace Parsons
Miss Marjorie Parsons
Miss F. Roop
Miss L. Roop
Miss L. W. Schimmell
Mrs. A. Schmidt
Miss A. Schmidt
Miss Tar
Miss Vodenhafer
Mrs. Waite
Mr, Waite
Mr. Robert M. Waugh
Miss Augusta Zeigler
ERRATA
Miss Bessie C. Aylesworth should read Miss Bessie C. AlysWorth
Miss A. Brownwell should read Miss A. Bromwell
Miss H. L. Brownwell should read Miss H. L. Bromwell
Miss A. Campbell should read Mrs. M. Campbell
Mrs. R. W. Cleaveland should read Miss R. L. Cleaveland
Miss K. England should read Mrs. K. England
Miss Barbara Hanen should read Miss Barbara Hansen
Miss M. Middlemas should read Miss M. Middlemiss
Miss Mary Root should read Miss Mary Hoot
Mrs. E. W. Winter should read Mrs. E. M. Winter
Master Donald Pile should read Master Ronald Pile
Récapitulation:
205 CABIN PASSENGERS
170 TOURIST THIRD CABIN PASSENGERS
179 THIRD CLASS PASSENGERS
654 TOTAL PASSENGERS
305 CREW
859 TOTAL SOULS ON BOARD
Information for Passengers
MEALS will be served at the following times:
When one sitting:
Breakfast: 8 a.m.
Luncheon: 1 p.m.
Dinner : 7 p.m.
When two sittings:
Breakfast: 7.30 a.m. and 8.30 a.m.
Luncheon: 12.30 p.m. and 1.30 p.m.
Dinner: 6.30 p.m. and 7.30 p.m.
SEATS AT TABLE—Application may be made at any of the Chief Offices, in advance, or to the Second Steward on board the Steamer on day of sailing.
THE BARS in the Smoke Room will not be open later than midnight, but it is within the discretion of the Commander to close them during the voyage at any time should he consider this course desirable.
DIVINE SERVICE is held on Sunday at 10.30 a.m.
HOLY COMMUNION—For those desiring to participate in Holy Communion, the usual vessels are carried on board.
TWO PORTABLE ALTARS for the use of Roman Catholic priests are installed for the celebration of Mass.
DECK CHAIRS AND RUGS may be hired on application to the Deck Steward. Each rug is contained in a sealed cardboard box, and bears a serial number worked into the material so that passengers will have no difficulty in identifying their rugs. At the end of each voyage, the rugs which have been in use are sent to the store and thoroughly cleaned, before being re-issued.
THE SURGEON is authorized to make customary charges for his services subject to the approval of the Commander.
LIBRARIES—in addition to a library of standard works, a special selection of up-to-date literature is available for the use of passengers.
BERTH LADDERS—These may be obtained on application to Steward or Stewardess.
PORT-HOLES—Passengers are warned against opening the port-holes. The Stateroom Stewards will do this whenever practicable. It is dangerous for passengers to handle these themselves.
BERTHING OF PASSENGERS—No alterations can be made except officially through the Purser.
BARBER—The Barber's Shop is situated on "B" Deck.
VALUABLES—The Company is not responsible for theft if valuables or money are kept in the staterooms. The same should be placed in charge of the Purser for deposit in his safe, and receipt will be given on the Company's form. As no charge is made for carriage, the Company cannot accept any responsibility for loss or damage, however arising. Passengers are accordingly advised to protea themselves by insurance.
DOGS AND CATS—Passengers are notified that Dogs and Cats cannot be landed in Great Britain unless a license has been previously procured from the Board of Agriculture, London. Forms of License may be obtained by direct application to the Department before the dog or cat is taken on board.
Dogs and Cats are carried at owner's risk, rates being from $20 upwards and $5 respectively, payable to the Purser.
CUSTOMS—The following is a list of the principal articles which are subject to duty on being brought into the United Kingdom, and the smallest quantities should be declared to the Customs Authorities: —Tobacco. Liqueurs, Spirits, Perfumery, Sugar and Goods containing Sugar, Silk and Artificial Silk, Lace and Embroidery, Musical Instruments, Gramophones and Gramophone Records, Clocks, Watches, Cameras, Field and Opera Glasses, etc. Reprints of Copyright Books and Music are subject to confiscation.
CASH ON DELIVERY—PARCELS—Passengers are requested to note that the Company do not undertake to accept delivery of parcels in Great Britain and Northern Ireland if the value of the contents is to be paid on delivery unless prior arrangements are made with the Company for the amount to be paid.
PASSENGERS' MAIL AND ADDRESSES—Letters for Passengers on board steamers should be addressed c/o The Cunard Company's offices at the Port of Departure or Arrival.
It is important that the name of the Passenger and steamer should be clearly given.
Passengers' addresses may be left at the Purser's Office, in order that any letters received after passengers have left the ship may be forwarded.
Passengers may have Mail, Telegrams and Cables sent to them care of any of the Cunard Chief Offices.
BAGGAGE. — INSURANCE OF BAGGAGE. —The Company, while taking every possible care and precaution, strongly recommend passengers to insure their baggage, as in the event of loss or damage the Cunard Company cannot accept any liability beyond the amount specified on steamer tickets.
The Company offers facilities for the insurance of baggage prior to embarkation against loss on sea or land, risk of fire, breakage, theft or pilferage.
All enquiries regarding baggage on board ship should be addressed to the Baggage Master.
Passengers are specially requested to claim their baggage before leaving the Customs Baggage Room, otherwise considerable delay and extra charge for carriage will be incurred in forwarding to destination any baggage not accompanying passengers on the Railway.
Stateroom baggage must be limited in size to 14 inches in height, 2 feet in width, and 3 feet 8 inches in length. Packages exceeding these limits are placed in the Ship's Hold.
No individual piece of baggage—whether for Hold, Baggage Room, or Stateroom, should exceed 230 lbs. weight.
Articles of the nature described below must not be enclosed in baggage, viz:—
Money, Jewelry, Negotiable Papers or Valuable Documents of any kind, Perishable Goods. Pictures, Glassware, Bottles, or Bric-a-brac, Liquids.
No liability can be assumed by the Lines for loss of or damage to or caused by such articles.
Dangerous articles, such as Fireworks, Matches, Gunpowder, Gasoline, Cartridges, Moving Picture Films, etc., must not on any account be enclosed in baggage.
With a view to avoiding leakage and resultant damage, passengers are requested not to carry liquids in their baggage.
ARRIVALS AT HAVRE—Our steamers will dock at the Quai d'Escale alongside a covered Railway Station, where Customs and Passport examination takes place. When sufficient numbers warrant, a special train will be run from the quay to Paris, otherwise passengers are transferred by autobus to the city station, free of charge, to connect with one of the following trains: —
7:50 a.m. 
9:59 a.m.
1:10 p.m.
5;15 p.m.
6:00 p.m.
The average running time is 3 ½ hours.
Full information can be obtained from Purser, who can also provide rail tickets between Havre and Paris, and reserve seats in second class on special trains.
Passengers disembarking at Havre who intend traveling beyond Paris, are particularly requested to see that their baggage is properly labeled for destination.
Under no circumstances should "Paris" labels be placed on such baggage, as delay in forwarding, as well as loss, may result therefrom.
ARRIVALS AT PLYMOUTH—From May 1st to September 30th, passengers are landed between the hours of 6.00 a.m. and 9.00 p.m.
From October 1st to April 30th, passengers are landed between 7.00 a.m. and 9.00 p.m.
In the case of steamers inward bound from Montreal, Plymouth passengers may be landed immediately on arrival. If this should take place at an inconvenient hour, arrangements will be made by our Plymouth Office for Hotel accommodation to be reserved for passengers' use.
LONDON—The Great Western Railway will run special trains from Plymouth Docks to London (Paddington Station) when an ordinary express train is not available, for the equivalent accommodation of at least 50 1st  class or 50 3rd class fares, immediately passengers are landed, and the baggage examined by the British Customs Authorities. The journey to London occupies four hours.
OTHER PLACES IN GREAT BRITAIN—Express trains are run from Plymouth to the principal towns in Great Britain including Bristol, Stratford-on-Avon, Birmingham, Cardiff, Swansea, Chester, Liverpool, York and to Scotland.
The latest Great Western Railway time-tables may be obtained from the Purser.
DOCK DUES—All passengers landing at Plymouth must pay dock dues assessed by the Great Western Railway Company as follows:
4/- per adult.
2/-per child (under 14 years of age).
RAILWAY TICKETS—Passengers are requested to secure their Plymouth-London railway tickets from the Purser before leaving the ship. Tickets for other stations and for various sight-seeing tours can be obtained at the Docks on landing. Particulars of standard tours at inclusive fares can be obtained from the Purser.
RESERVATION OF SEATS. —Accommodation is reserved for each passenger travelling by the special trains to London. Tickets giving the number of the compartment will be distributed to passengers in the Waiting Room at Plymouth Docks.
BAGGAGE. —The Great Western Railway allocates a porter to each passenger to deal with baggage. If desired, baggage can be left in charge of Great Western Officials who will arrange transit and delivery to destination.
ARRIVALS AT LONDON—Passengers disembark at Surrey Commercial Dock. Vessels unable to dock owing to missing the tide, land passengers by tender at Tilbury, a special train being in attendance to convey them to St. Paneras Station (L.M.&S. Rly.), London. Where Surrey Commercial Dock is the terminal passengers are conveyed, with their baggage, by Motor Conveyances to a waiting room at 234 Gray's Inn Road, this location being centrally situated.
AUTOMOBILE TOURS IN GREAT BRITAIN—The Cunard Company is in a position to arrange for the hire of Automobiles to passengers on arrival of their steamers at Liverpool, London, Plymouth or Southampton. Programs of tours with fixed prices for same can be obtained on application to the Purser or to the Company's offices.
The tours outlined cover the most interesting and historic places in Great Britain and offer a most enjoyable tour for persons desirous of seeing more of English rural life than is possible when travelling by rail from town to town.
RETURN ACCOMMODATION—For the convenience of those passengers who may be returning from Europe to Canada or the United States and who have not yet made the necessary arrangements, the Purser will be pleased to radio the Company's Head Office at Liverpool for any accommodation required.
This will enable passengers to complete their arrangements before leaving the steamer and will consequently save them time and trouble in Great Britain or on the Continent.
INTERCHANGEABILITY OF RETURN TICKETS— Tickets issued by the Furness Withy Line are interchangeable with the Cunard Line and vice versa — Passengers will, of course, require to pay difference in fare (if any).
AUTOMOBILE TOURS ON THE CONTINENT— The Company's Office at Paris is in a position to make arrangements for the hire of Cars to meet steamers at Havre, and take passengers on long or short Tours, or direct to their destinations.  Pursers will be glad to give passengers particulars of rates of hire and any other information that they may desire.
AEROPLANE RESERVATIONS—Seats can be arranged for Aeroplane Services from London (Croydon) to Paris, Brussels, Cologne. Basle, Zurich, Hamburg. Berlin, etc., in connection with Imperial Airways, and also from Cherbourg to Paris in conjunction with Messrs. Compagnie Aérienne Française.  Application for the above should be made to the Purser, who keeps tariffs, timetables, and other information.
CUNARD TRAVELLERS' CHEQUES, payable all over Europe, can be purchased at all the principal offices of the Company. These Cheques are accepted on board steamers in payment of accounts, but the Pursers do not carry funds to enable them to cash same.
MONEY EXCHANGE—As a convenience to passengers, the Purser has been authorized to carry funds for Exchange purposes but owing to fluctuations it is not possible to make any fixed Rate of Exchange.
TOUR DEPARTMENT—A Department is maintained at each of the Cunard Company's Offices, where accurate information and helpful assistance relative to travel throughout the world is at the disposal of patrons.
Cruises in season to the West Indies, Pacific Coast, South America, etc.
CONDUCTRESS. —On each vessel a qualified Conductress is carried whose special duty is the welfare of all unaccompanied women and children during the voyage and at the port of landing.
NURSE. —A fully certificated Nurse is carried on every Passenger Vessel of the Line.
PAYMENTS—Passengers should obtain a receipt from the Purser on the Company's form for any additional Passage Money, Rugs. Chairs, Excess Baggage, Freight, etc., paid on board.
PROFESSIONAL GAMBLERS—Passengers are informed that Professional Gamblers are reported as frequently crossing on Atlantic Steamers, and are warned to take precautions accordingly.
TAXICABS can be hired at the Piers.
LANDING CARDS—Before leaving the vessel the holder must present this landing card to the Immigration Inspector for endorsement.
PICTURE POSTCARDS of the steamers can be obtained free of charge on application.
HOUSEHOLD WORKERS FOR CANADA. — Any passengers residing in Canada and requiring domestic servants, nursemaids, etc., should get in touch with the Conductress of this steamer or any of our offices, who will give them full particulars as to the procedure which should be adopted to obtain the necessary help from Great Britain and Northern Ireland.   A list of our offices and principal agencies will be found on last pages.
LONG-DISTANCE WIRELESS SERVICE
This vessel is equipped with special up-to-date Wireless Apparatus which enables passengers to keep in constant touch with their friends or business houses throughout the voyage across the North Atlantic Ocean.
WIRELESS TELEGRAMS
VIA BRITISH COAST STATIONS. —For places in the United Kingdom, the inclusive rate is 11d. per word; for other countries the rate is 10d. per word, plus landline and cable charges. Every word in the address, text and signature is counted; all charges must be prepaid
VIA UNITED STATES COAST STATIONS.—The wireless rate via New York City, New London, Conn., Tuckerton, N.J., East Moriches, L.I., Chatham, and Boston, Mass., is 9d. per word; every word in the address, text and signature is counted; landline charges additional; all charges must be prepaid.
VIA CANADIAN COAST STATIONS—The wireless race via Cape Race and Sable Island is 1s. 0 ½ d., and Louis- burg 9d. per word, via Montreal, Quebec, Grosse Isle, Clarke City, P.Q., St. John, N.B., Grindstone Island, N. Sydney, N.S., Chebucto Head, N.S., Yarmouth, N.S., Belle Isle, Pt. Amour, Father Point, and Fame Point, is calculated at 7d. per word; every word in address, text and signature is counted; landline charges additional; all charges must be prepaid.
VIA FRENCH COAST STATIONS. —The wireless rate is 8d. per word; every word in address, text and signature is counted; landline charges additional; all charges must be prepaid.
SHIP TO SHIP. —The general rate on ship to ship messages is 8d. per word, but Dutch. Belgian and certain other vessels apply a ship tax with a minimum of ten words. The charges on messages to these vessels will be calculated as follows:—English ship tax, 4d. per word, without minimum; Dutch or Belgian, etc., ship tax, 4d. per word, with minimum of 3s. 4d. Thus for a message of ten words or more the charge is 8d. per word.
WIRELESS LETTERS
Passengers are requested to see that they obtain a signed receipt showing amount paid for each message handed in for transmission.
WIRELESS LETTERS are sent by Radio to Cunard and certain other ships passing in an opposite direction for forwarding to their destinations by either ordinary mail, air mail, Express Delivery, or as Night Letter Telegrams, on arrival at their first port of call.
A special reduced radio charge of 4/2d, ($1.00) is made for twenty words; for each word in excess of this number Id. will be charged. Forwarding charges additional.
The text of Wireless letters must be written in plain language, and letters for mailing by registered post at ports in the United States must shew in the address the Christian name of the addressee, or the title "Mr., Mrs. or Miss."
Particulars regarding Wireless Communications established or expected will be found posted on the Wireless Notice Board.
Time is saved and greater accuracy is secured by passengers handing in their messages direct to the Wireless or Purser's office, where full information regarding rates, etc., may be obtained.