RMS Scythia Passenger List - 20 August 1921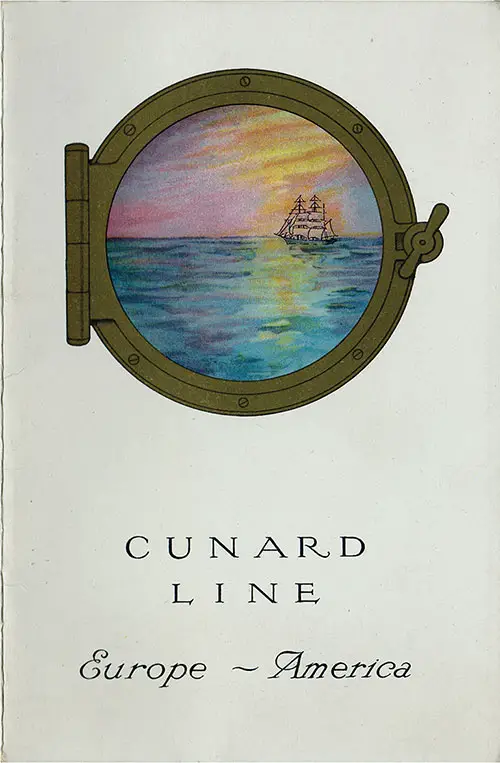 Front Cover, View from a Portal Adorns the Front Cover of a Saloon and Second Class Passenger List from the RMS Scythia of the Cunard Line. The Ship Departed 20 August 1921 from Liverpool to New York via Queenstown (Cobh), Commanded by Captain W. Prothero. GGA Image ID # 12232d4852
Senior Officers and Staff
Captain: W. Prothero
Chief Engineer: G. Bain
Chief Officer: A. C. Greig, R.N.R.
Surgeon: D. Elder
Chief Steward: W. Ballyn
Purser: E. C. F. Moore
Second Purser: P. Draper
Assistant Purser: M. Nield
Saloon Passengers
Mr. W. W. Alexander
Mrs. Alexander
Mr. W. T. Allen
Mrs. Allen
Miss V. V. Allen
Mr. A. W. Anglin, K.C.
Mr. R. E. Anglin
Mr. R. L. Archer
Mrs. Archer
Mr. J. B. Atherton
Miss A. Baillie
Mr. J. F. Baker
Mrs. Baker
Miss S. C. Baker
Miss M. Barber
Mrs. J. G. Bell
Mr. W. J. Bentley
Mr. Ridgway Bishop
Mr. L. G. Blaisdell
Mrs. Blaisdell
Mrs. H. P. Bond
Miss M. Bond
Mrs. E. M. Brennan
Mr. D. Brewster
Mr. Douglas Brookes
Mrs. J. Brown Mr. J. C. Brown
Judge F. P. Cabot
Miss E. Cadogan
Miss R. Carpenter
Mrs. H. H. Cartwright
Mrs. J. W. Chase
Mr. J. G. Childers
Mr. D. W. Clough
Mrs. Clough
Mrs. C. K. Cole
Miss A. G. Cole
Miss G. A. Coleman
Mr. A. J. Conner
Mr. W. F. Creese
Rev. Cullinane
Mrs. R. M. B. Dand
Miss J. E. C. P. Davies
Mr. C. G. Davis
Miss M. S. De Garmo
Mr. D. Dewar
Mrs. Dewar
Dr. John L. Dorsey
Mrs. J. R. Dorsey
Miss M. D'Oyly
Mr. J. Dreyfuss
Mrs. Dreyfuss
Master Dreyfuss
Mr. Frederick Dudley
Master F. G. Dudley
Mr. G. W. Dyson
Mrs. Dyson
Miss S. M. P. Elson
Mr. A. Facer
Miss C. Fenner
Capt. H. Field
Mr. D. M. Figart
Rev. T. J. Fortune
Miss M. France
Mrs. C. Friedman
Miss Geddes
Miss Geddes
Mr. John G. Geraghty
Miss K. D. Glyn
Mrs. A. R. Gordon
Mrs. H. P. Gould
Miss K. W. Grier
Miss Eleanor Gummey
Mrs. F. C. Guthrie
Mr. Keith Hall
Miss V. C. Hanscom
Miss F. Harris
Mrs. D. B. Heard
Mr. B. B. Heard
Mrs. Heard
Mrs. C. Herndon
Mr. C. Hensley
Mrs. Hensley
Miss N. de W. Hensley
Mr. H. G. Hill. Junr.
Mr. E. G. Hillyar
Mr. John Hodge
Mrs. Hodge
Mrs. E. Howe
Miss A. Hull
Mr. Guy H. Humphreys
Dr. Irwin
Mrs. Irwin
Mrs. M. W. Iseman
Mr. Malcolm Jackson
Miss A. A. Jackson
Mr. S. Jacobs
Mr. E. A. Johnston
Mrs. Johnston
Mr. R. Johnston
Mr. A. W. Jones
Mr. K. Kamei
Mr. J. J. Kane
Mrs. Kane
Master J. C. Kane
Mr. S. W. Keith
Mr. S. Keith
Mrs. Keith
Miss M. P. Keith
Mr. A. M. Keith
Mr. J. Keith
Mr. H. Wilfred Kelley
Miss R. V. Kelly
Mr. J. L. Kennedy
Mrs. Kennedy
Master J. H. Kennedy
Master E. L. Kennedy
Miss K. V. Kennedy
Mr. E. Kiraly
Mr. W. Kirby
Mrs. J. W. Kirkpatrick
Mr. W. E. Kugeman
Mr. J. N. F. Larsen
Mrs. J. Wideman Lee
Miss S. M. Lee
Miss A. Lee
Mr. W. H. Le Maréchal
Miss Lenihan
Miss L. Lenox
Mr. F. W. Lilley
Mrs. Lilley
Mr. J. Lindsay
Mr. J. M. Locke
Mr. C. T. Ludington
Mr. J. L. Lumsden
Mr. J. F. Macdonald
Mrs. Macdonald
Mr. F. B. Mason
Mrs. Mason
Mr. T. Matsushima
Mr. M. H. Maxwell
Mr. B. R. Maybank
Miss K. Mayo
Mr. W. L. B. McCagg
Mr. E. K. McCagg
Mr. H. H. McKenzie
Mr. J. S. Mellon
Mrs. Mellon
Mrs. D. Miller
Miss E. V. Mudge
Mr. F. L. Murrey
Mr. J. Nagel
Mrs. A. J. Needham
Mr. J. Newberger
Mrs. Newberger
Master J. Newburger
Miss M. Newburger and Governess
Miss M. M. Newell and Maid
Mr. P. F. Nydegger
Mr. Charles Ogilvy
Mr. C. D. Parker
Mr. E. D. Pawle
Mr. F. M. Pinckmey
Mrs. J. Pomfret
Miss V. Pomfret
Miss J. Ragen
Miss E. A. Redford
Miss M. E. Redford
Mr. Bernard Reens
Mrs. Reens
Miss C. B. Richardson
Miss C. C. Roach
Mr. W. H. Roberts
Mrs. A. P. Roberts
Miss E. E. Ross
Mrs. K. Sarauw
Mr. F. H. Schinner
Mrs. Schinner
Mr. H. Schwartz
Mr. W. Seabury
Mrs. Seabury
Miss S. Seabury
Miss E. Seabury
Mr. R. A. P. Setterfield
Mrs. E. Shannon
Mrs. A. M. Sheaff
Miss M. Sherwood
Mr. R. L. Slaughter
Mrs. Slaughter
Mr. G. Smith
Mrs. Smith
Mr. C. Smith
Mr. H. Snyder
Miss M. E. Snyder
Mr. W. R. Spalding
Mrs. Spalding
Miss Kathleen Spillane
Mr. J. F. Stern
Mrs. Stern
Mrs. J. W. Stevens
Mrs. Arthur Swann
Miss M. G. Swann
Mr. L. Tartas
Mrs. Tartas
Mr. J. A. Thomson
Mrs. G. D. Tinsman
Miss R. F. Tull
Mr. W. B. Tyler
Mrs. Tyler
Mr. V. Uhl
Mr. C. L. Wächter
Mr. J. C. Weeks
Miss L. K. Weeks
Mr. J. H. White
Mrs. White
Miss Irene Williams
Mrs. L. G. Wood
Lieut.-Col. F. A. Woodcock, D.S.O.
Miss M. A. Woods
Mr. R. J. Wortham
Mrs. Wortham
Master R. L. Wortham
Miss Catherine Wyman
Mr. S. Yanimura
Mr. J. L. York
Mr. Walter W. Young
Mrs. Young and Maid
Miss F. K. Young
Dr. H. H. Young
Mr. C. Young
Second Class Passengers
Mr. Aitchison
Mr. J. Altham
Mr. J. Altham
Mr. F. Anderson
Mrs. M. Anderson
Master Fritz Anderson
Mr. J. Anderson
Mr. P. Anderson
Mr. R. J. Armistead
Miss Alice Artman
Mr. Badcock
Mrs. Badcock
Rev. C. Ball
Miss M. Ball
Mr. E. Barnes
Mrs. Barnes
Miss N. Barry
Miss M. Barry
Mrs. M. L. Bean
Mrs. A. E. Becker
Mr. J. B. Bell
Mrs. M. Benmasche
Mr. C. W. Bigelow
Mr. J. Blackburn
Mrs. A. Blackburn
Miss H. Blackburn
Mrs. Wm. C. Blundon
Mr. E. Bowen
Mrs. T. Bowen
Mr. G. Bramham
Mr. R. Brebner
Mrs. R. Brebner
Mrs. M. Bullock
Mr. A. T. Bunyard
Mrs. Bunyard
Master George Bunyard
Master Alfred Bunyard
Master Kenneth Bunyard
Miss E. J. Burnett
Mr. D. G. Carmichael
Mrs. E. Carmichael
Miss J. Carmichael
Miss M. Carmichael
Miss M. Carney
Mr. F. A. Carter
Mrs. Carter and Infant
Master Harold Carter
Rev. J. J. Clarke
Mr. C. B. Clarke
Miss Gladys Clee
Miss P. Clee
Miss G. Cone
Mrs. E. M. Cook
Miss R. A. Cook
Mr. F. J. Corbett
Mrs. E. J. Cory
Miss Cory
Mr. J. W. Cowham
Mrs. A. Coxe
Master Coxe
Mr. A. B. Cross
Mrs. Cross and Infant
Master A. Cross
Mr. H. Crossley
Mr. W. Dainty
Mrs. I. Dallas
Miss M. Dallas
Master J. Dallas
Mr. E. Darlington
Mr. W. Davies
Mrs. L. Davies
Miss Eliz. Davies
Mrs. M. G. Davies
Mr. S. S. Davis
Mrs. Davis
Master Davis
Miss H. Davis
Mr. C. Derby
Mr. S. Devine
Miss L. B. Dickinson
Mrs. M. R. Dickson
Mr. Hy. Douglas
Mrs. E. Douglas
Mr. E. Duckworth
Mr. H. S. Fabre
Miss M. Fearon
Mr. M. J. Fitzpatrick
Mrs. A. H. Fletcher
Miss D. Garrahan
Miss J. Garrahan
Mr. E. P. Gayer
Mr. L. Gerard
Miss Alice Gray
Mr. J. A. Green
Mrs. Green
Mr. Wm. Hales
Miss Mary A. Hales
Mr. A. V. Halton
Mrs. Halton
Miss E. Halton
Mr. P. E. Hansen
Mr. A. Hardie
Miss I. M. Harris
Mr. P. A. Harwood
Mrs. Mary Heeley
Mr. Heilman
Miss B. Herdman
Mr. H. Hopkins
Mrs. Hopkins
Mr. T. C. Houghton
Mrs. M. Houghton
Master W. Houghton
Mr. S. Houston
Mrs. Houston
Mr. F. Huit
Mr. Alfred Huit
Mrs. Clara Huit
Mr. O. Ingraham
Mrs. Ingraham
Mr. R. Innés
Mr. R. Innés
Mr. C. Jackson
Mrs. E. B. James
Miss M. E. James
Miss A. Jarvis
Mr. T. Johns
Miss L. Johnson
Mr. E. R. C. Jones
Mr. J. Karlsson
Mrs. M. A. Kenneth
Mr. F. L. Keir
Mr. G. Lander
Mrs. E. Lander
Capt. A. Lea
Mrs. J. I. Lees
Miss E. Lewis
Mr. W. Longworth
Mrs. H. A. Lowe and Infant
Miss M. Lowe
Miss J. MacDonald
Miss M. MacDonald
Mr. S. Madsen
Mrs. H. Madsen
Miss A. Madsen
Mr. W. Manfield
Mrs. M. Manfield
Mr. F. Marten
Miss T. Masterson
Mr. A. Mauricio
Rev. G. A. McAllister
Mrs. M. McCalmont
Mr. John McDowell
Miss McDowell
Mr. W. McHattie
Mrs. McHattie
Mr. R. McKernan
Mr. C. McMenemy
Mr. R. D. McNaughton
Mr. J. McNemey
Mr. W. Mellinger
Mrs. J. Mellinger
Miss Lavinia Mellinger
Master Wm. Mellinger
Mr. H. V. Merme
Mrs. M. C. Merrick
Miss C. Merrick
Mrs. F. Messner
Miss L. J. Millar
Dr. Harry Mitchell
Mrs. Mitchell
Mr. C. R. Moore
Miss A. Moore
Mr. H. Moors
Mrs. E. Moors
Miss E. M. Moors
Miss L. C. Morrell
Miss E. C. Morrell
Mr. Jas. S. Motherwell
Mr. G. T. Mygdal
Mr. Otto Newberg
Mrs. Selina Newberg
Master Arthur Newberg
Mr. C. F. Newnham
Mr. R. Okramura
Rev. E. O'Malley
Miss M. O'Malley
Mrs. E. M. Owen
Mrs. E. E. Owens
Mrs. E. J. Pearce
Mr. J. W. Perham
Mr. L. Peters
Miss L. Peters
Miss B. Powis
Miss E. Radcliffe
Mr. Charles Rafferity
Mrs. Rafferity
Mr. S. W. Reis
Mr. G. Reynolds
Mrs. Reynolds
Mr. B. Rhead
Mrs. R. Richardson
Mr. C. Robertson
Miss M. H. Robertson
Mr. R. J. Robinson
Mr. J. W. Robinson
Miss D. Rodgers
Mr. H. Rothman
Miss B. E. Rothman
Mr. T. W. Rowland
Mrs. E. C. Salvesen
Miss C. Salvesen
Mrs. M. Schofield
Master B. Schofield
Master W. Schofield
Mrs. C. Shaw
Miss Mary Shaw
Miss F. W. Shippen
Miss E. F. Shippen
Miss K. B. Shippen
Mr. M. B. Shrugg
Mrs. E. Shrugg
Mrs. J. Simmons
Miss G. Simmons
Mrs. E. Skelly
Miss Sara Skelly
Miss Violet Skelly
Miss Henrietta Skelly
Miss L. Smith
Miss A. Solomons
Mrs. P. Soper
Master Soper
Master Victor Soper
Miss M. Soper
Mr. H. Stanislaw
Mr. F. Stehlif
Mrs. Stehlif
Mrs. C. Stone
Master Walter Stone
Miss Margaret Stone
Master Claude Stone
Mrs. P. Szkornik
Mr. H. R. R. Taylor
Rev. S. Temm
Mrs. A. J. Thompson
Mr. G. Thomson
Mrs. Bertha Thornley
Miss S. Thornley
Mrs. Barbara Thornley
Mrs. J. Todd
Mr. Robert Valentine
Mrs. L. Walker Mr. Watkiss
Mrs. Watkiss
Mr. A. E. Watts
Mrs. D. J. Williams
Miss E. J. Williams
Mr. H. S. Wolfe
Dr. S. G. Wright
Mr. E. F. Wright
Mr. W. Yates
Information for Passengers
MEALS will be served in the Saloon at the following times:
Breakfast from 8 to 10.
Luncheon 1 to 2 p.m.
Dinner from 7:00 pm to 9:00 pm
The Bars will not be open later than 11:30 pm, but it is within the discretion of the Commander to close them during the voyage at any time should he considers this course desirable.
SEATS AT TABLE.—Application may be made at any of the Chief Offices in advance, or to the Second Steward on board the Steamer on day of sailing.
DIVINE SERVICE on Sunday at 10:30 am
CHAIRS AND RUGS may be hired at a cost of 7/6 (or $1.50) each, on application to the Deck Steward. Each Rug is contained in a sealed cardboard box, and bears a serial number worked into the material so that passengers will have no difficulty in identifying their rugs. At the end of each voyage, the rugs which have been in use, are sent to the store and thoroughly cleaned, before being re-issued.
BAGGAGE.—Passengers are recommended to insure their Baggage, as the Company's liability is strictly limited in accordance with Contract Ticket. All enquiries regarding Baggage on board ship should be addressed to the Baggage Master.
Passengers are specially requested to claim their baggage before leaving the Customs Baggage Room, otherwise considerable delay and extra charge for carriage will be incurred in forwarding to destination any baggage not accompanying passengers on the Railway.
VALUABLES.—The Company is not responsible for theft if valuables or money are kept in the Staterooms. The same should be placed in charge of the Purser for deposit in his safe, and a receipt will be given on the Company's form. As no charge is made for carriage the Company cannot accept any responsibility for loss or damage, however arising, but passengers can protect themselves by insurance.
PAYMENTS.—Passengers should obtain a receipt from the Purser on the Company's form for any additional Passage Money, Rugs, Chairs, Excess Baggage, Freight, etc., paid on board.
NOTICE.—Passengers are informed that Professional Gamblers are reported as frequently crossing on Atlantic Steamers and are warned to take precautions accordingly.
THE SURGEON is authorized to make customary charges, subject to the approval of the Commander, for treating any passengers at their request for any illness not originating on board the ship. In the case of sickness contracted on board no charge will be made and medicine will be provided free.
LIBRARIES. — In addition to a library of standard literature "Harrods" Library of up-to-date books is available for the use of passengers.
ARRIVALS AT NEW YORK.—Passengers are landed at the Company's Piers, 53 to 56, North River, Foot of West 14th Street, where railway tickets can be purchased, and baggage checked to any part of the United States and Canada. After landing, passengers should enquire at the desk on the wharf for letters and telegrams.
When any of the Company's steamers arrive at the Pier after 8:00 pm, passengers have the option of remaining on board overnight and landing after breakfast the following morning.
PUBLIC TELEPHONES.—Telephone service with booths and operator in attendance will be found near the Customs Lines on the New York Wharf.
TAXICABS AND CARRIAGES can be hired at the New York Piers. Instructions should be given to the Purser in advance.
ARRIVALS AT CHERBOURG.—Under normal conditions passengers are landed by tender up to 10:00 pm, but if the ship arrives later, they will disembark after breakfast next morning.
ARRIVALS AT SOUTHAMPTON.—Passengers will be landed up to 8:00 pm If the ship berths later passengers will disembark next morning after breakfast.
A Special Train will be dispatched to London (Waterloo Station) as soon as possible after landing, the journey occupying about 1 3/4 hours.
It is notified for the information of passengers that the Cunard Company employ at Southampton the necessary labor for transfer of baggage from the steamer to the special trains at the ship's side for London.
Passengers on arrival will find representatives of well-known firms in the shed alongside the steamer, and if their special services are utilized for the handling of baggage they are authorized to charge according to tariff.
ARRIVALS AT LIVERPOOL.—TIME OF LANDING PASSENGERS.—Under normal conditions when any of the Company's steamers arrive alongside the Liverpool Landing Stage after 8:00 pm it is optional for the passengers to go on shore that night. In the event, however, of their remaining on board, they will be landed after breakfast the following morning either at the Stage or in dock as circumstances permit.
In the same way when the vessel reaches the river but does not come alongside the Stage, to prevent inconvenience and to meet emergencies, any passengers desirous of disembarking will on arrival of the steamer, be landed, with hand baggage only, by tender.
DOGS.—Passengers are notified that dogs cannot be landed in Great Britain unless a license has previously been procured from the Board of Agriculture, London. Forms of license must be obtained by direct application to the Department before the dog is taken on board. Dogs are carried at owner's risk, rate being from £3 upwards, payable to the Purser.
PASSENGERS' ADDRESSES.—Passengers' addresses may be left at the Purser's Office in order that any letters received after passengers have left the ship, may be forwarded.
Passengers may have Mail, Telegrams and Cables sent to the care of any of the Cunard Chief Offices.
Arrangements have been made whereby letters for passengers on board the Company's steamers at Southampton and Liverpool can be accepted for inclusion in special bags which will be made up for the ship in London and Ports of Departure.
The letters in question, which must be registered and addressed C/o The Commander, Cunard Packet Southampton (or Liverpool), can be posted in any part of the United Kingdom up to the time at which ordinary registered letters to go by the same packets are received.
CUSTOMS.—Tobacco, cigars, etc., wines, spirits and perfumery are subject to duty on being brought into the United Kingdom, and the smallest quantities should be declared to the Customs Authorities. When required, reprints of copyright Books and music will be confiscated.
BERTHING OF PASSENGERS—No alterations can be made except officially through the Purser.
BERTH LADDERS — These may be obtained on application to Steward or Stewardess.
The "SCYTHIA" carries an orchestra of professional musicians, which will play at the undermentioned places and times:
Second Class Dining Saloon: 10:00 am to 11:00 am
First Class Dining Saloon: 1:00 pm to 2:10 pm
Second Class Dining Saloon: 3:30 pm to 4:00 pm
First Class Dining Saloon: 7:10 pm to 8:45 pm
First Class Drawing Room: 9:00 pm to 10:00 pm  
RECOVERY OF U.S. HEAD TAX
This Tax can be recovered by passengers, if same has been paid, provided they inform the U.S. Immigration Inspector on arrival at New York of their intention to leave the United States within sixty days (the time prescribed by U.S. law), and obtain from him Transit Certificate Form 514.
It is also necessary for Transit Certificate Form 514 to be handed to the transportation company when completed, in time to allow same to be placed before the Immigration Authorities in Washington within ninety days of passenger's arrival in the United States.
Unless this regulation is complied with the Tax cannot be recovered.
WIRELESS TELEGRAPH RATES
VIA BRITISH STATIONS.—For United Kingdom the rate is lOd. per word ; every word in address, text and signature is counted ; landline charges additional ; all charges must be prepaid.
VIA UNITED STATES STATIONS.—The wireless rate via New York, New London, Newport, R.I., and Bar Harbour is 9d. per word, but through Boston is lOd. per word ; every word in address, text and signature, is counted ; landline charges additional ; all charges must be prepaid.
VIA CANADIAN STATIONS.—The wireless rate via Cape Race, Cape Sable, Sable Island and Barrington Passage is l/OJd. per word, via Montreal, Quebec, Grosse Isle, Three Rivers, Father Point, Cape Bear and Pictou is calculated at 2Jd. per word ; every word in address, text and signature is counted ; landline charges additional ; all charges must be prepaid.
VIA FRENCH STATIONS.—The wireless rates via Cherbourg, Brest and Ouessant is 8d. per word ; every word in address, text and signature is counted ; landline charges additional ; all charges must be prepaid.
SHIP TO SHIP.—The General rate on ship to ship messages is 8d. per word, but as Dutch, Belgian and certain other vessels apply a ship tax with a minimum of ten words, the charges on messages to these vessels will be calculated as follows:—English ship tax 4d. per word without minimum; Dutch or Belgian, etc., ship tax 4d. per word, with a minimum of 3s. 4d. Thus for a message of ten words or more the charge is 8d. per word.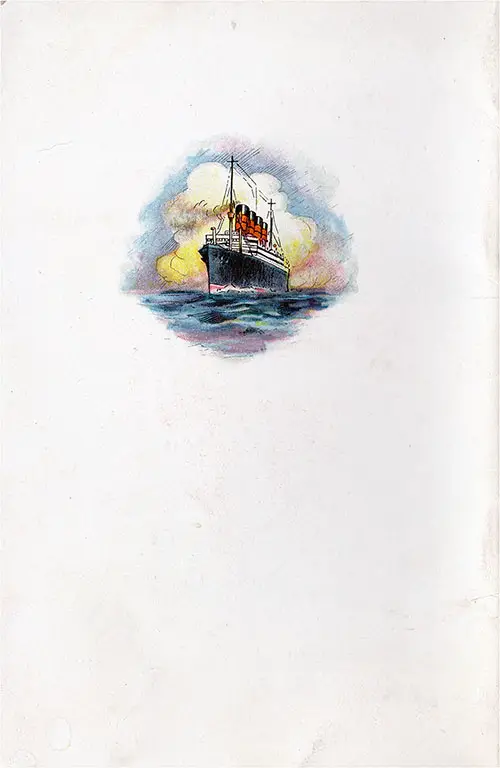 Back Cover, Cunard RMS Scythia Saloon and Second Class Passenger List - 20 August 1921. GGA Image ID # 122331d953