RMS Samaria Passenger List - 24 August 1935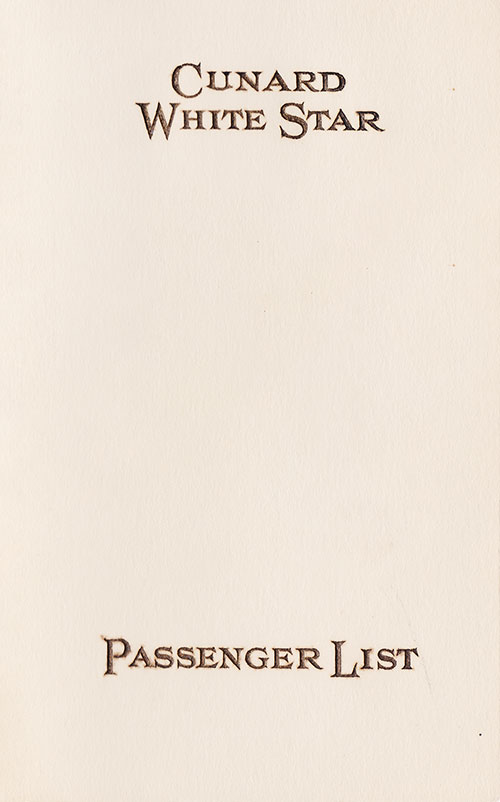 Front Cover of a Third Class Passenger List from the RMS Samaria of the Cunard Line, Departing 24 August 1935 from Liverpool to Boston and New York via Belfast and Galway, Commanded by Captain J. McRostie. GGA Image ID # 1f47476e24
Senior Officers and Staff
Commander: Captain J. McRostie
Chief Engineer: E. Barton
Chief Officer: R. T. A. Ormsby, R.D., R.N.R.
Surgeon: C. E. S. Harris
Purser: T. L. Evans
Assistant Purser: J. Hudson
Chief Steward: F. Beattie
Chief Third Steward: H. Iredale
Third Class Passengers
From LIVERPOOL
Mrs. M. Aldridge
Miss J. Aldridge
Mr. J. Allison
Mrs. Allison
Mr. L. Ashley
Rev. H. Baker
Mrs. E. Barnes
Mrs. M. Boardman
Master J. Boardman
Mrs. C. Brennan
Master J. Brennan
Mrs. Brown
Mrs. C. Cabral
Master R. Cabral
Miss M. Cannon
Mr. P. Clarkson
Mrs. Clarkson
Mr. R. Claus
Mrs. L. Cotter
Miss M. Cunningham
Mr. J. Darnell
Mr. B. Davis
Mr. A. Dawe
Mrs. Dawe
Miss M. Dodding
Mr. J. Duffy
Miss F. Dyson
Mr. E. Earle
Mrs. M. Eatough
Miss L. Eatough
Mr. A. Emmason
Mrs. Emmason
Miss A. Emmason
Mr. C. Farrell
Miss M. Fincke
Miss G. Fuss
Mr. G. Gardham
Mrs. S. Gillespie
Miss L. Gillespie
Mr. A. Goldsworthy
Mr. O. Goldsworthy
Mr. O. Goldsworthy
Mr. R. Goldsworthy
Mr. J. Goldsworthy
Mr. J. Grainger
Mrs. Grainger
Mrs. Grainger
Miss Grainger
Mr. T. Griffiths
Mr. R. Guiley
Mrs. H. Hadfield
Mr. L. Haskins
Mr. H. Hiett
 Mrs. Hiett
Miss C. Hoffman
Mrs. Holliday
Master R. Holliday
Mr. R. Jackson
Mr. J. Jarrott
Mr. R. Johnson
Mrs. M. Johnson
Mr. J. H. Jones
Miss I. Jones
Mr. W. C. Jones
Miss H. Kaufman
Mr. G. Kavanagh
Miss A. Kavanagh
Mrs. A. Kellett
Miss E. Kellett
Miss V. Kellett
Miss M. Kelly
Miss E. Kidd
Mr. H. Koeppen
Mrs. Koeppen
Miss A. Krause
Mr. G. K. Pallanpate
Mr. P. Lloyd
Miss R. Logan
Mrs. M. Lynch
Miss E. Lynch
Mr. G. Manuel
Mr. T. Marsh
Mr. S. Maslen
Mrs. Maslen
Miss E. McCue
Miss McHugh
Mr. J. Miller
Mrs. Miller
Master Miller
Miss R. Milligan
Mr. G. Moores
Mrs. Moores
Mrs. A. Myshkoff
Mrs. M. Nagle
Master J. Nagle
Miss S. Nolan
Mrs. E. Parker
Mrs. C. Partridge
Mr. J. Patoile
Mr. W. Pritchard
Mr. F. Ott
Mr. E. Owens
Mrs. Owens
Mr. J. Richardson
Mrs. Richardson
Master A. Richardson
Mr. L. Roberts
Mrs. S. Roberts
Mr. C. Roberts
Mrs. Roberts
Miss I. Rogers
Mrs. V. Rogers
Miss M. Rogers
Miss M. Rogers
Mr. W. Sampson
Mrs. E. Scaife
Miss B. Scharfe
Mrs. C. Schmidt
Miss M. Schmidt
Rev. M. Schuster
Miss E. Sedano
Miss J. Shackleton
Rev. W. Sheen
Mrs. Sheen
Mr. R. Short
Mrs. Short
Master Short
Mr. C. Smith
Mr. Smith
Miss D. Solter
Mrs. L. Sorenson
Miss H. Sorenson
Mr. W. Stearn
Miss Stewart
Miss K. Stoney
Miss G. Taylor
Mrs. A. Thomas
Mr. E. Travers
Mrs. G. Trezise
Miss L. Trezise
Mr. N. Vincent
Mr. Waines
Miss E. Waines
Miss H. Waines
Mr. H. Wainwright
Miss M. Wainwright
Mr. W. Walmsley
Mrs. J. Walsh
Master J. Walsh
Miss R. Watson
Miss E. West
Miss G. Westfall
Mrs. C. Westwater
Miss K. Westwater
Mr. J. Wood
Mrs. F. Woodhall
Miss J. Woodhall
From BELFAST
Mr. J. Braithwaite
Mr. J. Buchanan
Mrs. W. Craig
Mrs. De Croix and 3 Children
Miss M. Doherty
Mrs. E. Farren
Mr. G. W. Fee
Mrs. Fee
Miss M. Fee
Miss M. Ferris
Miss G. Gannon
Mrs. M. Gilmartin
Miss M. Goliher
Miss A. Graham
Miss S. Gray
Mr. A. Greenaway
Mrs. Greenaway
Mrs. M. Hare
Miss M. Hare
Mrs. J. Jensen
Mr. S. Joyce
Mrs. Joyce
Master H. Joyce
Mr. S. Logan
Mr. R. Lunn
Mr. P. Magowan
Mr. T. Maguire
Mrs. Maguire
Miss M. Maguire
Mrs. J. Martin
Miss C. Martin
Mr. C. McAinley
Mrs. McAinley
Miss S. McAllister
Mr. M. McCabe
Mrs. McCabe
Miss E. McCabe
Master M. McCabe
Mr. D. McClinchey
Mr. R. McClurg
Mr. A. McCourt
Mrs. McCourt
Miss M. McCourt
Mr. R. McCullough
Mrs. C. McDonald
Mrs. A. McDonald
Mr. M. McGeehan
Mr. P. McGowan
Miss C. McKenna
Mrs. E. McKeown
Miss E. McLaughlin
Mr. D. Mooney
Miss A. Morgan
Mr. 0. Muckian
Mrs. Muckian
Mr. J. Murtagh
Mrs. Murtagh
Mr. VV. Nelson
Miss B. O'Donnell
Mrs. K. O'Keefe
Mrs. M. Rafferty
Miss M. Rafferty
Mrs. M. Skaling
Mrs. S. Slavin
Miss M. Smith
Miss M. Walsh
From GALWAY
Miss A. Bains
Mrs. B. Bonn
Mr. E. Benson
Miss M. Berry
Miss M. Berry
Mr. J. Boland
Miss M. Boyle
Mrs. B. Brady
Miss M. Brehony
Miss M. Brown
Miss M. Burke
Miss D. Burke
Miss L. Campbell
Mr. T. Canning
Miss H. Cannon
Miss M. Coen
Mr. T. Conner
Mrs. Conner
Miss C. Connolly
Mrs. M. Connolly
Master P. Connolly
Master K. Connolly
Mr. T. Connor
Miss M. Crehan
Mr. M. Cuddy
Miss M. Cuddy
Miss C. Culhane
Miss M. Cullen
Miss C. Curley
Miss M. Daly
Miss E. Deignan
Mr. M. Devine
Mrs. Devine
Mr. P. Dolphin
Mr. T. Donnelly
Mrs. E. Donohoe
Miss E. Duffy
Miss N. Duffy
Mr. J. Durkin
Mrs. Durkin
Master J. Durkin
Miss E. Egan
Mrs. C. Erne
Miss A. Fadden
Mr. T. Fallon
Mr. E. Finnegan
Miss C. Flattery
Miss M. Flynn
Miss B. Fordo
Miss N. Fordo
Mrs. M. Frain
Master J. Frain
Mr. J. Gallagher
Miss B. Geraghty
Miss A. Gerahan
Mr. E. Gibbons
Mr. M. Gilday
Miss J. Gilmore
Mr. J. Goldrick
Mrs. Goldrick
Miss B. Goldrick
Master J. Goldrick
Miss A. Gouldsbury
Miss M. K. Greevy
Miss M. J. Greevy
Mrs. M. Griffiths
Mr. B. Gurney
Mrs. A. Hannan
Mr. M. Hannon
Miss A. Hawthorne
Mr. B. Higgins
Mr. P. Hines
Mrs. N. Jennings
Master J. Jennings
Miss C. Jordan
Mrs. H. Joyce
Mrs. A. Kane
Mrs. A. Keane
Miss K. Keane
Miss A. Keane
Mr. P. Kelly
Mrs. Kelly
Miss M. Kelly
Miss S. Kelly
Mr. T. Kettrick
Mr. M. Kyne
Mrs. Kyne
Master M. Kyne
Master P. Kyne
Miss E. Kyne
Mr. L. Lafferty
Mrs. Lafferty
Mrs. C. Logan
Miss C. Logan
Mr. J. Logan
Mrs. Logan
Mr. T. Lydon
Mrs. Lydon
Mrs. E. Lynch
Miss M. Lynch
Miss H. Lynch
Mr. J. Mahon
Mrs. Mahon
Miss E. Mahon
Master P. Mahon
Miss K. Mahon
Miss M. Mahon
Miss M. Mangan
Miss D. Martin
Miss M. McCabe
Mrs. A. McCartin
Master T. McCartin
Miss D. McCartin
Miss J. McCartin
Miss P. McDonough
Mr. J. McEnery
Mr. T. McGill
Miss M. McGowan
Mrs. D. McGuerty
Miss K. McLoughlin
Mr. P. McMahon
Mrs. McMahon
Master J. McMahon
Miss M. McMahon
Mrs. M. McMullen
Master F. McMullen
Mrs. M. McNally
Mr. M. McNamara
Miss M. McNamara
Mrs. M. McNeely
Miss W. McNulty
Mr. S. Melia
Master Jas. Melia
Master John Melia
Miss M. Melia
Miss M. Millett
Mr. P. J. Moffitt
Mr. J. Moore
Mrs. B. Moran
Miss M. Moran
Miss C. Moyna
Miss T. Mullanoy
Mr. J. Mulligan
Mr. J. Mulligan
Mrs. Mulligan
Miss A. Mulligan
Mr. J. Murphy
Mr. P. Murphy
Mrs. Murphy
Master T. Murphy
Master E. Murphy
Master J. Murphy
Miss M. Murray
Mr. J. Nally
Mrs. Nally
Miss M. Nally
Miss L. Niland
Mr. W. Normandy
Mrs. Normandy
Mr. W. Nugent
Miss M. Nugent
Mrs. C. O'Brien
Miss A. O'Brien
Mrs. A. O'Brien
Mr. M. O'Connor
Mrs. O'Connor
Master T. O'Connor
Miss C. O'Connor
Miss M. O'Donahue
Miss M. O'Donahue
Mr. P. O'Dwyer
Mr. M. O'Malley
Miss C. O'Malley
Mr. V. O'Toole
Mrs. N. O'Toole
Mrs. M. Packhard
Miss C. Prendergast
Mr. J. Pyne
Mrs. Pyne
Mrs. J. Quinn
Mrs. M. Quinn
Mr. P. Quinn
Mrs. S. Roberts
Miss M. Rooney
Mr. J. Ryan
Miss A. Stanton
Miss M. Stanton
Mr. P. Sweeney
Mrs. Sweeney
Miss M. Sweeney
Miss W. Wado
Miss M. Whelan
Mrs. A. Walsh
Miss Walsh
Mr. J. Walsh
Master J. Walsh
Recovery of United States Head Tax
Refund of Head Tax can be obtained provided passengers have complied with the following conditions:
1.         Inform the U.S. Immigration Inspector on arrival that it is their intention to leave the United States within 60 days and obtain from the Inspector "Head Tax Refund Certificate" (Form 514).
2.         When leaving the United States to have the departure certified on Form 514 by the Purser of the vessel or by the conductor of the train upon which the departure takes place.
3.         The Immigration Authorities impose a time limit of 120 days from date of entry, after which claims for a refund will not be considered. Passengers must, therefore, submit Form 514, duly completed, to the Company in sufficient time to enable the Company to make their application within this limit of time (120 days).