Port-of-Spain, Trinidad and Tobago Passenger Lists 1914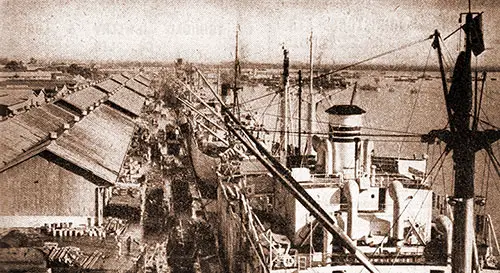 Busy Port and Harbor of the Port of Spain in Trinidad and Tobago circa 1952. GGA Image ID # 170fa000e8
Passenger Lists available from the GG Archives from the Port of Port-of-Spain, Trinidad and Tobago. Organized by Date of Departure, Steamship Line, Steamship or Ocean Liner, Class of Passengers, Route, and the Ship's Captain.
Port-of-Spain, the capital, situated on the shores of the Gulf of Paria, about two miles from the mouth of the Caroni River, and described in Whitaker's Almanack as being one of the finest towns in the West Indies, occupies the site of an old Indian village named Conquerabia.
The city of Port of Spain is the seat of government and capital of Trinidad, and contains a population of about 30,000 inhabitants. It is situated on the shore of the south extreme of a low Hat plain at the base of St. Anne mountains, which rise to the height of 2,140 feet, at 3 miles northeast from the city; at 4 mile to the eastward it is overlooked by the Lavantille hills, or Abercrombie heights, a fork, from the northern mountains; and on the summit of a small hill, 410 feet above the sea, may be seen the ruins of St. David's tower, but it is not a prominent object.
The city is regularly built, with wide streets, and it has some fine buildings, amongst which are the custom house, market, and numerous churches. About 3 miles to the northwest is Fort George, with a signal post 1,120 feet above the sea, which communicates with the, city and a post on the north side of the island before mentioned. The valley is drained on the east side of the city by St. Anne river, and on the west by the Maraval, but they are mere mountain streams.
The wharves at the town have not sufficient depth alongside for loading vessels, which take in their cargoes from large lighters. Hulks are moored in the oiling for the convenience of heaving down; and steam machinery can be efficiently repaired. (The Navigation of the Gulf of Mexico and Caribbean Sea, 1890)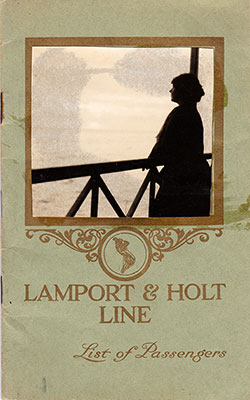 1914-07-09 SS Vandyck Passenger List
Steamship Line: Lamport & Holt Line
Class of Passengers: First Class
Date of Departure: 9 July 1914
Route: Buenos Aires to New York via Montevideo, Santos, Rio de Janeiro, Bahia (Salvador), Trinidad (Port of Spain), and Barbados (Bridgetown)
Commander: Captain A. Codogan.