Balboa, Panama Passenger Lists 1926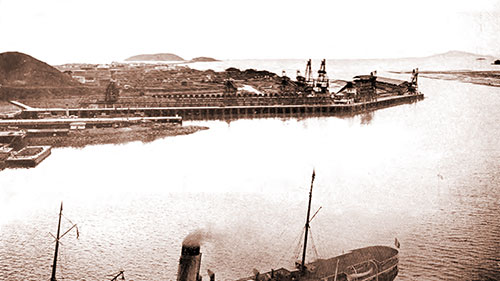 Pacific Entrance to Balboa Harbor in Panama circa 1934. GGA Image ID # 17162d482c
Passenger Lists available from the GG Archives from the Port of Balboa, Panama. Organized by Date of Departure, Steamship Line, Steamship or Ocean Liner, Class of Passengers, Route, and the Ship's Captain.
There are two ports of entry in the Canal Zone - Cristobal on the Atlantic side and Balboa on the Pacific.
Not including the quarantine wharf, there are 12 wharves and piers in the port of Balboa, all of which are owned by the Panama Canal. They are of concrete and steel construction and have a total berthing capacity of more than 8,000 feet, of which approximately 7,000 feet can be used by deep draft vessels.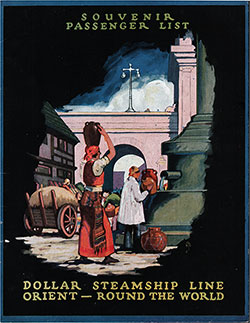 1926-09-30 SS President Van Buren Passenger List
Steamship Line: Dollar Steamship Line
Class of Passengers: Cabin Class
Date of Departure: 30 September 1926
Route: New York to Marseilles via Havana, Cristobal, Balbao, Los Angeles, San Francisco, Honolulu, Kobe, Shanghai, Hong Kong, Manilla, Singapore, Penang, Colombo, Port Said and Alexandria
Commander: Captain M. Ridley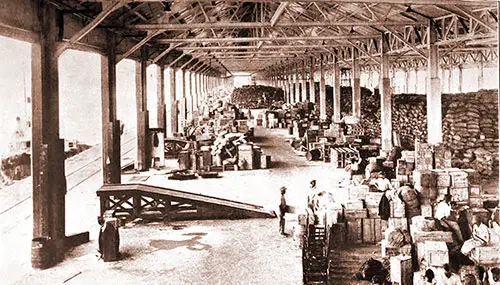 Shed on Pier No. 18 in the Port of Balboa, Panama cica 1934. GGA Image ID # 171685db2b
There are 14 piers and wharves in the port of Balboa, of which all but 2 are of steel and concrete construction. Pier 18 is the only terminal used for handling general cargo. This pier is of modern construction, with a transit shed covering the greater part of its area. It is equipped with movable cargo booms, a stationary jib boom and other cargo -handling appliances. Docks 13 , 14, 15 , and 16 are used in conjunction with the repair shops. Docks 8 and 9 are used in connection with the graving dock. Dock 7 is used for oil bunkering and can be used if necessary for bunkering coal since the coaling plant is situated thereon. Dock 6 is used for reloading and for bunkering ships with oil.