Penang, Malaysia Passenger Lists 1926
Passenger Lists available from the GG Archives from the Port of Penang, Malaysia. Organized by Date of Departure, Steamship Line, Steamship or Ocean Liner, Class of Passengers, Route, and the Ship's Captain.
Penang is the chief northerly port of the British Straits Settlements, and its commercial importance lies in the excellence of the soil and the character of the climate. The rainfall amounts to 89.5 yearly. The main articles of export are sugar, spices, rice and tin. More attention is being given the production of rubber, and a steady increase in exportation has been noted in the last few years. The principal merchants and shippers are Chinese.
Steamer Lines Using the Port: P. & O. S. N. Co. Ltd., O. S. S. Co. Ltd., China Mutual S. N. Co. Ltd, Shire Line, Glen Line, Ben Line, and Nippon Yusen Kaisha calling at Penang on voyages between the United Kingdom and the Far East, B. I. S. N. Co. Ltd. to and from India and Burma and occasionally to Australia ; Indo-China S. N. Co. Ltd. and B. I. Apcar line, calling at Penang on voyages to and from India, China and Japan; the Straits Steamship Co. Ltd., trading between Singapore, Penang and F. M. S. ports; the Koninklijke Paketvaart Maatschappy to Sumatra and Java and occasionally to Borneo.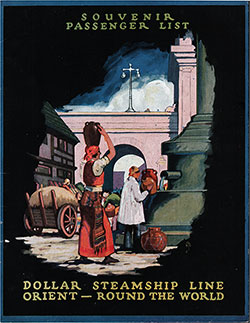 1926-09-30 SS President Van Buren Passenger List
Steamship Line: Dollar Steamship Line
Class of Passengers: Cabin Class
Date of Departure: 30 September 1926
Route: New York to Marseilles via Havana, Cristobal, Balbao, Los Angeles, San Francisco, Honolulu, Kobe, Shanghai, Hong Kong, Manilla, Singapore, Penang, Colombo, Port Said and Alexandria
Commander: Captain M. Ridley