Bremen Passenger Lists 1881-1951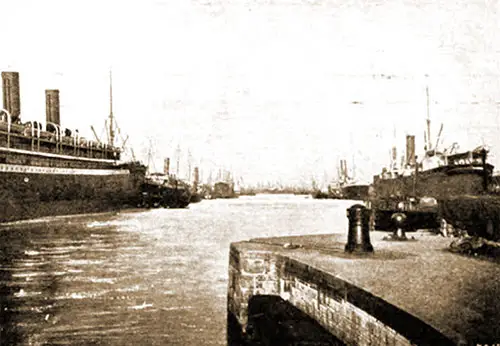 New Dock, Bremerhaven 1907. GGA Image ID # 17548b0912
Bremerhaven is the seaport of the City Municipality of Bremen, a Hanseatic city in northwestern Germany. A commercial and industrial city with a major port on the River Weser, Bremen is part of the Bremen-Oldenburg metropolitan area.
Bremen is some 60 km (37 mi) south from the Weser mouth on the North Sea. With Bremerhaven right on the mouth the two comprise the state of the Free Hanseatic City of Bremen.
While technically, passengers embarked and disembarked in Bremerhaven, the passenger lists all state Bremen and the origination or destination port.
Passenger Lists (PLs) available from the GG Archives Calling at the Port of Bremen, Germany.
1880s
North German Lloyd / Norddeutscher Lloyd
1890s
North German Lloyd / Norddeutscher Lloyd
1900s
1910s
1920s
1930s
United States Lines
1950s
United States Lines
Note: Typically, only the origination and final destination ports are listed in each link. Other intermediary ports of call are not listed.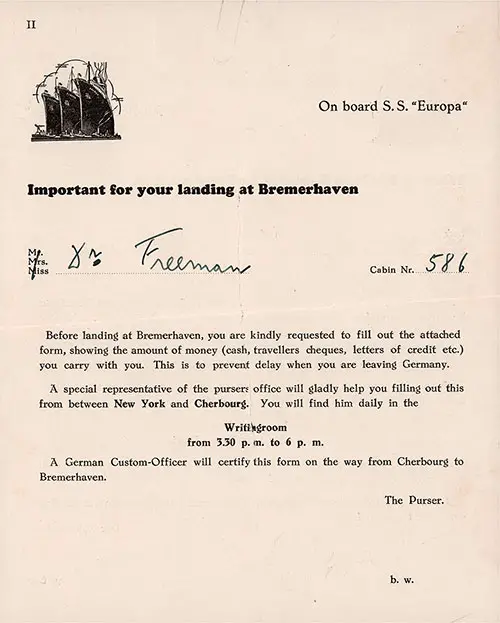 Bremerhaven Landing Notice from the Norddeutscher Lloyd Bremen SS Europa, 1934. GGA Image ID # 17549730ba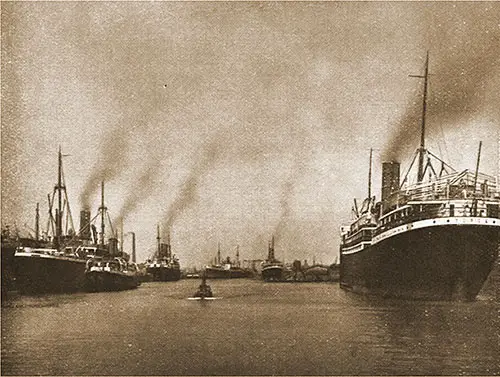 View of Bremerhaven Kaiserhafen circa 1926 Showing Express Steamers Operated by Norddeutscher Lloyd. GGA Image ID # 1754e788fb
Related Categories
Ephemera & History
Steamship & Ocean Liners
Ports of Call Information
SS RMS MV - Defined
PLs By Year of Voyage
PLs By Port of Call
PLs By Region
PLs by Steamship Lines