Antwerp, Belgium Passenger Lists 1892-1939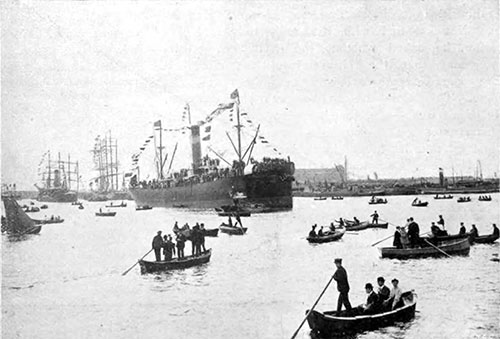 First Vessel To Enter The New Siberia Dock At Antwerp - 1907. GGA Image ID # 1759fecab9
Antwerp is a city and municipality in Belgium and the capital of the Antwerp province of Flanders. Antwerp is located on the right (eastern) bank of the river Scheldt, which is linked to the North Sea by the Westerschelde estuary. The city has one of the largest seaports in Europe.
Passenger Lists available from the GG Archives Calling at the Port of Antwerp, Belgium.
1890s
Red Star Line
1900s
Red Star Line
1910s
Red Star Line
1920s
Red Star Line
Canadian Pacific Line
1930s
Arnold Bernstein / Red Star Line
Red Star Line
Holland-America Line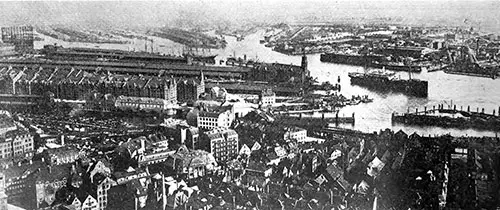 View of the Port of Antwerp from an Airplane in 1921. GGA Image ID # 1420435d51
Like most European ports, Antwerp is an artificial one consisting of the river outlet leading to the sea—three hour's boat journey distant. The enormous artificial "basins" reached from the river employing locks. In the River Schell (or L'Escaut as the French call it), only a lew of the more extensive lines docked.
Because of its waterway connections with the Rhine, Antwerp was the principal port for South Germany. Only in the last few years has Rotterdam rivaled Antwerp.
Because of its steamship lines to the Americas, Africa, Asia, and Australia, many commodities' principal port and market from all climes. Here a continental grain center, here the rubber and ivory market of the world, goods of the Belgian Congo. Diamonds were cut and polished here in numbers only exceeded by Amsterdam. Here were brought in large quantities cotton from America, coffee from South America, sugar from the East and West Indies, wool from Australia and Argentina. (Rosenbaum Review, 10 March 1917)
Antwerps Proposed Free Port
Our Antwerp correspondent writes that even before the War, Belgium was considering the erection of a free port at Antwerp similar to those existing at Bremen and Hamburg. The fact that goods could be sent to these two last-named ports and stored in them free of all duties led to their becoming the chief continental markets for wool, coffee, cotton, etc.
There is a proposal now before the French Senate to establish a free port at Havre and Dunkirk. This has caused quite a stir in Belgian ship-ping circles. It is now proposed to establish a neutral tone at Antwerp where all goods could come in duty-free. This would significantly improve Antwerp's position as one of the foremost European porta of entry, but the project has not met the government's approval.
The Nautical Gazette, Vol. 98, 8 May 1920, p. 728.
Related Categories
Ephemera & History
Steamship & Ocean Liners
by Steamship Line
Ports of Call Information
SS RMS MV - Defined