Steamship Designations / Prefixes (Merchant Vessels)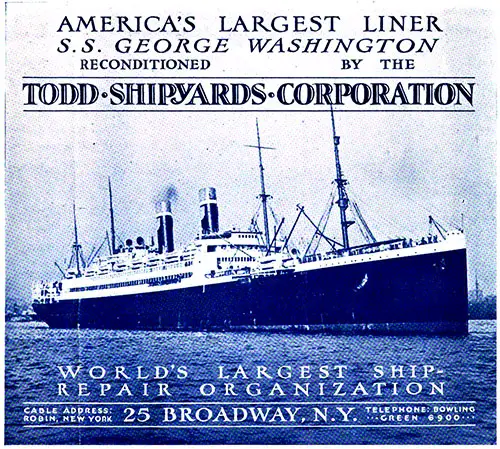 The SS George Washington, Repaired at the Todd Shipyards Corporation. Shipping Magazine, 10 September 1921. GGA Image ID # 1d41b2fa6d
Prefixes are often used inconsistently and frequently not at all. Prefixes for a merchant marine vessel may identify the type of propulsion, such as "SS" for steamship, or purpose, such as "LB" for a lifeboat. Sometimes writers may use a slash to separate the letters, as in "M/S."
Ships during the late 1800s through 1950s all had a prefix. The most common prefixes appear below.
S.S. : Steamship (Steam Ship) This is the default designation
R.M.S. : Royal Mail Ship / Royal Mail Steamer
M.S. : Motor Ship or Mail Steamer
M.V. : Motor Vessel
R.M.M.V. : Royal Mail Motor Vessel
T.S.S. : Twin-Screw / Triple Screw Propulsion Ship
L.B. : Lifeboat
You will often see documents from the same voyage using different designations, such as SS Titanic and RMS Titanic. In this example, the RMS Titanic would have been carrying Royal Mail, so the RMS designated prefix. If the Titanic had made a return voyage, her designation would change to SS as she would not have been carrying any Royal Mail on departing from New York.