SS Arabic Passenger List - 16 August 1929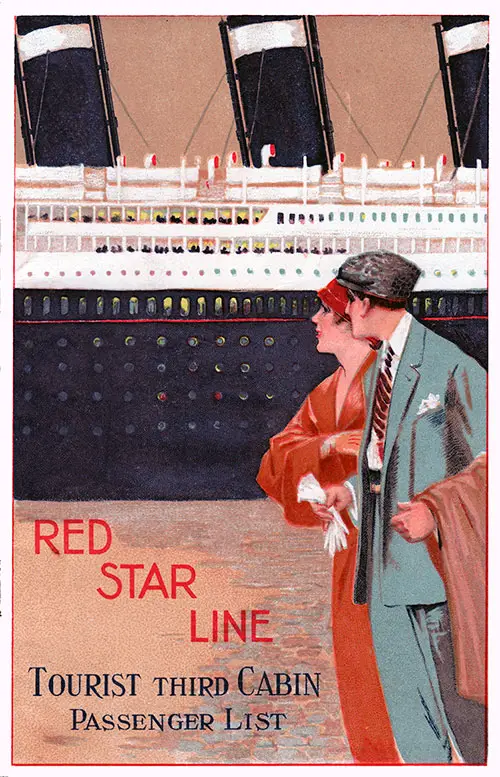 Front Cover of a Tourist Third Cabin Passenger List for the SS Arabic of the Red Star Line, Departing 16 August 1929 from Antwerp to Halifax and New York via Southampton, Cherbourg, and Queenstown (Cobh), Commanded by Captain J. B. Bulman. GGA Image ID # 13fd453943
Transcription Courtesy of Alan Raskin, Winnepig, Manitoba, Canada
Senior Officers and Staff
Captain: J. B. Bulman
Chief Engineer: J. C. Corrigan
Surgeon: Dr. V. de Ruette, M.D. - M.B.M.A
Purser: T. Moffat
Asst Surgeon: Dr. G. Nicolet, M.D
Asst Purser: H. Benson
Chief Steward: A. Richardson
Tourist Third Cabin Passengers
Dr Chas. Ackley
Mr. A. Abrams
Miss Leah Appleton
Miss Charlotte Aster
Miss Marjorie Atwood
Mrs. Edith Austin
Miss Alice Austin
Mr. Wm Baggerman
Miss Mary Bannon
Mrs. Marcelle Barfield
Mr. Patrick Barrett
Mrs. Sarah Barrett
Miss Mary Barrett
Miss Sarah A. Barrett
Mr. Thomas Barry
Mrs. Charlotte Barry
Miss Ruth Bates
Mr. Robt Baumberger
Miss Emma Behlendorf
Miss K. Boord
Mr. Joseph Booth
Miss Dorothy Borsdorff
Mrs. H. W. Bosserman
Mr. Thomas Bowes
Mr. Geo Bowles
Mr. Woodward Boynton
Mr. Alexander Brander
Mrs. Jessie Brander
Master Alex. Brander
Mr. Robert Brookes
Mr. Theo Brookes
Miss Ruth Brown
Mrs. Esther Bushrell
Miss Verna Buell
Mr. Geo Burbach
Mr. Nathan Burgheim
Mrs. W. Cagle
Mr. Walter Cairns
Miss Mary Cairns
Mrs. Ethel Caldwell
Mr. C. E. Cannon
Mr. Michael Carey
Mrs. Ellas Carr
Miss Rose Carraher
Miss Margaret Carraher
Miss Clarabel Case
Mr. John Castor
Miss Anna Caulfield
Miss Anna Cawley
Miss Marie Childress
Miss P. Cillis
Mrs. Charles Clark
Mr. John Cleary
Mrs. Rebecca Cleary
Mr. Thomas Concannon
Mr. Chas. Coyle
Mr. Nelson Coyle
Miss Theresia Cuff [sic]
Miss Elizabeth Collings
Mr. Thomas Concannon
Miss Ruth Connelly
Mrs. Daisy  Cooke
Master Arthur Cooke
Master Eric Cooke
Miss Andrea Cooke
Mrs. Charlotte Cressler
Miss Mary Creswell
Miss Edith Creswell
Mr. Denis Cromin
Mrs. Margaret Cromin
Miss Agnes Daley
Miss Molly Danford
Mr. Chas. Daudt
Miss Mildred Davenport
Miss Ruth Davenport
Mr. George Davis
Mrs. Ida Davis
Mr. Lewis Davis
Mrs. Mary Davis
Mr. Charles Davis
Miss Helen Davis
Miss Jane S. Davis
Mr. Frank Davis
Mr. Robt Dawson
Miss Lillian Dean
Rev. Edward De Busschere
Miss Rhea Decker
Mr. Paul de Schweinitz
Miss Margaret Dibbern
Miss Anna Dibble
Miss Janet Dibble
Miss Mabel Dicks
Miss Florence Douden
Miss Lydia Dunne
Mr. Fred Errington
Mrs. Ethel Errington
Miss Marion Ewing
Mr. Walter Faries
Mr. J. Farrell
Miss Estelle Faulkner
Mr. Chas. Fernald
Miss Anne Fischer
Miss V. Elisa Fischer
Miss Ethel Flovin
Miss Katherine Flynn
Mrs. Theodora Fobes
Mr. Clinton Fogwell
Mrs. Elsie Fogwell
Miss Dororhy Fogwell [sic]
Mr. Donald Forbes
Mr. John Forbes
Miss Adelaide Foster
Miss Tyeva Foutz
Mr. Walter Fricke
Rev. Carl Fritz
Mrs. Carl Fritz
Miss Helen Gaines
Mrs. Ellen Gallagher
Miss Helen Gates
Mr. Richard Gauen
Mr. Robt Gauen
Miss Helen Gavies
Mr. John Geary
Mr. Hollis George
Miss M. Gerberich
Rev. C. Glaude
Mr. Charles Grimes
Miss Adelina Grimm
Mrs. Berthe Guild
Miss Lucille Guild
Miss Estelle Gutfreund
Mr. Lester Hall
Miss Grace Hall
Mr. Herbert Harkins
Miss Martha Hegberg
Mr. Robert Hefner
Mrs. R. Hefner
Miss Mary Hendricks
Mr. E. Heffern
Mr. Frank Hestor
Mrs. Mary Hestor
Miss Bertha Hicks
Mr. George Hill
Miss Theresa Hoerner
Mr. Eugen Hoiles
Mr. C. Hoskins
Mr. Loys Hotchkiss
Miss Mabel Hotchkiss
Miss Dorothy Huhne
Miss Grace Hunton
Miss Addie Johnson
Miss Myrtle Johnson
Mr. Jos. Johnston
Miss Judith Jungblut
Miss L. Kadane
Miss Florence Kane
Mr. S. H. Kaufmann
Mrs. Kaufmann
Mr. Bertram Kaye
Miss Margaret Keefe
Miss Bessie Kelley
Mr. John Kelly
Miss Margaret Kilroy
Mr. Charles Knight
Miss Helen Knighton
Mr. George Kopfinger
Mrs. Sophie Kopfinger
Mr. Wm Kuhn
Miss J. G.  Lally
Miss Olive Lambert
Mr. Geo Langenberg
Miss Ruby Lanham
Mr. Grower Lantz
Miss Georgette Lasire
Miss Elisabeth Laughlin
Mr. George Laurence
Mr. Francis Leahy
Mr. D. S. Leland
Mr. John Lewandowski
Miss Esther Lewis
Miss Maud Lindsey
Miss Mattie Lindsey
Mr. Theodore Loder
Mr. Walter Lorch
Miss Sarah Love
Anette Lowe
Mrs. Fannie Lucas
Mr. Charles Lueders
Mr. Michael Lyons
Mrs. Mary Lyons
Mr. William Macan
Miss Margaret McAndrews
Mr. Harry McBride
Miss Margaret McClammy
Mr. Richard McCurdy
Mr. James McEuteggart
Miss Anna McGrew
Miss Catherine McGroarty
Miss Ruth McGowon
Miss Mary McKenny
Mr. J. J. McLaughlin
Mrs. J. J. McLaughlin
Mr. David McVickar
Miss Hanna Madden
Miss Margaret Madden
Sister Mariette
Miss Elisabeth Meinecke
Mr. B. Meland
Mrs. B. Meland
Mr. Herman Meyer
Mr. Léon Michels
Miss K. P. Mier
Mrs. Sarah Miller
Miss Estrid Miller
Mr. Howard Miller
Mr. William Moore
Mrs. Annie Moore
Miss Dorothy Morris
Miss E. Morris
Rev E. Morris
Miss Addie Munday
Mr. Charles Mullin
Mr. George Naugle
Miss Helen Neel
Mr. Wm Neill
Mrs. Maria O'Brien
Miss Margaret O'Brien
Mr. Hugh O'Donnell
Mrs. H. O'Donnell
Miss Catherine O'Malley
Miss Anna O'Malley
Miss Catherine O'Neil
Mr. H. T. Osborne
Mrs. Osborne
Miss Elisabeth Padden
Miss Margaret Padden
Miss Mona Pfefferberg
Miss Elsie Phillips
Mr. Stephan Pimber
Mrs. Diana Pitts
Mr. A. Priper
Miss Mary Quinn
Mr. George Quirk
Miss VIctoria Ramstad
Miss Anne Randall
Mr. Tom Ratcliffe
Mrs. Anna Reiter
Mrs. Sally Rich
Miss Louise Rich
Miss L. Roberts
Miss Rose Roberts
Mrs. Raymonde Rocca
Miss Laura Roser
Mr. W. B. Rozsa
Mrs. Rozsa
Miss Maria Ruf
Miss Mary Rumberger
Miss Helen Schwend
Sister Sebastian
Mr. Laurence Shan
Miss Georgina Sharples
Mrs. Frances Sheard
Master Alec Sheard
Miss Nina Simmonds
Mrs. G. Simpson
Mr. William Small
Mrs. Sarah Smith
Mr. Smith
Mrs. Smith
Mr. Clarence Smitz
Mrs. A. Smitz
Miss Marion Smitz
Miss Mabel Snider
Miss Selma Solomon
Miss Mae Squire
Mr. Forest Stally
Mr. Sidney Stein
Miss Harriet Stowas
Mr. James Sutton
Mr. Ralph Swain
Dr Grace Taylor
Miss Margaret Telfer
Miss Harriett Thomas
Miss Anna Thompson
Mrs. E. Thompson
Miss Anna Thompson
Miss E. Thompson
Miss Winnifred Throup
Mr. John Tipton
Mr. Henry Toley
Mrs. L. H. Tomlinson
Miss Esther Tress
Mr. Wm Turner
Mrs. Prudence Van Couwenberghe
Miss Else Van Couwenberghe
Dr A. Vermont
Miss Augusta Wagner
Mrs. Maude Walbolt
Miss Philena Waller
Miss Jennie Walsh
Miss Mary Walsh
Mr. John Walte
Mrs. Anna Walte
Miss Adela Walte
Mrs. Mattie Walton
Miss Minnie Watkins
Mrs. Catherine Watson
Mr. Fred Weber
Mr. Edgar Weightman
Mrs. Josephine Weisgarber
Mr. Harvey Wells
Mrs. Dorothea Wells
Miss Ruth Weyl
Mr. James White
Mr. Charles Williams
Mr. John Williamson
Mrs. J. Williamson
Mrs. Grace Wilson
Miss Yvonne Winder
Miss Agnes Winston
Mrs. W. M. Wisendanger
Miss Beatrice Wood
Miss Lucille Worthman
Mr. Salomon Yungerlevy
Mrs. E. Zalinski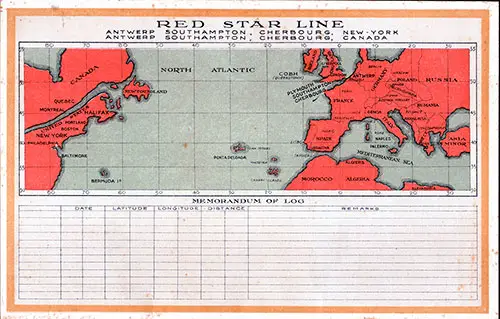 Track Chart and Memorandum of Log (Unused). SS Arabic Passenger List, 16 August 1929. GGA Image ID # 1e4be4045c
Information for Passengers
The Bugle is sounded at 8. A. M.
When One Sitting || When Two Sittings
BREAKFAST 8:30 am || 8 am and 9 am
LUNCHEON 1 pm || 12 Noon and 1:15 pm
DINNER 7:30 pm || 6:15 pm and 7:30 pm
The Bar opens at 8 am and closes at 11:30 pm.
Lights are extinguished in Midnight's Dining Saloon, Lounge, Library, and Smoking Room.
Divine Service will be held on Sundays at 10:30 am.
Seats at table. — Passengers should apply to the Chief Tourist Steward for reservation of seats.
Upper Berths. — Passengers occupying upper berths can obtain steps for getting in or out of the same on applying to the Steward or Stewardess.
Precious stones or similar merchandise articles may not be taken as baggage. Still, all passengers must deliver such goods to the Purser of the vessels upon which they arrive. The pursers are requested to provide passengers a receipt for delivered merchandise and place the goods in the safes aboard their ships until a customs permit is presented to the Inspectors, ordering the goods into the U. S. appraiser's stores for examination.
Valuables. — For the convenience of Passengers, the Line has provided in the Purser's Office a Safe in which Passengers may deposit money, jewels, ornaments, documents, or other valuables. The Purser will issue a receipt for any articles so deposited, but the Line does not. Passengers are accordingly advised to protect themselves with insurance. Regarding the ticket conditions and provisions of Section 502 of the Merchant Shipping Act 1894 and Section 4281 of the Revised Statutes of the United States, accept any responsibility for the safe custody of any such articles.
Dangerous articles such as Fireworks, Matches, Gunpowder, Gasoline, Cartridges, Moving Picture Films, etc., must not be enclosed in baggage on any account.
The Purser's Office. — Letters, Cables, Telegrams, and Marconigrams are received or delivered, and Postage Stamps can be purchased.
None of the ship's staff other than those on duty in the Purser's Office are authorized to accept Letters or Telegrams for dispatch.
Charges collected on board. — Passengers are requested to ask for a Receipt on the Company's Form for any additional Passage Money, Chair or Steamer Rug Hire, charges collected for Marconigrams, Cablegrams or Telegrams or Freight paid on board.
Passengers' Mail. — On the steamers' arrival, passengers should enquire whether there is any mail for them. Before disembarking, they are invited to leave their addresses at the Purser's office so that later dispatches may be redirected.
Deck Chairs and Steamer Rugs can be hired on application to the Deck Steward at a charge of $ 1.00 each for the voyage.
Baggage. — Questions relating to Baggage should be referred to the Chief Tourist Steward.
Baggage should bear the initial label of surname and also label with the owner's name and address. On arrival, bags will be grouped alphabetically in Customs shed. Passengers are required to attend personally to the Customs examination.
Baggage room. — Passengers are advised that it is not always possible to arrange to place Wardrobe Trunks in the passenger accommodation in a position where they are easily accessible. For passengers' special convenience, all heavy baggage not placed in state rooms is stored in the baggage room, where it is available to the owner twice daily at hours, as stated on the ship's notice board.
New York arrival. — Railroad tickets may be purchased upon landing in New York and upon application to the uniformed representatives of the Railroads, who meet all arriving Red Star Line steamers. Passengers' baggage may be checked from the Steamship Pier to any point along the Lines of the Pennsylvania, New York Central, Erie, Lehigh Valley, Delaware, Lackawanna, Baltimore, and Ohio, New York, New Haven, and Hartford and connecting Railroads.
Travelers Checks, payable in all parts of Europe, can be purchased at all principal offices of the Company. These Checks are accepted on board steamers in payment of accounts. Still, the Pursers only have sufficient funds to cash these Checks in a minimal amount.
Medical Attendance. — The Surgeon is authorized to make customary charges, subject in each case to the approval of the Commander, for treating passengers at their request for any illness not originating on the voyage. In the case of sickness originating on the voyage, no charge will be made, and medicine will be provided free in all circumstances.
Exchange of money. — The Purser is prepared, for the convenience of passengers, to exchange a limited amount of English, Belgian, French, and American money at rates which will be advised on application.
Dogs and cats. — Passengers are notified that dogs and cats must be handed over to the care of the livestock attendant and are not allowed in the Staterooms or on the Passenger deck.
Orchestra. — The Steamer carries an orchestra of professional musicians who will play regularly throughout the voyage.
Deck Games and Amusements. — Deck Quoits, Shuffleboard, Bull Board, and other games are provided on the deck under the charge of the Deck Steward.
Chess, Draughts, Dominoes, etc., can be obtained by application to the Lounge or Smoking room Stewards.
Library. — Books can be obtained by applying to the Library Steward.
Barber. — The barber is authorized to make the following charges:

Barber Fees. RMS Arabic Passenger List, 16 August 1929. GGA Image ID # 1e4bebaad0
Writing Paper. — Envelopes and Telegraph Forms will be found in the Library.
Railway and Steamship Time Tables of the various Companies can be obtained from the Library Stewards on application.
Picture Postcards. — Picture Postcards of the steamer can be obtained on board gratis.
Public Telephones with booths and operators on our New York Piers.
The Chief Steward holds a complaint book at the disposal of passengers.
RECOVERY OF U.S. HEAD TAX
Passengers may recover this Tax if the same has been paid, provided they inform the U.S. Immigration Inspector on arrival at New York of their intention to leave the United States within 60 days (the time prescribed by U.S. Law) and obtain from him a Transit Certificate Form 514.
It is also necessary for Transit Certificate Form 514 to be handed to the transportation company when completed in time to allow the same to be placed before the Immigration Authorities in Washington within 120 days of the passenger's arrival in the United States.
This regulation must be complied with the Tax to be recovered.
Passengers proceeding to the U. S. to stay in the States during a period exceeding 6o days, and make to this effect a declaration at the port of debarkation, will not be entitled to the reimbursement of the Head Tax, even if such passengers should leave the U. S. within the limit of 6o days.
Passengers, who desire to be reimbursed for the U. S. Head Tax,.are politely requested to indicate on arrival at the debarkation port and also on the declaration form they have to fill in when booking passage that is not within their intention to prolong their sojourn in the U. S. over the 6o days.
WIRELESS TELEGRAM RATES.
This Steamer is fitted with Marconi's Wireless Telegraphy system and Submarine Signaling Apparatus.
The following rates only include the forwarding charges within the coast station, which are additional. Every word in the address, text, and signature is counted. All invoices must be prepaid, and a receipt should be requested.
LONG RANGE WIRELESS SERVICE
This vessel is fitted with special long-range wireless apparatus, enabling passengers to communicate with friends or business connections on shore throughout the voyage across the North Atlantic Ocean.
The wireless rate for messages directed through the long-distance wireless stations at Devizes, England, is 10d. Per word, directed through Chatham, Mass, or Louisburg, N. S., is 9d per word. The ship is constantly in touch with one or other of these stations.
Ship to Ship. — The general rate for messages exchanged between British ships is 8d per word. The general rate for messages exchanged with ships of other nationalities is 8 £ d. per word, but as Dutch, Belgian, and certain other vessels apply a Wireless ship charge with a minimum of io words, the cost for messages addressed to the ship will be calculated as follows:
For less than ten words, 3/6 plus a charge of 4d. Per word.
For ten words or more, 8 1/2 d. per word.
SPECIAL RATE MESSAGES
Ocean Letters. — The Marconi Company has inaugurated an " Ocean Letter " service by which messages may be sent from one ship to another going in an opposite direction for delivery by Registered Post from the first port of call of the latter vessel. For an "Ocean Letter" sent to a British ship controlled by the Marconi Company, the rate is (inclusive of wireless, postage, and registration) 5 s for 20 words, plus 2 d for each additional word up to a maximum of 100 words. For an "Ocean Letter" sent to a foreign ship, the rate is 5/6 for the first 20 words, plus 2 £ d. for each additional word, up to a maximum of 100 words. This class of message must contain a full postal address.
Poste Radio Telegrams.—These messages are accepted for transmission to a selected vessel for mailing on arrival in port. This Service provides a most economical channel of communication with friends and relatives on shore when full-rate facilities are not desired.
Poste Radio Telegrams should preferably be handed in during the early part of the voyage. They should be addressed similarly to the following example:
Poste-New York Brown 2464 Quincy Avenue
Boston ARABIC
Arriving Tuesday Well
The inclusive cost of the above message would be 2/10 1/2
For particulars regarding Wireless communications established or expected, please consult the Wireless notice board, where complete information is posted daily throughout the voyage.