SS Lapland Passenger List - 25 July 1930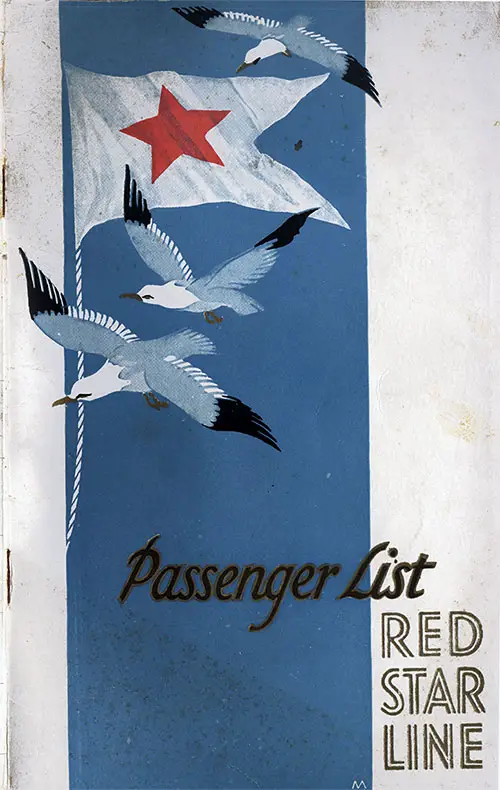 Front Cover of a Cabin Passenger List from the RMS Lapland of the Red Star Line, Departing Friday, 25 July 1930 from Antwerp to New York via Southampton and Cherbourg, Commanded by Captain H. Harvey. GGA Image ID # 14038e2b3f
Senior Officers and Staff
Commander: Captain H. Harvey
Surgeon; G. Nicolet, M.D.
Purser: Arthur C. Astle
Assistant Purser: H. Wroth
Chief Steward: W. Wilson
Cabin Passengers
Abbott, Dr. Theodore
Abbott, Mrs.
Abbott, Miss Frances, S.
Abbott, Miss Beatrice, V.
Alexander, Col. R. G.
Alexander, Mrs.
Alexander, Miss Ruth
Alexander, Master Roger
Alvin, Miss Edith, S.
Ames, Mrs. Charles
Ames, Miss Alma
Angus, Mrs. David
Angus, Mr. Bruce
Angus, Mr. David, R.
Anke, Miss Kate
Arquin, Mr. Florestan
Arquin, Mrs. Marie
Arquin, Master Raoul
Baldwin, Mr. J. G.
Baldwin. Mrs.
Ballon, Mr. S. P.
Ballon Mrs.
Bamberger. Mr. Theron
Bander, Miss Golda
Barrett, Mrs. J.
Bassett, Mrs. Charles, W
Bates, Mrs. M. R.
Bates. Dr. R.
Bates, Mrs.
Beatty, Dr. T. B.
Bell, Mr. E. H.
Bell, Mrs.
Benedict, Mrs.
Bennett. Mrs. K. R.
Bergamini, Miss R.
Bigby, Capt. W. A.
Blegen, Mr. Carl
Blegen, Mrs. Elisabeth
Blenheim, Mrs. R.
Blenheim, Miss Vera
Blenheim, Miss Evelyn
Bosworth, Dr. Robinson
Boyd, Miss Ann, Dickie
Boynton, Mr. N.
Bracewell, Mrs. John
Brand, Capt. T. S.
Brand, Mrs.
Brand, Miss
Brann, Mr. H. E.
Brann, Mrs.
Breyer, Mr. M.
Breyer, Mrs. M.
Brice, Miss M. L.
Briggs, Mr. Robert, J.
Briggs, Mrs.
Bristol, Dr. L. D.
Britton, Miss Alice
Broch, Mr. Sidney, L.
Broch, Mrs.
Brockway, Dr. P.
Brockway, Mrs.
Brockway, Mr.
Brown, Dr. Sydney
Brown, Mrs.
Brown, Miss Evelyn. L.
Brown, Miss Eleanor, W.
Bullard, Dr. Thomas
Bunker, Miss Albert
Burns. Dr. Harry
Burrage, Dr. S.
Burrage, Mrs.
Calduwood. Miss Katherine
Cannon, Miss Jane
Cannon, Miss A. J.
Carew, Mr. G. P.
Chamberlain, Mr. W. G.
Chamberlain, Mrs.
Chapman, Mr. S. A.
Chapman, Mrs.
Clark. Col. E. B.
Clark, Mrs.
Clerck, Miss Marie
Cochen. Mr. H. B.
Cochen. Mrs.
Coleman, Miss Anne, W.
Coleman, Mr.
Coleman, Dr. Wm. S.
Coleman, Mrs.
Collar, Miss Kate
Como, Mr. W. J.
Como, Mrs.
Cooke, Miss Elisabeth
Cooke, Miss Emma
Coughlin, Dr. Agnes
Coulter, Mr. Lloyd
Coulter, Mrs. Marjorie
Cox, Mrs. A. J.
Cox, Mr. John, R.
Cox, Mrs. Leopoldine
Cox, Master Martin
Cox, Miss Mary
Cox, Miss Ada
Cox, Mr. Walter
Crawford, D. L. D.
Danin, Mr. Jolin
Danin, Mrs.
Darlington, Bishop
Darnell, Mr. Albertus
Diamond, Miss Agnes
Dignum, Miss Emmeline
Dillard, Miss Elisabeth
Downton, Mrs. J.
Downton Miss Lena
Downton, Miss Edith
Ehrenfeld, Miss Rose, M.
Eley, Mr. W. R.
Ellis, Miss Clara. F.
Ennis, Miss lsabel, A.
Ertzinger, Mr. Georges
Ewing, Mr. Oscar, R.
Farley, Miss Alice, B.
Feer, Mr. H. Ernest
Feer, Mrs.
Feer, Miss Barbara
Feer, Master Robert
Feer, Master Mark
Fielding, Mr. Paul
Fielding, Mr. Gerald
Fletcher, Miss Anna
Franks, Mrs. F. R.
Frazer, Mr. Robert
Frederics, Mr. Arthur
Gehrmann, Dr. George
Gehrmann, Mrs.
Geisler, Mrs. E. W.
Geisler, Mr. Philip
Genung, Dr. Lewell, T.
Genung, Mrs.
Genung, Miss Elisabeth
Gerber, Miss Stella
Gibson, Mr. John, F.
Gillespies, Miss
Graham, Col. James, G.
Greene, Mrs. E. F.
Greene, Mr. Stephen
Groscop, Miss Julia
Hall, Miss Medra
Hampton, Miss Elisabeth
Hanskin, Miss Margaret
Hauben, Mr. S. S.
Hauben, Mrs.
Hawkins, Mr. B. L.
Hawkins, Mrs. A. L.
Henkel, Mrs. Frances, B.
Henkel, Master Paul
Henkel. Master Harold
Henkel, Dr. Paul
Hills, Miss Veronica
Hogan, Miss Alice, L.
House, Miss Freda
Hughes, Mr. Edward
Humphrey, Miss Teresa
Hunter, Mr. John
Jackson, Mr. Cecil
Jacobsen, Miss Agnes
Jacques, Mrs. Mario
Jacques, Dr. Arthur
Jacques, Mrs.
Jacquinot, Miss Marguerite
Janssen, Mrs. C. L.
Jardine, Mr. John, A.
Johnson, Dr. W
Johnson, Mrs.
Johnson, Mr.
Johnson, Mrs. J.
Kay. Mr. Edgar
Kay, Mrs.
Kennedy, Dr. J. P.
Ketcham, Miss Emily, L.
Koch, Miss Anna
Lankin, Miss Wina
Lee, Mr. W. J.
Lee, Mrs.
Lee, Miss Eileen
Levy, Mr. George, G.
Levy, Mrs. Jessie
Levy, Miss Hortense
Littlefield, Mrs. Mary, J.
Lloyd, Mr. E. M.
Lloyd, Mrs.
Lloyd, Miss Margaret
Lloyd, Master Van
Lohmaier, Mr. Mathews
Luckett, Mr. Thomas
Luckett, Miss Jasie
Lynch, Mr. Bert., T.
Lynch, Mrs. Dorothy, S.
Lynch, Dr. P.
Lynch, Mr. Paul
Maitland, Mrs. J. E.
Marchesseau, Miss Josephine
Maslon. Dr. Morris
Mc Cain, Mr. S. A.
Mc Cain, Mrs. K. A.
Mc Comas, Dr. Henry
Mc Donald, Miss Theo
Mc Donald, Miss Helen
Mc Elroy, Miss M. H.
Mc Knight, Dr. Richard
Mc Knight, Mrs.
Mc Lain, Dr. W. H.
Mc Lain, Dr. C. B.
Mc Neille. Mr. Holbrook, M.
Means, Dr. Lenna, L.
Meyer, Mr. H. F.
Meyer, Mrs.
Miller, Miss Ruth
Miller, Miss Vivian
Miller, Miss Anastasia
Mohr, Miss Mary
Mollinson, Mr. James
Mueller, Mr. B. H.
Myers. Dr. John
Nanney, Miss Clara
Nelson, Dr. Edward
Nelson, Mrs.
Nichols, Miss Lilian
O'Kuyama, Mr. Sobey
Parker. Mr. C. S.
Parks, Mr. Henry, G.
Parks, Mr. Archibald
Patton, Mr. Russell, B.
Payne, Dr. G.
Payne, Mrs.
Pelouze, Dr. E.
Pelouze, Miss Anna
Peters, Dr. Lulu, H
Phillips, Mr. Ben
Phillips, Mrs.
Phillips, Master Peter, R.
Phillips, Master Ben.
Phillips, Master Tom
Pinnell, Mrs. J. H.
Read, Dr. H. K.
Reid, Miss Laurie, J.
Rhea, Mr. E. M.
Rice, Major Henry, L.
Rice, Mrs.
Rice, Miss
Ricker, Miss Mabel, G.
Russell, Mrs. David, A.
Rzewski Mr.
Satge, Mr. A.
Satge, Mrs.
Schabelitz, Mr. R. F.
Schabelitz, Mrs.
Schabelzton. Miss Martha
Schroder, Miss [Dr.] May
Schumacher, Miss Agnes
Schumacher, Miss Gladys
Serpell, Miss Leta
Sibley, Mr. F. E.
Smith, Dr. Lillian
Smith, Miss Nelle
Smyth, Dr. H. F.
Smyth, Miss
Sprecher, Mr. Walter
Sprecher, Mrs.
Sprecher, Mr. Drexel
Standish, Miss Lorene
Steele, Miss Louise
Stockton, Miss Josephine
Stoughton, Miss Grace, W.
Stoughton, Mr. Charles, W.
Stull, Mr. Karl
Stull, Mrs.
Swanbeck, Mrs. Irene
Szymkowiak, Mrs. Gertrud
Taylor. Mr. James
Taylor, Mrs. G.
Tholl, Mr. John
Toujos, Rev. John
Trojanowski, Mr.
Turrell, Miss Virginie
Uhl, Mrs. Mee
Uhl, Miss Elisabeth
Uhl, Mr. Melvin
Vanston, Mr. John, M.
Viool, Mrs. R.
Viool, Miss Sarah
Waite, Dr.
Walsh. Mr. J.
Walsh, Mrs.
Warner, Hon. Elmer
Warner, Mrs.
Weiss, Mrs. Paula
Wells, Mr. F. A.
Wells, Mrs.
Whitteer, Miss Alice, W.
Williams, Dr. Maysel
Wolfson, Mrs. Edith
Wolfson, Miss Elaine
Woodberry, Miss Marion, E.
Woods, Dr. Harold
Woods, Mrs. Ethel
Woods, Miss Kathleen
Wright, Mrs. Charles, A.
Zingsheim, Miss D. K.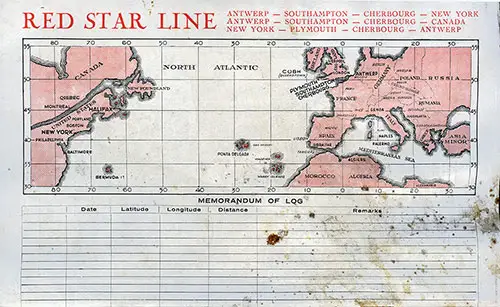 Information for Passengers
The Bugle Is sounded at 8 A. M.
First Sitting
BREAKFAST at 8:00 am
LUNCHEON at 12 noon.
DINNER at 6:15 pm
Second Sitting
BREAKFAST at 9:00 am
LUNCHEON at 1:15 pm
DINNER at 7.30 pm
The Bar opens at 8:00 am and closes at 11:30 pm
Lights are extinguished in the Dining Saloon. Lounge, Library and Smoking Room at Midnight.
Divine Service will be held on Sundays at 11:30 am
Passengers are requested to ask for a receipt on the Company's Form for any additional Passage Money, Chair or Steamer Rug Hire, or Freight paid on board.
Seats at table. - Passengers who have not previously arranged for seats at table to be reserved should apply for same to the Second steward.
Library. — Books can be obtained on applying to the Library steward.
In addition to this library, an arrangement has been made with Harrods of London, to place on board every voyage the latest publications, to supplement the permanent library.
Deck Chairs and Steamer Rugs and also Deck Chair Cushions can be obtained on application to the Deck steward, at a charge of $ 1.50, each for the voyage.
Meals not permitted to be served in the Library.
Medical attendance. The Surgeon is authorized to make customary charges, subject in each case to the approval of the Commander, for treating passengers at their request for any illness not originating on the voyage. In the caSe of sickness developed on the voyage, no charge will be made, and medecine will be provided free in all circumstances.
The Surgeon will be in attendance at the surgery for con-sultations at the following hours : 10:00 am 6:00 pm 8:30 pm
The Surgeon will be available at all times in cases of urgency.
Sea Sickness. - While few persons suffer from this ailment the Red star Line in their efforts to render every possible service, has adopted a device known as the "Ozonator" which has proven most satisfactory in relieving distressed passengers. Anyone requiring attention should see the Ship's Surgeon who will arrange to give treatment.
Baggage. — Questions relating to Baggage should be referred to the assistant Second Steward, who Is the Ship's Baggage faster. Trunks, Chairs, etc., which passengers may desire to leave in charge of the Company, should be appropriately labeled and handed to the Baggage Master, on the dock at New Yotk and such articles will be stored entirely at owner's risk.
It is for passengers themselves to see that all of their baggage is passed by the U.S. Customs Authorities on landing at New York. Uncrated automobiles carried as baggage must be included on the U.S. Customs Declaration which will facilitate Customs clearance.
New York arrival. — Baggage. — Should the steamer arrive at New York Wharf after 8:00 pm, all passengers who have been passed by the u. s. Immigration Authorities may land or remain on board over night at their own option.
Those passengers who have been passed by the Immigration Authorities and desire to remain on board may have all their baggage passed by the U.S. customs that night or the following morning at their own option. No baggage will be passed before 8:00 am the day following arrival. Breakfast will be served to those who remain on board over-night.
Upon landing at New York, and upon application to the representatives of the Railroads, who meet all arriving Red Star Line steamers, railroad tickets may be purchased, and baggage of Passengers may be checked from the Steamship Pier to any point along the Lines of the Pennsylvania, New York Central, Erie, Lehigh Valley, Delaware and Lackawanna. Baltimore and Ohio, New York, New Haven and Hartford and connecting Railroads.
In the event of the steamer arriving at quarantine after the hours mentioned hereunder, passengers, other than United States Citizens, may be required by the U.S. Immigration Authorities to remain on board over night, and to have their passports examined the following morning :
October to December inclusive 5.30 pm
January to March — 6:00 pm
April to June — 7.30 pm
July to September — 7.15:00 pm
Breakfast will be served in the usual course.
Notice. Before leaving the vessel the passengers must present their landing card to a U.S. Immigrant Inspector for endorsement.
Wardrobe Trunks. — Passengers are advised that it is not always possible to arrange for the placing of Wardrobe Trunks in the passenger accommodation in a position where they are easily accessible, also that there is frequently difficulty, with regard to the landing of such packages owing to their exceptional size.
They are therefore recommended to use steamer trunks in preference or to send their Wardrobe Trunks to ship's Baggage room, which is open daily at fixed hours.
Precious stones or other similar articles of merchandise may not be taken as baggage but all passengers must deliver such goods to the Purser of the vessels upon which they arrive.
The Pursers are requested to deliver passengers a receipt for merchandise so delivered and place the goods in the safes aboard their vessels until a customs permit is presented to the Inspectors, ordering the goods into the U.S. appraiser's stores for examination.
Valuables. For the convenience of Passengers, the Line has provided in the Pursers Office, a Safe in which money, jewels, ornaments, documents or other valuables may be deposited by passengers.
A receipt for any articles so deposited will be issued by the Purser, but the Line does not, having reghard to the ticket conditions and to the provisions of Section 502 of the Merchant Shipping Act 1894 and of Section 4281 of the Revised Statutes of the United States, accept any responsibility for the safe custody of any such articles.
Passengers are accordingly advised to protect themselves by insurance.
Dangerous articles such as Fireworks, Matches, Gun-powder, Gasoline, Cartridges, Moving Picture Flims,etc, must not on any account be enclosed in baggage.
Travellers Cheques, payable in all parts of Europe, can be purchased at all the principal offices of the Red Star Line. These Cheques are accepted on board Red Star steamers in payment of accounts, but the Pursers do not carry funds to enable them to cash same.
Exchange pf Money. — The Purser is prepared, for the convenience of Passengers, to exchange a limited amount of money, at rate which will be posted on Bulletin Boards outside the Enquiry Office.
Wines, etc. — Passengers are requested to sign cards when ordering Wines and Spirits, etc., at table, and accounts for these are presented at the end of the voyage by the Table Steward or Bedroom Steward, to whom payment may he made.
Dogs. — Dogs are not allowed in the Staterooms or on the Passenger decks. Dogs, cats and other animals carried as baggage to be landed at New York must be included on the US. Customs Declaration.
Deck Games and Amusements. -- Deck Quoits, Shuffle-board, Bull Board and other games are provided on deck under the charge of a Quartermaster.
Chess. Draughts, Dominoes, etc., may be obtained on application to the Smokng Room Steward.
Writing Paper. - Envelopes and Telegraph Forms will be found in the library.
Railway and Steamship Time Tables of the various Companies can be obtained from the Library Steward.
Picture Postcards. — Picture Postcards of the steamer can be obtained on board gratis.
Upper Berths. — Passengers occupying upper berths can obtain steps for getting in or out of same by applying to the Steward or Stewardess.
Enquiry Office. — Passengers' mail, telegrams, radios. etc., are received at and sent from this office. Postage stamps can be purchased here, and also from the Library Stewaed.
None of the ship's staff other than those on duty in the Enquiry Office are authorized to accept Letters or Telegrams for despatch.
Letters, Etc,, for Passengers will be brought on board before the passengers land.
Mail. — Passengers should ascertain whether there is any mail for them before disembarking. They are invitrd to leave their addresses at the Enquiry Office, or on the cards sent to the Staterooms for the purpose, for late correspondence to be redirected.
Passengers' Quarters. — Cabin passengers are not allowed to enter Tourist or Third Class compartments, or vice versa, as complications might arise under the Quarantine Regulations.
Public Telephones with booths and operators on our New York Piers.
Barber. — The barber is authorized to make the following charges:-
Shaving: $0.20
haircutting: $0.25
Shampooing: $0.20
Singeing: $0.20
Face Massage: $0.40
Scalp Massage: $0.25
Tonic Dressing: $0.10
Manicure: $0.75
The Barber is allowed the privilege of selling various souvenirs and small articles on his own account.
Orchestra. — The steamer carries a string orchestra which will play at suitable times.
The Chief Steward holds a complaint book at the disposal of passengers.
RECOVERY OF U.S. HEAD TAX
This Tax may be recovered by passengers, if same has been paid, provided they inform the U.S. Immigration Inspector on arrival at New York of their intention to leave the United States within 60 days (the time prescribed by U.S. Law), and obtain from him Transit Certificate Form 514.
It is also necessary for Transit Certificate Form 514 to be handed to the transportation company when completed, in time the allow same to be placed before the Immigration Authorities in Washington within 120 days of passenger's arrival in the United States.
Unless this regulation is complied with the Tax cannot be recovered.
Passengers, proceeding to the U.S. with the intention to stay in the States during a period exceeding 60 days, and make to this effect a declaration at the port of debarkation, will not be entitled to the reimbursement of the Head Tax, even if such passengers should leave the U.S. within the limit of 60 days.
Passengers, who desire to be reimbursed of the U.S. Head Tax, are politely requested to clearly indicate on arrival at the debarkation port and also on the declaration form they have to fill in when booking passage that it is not within their intention to prolong their sojourn in the U.S. over the 60 days.
WIRELESS TELEGRAM RATES
This Steamer is fitted with Marconi system of Wireless Telegraphy and also with Submarine Signalling Apparatus
The following rates do not include the forwarding charges beyond the coast station, which are additional. Every word in the address, text, and signature is counted. All charges must be prepaid and a receipt should be requested.
LONG RANGE WIRELESS SERVICE
This vessel is fitted with special long range wireless apparatus which will enable passengers to communicate with then, friends or business connections on shore at any time during the voyage across the North Atlantic Ocean.
The Wireless charge for messages directed through the Long Distance Wireless Station at Devizes, England is 10d. per word; directed through Louisburg, Nova Scotia, or Chatham, Mass. is 9 d. per word.
The ship is constantly in touch with one or other of these stations.
Ship to Ship. — The general rate for messages exchanged between British ships is 8d. per word. For messages exchanged with ships of other nationalities, the general rate is 8 1/2 d. per word, but as Dutch, Belgian and certain other vessels apply a Wireless ship charge with a minimum of 10 words, the charge for messages addressed to the vessels will be calculated as follows : For less than 10 words... .3/6 plus a charge of 4 d. per word. For 10 words or more...............................8 1/2 d. per word.
SPECIAL RATE MESSAGES
Ocean Letters. — The Marconi Company have inaugurated an "Ocean Letter" service by which messages may be sent from one ship to another going in an opposite direction for delivery by Registered Post from the first port of call of the latter vessel.
For an "Ocean Letter" sent to a British ship controlled by the Marconi Company, the rate is (inclusive of wireless, postage and registration) 5 s. for 20 words, plus 2 d . for each additional word up to a maximum of 100 words.
This class of message must contain full postal address.
Poste Radiotelegrams. — These messages are accepted for transmission to a selected vessel for mailing on arrival in port. This service provides a most economical channel of communication with friends and relatives on shore when full rate facilities are not desired.
Poste Radiotclegrams should preferably be handed in during the early part of the voyage and should be addressed in a manner similar to the following example :
Poste-New York Brown 2464 Quincy Avenue
Boston LAPLAND
Arriving Tuesday Well
The inclusive cost of the above message would be 2/10.
For particulars regarding Wireless communications established or expected, please consult the Wireless notice board, where full information is posted daily throughout the voyage.