RMS Belgenland Passenger List - 8 August 1930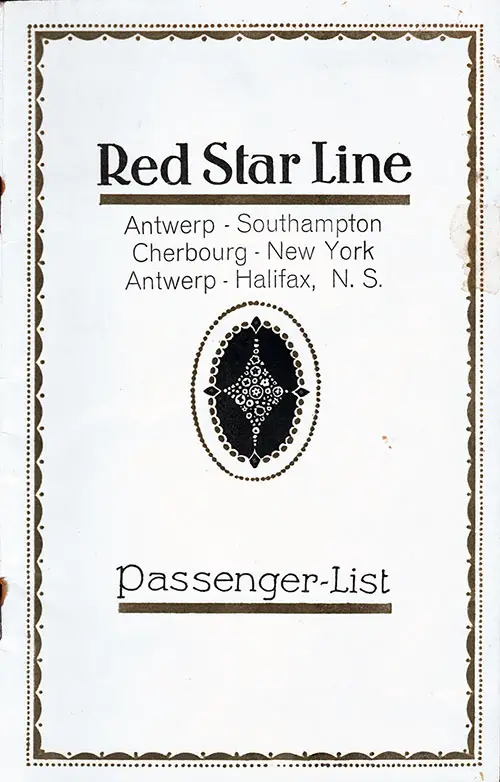 Front Cover of a Tourist Passenger List from the RMS Belgenland of the Red Star Line, Departing 8 August 1930 from Antwerp for New York via Southampton and Cherbourg, Commanded by Captain W. A. Morehouse. GGA Image ID # 1dafd1fd92
Senior Officers and Staff
Commander: W. A MOREHOUSE
Chief Engineer: J. RUSSELL MACKAY
Surgeon: F. BASECQ M.D. Grad. Trop. School. Hon. Cap. S.A.M.C.
Assistant Surgeon : R. LUYTEN M. D.
Purser: J. A LOCK
Assistant Purser: W. I. BROWNRIGG
Chief Steward: W. T. HEATH
Tourist Passengers
Abbott, Mr Donald
Abdon, Mr Howard
Adriaenssens, Mrs. Therese
Adriaenssens, Master Jos.
Allan, Mr Ralph
Alling, Miss Jeanne
Anderson, Miss Annie
Armime, Miss Ruth
Armstrong, Prof. A. H.
Arteel, Mrs. Mary
Avram, Miss Anna
Baecke, Mrs. Maria
Baecke. Miss Emma
Baecke, Mr Josef
Bailey. Mr Harold
Bauer, Dr Leon
Barban, Miss Dora
Barban, Miss Beky
Barrett, Miss Louise
Barrett, Miss Louise
Bates, Mrs. S.
Beckman, Mrs. Philomène
Bergh, Mr Hjalmar
Berry, Mr John
Biasi, Mr Angelo
Biebuyck, Mrs. Madeleine
Birnbaum, Mr Alexander
Birnbaum, Mrs. Elma
Bishop, Master Armand
Bishop. Miss Mary
Bishop, Miss Loretta
Blaakman, Mr Emiel
Blaakman, Mrs. Marie
Blaakman, Miss Leona
Blondeel, Mrs. Elodie
Blumberg, Miss Irene
Bock, Mr Arthur
Bock, Mrs. Ellen
Bodevin, Mrs. Suzan
Bodio, Mr Pietro
Boens, Mrs. Clemence
Boens, Miss Bertha
Boisson, Mr Hamlet
Bonner, Mr Arthur
Boniver, Mr Jean, M.
Boniver, Mrs. Elisabeth
Boot, Miss Antonia
Borley, Mrs. D.
Borley, Master Jack
Bowers, Miss Marion
Boylan, Mrs. Catherine
Brassine, Mr George
Breckwoldt, Mrs. A.
Brennan, Miss Mary, E.
Brennan, Mrs. P.
Briesemeister, Miss Laura
Brown,Miss Doris
Brown, Miss Constance
Brown, Miss Isabella
Browne, Mr Samuel S.
Browne, Mrs. Florence
Brusher, Mr Henry, J.
Buchanan, Miss Isabel
Burns, Mr J A.
Burns, Mrs.
Burrus, Mr J. D.
Bus, Mr Joe
Busch, Mr Ernest
Busch, Mr Ernest
Buysscher, Mrs. Helen
Caldwell, Mrs. M.
Calmeyn, Mr Silver
Campbell, Miss Marceline
Candries, Mrs. Charlotte
Cantlin, Miss Celeste
Cassidy, Dr. Louis
Cassidy, Mrs. Virginia
Caspole, Miss Florence
Cato, Mr Robert
Chantrenne, Mr Oscar
Chapman, Mrs. June, R.
Childress, Miss Ethel
Chraga, Rev. John
Clayton, Miss P. W.
Clinchy, Rev. R. J.
Clinchy, Mrs.
Collier, Mr John
Collier, Prof. Theodor
Coolens, Mrs. Emma
Coolens, Miss Louise
Coolens, Master Jules
Coughlin, Miss Helen
Coughlin, Miss Mary, C.
Counsil, Miss Marjory. E.
Crooker, Miss Myrtie
Cruickshank, Mrs. Mary
Currier, Miss Edith
Daily, Miss Alberta
Davidson, Miss Mary
Davidson, Miss Nellie
Davis, Mr George
Davis, Mrs. Martha
Day, Mrs. Annie, M.
De Baere, Mr René
De Coster, Mrs. Gabrielle
De Graeve, Mrs. Helene
De Graeve, Master Emile
De Grande, Mr Alfons
De Grande, Mrs. Augusta
De Grande, Miss Martha
De Grande, Master René
De Grande, Miss Bertha
De Grande, Miss Margaret
De Grande, Master Arthur
De Grande, Master Frank
De Grande, Master Donald
De Keuninck, Mr Cyrille
De Keuninck, Mrs. Pauline
De Keuninck, Master Cyr.
Delchambre, Mrs. Melanie
Delobel, Mr Gustaaf
De Meyere, Mrs. Emma
De Peuter, Mrs. Mary
De Witte, Mrs. Louise
De Witte, Miss Margarete
Dhooge, Mrs. Marie
Dhulst, Mrs. Pauline
Dhuyvetter, Mr Hector
Dhuyvetter, Mrs. Clement.
Dhuyvetter, Mr Edgar
Dhuyvetter, Mr Leonard
Dickerhoft, Mr Chas. M.
Dolan, Miss Mildred
Doller, Miss Rose
Donahue, Mrs. Helen
Dooms, Mrs. Mathilda
Dougherty, Mr
Douws, Mrs. Jeanne
Douws, Master Louis
Driscoll, Miss Margaret
Drobey, Mr
Drobey, Mrs.
Drury, Mr L. M.
Duer, Miss Louise
Duer, Mrs. Christiane
Dunham, Miss C. A.
Dupire, Mrs. Julie
Dusenbury, Miss Alma, F.
Eggermont, Mrs. Irène
English, Miss Mary
Everi, Mrs. Mathilde
Faucett, Mr Robert
Fees, Miss Margaret
Feldman, Miss Jeanette
Fenska, Mr Richard
Fenska, Mrs. Edna
Fenska, Miss Bonnie
Ferguson, Mrs. Clementina
Filipowicz, Mrs.
Filipowicz, Miss
Firth, Mr Thomas, H.
Fischer, Miss Ida
Fitzsimons, Mr Thomas
Flannery, Miss Margaret
Fleming, Mr. H. K.
Fly, Dr. Lawrence
Focht, Miss Georgia
Franssens, Mr Emil
Franssens, Mrs. Fiorina
Frick, Miss Gene
Galle, Mrs. Carolina
Galle, Miss Irene
Galle, Mr Gustave
Gauld, Miss Lois, M.
Geddes, Mrs. Zelda
Giese, Mr Ferdinand
Giese, Mrs. Elise
Gloor, Mrs. Ida
Goodwin, Miss A.
Gordon, Miss Dorothy
Goosens, Mrs. Therese
Gourmaud, Mr Louis
Gray, Mr Hugh
Green, Mr Charles, A.
Greene, Dr. Willard
Greene, Mrs. Harriet
Greene, Miss Lois
Grinstein, Mr Symul
Groesbeck, Miss Dorothy
Grosjean, Prof. W. H.
Grosjean, Mrs.
Grubsch, Mrs. H. W.
Guyaux, Mr Prudent
Hackett, Mrs. Jean
Haicken, Dr Irwin
Haiken, Mrs. Irwin
Halliwill, Miss Myrtle
Halpin, Mr L.
Hamilton, Miss Therese
Hanks, Miss Sylvia
Hanlin, Miss Nelle
Hannay, Mrs. N. C.
Hansen, Mr Adolph
Hargis, Mr J. L.
Hargis, Mr J. L. Jr.
Haskins, Mr Preston, J.
Haskins, Mrs. Ella
Hausholden, Miss Augusta
Havice, Mrs, Charle W.
Heard, Mr J. A.
Heil, Miss Bertha
Helfinstein, Mr Roy, C.
Henchey, Miss Mary
Henderson, Miss Leah
Henry, Miss Doris
Higgins, Miss E.
Hilidis, Mrs. Elisabeth
Hogan, Miss Agatha
Hogg, Mr Wm
Hogg, Mrs.
Hornby, Miss Mary
Hotaling, Miss J.
Howard, Dr. Joseph
Howard, Mrs. May
Howard, Miss Mary
Hulley, Mr J.
Hunton, Miss Sarah
Huntoon, Miss Sarah
Hutsch, Mr Charles
Jacquinet, Mr Nicolas
Jacquinet, Mrs. Maria
Jaeschke, Mrs. Veronica
Jaeschke, Mr Otto
Jamieson, Miss M. B.
Johnson, Miss B.
Joos, Mrs. Emma
Joos, Mr Leopold
Kaminski, Mr John
Kaminski, Mrs. John
Katz, Miss F.
Keeman, Mrs. S.
Keeman, Mr D. E.
Keller, Miss Anna
Keller, Mrs. E.
Kempel, Miss Caroline
Kempel, Miss Florence
Kendzora, Mrs. Jossie
Keywan, Mr Nicholaus
Keywan, Mrs. Patricia
Keywan, Master James
Kiefer, Mrs. Anna
Kingsley, Mr John
Kingsley, Mrs.
Kirby, Miss Margaret
Kirk, Mrs. A.
Kleber, Rev. A. J.
Klein, Mr François
Klockner, Mr W. P,
Kniedinger, Mr Felix
Kobylnyk, Mr Fedor
Koenig, Mr Albert
Koenig, Miss Hedwig
Kooyman, Mrs. Johanna
Kooyman, Mr Anthony
Kooyman, Mr Simon
Kraushar, Dr Samuel
Kressel, Mr Samuel
Krisilevsky, Dr Wladimir
Kuhn, Mr Norman
Kuhn, Mrs. Helen
Labat, Mrs. Cantillis
Laermans, Mrs. Margaret
Laermans, Miss Josephine
Laermans, Master John
Lainont, Mr C. l
Lamote, Mrs. Mary
Landuyt, Mrs. Madeleine
Landuyt, Miss Irène
Lansden, Miss J.
Lapinne, Mrs. Louise
Lapinne, Master George
Larson, Miss Ruth
Leemans, Mr Joseph
Leemans, Mr Leon
Lemmenmeier, Mrs. Rosa
Lemmenmeier, Miss Rosa
Lenz, Mr Carl
Lenz, Mrs. Lena
Levering, Mrs. Estella
Levering, Miss Stella
Lewis, Miss Gladys
Lichtenheld, Miss Margar.
Lindeman, Miss Emma
Lineham, Mrs. Janet, C.
Little, Miss Ruth
Looms, Mrs. Emma
Loving, Mr D. C.
Loving, Mrs.
Ludwig, Mrs. Minnie
Lutzi, Mr Josias, A.
Lutzi, Mrs
Lybrand, Miss Grace
Mac Millan, Mrs. Margaret
Machin, Mrs. S. G.
Mader, Mr Frank
Mader, Mrs. Mary
Maes, Mrs. Marie
Maes, Miss Margaret
Mahoney, Miss Catherine
Markham, Mrs. Laura
Marks, Mr c
Martens, Mr Camiel
Masset, Mrs. Louise
Mattheyses, Mr Marcel
Mattheyses, Mrs. Isabelal
Mc Allister, Mr Erford
Mc Bride, Mrs. Alpha
McConnell, Mrs.
McConnell, child
Mc Cue, Miss Goldie
Mc Gurk, Miss Madeleine
Mc Mahon, Miss Mary, A.
Mehaffie, Miss H.
Mellor, Mr Earl
Mellor, Mrs. Katharine
Mettepenningen, Mr Aug.
Meyer, Mr. Martin
Meyer, Mr Samuel
Meyer, Mr S. J.
Meyer, Mr John
Meyer, Mrs. J.
Mezz, Dr David
Mezz, Mrs. Ruth
Michielsen, Miss Suzette
Mikesell, Mr Raymond
Miller, Mr Désiré, D.
Miller, Miss Ruth
Mills, Prof. L. J.
Mills, Mrs. L. J.
Milne, Mr Peter
Minne, Mr Carl
Minne, Mrs. Augusta
Moore, Miss L.
Moorman, Mr Win. H.
Moneton, Miss Mary
Morgan, Mrs. J. L.
Morrisson, Mr James
Morter, Mrs. Julia
Moshuk, Mr Victor
Moshuk, Mrs. Pulcheria
Moss, Miss Emma
Moyaert, Mrs. Clemence
Moyaert, Master Louis
Mueller, Mr John
Munson, Miss Amelia
Murray, Mrs. Mary
Murray, Miss Catherine
Neagle, Mrs. Ida
Nicholaus, Mr Ludwig
Nickel, Mr Theodore
Nicolls, Mr John
Nicolls, Mrs. J.
Nicolls, Mr Leslie
Noe, Mrs. Martha
Noe, Mr Frank
Noe, Mrs. Bertha
Norton, Mrs. Ida
Norvelle, Mr Joseph
Norvelle, Mrs. J.
O'Brien, Miss Dorothy
O'Donnell, Miss Marietta
Ohlson, Mr Carl
Ohlson, Mrs. Catherine
Ohlson, Miss Elsie
Ohlson, Mr C.
Oldham, Miss Elisabeth
Oliver, Mr Odill
Oliver, Mrs. Sarilde
Paelman, Mr Gustaaf
Park, Miss A.
Peporte, Mr Gerard
Peporte, Mrs. G.
Pfau, Mrs. Hermine
Phillips, Mr Win
Piatkowsky, Mr I.
Pierce, Mrs. Alvira
Pierce, Miss Barbara
Polomski, Mr R.
Poppe, Mr Jean
Poppe, Mrs. Emerance
Poppe, Master Robert
Powell, Miss R.
Pratt, Mr John
Pratt, Mrs. Marion
Price, Miss A. A.
Prior, Mrs. Grace
Puyh, Mrs. M. A.
Quayhackx, Mr Jacob
Quayhackx, Mrs. Marie
Quayhackx, Mr Frank
Rass, Mrs. Minnie
Rentel, Miss Ottilie
Rickaby, Mr Percy
Rickaby, Mrs. P.
Ridgley, Miss Helen
Riebe, Mr Herman
Riedenbach, Mrs. Antonia
Roberts, Mrs. Texie
Roche, Mr. John, J.
Romano, Mr Eugene
Roscum, Miss Frances
Ross, Miss Mary
Rousseau, Mrs. L. A.
Ryan, Miss Katherine
Ryan, Miss Henrietta
Rybe, Mrs. Marie
Rybe, Miss Gertrude
Sackenoff, Mr Joseph
Saile, Mr Edward, H.
Saile, Mrs. E. H.
Sanderson, Mrs. Mary, L.
Sano, Miss Mathilda
Sartini, Mrs. Louise
Sartoris, Mr Charles
Sayre, Miss Lila
Schaefer, Mr Otto, L.
Schaefer, Mrs. Margaret
Schason, Miss Mathilda
Schiettekat, Mrs. Marie
Schiettekat, Miss Melanie
Schiettekat, Mr H.
Schmeidler, Mr John
Schmeidler, Mrs. Alva
Schmidt, Mrs. Rosamunde
Schockaert, Mrs. Josephine
Schram, Mrs. Julia
Schram, Miss Charlotte
Schuckardt, Mrs. Emma
Schuckardt, Miss Leona
Schuddinck, Mr Alfons
Schuddinck, Mrs. Rosalia
Schuddinck, Miss Dorothy
Senhauser, Mr Norman
Senhauser, Mrs. N. W.
Selezneff, Mrs. Pelagja
Shandro, Mr Miko
Shandro, Mr Andrew
Shelgreen, Miss Esther
Sheridan, Miss Frances
Shot, Miss Vivian. R.
Shott, Mr William. C.
Shott, Mrs. Loulou
Sillivan, Mrs. Josephine
Simon, Miss S.
Skinner, Miss Betty
Smith, Miss Eva, I.
Smith, Mr E. M.
Smith, Mr John
Smith, Mrs. J.
Smith, Mr Wm.
Sorenson, Mrs. Belle, B.
Speybroeck, Mrs. Martha
Speybroeck. Miss Gloria
Spoelders, Mrs. Margaret
Staelens, Mr Emile
Staelens, Mrs. Josephine
Standaert, Mrs. Sidonie
Steele, Miss Marion
Stein, Mr Donald
Stevens, Mrs. Mary
Stevens, Miss Nancy
Stewart, Mrs. B.
Stiff, Mrs. L. K.
Stokeley, Mr James, O.
Storme, Mr Charles
Sutter, Mr Edward
Svetlik, Mrs. Agnes
Svetlik, Miss victoria
Svetlik, Master Lloyd
Svetlik, Master Byron
Tatum, Mr J. G.
Taylor, Mrs. Myrtie
Tenczar, Mrs. Anna
Tenczar, Miss Mary
Terrell, Miss Edith
Thomas, Miss Marion
Tillie, Miss Alice
Timbers, Mrs. Ella
Trog, Mrs. Elise
Trog, Miss Great
Trog, Miss Lore
Turnquist, Miss Myrthe
Upton, Mrs. Julia
Upton, Miss Florence
Van Denn, Master John
Van de Putte, Mrs. Irma
Vande Putte, Master Andrew
Van de Putte, Mr E.
Van de Putte, Mrs. L.
Van de Putte, Master George
Van de Velde, Mr Alfred
Van de Velde, Mrs. Alfred
Van den Bossche, Mr Octave
Van den Bossche, Mrs. Rosalie
Van den Branden, Mr Joseph
Van den Branden, Mrs. Coletta
Van den Branden, Master George
Van den Broucke, Mr Tobias
Van den Broucke, Mrs. Rachelle
Vanderhoek.Miss Marjorie
Van der Meiren, Mrs. Aline
Van der Meiren, Master M.
Van der Niepen, Mrs. Josephine
Van Drom, Mrs. Mary
Van Eeckhoven, Mrs. Marie
Van Goethem, .Mrs.
Van Goethem
Van Goethem,
Van Gruting, Mr Johannes
Van Gijstelen, Mr. Js
Van Hal, Mr Frank
Van Hal, Mrs. Josephine
Van Haver, Miss Simonne
Van Hauwermeiren, Miss Alice
Van Horebeek, Mr Alph.
Van Horebeek, Mrs.
Van Hoorebeke, Mr Raymond
Van Hoorebeke, Mrs. Johanna
Van Lancker, Miss Anna
Van Moortel, Mr Edmond
Van Moortel, Mrs. Sophie
Vanoni, Mr Enrico
Van Ooteghem, Mr René
Van Ooteghem, Mrs. Marie
Van Orden, Miss Ruth
Van Puyvelde, Mr Leon
Van Puyvelde, Mrs. Mary
Van Wezenbeeck Mrs. Isabelle
Vardell, Miss Mary, L.
Veasey, Miss Margaret, M.
Verbeke, Mrs. Adeline
Verbeke, Mr Cyriel
Vereecken, Mrs. Marguerit
Vermeersch, Mrs. Irma
Verstraeten, Mr Alois
Verstraeten, Mr Clement.
Verstraeten Master John
Wadman, Mrs. H. W.
Walter, Mrs. B.
Walton, Miss A.
Ward, Mrs. Winifred
Ware, Miss E. L.
Warren, Mr Allan
Warren, Mrs. A.
Warren, Miss Annette
Wendland, Mrs. Netty
Wendland, Miss Martha
Wendland, Mr Walter
Werchowsky, Mr Max
West, Mr John
West, Mrs. John
Whittelsey, Miss Marguer.
Whittelsey, Mr Harry
Wilkinson, Miss A.
Williams, Miss Leone
Wilson, Miss E.
Wilson, Mr Stanley, K.
Wittevrangel, Mrs. Leonti.
Woodward, Miss Florence
Woodward, Miss Florence
Worthey, Mr Frederick
Worthey, Mr Robert
Worthington, Miss A.
Woythow, Mr Theodor
Woythow, Mrs. Daria
Yost, Miss Dorothy
Younggreen, Mrs. Ruth
Zeisel, Mrs. Sophie
Zelnigher, Dr A.
Zelnigher, Mrs. A.
Zimmerman, Miss Helen
Zimmerman, Miss H.
Information for Passengers
The Bugle is sounded at 8. A. M.
When One Sitting
BREAKFAST: 8:30 am
LUNCHEON: 1:00 pm 
DINNER: 7:30 p. m.
When Two Sittings
BREAKFAST: 8:00 am and 9:00 am
LUNCHEON: 12 Noon and 1:15:00 pm
DINNER:  6:15:00 pm and 7:30 pm
The Bar opens at 8:00 am and closes at  11:30 pm
Lights are extinguished in the Dining Saloon, Lounge, Library and Smoking Room at Midnight.
Divine Service will be held on Sundays at 11:30 am
Seats at table. — Passengers should apply to the Chief Tourist Steward for reservation of seats.
Upper Berths. — Passengers occupying upper berths can obtain steps for getting in or out of same on applying to the Steward or Stewardess.
Precious stones or other similar articles of merchandise may not be taken as baggage but all passengers must deliver such goods to the Purser of the vessels upon which they arrive.
The Pursers are requested to deliver passengers a receipt for merchandise so delivered and place the goods in the safes aboard their vessels until a customs permit is presented to the Inspectors, ordering the goods into the U.S. appraiser's stores for examination.
Valuables. — For the convenience of Passengers, the Line has provided in the Purser's Office, a Safe in which money, jewels, ornaments, documents or other valuables may be deposited by Passengers.
A receipt for any articles so deposited will be issued by the Purser, but the Line does not, having regard to the ticket conditions and to the provisions of Section 502 of the Merchant Shipping Act 1894 and of Section 4281 of the Revised Statutes of the United States, accept any responsibility for the safe custody of any such articles. Passengers are accordingly advised to protect themselves by insurance.
Dangerous articles such as Fireworks, Matches, Gunpowder, Gasoline, Cartridges, Moving Picture Films, etc., must not on any account be enclosed in baggage.
The Purser's Office. — Letters, Cables, Telegrams and Marconigrams are received or delivered, and Postage Stamps can be purchased. None of the ship's staff other than those on duty in the Purser's Office are authorized to accept Letters or Telegrams for dispatch.
Charges collected on board. — Passengers are requested to ask for a Receipt on the Company's Form for any additional Passage Money, Chair or Steamer Rug Hire, charges collected for Marconigrams, Cablegrams or Telegrams or Freight paid on board.
Passengers' Mail. — On the steamers' arrival passengers should enquire personally whether there is any mail for them, and before disembarking they are invited to leave their addresses at the Purser's office in order that later dispatches may be redirected.
Deck Chairs and Steamer Rugs and also Deck Chair Cushions can be hired on application to the Deck Steward, at a charge of $ 1.00 each for the voyage.
Baggage. — Questions relating to Baggage should be referred to the Chief Tourist Steward. Trunks, Chairs, etc., which passengers may desire to leave in charge of the Company, should be appropriately labeled and handed to the Baggage Master on the dock at New York and such articles will be stored entirely at owner's risk. It is for passengers themselves to see that all of their baggage is passed by the U. S. Customs Authorities on landing at New York.
Automobiles. — Uncrated automobiles carried as baggage must be included on the U.S. Customs Declaration which will facilitate Customs clearance.
New York arrival. — Baggage. — Should the steamer arrive at New York Wharf after 8:00 pm, all passengers who have been passed by the U. S. Immigration Authorities may land or remain on board over night at their own option.
Those passengers who have been passed by the Immigration Authorities and desire to remain on board may have all their baggage passed by the U.S. customs that night or the following morning at their own option. No baggage will be passed before 8:00 am the day following arrival. Breakfast will be served to those who remain on board over-night.
Upon landing at New York, and upon application to the representatives of the Railroads, who meet all arriving Red Star Line steamers, railroad tickets may be purchased, and baggage of Passengers may be checked from the Steamship Pier to any point along the Lines of the Pennsylvania, New York Central, Erie, Lehigh Valley, Delaware and Lackawanna, Baltimore and Ohio, New York, New Haven and Hartford and connecting Railroads.
In the event of the steamer arriving at quarantine after the hours mentioned hereunder, passengers, other than United States Citizens, may be required by the U.S. Immigration Authorities to remain on board overnight, and to have their passports examined the following morning :
October to December inclusive 5.30 pm
January to March —»— 6:00 pm
April to June —»— 7.30 pm
July to September —»— 7.15:00 pm
Breakfast will be served in the usual course.
Travelers' Checks, payable in all parts of Europe can be purchased at all principal offices of the Company. These Checks are accepted on board steamers in payment of accounts, but the Pursers have not sufficient funds to enable them to cash these Checks except in a very limited amount.
Medical attendance. — The Surgeon is authorized to make customary charges, subject in each case to the approval of the Commander, for treating passengers at their request for any illness not originating on the voyage. In the case of sickness developed on the voyage, no charge will be made, and medicine will be provided free in all circumstances.
The Surgeon will be in attendance at the surgery for consultations at the following hours: 10:00 am | 6:00 pm | 8:30 pm
The Surgeon will be available at all times in cases of urgency.
Sea Sickness. — While few persons suffer from this ailment the Red Star Line in their efforts to render every possible service, has adopted a device known as the "Ozonator" which has proven most satisfactory in relieving distressed passengers. Anyone requiring attention should see the Ship's Surgeon who will arrange to give treatment.
A Gymnasium, fully equipped with modern appliances, is situated on A. Deck and is open for exercise by Ladies, Gentlemen and children as follows :
6:00 am to 9:00 am for Gentlemen only;
10:00 am to 12 noon for Ladies only;
12 noon to 1:00 pm for Ladies and Gentlemen;
1:00 pm to 3:30 pm for Children;
3:30 pm to 7:00 pm for Ladies and Gentlemen.
No charge is made for the use of the appliances.
The Company accept no responsibility whatsoever for any accident whatever cause arising to any passenger using the Gymnasium.
A Children's Playroom. Located on A. Deck, this room is in charge of a trained attendant and has a large assortment of the latest games and devices for the amusement and enjoyment of children.
Cinematograph Shows. — Cinematograph performances will be given at the times designated on the ship's notice board.
Exchange of money. — The Purser is prepared, for the convenience of passengers, to exchange a limited amount of English. Belgian, French and American money, at rates which will be advised on application.
Dogs and Cats. — Passengers are notified that dogs and cats must be handed over to the care of the live-stock attendant and are not allowed in the Staterooms or on the Passenger deck.  Dogs, cats and other animals carried as baggage to be landed at New York must be included on the U.S. Customs Declaration.
Orchestra. — The steamer carries an orchestra of professional musicians which will play regularly throughout the voyage
Deck Games and Amusements. — Deck Quoits, Shuffleboard, Bull Board and other games are provided on deck under the charge of the Deck Steward.  Chess, Draughts, Dominoes, etc., can be obtained on application to the Lounge or Smoke-Room Stewards.
Library. — Books can be obtained on applying to the Lounge Steward.
Barber. — The Barber is authorized to make the following charges :
Shaving: $0.15
Haircutting: $0.25
Shampooing: $0.20
Singeing: $0.15
Face Massage: $0.35
Scalp Massage: $ .25
Tome Dressing: $0.05
Manicure: $0.75
Ladies' Hairdresser-Manicurist. (Coiffeur pour Dames-Manucure). Saloon located on B.  deck.  The services of our experienced Hairdresser and Manicurist are at the disposal of ladies in accordance with the following tariff :
Hair Trimming: $0.25
Singeing: $0.25
Cutting and Singeing: $0.70
Part Waving: $0.75
Waving and Curling: $1.00
Shampoo (ordinary): $0.60
Shampoo (shingled hair): $0.35
Facial Massage (hand): $0.35
Facial Massage (Vibro): $0.60
Scalp Massage: $0.35
Manicure: $0.75
Writing Paper. — Envelopes and Telegraph Forms will be found in the Library.
Railway and Steamship Time Tables of the various Companies are at passengers' disposal at the Enquiry Office and in the Lounge.
Picture Postcards. — Picture Postcards of the steamer can be obtained on board gratis.
Public Telephones are on our New York Piers.
NOTICE
Landing Cards. — Before leaving the vessel the holder must present his or her Landing Card to the Immigration Officer for endorsement.
The Chief Steward holds a complaint book at the disposal of passengers.
APPROXIMATE DISTANCES
Antwerp to Flushing: 46 Miles
Antwerp to Southampton: 261 Miles
Antwerp to Cherbourg: 278 Miles
Southampton to Cherbourg (via Nab): 89 Miles
Southampton to Cherbourg (via Solent): 82 ½ Miles
Plymouth to Cherbourg: 120 Miles
Scilly to Plymouth: 99 Miles
Lizard to Plymouth: 51 Miles
Cherbourg to Lizard: 143 Miles
Cherbourg to New York (Northern Track): 3,071 Miles
Cherbourg to New York (Southern Track): 3,157 Miles
Cherbourg to New York (Extra Southern Track): 3,189 Miles
New York Pier to Ambrose Channel Lightship:   23 Miles
New York Pier to Fire Island Lightship: 53 Miles
New York Pier to Nantucket Lightship: 215 Miles
London (Gravesend) to Antwerp: 180 Miles
RECOVERY OF U.S. HEAD TAX
This Tax may be recovered by passengers, if same has been paid, provided they inform the U.S. Immigration Inspector on arrival at New York of their intention to leave the United States within 60 days (the time prescribed by U.S. Law), and obtain from him Transit Certificate Form 514.
It is also necessary for Transit Certificate Form 514 to be handed to the transportation company when completed, in time the allow same to be placed before the Immigration Authorities in Washington within 120 days of passenger's arrival in the United States.
Unless this regulation is complied with the Tax cannot be recovered.
Passengers, proceeding to the U.S. with the intention to stay in the States during a period exceeding 60 days, and make to this effect a declaration at the port of debarkation, will not be entitled to the reimbursement of the Head Tax, even if such passengers should leave the U.S. within the limit of 60 days.
Passengers, who desire to be reimbursed of the U.S. Head Tax, are politely requested to clearly indicate on arrival at the debarkation port and also on the declaration form they have to fill in when booking passage that it is not within their intention to prolong their sojourn in the U.S. over the 60 days.
WIRELESS TELEGRAM RATES
This Steamer is fitted with Marconi system of Wireless Telegraphy and also with Submarine Signaling Apparatus
The following rates do not include the forwarding charges beyond the coast station, which are additional. Every word in the address, text, and signature is counted. All charges must be prepaid, and a receipt should be requested.
LONG RANGE WIRELESS SERVICE
This vessel is fitted with special long range wireless apparatus which will enable passengers to communicate with their friends or business connections on shore at any time during the voyage across the North Atlantic Ocean.
The Wireless charge for messages directed through the Long Distance Wireless Station at Devizes, England is 10d. per word; directed through Louisburg, Nova Scotia, or Chatham, Mass, is 9d. per word.
The ship is constantly in touch with one or other of these stations.
Ship to Ship. — The general rate for messages exchanged between British ships is 8d. per word. For messages exchanged with ships of other nationalities, the general rate is 8 ½ d. per word, but as Dutch, Belgian and certain other vessels apply a Wireless ship charge with a minimum of 10 words, the charge for messages addressed to the vessels will be calculated as follows :
For less than 10 words: 3/6 plus a charge of 4 d. per word.
For 10 words or more: 8 ½ d. per word.
SPECIAL RATE MESSAGES
Ocean Letters. — The Marconi Company have inaugurated an «Ocean Letter» service by which messages may be sent from one ship to another going in an opposite direction for delivery by Registered Post from the first port of call of the latter vessel.  
For an «Ocean Letter» sent to a British ship controlled by the Marconi Company, the rate is (inclusive of wireless, postage and registration) 5 s. for 20 words, plus 2 d. for each additional word up to a maximum of 100 words. This class of message must contain full postal address.
Poste Radio telegrams. — These messages are accepted for transmission to a selected vessel for mailing on arrival in port. This service provides a most economical channel of communication with friends and relatives on shore when full rate facilities are not desired.
Poste Radio telegrams should preferably be handed in during the early part of the voyage and should be addressed in a manner similar to the following example :
Poste-New York Brown 2464 Quincy Avenue
Boston BELGENLAND
Arriving Tuesday Well
The inclusive cost of the above message would be 2/10 ½
For particulars regarding Wireless communications established or expected, please consult the Wireless notice board, where full information is posted daily throughout the voyage.
Passenger List Images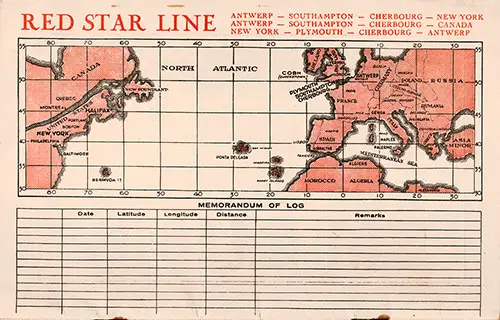 Track Chart, Unused, RMS Belgenland Passenger List, 8 August 1930. GGA Image ID # 1df06911cf