SS Lapland Passenger List - 2 November 1929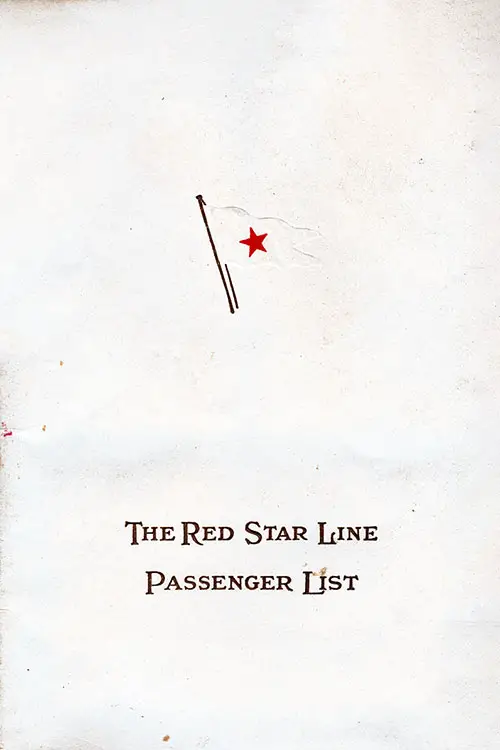 Front Cover of a Cabin Passenger List from the SS Lapland of the Red Star Line, Departing Saturday, 2 November 1929 from New York to Antwerp via Plymouth and Cherbourg, Commanded by Captain H. Harvey. GGA Image ID # 1401b79271
Many photographs of passengers and crew and comprehensive accounting of money spent on the Lapland during the voyage were included. Miss V Mulholland also sketched the Commander, H. Harvey and the Purser, Arthur C. Astle.
Be sure to check out the Farewell Dinner Menu for this voyage.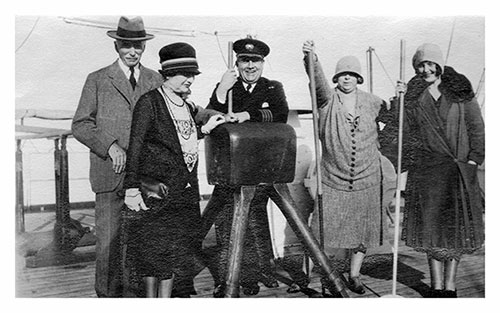 Miss Mulholland and Traveling Friends Pose with the Chief Officer of the SS Lapland During Voyage of the SS Lapland of the Red Star Line, Departing Saturday, 2 November 1929 from New York to Antwerp via Plymouth and Cherbourg. GGA Image ID # 1401be93bd
Senior Officers and Staff
Commander: H. HARVEY
Chief Engineer: R. ALLISON
Surgeon: Dr. L. FLAMENT, M.D. Grac Tropic Sch.
Purser: ARTHUR C. ASTLE
Assistant Purser: H. A. WROTH
Chief Steward: W. WILSON
Second Steward: F. FRANCK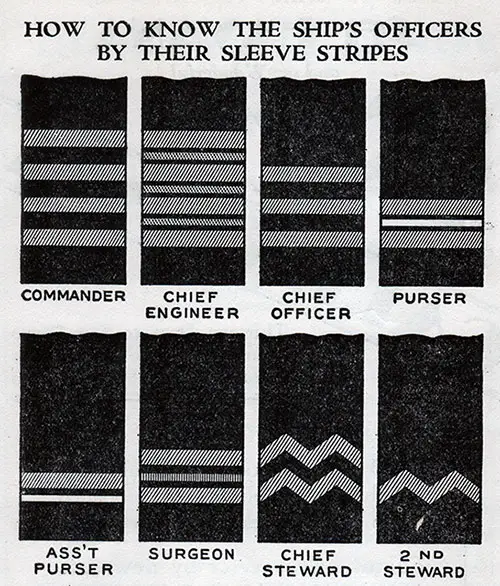 How to Know the Ship's Officers by Their Sleeve Stripes. Red Star Line 1929. GGA Image ID # 1401bf6d5c
COMMANDER: Four rows of gold lace, and on the BELGENLAND a five-pointed star above the lace.
CHIEF ENGINEER: Four rows of gold lace with purple velvet between.
CHIEF OFFICER: Three rows of gold lace.
PURSER: Two rows of gold lace with white velvet between.
ASSISTANT PURSER: One row of gold lace with white velvet below.
SURGEON: Two rows of gold lace with red velvet between.
CHIEF STEWARD: Two rows of gold lace, zig-zagged.
SECOND STEWARD: One row of gold lace, zig-zagged.
Cabin Passengers
Ackerman, Mrs. Clara
Allen, Mr. F. J.
Aubert, Mrs. L.
Bailey, Mr. Ernest E.    
Bailey, Mrs.
Baleusi, Mr. J. L.
Baleusi, Mrs.
Bossart, Mr. H. E.
Bossart, Mrs.
Bullock, Miss Emily J.
Canfield, Miss Alice L.
Canfield, Miss
Church, Mr. McClure
Curtice, Mrs.
Curtis, Mrs. Carleton
Dodge, Mrs. M. C.
Dodge, Miss Meriam
Dole, Miss Marian
Donahue, Mr. Arthur J.
Donahue, Mr. J. A.
Donahue, Mrs.
Findlay, Mr. George
Ford, Mr. Allen P.
Ford, Mrs.
Fowler, Mr. W. S. Groesbeck
Freedericksz, Baroness A.
Harries, Miss G. A.
Hemphill, Mr. J. S.
Hedden, Mrs. Daphne
Leiber, Miss Judith
Loos, Mr. Michael
Mills, Mr. George A.
Mills, Mrs.
Mills, Miss Mary G.
Mills, Master George A., Jr.
Mitchell, Mr. J. A.
Moreau, Mr. Leo
Mulholland. Miss V.
Murray, Miss Hortense
O'Kuly, Dr. Eugene
Pitt, Mrs. M. I.
Portsmouth, Lord
Portsmouth, Lady
Roberte, Mr. Maxime
Struthers, Mrs. Robert
Stuart, Mr. William H.
Stuart, Mrs. Isabelle G.
Stuart, Miss Isabelle
Tousey, Mrs. W. C.
Troy, Mr. Walter A.
Troy, Mrs.
Vealie, Mr. William V.
Vealie, Mrs.
Wortendyke, Miss Carolyn M.
Information for Passengers
MEALS will be served as follows:
When One Sitting
Breakfast: 8:30 am
Luncheon: 1:00 pm
Dinner: 7:30 pm
When Two Sittings
Breakfast: 8:00 am and 9:00 a. m.
Luncheon: 12 noon and 1:15 p. m.
Dinner: 6:00 p. m. and 7:15 p. m.
Lights are extinguished in the Saloon, Lounge, Reading Room and Smoking Room at midnight.
Divine Service will be held in the Saloon on Sunday, at 11:00 am
AN ENQUIRY OFFICE has been provided for the convenience of Passengers, where all enquiries for information of a general character should be made.
SEATS AT TABLE. Passengers who have not previously arranged for seats at table to be reserved should apply for same to the Second Steward.
THE BAR opens at 8:00 am and closes at 11:30 pm
SMOKING. Passengers are kindly requested not to smoke in the Dining Saloon.
DECK CHAIRS AND STEAMER RUGS and also DECK CHAIR CUSHIONS can be obtained at a charge of $1.50 each for the voyage on application to the Deck Steward.
CHARGES PAID ON BOARD. Passengers are requested to ask for a Receipt on the Company's Form for any additional Passage Money, Chair or Steamer Rug Hire, or Freight paid on Board.
THE SURGEON is authorized to make customary charges, subject in each case to the approval of the Commander, for treating passengers at their request for any illness not originating on the voyage. In the case of sickness developed on the voyage, no charge will be made, and medicine will be provided free in all circumstances.
SEA SICKNESS. While few persons suffer from this ailment the Red Star Line in their efforts to render every possible service, has adopted a device known as the "Ozonator" which has proven most satisfactory in relieving distressed passengers. Anyone requiring attention should see the Ship's Surgeon who will arrange to give treatment.
BAGGAGE. Questions relating to baggage should be referred to the Second Steward, who is the Ship's Baggage Master on board. Trunks, Chairs, etc., which passengers may desire to leave in charge of the Company, should be appropriately labeled and handed to the Baggage Master on the Wharf at Port of Landing, and such articles will be accepted for storage free of charge, but the Company assumes no responsibility for loss or damage howsoever arising, but passengers may protect themselves by insurance.
On disembarking passengers are specially requested to claim their baggage before leaving the Customs Shed, otherwise under present conditions considerable delay and extra charge will be incurred in forwarding to destination any baggage not accompanying passengers on the railway.
DANGEROUS ARTICLES, such as fireworks, matches, gunpowder, gasoline, cartridges, moving picture films, etc., must not on any account be enclosed in baggage.
Automobiles, cinema films, pianos, sewing machines, food supplies, etc., cannot be accepted as baggage, but should be sent as freight, for which rales will be quoted on application.
EXCHANGE OF MONEY. The Purser is prepared, for the convenience of passengers, to exchange a limited amount of English, Belgian, French and American money, at rates which will be advised on application.
VALUABLES. For the convenience of passengers, the line has provided in the Purser's office, a safe in which money, jewels, ornaments, documents or other valuables may be deposited by passengers.
A receipt for any articles so deposited will be issued by the Purser, but the line does not, having regard to the ticket conditions and to the provisions of Section 502 of the Merchant Shipping Act 1894 and of Section 4281 of the Revised Statutes of the United States, accept any responsibility for the safe custody of any such articles. Passengers are accordingly advised to protect themselves by insurance.
DOGS. Passengers are notified that dogs cannot be landed in Great Britain unless a license has previously been procured from the Board of Agriculture, London. Forms of license must be obtained by direct application to the Department before the dog is taken on board.
LETTERS, ETC., FOR PASSENGERS will be brought on board before the passengers land. Passengers should personally ascertain whether there is any mail for them before disembarking and they are invited to leave their addresses at the Purser's office for any later dispatches to be re-directed.
Postage stamps can be obtained from the Library or at the Enquiry Office, where letters, telegrams, cablegrams and Marconi messages should be handed for dispatch.
TRAVELLER'S CHEQUES, payable in all parts of Europe, can be purchased at all the principal offices of the Company. These Cheques are accepted on board steamers in payment of accounts, but the Pursers do not carry funds to enable them to cash same.
DECK GAMES AND AMUSEMENTS. Deck Quoits, Shuffle- board, Bull Board and other games are provided on deck under the charge of a Quartermaster. Chess, Draughts, Dominoes, etc., may be obtained on application to the Library Steward, or Smoke room Steward.
PASSENGERS' QUARTERS. Cabin passengers are not allowed to enter Third Class Compartments, or vice versa, as complications might arise under the Quarantine Regulations.
AUTOMOBILES FOR TOURING ABROAD. Special facilities for the care of automobiles are available for passengers desiring to take their cars on the same steamer or in advance. All necessary Customs Passes, Licenses, etc., can be had on application to Automobile Department, 1 Broadway, New York City or through Agents.
BARBER. The barber is authorized to make the following charges:
Shaving: $0.20
haircutting: $0.25
Shampooing: $0.20
Singeing: $0.20
Face Massage: $0.40
Scalp Massage: $0.25
Tonic Dressing: $0.10
Manicure: $0.75
The Barber is allowed the privilege of selling various souvenirs and small articles on his own account.
PICTURE POSTCARDS. Picture Postcards of the steamer may be obtained gratis on application on Board.
The "LAPLAND" carries an Orchestra of skilled musicians, which will play daily as follows:
1:00 pm to 2:00 pm in Bandstand
5:00 pm to 6:00 pm in Main Companionway
8:30 pm to 10:00 pm in Main Companionway
POSTAL INFORMATION
HIGH SEAS MAIL. On all British steamers British Postage Stamps and rates are used when mailing letters for European points, and such letters should be posted in the ship's letter box in the ordinary way.
The mail bag is closed a few hours previous to arrival. Full particulars can be obtained at the Enquiry Office on application.
WIRELESS TELEGRAM RATES
This Steamer is fitted with Marconi system of Wireless Telegraphy and also with Submarine Signaling Apparatus.
LONG RANGE WIRELESS SERVICE
This vessel is fitted with special long range wireless apparatus which will enable passengers to communicate with their friends or business connections on shore at any time during the voyage across the North Atlantic.
The rates for radio telegrams are:—
Via Portishead—Radio to
Great Britain: 11d. or 22.45 cts. Per word
France, Belgium and Holland: 1s. 0 ½d. or 15.52 cts. Per word
Germany: 1s. 1d. or 26.54 cts per word
Via Chatham, Mass.—Radio to
New York City and Brooklyn: 10 ½d. or 21.43 cts. Per word
New York State: 11d. or 22.45 cts. Per word
Massachusetts and New Jersey: 10 ½d. or 21.43 cts. Per word
Philadelphia Pennsylvania: 10 ½d. or 21.43 cts. Per word
Philadelphia (Other places) : 11d. or 22.45 cts. Per word
Illinois: 1s. 0d. or 24.50 cts. Per word
Via Louisburg—Radio to
Quebec and Ontario: 11d. or 22.45 cts. Per word
New York State, Massachusetts and Pennsylvania:1s. 0d. or 24.50 cts. Per word
The ship is always in touch with one or other of these stations.
Rates for messages to other destinations may be obtained from the Purser's Bureau. Every word in the address, text, and signature is counted. All charges must be prepaid, and a receipt should be requested.
SHIP TO SHIP. The general rate for messages exchanged direct between ships at sea is 8d. or 16.33 cts. per word.
SPECIAL RATE MESSAGES
OCEAN LETTERS. The Marconi Company have inaugurated an "Ocean Letter" service by which messages may be sent from one ship to another going in an opposite direction for delivery by Registered Post from the first port of call of the latter vessel.
The charge for an "Ocean Letter" is (inclusive of wireless, postage and registration) 5s. or $1.22.50 cts. for 20 words, plus 2d. or 4.08 cts. for each additional word up to a maximum of 100 words. This class of message must contain full postal (mail) address.
POSTE RADIO TELEGRAMS. These messages are accepted for transmission to a selected vessel for mailing on arrival in port. This service provides a most economical channel of communication with friends and relatives on shore when full rate facilities are not desired.
Poste Radio telegrams should preferably be handed in during the early part of the voyage and should be addressed in a manner similar to the following example:
Poste—New York Brown 2464 Quincy Avenue
Boston Majestic
Arriving Tuesday Well
The inclusive cost of the above message would be 2/10 ½ d. or 70.43 cts.
For particulars regarding Wireless communications established or expected please consult the Wireless notice board, where full information is posted daily throughout the voyage.
LANDING HOURS
Landing hours for passengers at Plymouth and Cherbourg are at the option of the Commander, but unless circumstances make it necessary, passengers will not be obliged to land before 7:00 am or after 10:00 pm - The Commander's decision, however, in every case will be final.
RAIL TICKETS
Passengers proceeding from Plymouth to London or Cherbourg to Paris may obtain rail tickets (all classes) from the Purser on payment of fare. Rail tickets from Antwerp to Paris can be obtained from the company's representative joining the steamer at Flushing.
PARIS VIA ANTWERP
The attention of passengers is invited to the convenience of Antwerp for all destined to Paris. There are no less than eight Express trains daily between these cities and the Railway Companies operate also two "Trains de luxe" (L'Oiseau Bleu Pullman & North Star Pullman) Antwerp-Brussels- Paris for the convenience of tourists.
These trains make the run in 4 ½ hours leaving respectively Antwerp (Central Station) at 9:30 A. M. and Antwerp (Berchem Station) at 3:05 P. M. and arriving at Paris, respectively, at 2 P. M. and 7:30 P. M.
Extra fares are charged for these trains. Every facility is given by the Customs officials to passengers en route to Paris over Antwerp, and this short and convenient route obviates landing by tenders and offers an opportunity to make brief visits to Antwerp and Brussels, if desired.
SILK AND ARTIFICIAL SILK GOODS
For the convenience of travelers passing through Great Britain to join a steamer sailing for an overseas destination:
SPECIAL ARRANGEMENTS HAVE BEEN MADE BY THE BRITISH CUSTOMS FOR ALLOWING THE TRANSIT OF SILK AND/OR ARTIFICIAL SILK GOODS BROUGHT AS BONA FIDE PERSONAL EFFECTS IN BAGGAGE.
The Customs Officers at the British port must, necessarily, put certain questions to passengers arriving from abroad, at which time any silk and/or artificial silk goods should be declared.
Passengers are asked to be frank and open in their declarations, and, in these circumstances, no difficulty need be anticipated with the British Customs Officials, who will facilitate all possible the transit of passengers and their baggage.
DUTY ON CAMERAS ENTERING ENGLAND
In accordance with Customs and excise requirements, passengers arriving with cameras must deposit with the authority's 50% of their value, which is refunded upon the passenger leaving Great Britain.
RETURN ACCOMMODATION
For the convenience of those passengers who may be returning from Europe to the United States or Canada and who have not yet made the necessary reservations, the Purser will be pleased to radio Cherbourg, Antwerp, Southampton, London, Paris or Liverpool Office, for any accommodation required. This will enable passengers to complete their arrangements before leaving the steamer and will, consequently, save them time and trouble after landing.
WHEN RETURNING TO AMERICA
Travel by one of the Splendid Steamers:
RED STAR LINE
Antwerp - Southampton - Cherbourg - (Halifax) - New York
ATLANTIC TRANSPORT LINE
London - Cherbourg - New York
WHITE STAR LINE
Southampton-Cherbourg-New York
Liverpool-Queenstown-New York
Liverpool-Queenstown-Boston
Liverpool-Belfast-Glasgow-Quebec-Montreal
Havre-Southampton-Cobh-Quebec-Montreal
PRINCIPAL OFFICES AND AGENCIES
ANTWERP   
Red Star Line, Rue des Peignes 22
Agency Maritime. F. Van den Abeele, 55 Rue des Tanneurs
BASLE         
John Im. Obersteg & Co.. 11 Centralbahnplatz
Kaiser & Co., 6 Centralbahnplatz
BELGRADE           
BERLIN
BIRMINGHAM
BOULOGNE
H. Arends. Rue des Ecoles. 32 bis
BRISTOL
CARDIFF
BRUSSELS
V. Bull, Place de Brouckère 26
BUDAPEST VIII
BUCHAREST
CAIRO
Chareh Kamel 9 (open December to April)
CHERBOURG
American Travel & Transport Agency, Quai Alexandre III. No. 32
COLOGNE
Hermann Lindemann. Domkloster 2
DANZIG
DUBLIN
FLORENCE
FRANCFORT o/MAIN
Carl Jaeckel, 69. Kaiserstrasse
GENEVA
Alexis Ravessoud, 1 bis. Rue du Mont-Blanc
GENOA
GLASGOW
HAMBURG
Neuer Jungfernstieg 5
Falck & Co.. Glockengiesserwall 18
HAVRE
Langstaff, Eremberg & Co.. Quai de Southampton 67
KOVNO
LEIPZIG
Richard Gey, Schuetzenstrasso 12
LIBAU
LIVERPOOL
LONDON, S. W. 1
LONDON, E. C. 3   
LUXEMBOURG
MANCHESTER
Royal Mail Home, 74 Cross Street
MANNHEIM. S. I. 5
Adolf Burger. Breitestrasse
MILAN
Fr. Carbone. Via Manzoni 23
MUNICH
Carl Bierschenk. Briennerstrasse 53
NAPLES
Via Guglielmo San Felice 59
NICE
Agence Lubin. Avenue Félix Faure 12
PARIS
American Travel & Transport Agency, Rue Scribe 9
PLYMOUTH
Colonial House. 10 Millbay Road
PRAGUE
Red Star Line. Spalena ul. 4
ROME
Via Vittorio Veneto. 85
Via del Trittone 155
ROTTERDAM
Red Star Line, Wijnhaven 110
QUEENSTOWN
SOUTHAMPTON
STRASSBOURG
Comp. Gén. Transp. Marit. & Ter., rue des Francs Bourgeois 5
STUTTGART         
Hermann Vock. Koenigstrasse 1
TRIER
Carl Lenz. Bruckonste 9/10
VIENNA I
VIENNA IV
WARSAW
ZAGREB
APPROXIMATE DISTANCES
New York Pier to Ambrose Channel Lightship: 23 Miles
New York Pier to Fire Island: 53 Miles
New York Pier to Nantucket: 215 Miles
Ambrose Channel Lightship to Plymouth
Northern Track: 2,996 Miles
Southern Track: 3,093 Miles
Scilly to Plymouth: 99 Miles
Lizard to Plymouth: 51 Miles
Plymouth to Cherbourg: 120 Miles
Cherbourg to Antwerp: 285 Miles
Flushing to Antwerp: 40 Miles
Antwerp to Southampton: 261 Miles
Southampton to Cherbourg (via Nab): 89 Miles
Southampton to Cherbourg (via Solent): 82 ½ Miles
Cherbourg to Lizard: 143 Miles
Cherbourg to New York (Northern Track): 3,071 Miles   
Cherbourg to New York (Southern Track): 3,157 Miles
Cherbourg to New York (Extra Southern Track): 3,189 Miles
Other Voyage Photographs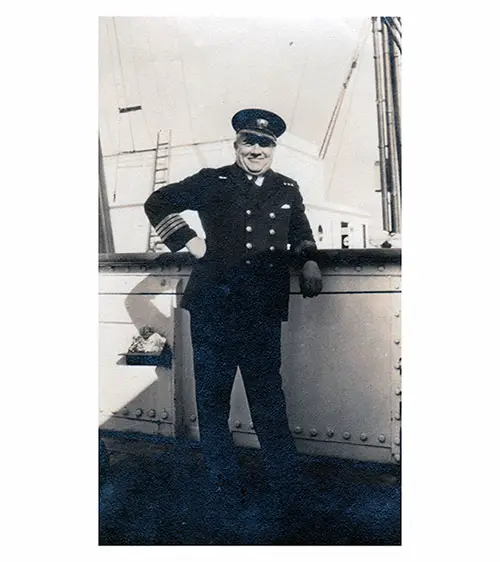 Chief Officer of the SS Lapland of the Red Star Line, November 1929. GGA Image ID # 1401db0257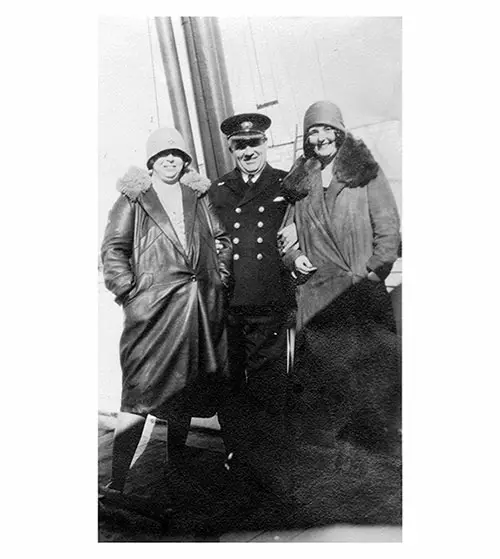 Miss V. Mulholland and Friend Pose with the Chief Officer of the SS Lapland of the Red Star Line, Departing Saturday, 2 November 1929 from New York to Antwerp via Plymouth and Cherbourg. GGA Image ID # 14020ebad8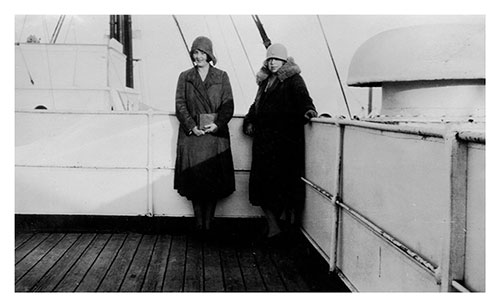 Miss Mulholland and Friend on the Deck of the SS Lapland of the Red Star Line, Departing Saturday, 2 November 1929 from New York to Antwerp via Plymouth and Cherbourg. GGA Image ID # 140210517a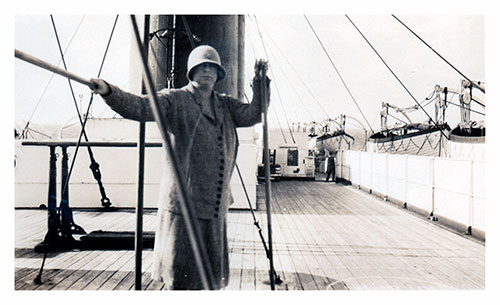 Miss Mulholland on the Deck of the SS Lapland of the Red Star Line, Departing Saturday, 2 November 1929 from New York to Antwerp via Plymouth and Cherbourg. GGA Image ID # 14022c9fe0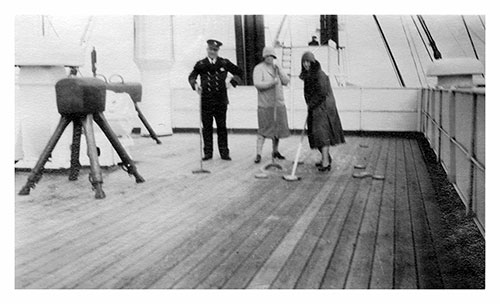 Miss Mulholland and Friend Play Shuffleboard on the Deck of the SS Lapland of the Red Star Line, Departing Saturday, 2 November 1929 from New York to Antwerp via Plymouth and Cherbourg. GGA Image ID # 1402658b5a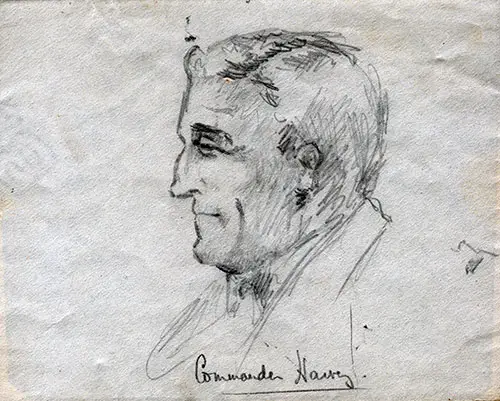 Sketch by Mulholland of Commander H. Harvey of the SS Lapland of the Red Star Line, Departing Saturday, 2 November 1929 from New York to Antwerp via Plymouth and Cherbourg.. GGA Image ID # 14026c7c17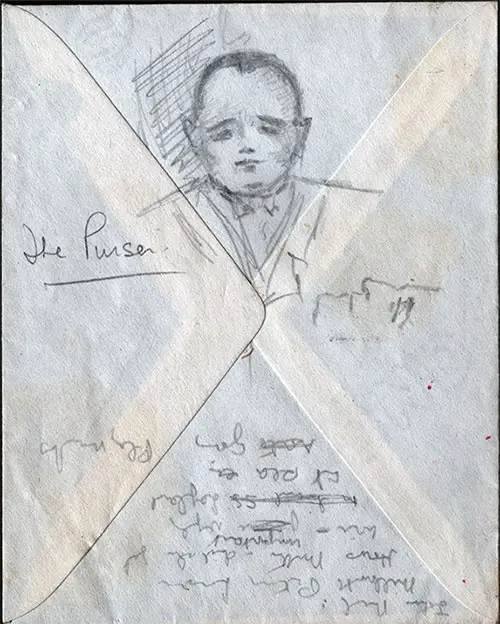 Sketch by Mulholland of the Purser, Arthur C. Astle of the SS Lapland of the Red Star Line, Departing Saturday, 2 November 1929 from New York to Antwerp via Plymouth and Cherbourg. GGA Image ID # 1402c25eba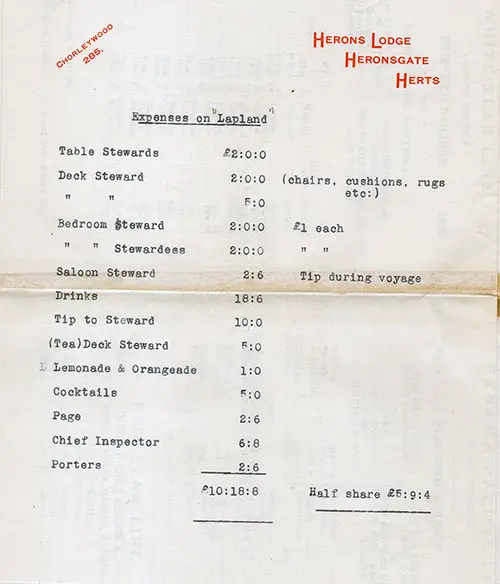 Miss Mulholland Provides an Accounting of Onboard Expenses Paid - A Total of £10:18:8 on the voyage on the SS Lapland of the Red Star Line, Departing Saturday, 2 November 1929 from New York to Antwerp via Plymouth and Cherbourg. GGA Image ID # 140330dee0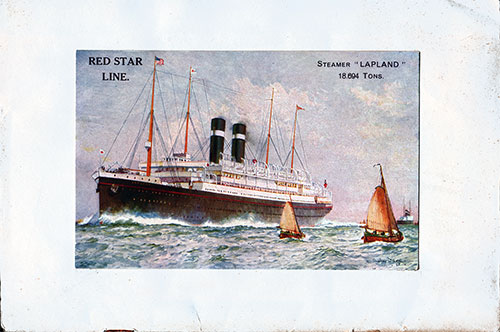 Back Cover, Red Star Line SS Lapland Painting - Cabin Class Passenger List - 2 November 1929. GGA Image ID # 140352a770