Pemba (Port Amelia), Mozambique Passenger Lists 1929
Passenger Lists available from the GG Archives from the Port of Pemba (Port Amelia), Mozambique. Organized by Date of Departure, Steamship Line, Steamship or Ocean Liner, Class of Passengers, Route, and the Ship's Captain.
Pemba is a port city in Mozambique. The town was founded by the Niassa Company in 1904 as Porto Amélia, after a queen of Portugal, at the peninsula's south western tip and has grown around a port.
Port Amelia (Pemba Bay), 120 miles north of Mozambique, is a small place, but is the headquarters of the Nyassa Co., and possesses what is said to be the finest deep-water harbor in all Africa. Pemba Bay is, roughly, 5 miles by 7 miles in extent, and ocean-going vessels can anchor within 900 feet of the shore.
If a railway line is built inland from here, this port will undoubtedly become important, but up to the present time there has been little development, of the surrounding country, which is rich in possibilities. The exports are rubber, oil seeds, copra, ivory, and wax.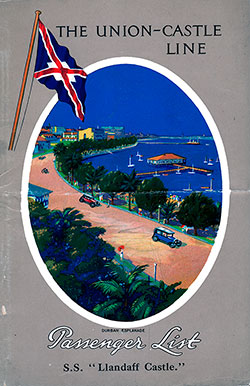 1929-05-23 SS Llandaff Castle Passenger List
Steamship Line: Union-Castle Line
Class of Passengers: First Class
Date of Departure: 23 May 1929
Route: London to South Africa via the Mediterranean
Ports of Call: London to Natal via Marseilles, Genoa, Port Said, Port Sudan, Aden, Mombasa, Tanga, Zanzibar, DarEs-Salaam, Port Amelia, Beira and Lourenço Marques (Maputo)
Commander: Captain E. F. Gilbert