Nassau, Bahamas Passenger Lists 1931 & 1933
Passenger Lists available from the GG Archives from the Port of Nassau, Bahamas. Organized by Date of Departure, Steamship Line, Steamship or Ocean Liner, Class of Passengers, Route, and the Ship's Captain.
The Bahamas, which are the most northerly of the West Indian colonies, consist of a chain of coral islands lying between 21° 44' and 27° 34' north latitude, and 72° 40' and 79° 5' west longitude. They comprise about twenty inhabited islands, and an immense number of cays and rocks.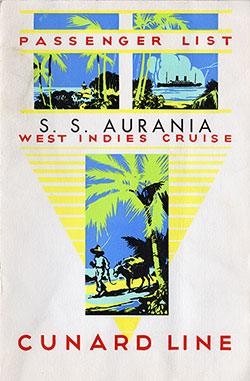 1931-03-31 SS Aurania Passenger List
Steamship Line: Cunard Line
Class of Passengers: Cruise
Date of Departure: 31 March 1931
Route: Boston and New York to Bermuda, Nassau, Havana, New York, and Boston
Commander: Captain G. R. Dolphin, R.D., R.N.R.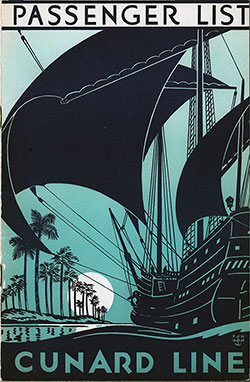 1933-08-10 SS Franconia Passenger List
Steamship Line: Cunard Line
Class of Passengers: Cruise
Date of Departure: 10 August 1933
Route: Boston and New York to Havana, Nassau, and Bermuda
Commander: Captain J. C. Townley, R.D., R.N.R.
The chief islands are New Providence in which the capital, Nassau, is situated, Abaco, Harbour Island, Eleuthera, Inagua, Cat Island, Ragged Island, Rum Cay, Exuma, Long Island, Long Cay, North Bimini, South Bimini, and Wathng's Island, all of which are ports of entry, besides Great Bahama, Crooked Island, Acklin Island, Mayaguana, the Berry Islands, and Andros.
Their total area is 4,466 square miles, and they extend in a south-easterly direction, for a distance of about 600 miles from the shores of Florida to the north-west of Haiti.
The islands are of coral formation, and are mostly narrow and low, the highest elevation being 400 feet, which is attained in Cat Island. Except Andros, where there is a stream which becomes a lake in the rainy season, the islands have no rivers, but good water is obtained from shallow wells.
Nassau, the well-known winter resort, situated on New Providence, is the capital of the Bahamas. The town lies on the north shore of a safe harbour which is protected by a small island called " Hog Island."