Buenos Aires, Argentina Passenger Lists 1914-1952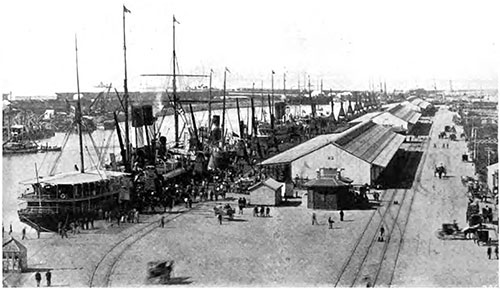 View of the Port of Buenos Aires circa 1907. GGA Image ID # 141a532c5c
Passenger Lists available from the GG Archives from the Port of Buenos Aires, Argentina. Organized by Date of Departure, Steamship Line, Steamship or Ocean Liner, Class of Passengers, Route, and the Ship's Captain.
Buenos Aires is the capital and largest city of Argentina, and the second-largest metropolitan area in South America. The Port of Buenos Aires is the principal maritime port in Argentina. Operated by the Administración General de Puertos (General Ports Administration), a State enterprise, it is the leading transshipment point for the foreign trade of Argentina.
The Madero Docks at Buenos Aires circa 1907. GGA Image ID # 141a594d47
The port, known as Puerto Madero, had by 1907 become insufficient to meet growing maritime traffic. Puerto Madero, and its complementary Catalinas docks, could handle a maximum of 30,000 tons of cereals daily (cereals were the leading export of Argentina, and the foreign exchange these shipments earned were key to the mercantile model of the time).

The Canadian Government Merchant Marine Ship SS "Canadian Ranger" at Buenos Aires circa 1920. Canada Today, 1921-1922. GGA Image ID # 14a6365eec
Extensive improvements have been carried out at the port, and the Royal Mail Steam Packet Company's steamers, instead of landing passengers at La Plata, which necessitated a railway journey to the capital, now proceed to the Madero Docks at Buenos Aires. The city itself might be termed, without much exaggeration, the Paris of the Southern Hemisphere, and in the arrangement of its streets there is, indeed, more than a passing resemblance between the two.