Dakar, Senegal Passenger Lists 1952
Passenger Lists available from the GG Archives from the Port of Dakar, Senegal. Organized by Date of Departure, Steamship Line, Steamship or Ocean Liner, Class of Passengers, Route, and the Ship's Captain.
Dakar is the capital of Senegal, in West Africa. It's an Atlantic port on the Cap-Vert peninsula. Its traditional Médina quarter is home to the Grande Mosquée, marked by a towering minaret. Dakar's harbor is one of the best in western Africa, protected by the limestone cliffs of the cape and by a system of breakwaters.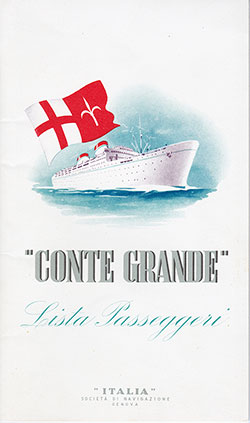 1952-03-30 SS Conte Grande Passenger List
Steamship Line: Italia Line
Class of Passengers: First Class
Date of Departure: 30 March 1952
Route: Genoa to Buenos Aires via Villefranche, Barcelona, Dakar, Rio de Janeiro, Santos, and Montevideo
Commander: Captain Pietro Passano.