Honolulu, Hawaii Passenger Lists 1926 & 1954
Passenger Lists available from the GG Archives from the Port of Honolulu, Hawaii. Organized by Date of Departure, Steamship Line, Steamship or Ocean Liner, Class of Passengers, Route, and the Ship's Captain.
Honolulu is situated on the south coast of the island of Oahu, and is 2,091 nautical miles from San Francisco, 3,394 miles from Yokohama, 4,420 miles from Sydney, and 4,767 miles from Manila. It is the most important port of the Hawaiian group, and is a modern city in every respect.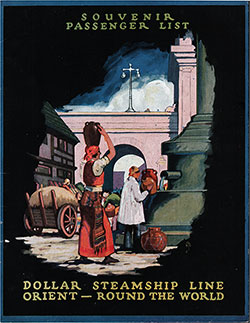 1926-09-30 SS President Van Buren Passenger List
Steamship Line: Dollar Steamship Line
Class of Passengers: Cabin Class
Date of Departure: 30 September 1926
Route: New York to Marseilles via Havana, Cristobal, Balbao, Los Angeles, San Francisco, Honolulu, Kobe, Shanghai, Hong Kong, Manilla, Singapore, Penang, Colombo, Port Said and Alexandria
Commander: Captain M. Ridley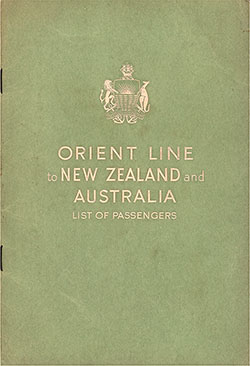 1954-10-08 RMS Orion Passenger List
Steamship Line: Orient Line
Class of Passengers: Tourist Class
Date of Departure: 8 October 1954
Route: Vancouver BC to Sydney via San Francisco, Honolulu, Suva (Fiji), and Auckland
Commander: Captain A. E. Coles, R.D., R.N.R.
The city and county of Honolulu form a single governmental unit embracing the entire island of Oahu. The city proper extends for about 2 miles in each direction along the shore from the harbor and from 1 % to 4 miles inland.
Seven miles to the westward is the entrance to Pearl Harbor, a naval base.
Honolulu Harbor is well protected from all storms and has an average width of 1,400 feet, a length of 3,300 feet, and a minimum depth of 35 feet, its area being approximately 147 acres. In addition, a channel 400 feet in width, 35 feet in depth, and about one-half mile in length, connects the harbor with Kapalama Basin.
There are 28 piers and wharves in use in Honolulu at the present time. Of these, 5 are owned and operated by the United States Government; 13 facilities are owned by the Territory of Hawaii, of which it operates 12 and 1 (known locally as Piers 13 and 14) is leased to the Inter-Island Steam Navigation Co., Ltd.
Two of the piers owned by the Territory were constructed at Kapalama Basin for use in handling raw pineapple shipments from outside islands. In addition to the facilities leased from the Territory, the Inter-Island Steam Navigation Co. owns and operates five piers and wharves.
The Oahu Railway & Land Co. owns and operates 4 facilities and the Standard Oil Co. of California owns and operates 1 facility.