Gibraltar Passenger Lists 1893-1954
Passenger Lists available from the GG Archives from the Port of Gibraltar. Organized by Date of Departure, Steamship Line, Steamship or Ocean Liner, Class of Passengers, Route, and the Ship's Captain.
Gibraltar is a British Overseas Territory located on the southern end of the Iberian Peninsula at the entrance of the Mediterranean. The Rock of Gibraltar is the only landmark of the region. ts strategic value increased with the opening of the Suez Canal, as it lay on the sea route between the UK and the British Empire east of Suez.
Sailing Schedules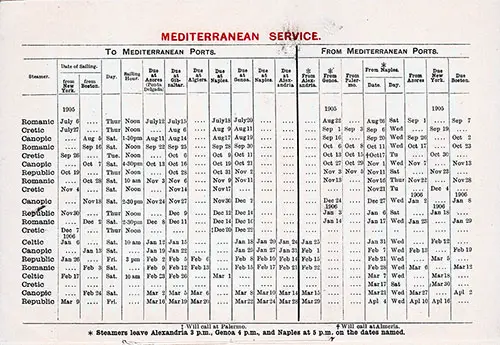 White Star Line Mediterranean Service from 6 July 1905 to 16 April 1906. Ships Include the Canopic, Celtic, Cretic, Republic, and Romanic. Ports Include New York, Boston, Azores, Gibraltar, Algiers, Naples, Genoa, and Alexandria. Will Call at Palermo and Almeria on some voyages. RMS Majestic Passenger List, 30 August 1905. GGA Image ID # 1dd4405a37. Click to View Larger Image.