Las Palmas, Canary Islands Passenger Lists 1924 & 1935
Passenger Lists available from the GG Archives from the Port of Las Palmas, Gran Canaria. Organized by Date of Departure, Steamship Line, Steamship or Ocean Liner, Class of Passengers, Route, and the Ship's Captain.
Las Palmas, officially Las Palmas de Gran Canaria, is a city and capital of Gran Canaria, in the Canary Islands. Las Palmas is the largest city of the European Union lying outside the European Continent. It is located in the northeast part of the Spanish island of Gran Canaria, about 150 kilometres (93 miles) off the northwestern coast of Africa within the Atlantic Ocean.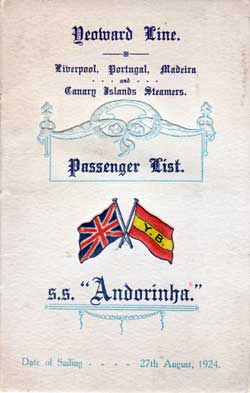 1924-08-27 SS Andorinha Passenger List
Steamship Line: Yeoward Line
Date of Voyage: 1924 August 27
Vessel: Andorinha
Class: Tourist Class Passengers
Route: Liverpool to Tenerife, Madeira, The Canary Islands, Return to Liverpool
Captain: G. F. Pope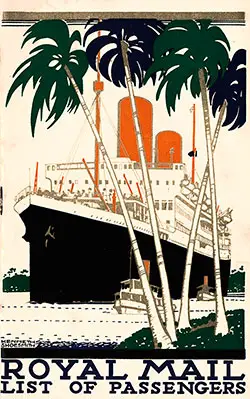 1935-06-01 SS Asturias Passenger List
Steamship Line: Royal Mail Lines
Class of Passengers: First and Second Saloon
Date of Departure: circa 1 June 1935 (Note 1)
Route: Southampton to Buenos Aires via London (Tilbury), Cherbourg, Boulogne-sur-Mer, Spain (Coruña Galicia [A Coruña], Las Palmas, Vigo), Portugal (Leixöes, Lisbon), Madeira, St. Vincent, Cape Verde Island, Brazil (Bahia, Pernambuco [Recife], Rio de Janeiro, Santos, São Paulo), Montevideo, Uruguay
Commander: Captain A. Purvis
Note 1: Passenger List did not provide departure date from Southampton - Only the Arrival date (18 June 1935) for Buenos Aires Argentina