Singapore Passenger Lists
Passenger Lists available from the GG Archives from the Port of Singapore. Organized by Date of Departure, Steamship Line, Steamship or Ocean Liner, Class of Passengers, Route, and the Ship's Captain.
Singapore is the most important port of call in the Straits Settlements for vessels to and from the Far East.
Wharves—Singapore harbor board's wharves available at all states of tide.
Docks—The town is well off for docks. The Tanjong Pagar Dock Board premises, which were taken over from a public limited liability company by the Colonial government in 1906 at a cost of £3,448,339 fixed by arbitration, lie about a mile to the westward of the town, fine wharves affording berthage for a large number of vessels at one time, with sufficient water alongside for vessels of the deepest draft and protected by a breakwater from the swell from the roads and from the strength of the tides. There are commodious godowns erected on the wharves for the storage of goods.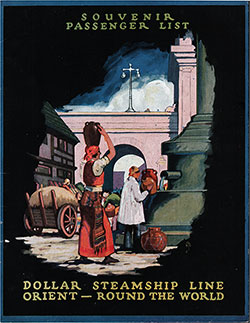 1926-09-30 SS President Van Buren Passenger List
Steamship Line: Dollar Steamship Line
Class of Passengers: Cabin Class
Date of Departure: 30 September 1926
Route: New York to Marseilles via Havana, Cristobal, Balbao, Los Angeles, San Francisco, Honolulu, Kobe, Shanghai, Hong Kong, Manilla, Singapore, Penang, Colombo, Port Said and Alexandria
Commander: Captain M. Ridley