Baltimore Passenger Lists 1881-1938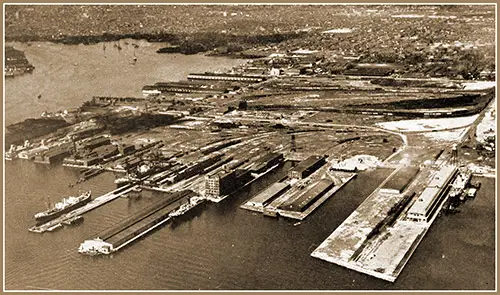 View of the Canton Company Terminal and Baltimore Harbor, 1940. Port and Terminal Facilities at the Port of Baltimore, MD, 1941. GGA Image ID # 1d46a14776
Baltimore is located in the central area of Maryland along the tidal portion of the Patapsco River, an arm of the Chesapeake Bay. Founded in 1729, Baltimore is the second largest seaport in the Mid-Atlantic United States and is situated closer to Midwestern markets than any other major seaport on the East Coast. Baltimore's Inner Harbor was once the second leading port of entry for immigrants to the United States and a major manufacturing center.
Passenger Lists (PLs) available from the GG Archives Calling at the Port of Baltimore, Maryland, USA.
1880s
North German Lloyd / Norddeutscher Lloyd
1900s
North German Lloyd / Norddeutscher Lloyd
1910s
North German Lloyd / Norddeutscher Lloyd
1930s
Baltimore Mail Line
Note: Typically, only the origination and final destination ports are listed in each link. Other intermediary ports of call are not listed.
The Port of Baltimore (1923)
Despite prevailing national economic and trade difficulties, the Port of Baltimore is actively sustaining its terminal position. Under the inspiration of the available $50,000.000 loan for harbor development and the latest official government cargo-tonnage statistical statement, the port has steadily progressed in all phases of shipping and export, giving Baltimore third ranking among the United States ocean terminals' import activities.
Before the war, the port's most significant strides were made in overseas and intercoastal shipping services. Baltimore's trans-oceanic vessel lines numbered only 12, serving 15 foreign ports, while there are currently available for the carriage of general merchandise 43 regular lines operating 55 services to over 100 foreign terminals.
These promise approximately 36 sailings per month to United Kingdom ports, 10 per month to Scandinavian ports, 10 to West Indian ports, 9 to French ports, 8 to German ports, 6 to Dutch ports, 5 to Belgian ports, and adequate service to the Mediterranean districts, and the Far and Near East.
Such a record effectively disposes of the contention that New York alone of the Atlantic ports furnishes satisfactory frequency of overseas vessel service.
Baltimore's coastwise and inter-coastal services have steadily increased in the past three years. Previous to that, Baltimore had practically no vessels operating to or from the Pacific coast. In contrast, there are 11 lines in active service via the Panama Canal, giving almost daily sailing over a distance of 5,500 miles.
Government figures for the first six months indicate that Baltimore leads all Atlantic and Gulf ports in westbound tonnage movement over this route. The coastwise service of the port also gives efficient and frequent service to all ports on the Atlantic, with 10 lines in active operation.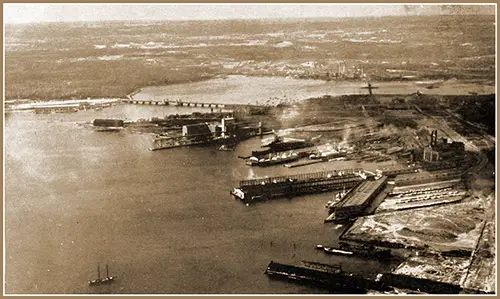 Western Maryland Railway, Port Covington Terminal. With Coal Pier and Grain Elevator in Background. McComas Street Pier at Center. Port and Terminal Facilities at the Port of Baltimore, MD, 1941. GGA Image ID # 1d46a30210
In handling all types of cargo, the port possesses unequaled facilities. The largest and best-equipped pier for coal handling in the world is owned by the Baltimore & Ohio railroad and situated at Curtis Bay in the local harbor. This facility has several unique loading records. Canton Elevator No. 3 of the Pennsylvania Railroad is the largest plant of its kind. It has established unsurpassed grain records for speed in loading ships.
In this connection, mention should also be made of the excellent coal pier, the large grain elevator of the Western Maryland Railway, and the proposed elevator terminal development of the Baltimore & Ohio Railroad to replace the grain facilities of that road destroyed recently by fire, all located within the harbor. This latter plant, with loading galleries extending over the merchandise piers, will be completed in 1924.
Specializing in handling hulk ore and Sulphur cargoes is the modern plant of the Cottman Company. These facilities having two large cranes and an advanced car loader, also hold Atlantic coast records for vessel discharging and box-car loading.
In addition to these facilities for handling basic cargoes and the variety of overseas and intercoastal steamship services, Baltimore possesses many other advantages to attract the inland shipper and vessel operator.
Included among these are unusually low port charges; absence of dockage assessments and wharfage charges on export and import freight brought to or taken from the port by rail or by rail and water; free delivery to any point in the harbor of all shipments which pay a small minimum rail charge; advantageous port geographical location, which makes possible a lower inland freight rate than to New York, Boston or Philadelphia; temperate climate; insignificant tidal range; and adequate foreign banking facilities for financing overseas consignments.
Storage space at the port is abundant. Elaborate pier accommodations assure prompt berthage; extensive shipbuilding and repair facilities and labor conditions are unusually stable.
"The Port of Baltimore," in World Ports, Vol. XII, No. 1, November 1923, pp. 113-115
Related Categories
Ephemera & History
Steamship & Ocean Liners
Ports of Call Information
SS RMS MV - Defined