Manila, Philippines Passenger Lists 1926
Passenger Lists available from the GG Archives from the Port of Manila, Philippines. Organized by Date of Departure, Steamship Line, Steamship or Ocean Liner, Class of Passengers, Route, and the Ship's Captain.
Manila differs from Shanghai. Tientsin, Calcutta, and certain other oriental ports in that they are supported by extensive land areas with large producing and consuming populations, and from Singapore and Hongkong in that they are free ports and are in close proximity to large areas and populations; but it corresponds somewhat to Yokohama, Kobe, and Nagasaki in that they are not free ports and do not have an extensive hinterland, although they have larger supporting populations.
From the end of the galleon trade, through the American Colonial Era of the Philippines and Philippine independence, until today, the Port of Manila has been the main port of the Philippines for both domestic and international trade. The entrance to Manila Bay is 19 kilometres (12 mi) wide and expands to a width of 48 kilometres (30 mi).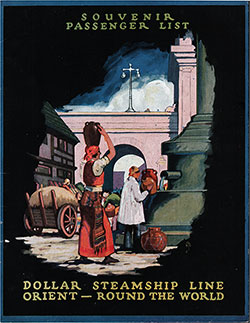 1926-09-30 SS President Van Buren Passenger List
Steamship Line: Dollar Steamship Line
Class of Passengers: Cabin Class
Date of Departure: 30 September 1926
Route: New York to Marseilles via Havana, Cristobal, Balbao, Los Angeles, San Francisco, Honolulu, Kobe, Shanghai, Hong Kong, Manilla, Singapore, Penang, Colombo, Port Said and Alexandria
Commander: Captain M. Ridley