Plymouth, England Passenger Lists 1899-1952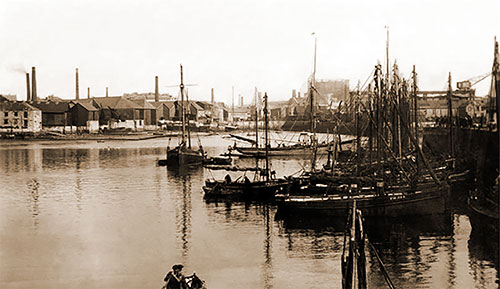 Port of Plymouth/Devon England View of Sutton Harbour circa 1910. GGA Image ID # 176750dc4b
Plymouth is a city and unitary authority area on the south coast of Devon, England, about 190 miles (310 km) south-west of London. It is situated between the mouths of the rivers Plym to the east and Tamar to the west, where they join Plymouth Sound.
Passenger Lists available from the GG Archives from the Port of Plymouth, England. Organized by Date of Departure, Steamship Line, Steamship or Ocean Liner, Class of Passengers, Route, and the Ship's Captain.
Steamship Service to Plymouth circa 1912
The White Star Line's services are as follows: New York, Plymouth, Cherbourg, Southampton, eastbound; Southampton, Cherbourg, Queenstown, New York, westbound; New York. Queenstown, Liverpool, and vice versa; Boston, Queenstown, Liverpool; New York and Boston, both to the Azores. Madeira, and the Mediterranean; Liverpool to Australia; Australia to London; London to New Zealand; and Liverpool to New Zealand.
The only other line which terminates in Southampton and is in that trade is the American Line; but the Hamburg and the North German Lloyd and the Holland American and all the other lines that go through the channel call at various channel ports—Plymouth, Cherbourg, Dover, Boulogne—so that they are all practically in that trade. However, the only line—the only two lines— terminating in the Southampton are the White Star and the American Lines.