TSS Veendam Passenger List - 13 July 1935
Front Cover of a First, Tourist and Third Class Passenger List for the SS Veendam of the Holland-America Line, Departing 13 July 1935 from New York to Rotterdam via Plymouth and Boulogne-sur-Mer, Commanded by Captain P. Lagaay. GGA Image ID # 17d01874a7
Senior Officers and Staff
Commander: Captain P. Lagaay
Chief Officer: C. N. Kleyn
Chief Engineer: J. Willeman
Physician: H. J. Van Der Wijst
Purser: A. Bruis
Chief Steward: J. P. H. Scheffer
First Class Passengers
Mr. Pedro Abascal
Miss Eleanor Adler
Mr. G. C. Adolphs
Mrs. T. Thorne Baker
Miss A. Eleanor Barnum
Mr. Emory S. Basford
Mr. Milton Belgard
Mrs. Milton Belgard
Miss Beulah M. Belgard
Mrs. Allen Bernstein
Mr. Peter Bernstein
Rev. Philip J. Blanc, S. S
Mr. Richard L. Bloch
Dr. Leopold Brandy
Mr. Walter H. Buck
Mrs. Walter H. Buck
Mr. F. Burgess
Mrs. Ruth T. Burnham
Mrs. Arthur D. Byrns
Mr. Thomas Cahall
Mrs. Thomas Cahall
Mr. F. R. J. Caunter
Mrs. Alexander Chambers
Mrs. L. Cole
Miss Myra Conklin
Mrs. Katherine S. du Bois
Pr. S. H. Eckerson
Mr. Alfred Emmerson
Mrs. Alfred Emmerson
Miss Lillian Engel
Mr. Edward L. Estabrooke
Mrs. Edward L. Estabrooke
Miss Mary A. Finney
Dr. Madeline Fiske
Mr. Gustav Gitterman
Mrs. Gustav Gitterman
Mr. W. G. G. Godron
Mrs. W. G. G. Godron
Prof. William L. Graves
Mr. K. A. Groothuis
Mrs. K. A. Groothuis
Miss Margaret Hargrove
Mrs. Edward Y. Hartshorne
Mrs. Roland Hill
Mrs. Willamina Hoffman
Miss Henrietta Hoffman
Mrs. Ida H. Holloway
Miss Helen K. Houghton
Mr. John Hudson
Mrs. John Hudson
Rev. J. W. A. Janssen
Mr. H. W. Jepsom
Mr. Harry LeRoy Jones
Hon. Hiram Keller
Mr. James V. Kelly
Mr. Anthony S. Kimbel
Mrs. Anthony S. Kimbel
Mr. Alan F. Kline
Mr. Barnett Lamm
Mr. Gustave Levy
Dr. Robert H. Lieberthal
Mrs. Robert H. Lieberthal
Miss Marion E. Lieberthal
Dr. Jacob C. Lifton
Mrs. Jacob C. Lifton
Miss Roberta B. Louden
Dr. A. Lwowitch
Mr. J. C. MacPherson
Miss Mary Manning
Mr. L. Mansbach
Mrs. L. Mansbach
Mr. A. B. Mathews
Mrs. John E. May
Mrs. James A. McCrea
Miss Agnes A. McCrea
Mr. John McGhie
Mrs. John McGhie
Mr. Edward P. McMurtry
Dr. Janet H. C. Meade
Mr. G. P. A. M. Merkx
Mr. W. B. Millner, Jr.
Mrs. W. B. Millner, Jr.
Mrs. Evan Mitchell
Mr. Norbert Neumann
Mrs. Norbert Neumann
Miss Rosalie B. Neumann
Mrs. Eliane Norberg
Miss Bessie K. Oler
Mrs. Smith Outerbridge
Dr. Josiah H. Penniman
Mrs. Josiah H. Penniman
Mr. Samuel Plotkin
Mrs. Samuel Plotkin
Miss Marjorie Plotkin
Dr. Gordon Pollack
Mrs. Mary L. Powell
pr. M. L. Ravitch
Mrs. M. L. Ravitch
Mr. R. H. Renn
Mr. George W. Richards
Miss E. Stewart Richardson
Miss Susan Riesenfeld
Miss J. Rosenwald
Miss Ella J. Ryan
Mr. Ernst Salzmann
Mr. Robert Samuels
Mrs. Ethel Mina Samuels
Mrs. Louis Schwartz
Mr. Arthur Schwarz
Mrs. Arthur Schwarz
Miss Anne Owen Sheridan
Mr. Ernest A. Simon
Mrs. H. Snyder
Mr. C. B. Spivey
Mrs. C. B. Spivey
Mrs. Paula Stahl
Miss Marguerite Sylla
Mr. H. J. W. ten Broeke
Mrs. H. J. W. ten Broeke
Master Frederick H. ten Broeke
Mrs. Beatrice M. Thornley
Mrs. Njoo Ting Tjing
Mrs. The Ing Bian
Miss E. The Tiok Nio
Miss Gertrude Unger
Mrs. Ruth B. Van Dusen
Mrs. Maria van Klaveren
Mr. A. H. S. Vaughan
Mrs. A. H. S. Vaughan
Miss Virginia Vaughan
Mrs. Caroline Volz
Miss Louise Volz
Mrs. David Watkins
Mr. Frederick Watkins
Mr. Milton Weiss
Mrs. Milton Weiss
Mrs. L. Weiss
Miss Helene Weiss
Mrs. H. Edward Wendel
Miss Elmira S. Wendel
Mrs. Ross F. Wicks
Miss Katherine Wicks
Miss Martha Wiegand
Dr. Marion Wilkinson
Mr. Charles P. Williams
Mrs. Charles P. Williams
Miss Edelin Wilson
Mrs. Walter B. Wolfe
Mrs. Henry Wynkoop
Mr. Henry Wynkoop, Jr.
Mrs. W. Yonker
STCA Staff
Hostess: Miss Blanche Kieckhofer
Librarian: Miss Ann Trimble
Orchestra: Southwestern Royal Collegians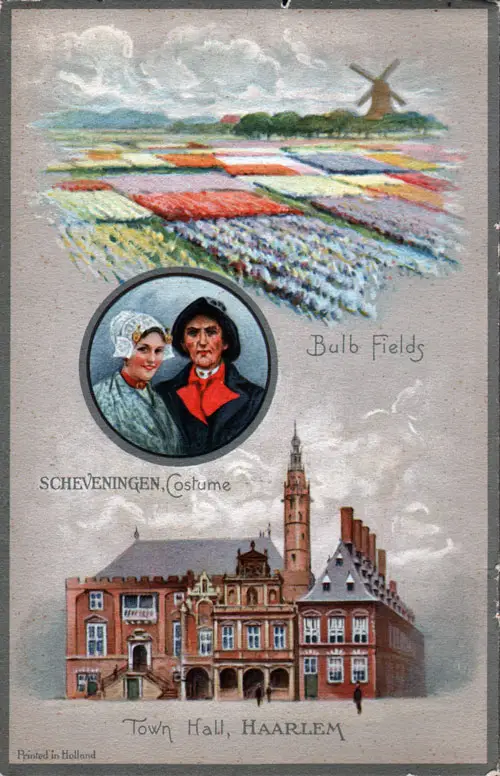 Tourist Class Passengers
Mr. W. C. Abbay
Mrs. W. C. Abbay
Miss Rae Abraham
Mr. John K. S. Arthur
Mrs. Ethelwyn Arthur
Miss Dorothy E. Arthur
Mr. Alexander Berl
Mrs. Alexander Berl
Mrs. Ruth M. Blake
Mrs. Consesa Bonnet
Mr. D. D. Bonnist
Mr. Erich Bovet
Miss E. Bsharah
Mrs. Joseph Burns
Master J. F. Burns
Mrs. Bertha Brouwer
Mr. Julio Cardenal
Mrs. George Chadwick
Miss A. Dannenberg
Miss D. Dannenberg
Mrs. Jeanne de Moor
Mr. J. de Groot
Mrs. J. de Groot
Dr. Degenhart
Mrs. Degenhart
Mrs. J. L. Gallor
Miss K. Gitlitz
Mrs. Ellen Gloor
Miss Frances C. Graves
Mrs. Stanley H. Graves
Miss Fannie Grob
Mr. James W. Gray
Miss Phyllis Green
Mrs. A. H. Grubbe
Miss Marie Grubbe
Miss E. Gryzmish
Mr. Wm. Heller
Mrs. Heller
Mrs. A. Hurkmans
Mr. Alfred J. Ilette
Mrs. Henriette Ilette
Mr. Albert D. Kerwan
Mrs. Albert D. Kerwan
Mr. William E. Kerwan
Mrs. William E. Kerwan
Miss Johanna Kingsma
Mr. R. J. Kissack
Mr. Ernest Knoch
Mrs. Jacqueline de Moor Leach
Mr. James Levey
Professor A. H. Licklider
Miss M. Lieberman
Mr. Y. F. Liu
Mr. C. H. Lont
Miss Gertrude Lubow
Miss M. Maffitt
Mr. Arthur Maingay
Mr. Nicholas Minorsky
Mrs. Nicholas Minorsky
Mr. John S. Naylor
Rev. James F. Norman
Mr. John Pas, Sr
Mrs. John P. Peters
Mrs. Jeanne P. Rapier
Miss Didi Rapier
Miss Helene Rapier
Miss Margot Rapier
Miss Jacqueline Rapier
Miss Madeline Rapier
Mrs. Edith Rodkinson
Mrs. Dina Schierloh
Mr. Edward T. Van Deusen
Mrs. Edward T. Van Deusen
Mr. Jacob Vandergraff
Mr. A. Vander Volh
Mr. H. A. Voogel
Mrs. Rose Wade-Settle
Miss Evelyn F. Wallace
Dr. W. R. Ward
Mr. G. Worsley
Mrs. G. Worsley
Master George Worsley
Mr. Gerard W. Zack
Mrs. Garard W. Zack
Mr. Frank Zeeuw
Mr. John Zeeuw
Third Class Passengers
Mr. Paul Arnolds-Patron
Mrs. Paul Arnolds-Patron
Miss Cornelia Baker
Mr. William Becker
Mr. Antonio Caliagopoulos
Mr. Otto De Vries
Mr. David Fredenthal
Mr. Herman Jansen
Mrs. Elizabeth Jansen
Master Hermann Jansen
Mr. Victor Janssens
Mrs. R. Kuiters
Mr. Ernst Langkau
Mr. John C. M. Lashley
Mrs. Amelia Lienard
Mr. George Loveland
Miss Louise McNair
Mrs. Margaret Meiners
Mr. Jan Oomes
Mrs. Wilhelmina Oomes
Mr. Johannes A. F. Osse
Mrs. R. Polak-Goudeket
Miss Dorette M. C. Sas
Miss Mary Sloss
Mr. Fritz Spenler
Mr. Harry Stein
Mr. Honore E. Van Water
Mrs. Josephine Wolf
Master Joseph Wolf
Master Alan Wolf
General Information for Passengers
Mail and Telegrams. Letters, Packages, etc., for Passengers are brought on board steamer before embarkation and placed in the Passengers' rooms. For any inquiries relating to mails, Passengers are invited to call at the Chief Steward's office.
Seats at Table. Application for table seats may be made to the Chief Steward before sailing, or on embarkation. On midnight sailings permanent table seats will be assigned after breakfast the next morning.
Hours for meals are posted on the ship's bulletin board.
Return Tickets. The Purser will be glad to radio, free of charge, to the New York or European offices of the Line, as necessary, if you wish to make return reservations on any steamer of the Line.
Passengers from New York who already hold return tickets, should register same at one of the offices of the Line indicated on the back page of this list.
Valuables. For the convenience of the Passengers the Line has provided safe deposit boxes in the Purser's office in which any valuables may be deposited upon payment to the Purser of $5.00, this amount to be refunded when the key of the deposit box is returned.
However, the Line does not assume any responsibility for the safe custody of such articles. (Passengers may, if they wish, protect themselves by insurance.)
Personal Funds. For the convenience of Passengers, the Purser is prepared to cash a limited amount of recognized Traveler's Checks or to exchange money at official rates as posted at the Purser's office. A receipt is issued on such transactions, on the Company's Form.
Personal checks cannot be cashed by the Purser.
Port Holes. Passengers are warned to refrain from opening or closing port holes themselves. If Passengers should wish to have their port holes closed or opened, they should call their room steward. Passengers ignoring this warning do so at their own risk and the Company assumes no liability in case of accident.
Divine Service. Divine service will be held on Sundays, at hours announced on the bulletin board, if a recognized clergyman on board is willing to officiate.
Ship's Newspaper. "The Ocean Post," containing latest wireless news and closing prices of the leading securities on the New York Stock Exchange, is published on board. A copy of this newspaper is placed every morning in passenger's stateroom with the compliments of the Line.
Medical Attention. Passengers requesting and accepting medical attendance and medicines from the ship's Physician, do so without any responsibility on the part of the Company.
The services rendered and the medicines prescribed by the ship's Physician are free, except that in cases, where Passengers require the service of ship's Physician for the treatment of ailments for which they already were under the care of a Physician at the time of embarkation, the ship's Physician may charge a reasonable fee for such services, subject to the approval and sanction of the Commander.
Additional Payments on Board. Passengers paying any supplements for room transfers, additional passage money, freight, telegrams, etc., should obtain a receipt from the Purser on the Company's Form.
For radiograms receipt will be furnished by the wireless operator.
Flying in Europe or America. The Holland America Line have made arrangements whereby their Passengers have the facilities of the K. L. M. Air Lines in Europe or Curtiss-Wright Flying Service in America, at their disposal on landing.
The Purser will gladly give information on the routes and connections of these air lines and radio ahead for reservations. Only a limited amount of luggage is carried free on these aeroplanes; excess luggage being charged for at excess baggage rates.
Steamer Chairs, Rugs and Chair Cushions. Deck chairs, rugs and 'hair cushions may be hired on application to the Deck Steward.
The hire for deck chairs amounts to $1.50 for the voyage, whereas the hire for rugs and chair cushions amounts to $1,—each for the voyage.
U. S. Head Tax. Passengers who leave the U. S. within 60 days from date of entry and who are entitled to refund of headtax, will obtain refund on board. To this purpose they are invited to deliver the duly signed head tax certificate to the Purser, together with headtax receipts, issued by some carrier when collecting the tax from passenger.
London and Paris Rail Tickets. Passengers are urged to purchase their London or Paris rail tickets from the Purser as soon as possible after boarding the steamer at New York.
As a rule, special trains are run in connection with the arrival of our steamers at Plymouth and Boulogne-sur-Mer, but when the number of Passengers does not warrant special trains, the Line arranges for reservations on regular trains.
Baggage. There is a baggage room on board steamer where Passengers may store such personal belongings as cannot be placed in their cabins, as well as baggage of any kind. The Baggage Room is open at hours as posted, and all inquiries pertaining to the storing or forwarding of baggage should be addressed to the Baggage Master.
Baggage Insurance. The Company's liability for damage to or loss or detention of baggage is strictly limited, and Passengers are, therefore, advised to protect themselves by insurance against risk of loss, theft, damage, pilferage, etc. Policies may be obtained at current rates at any office of the Line or through the Baggage Master on board this steamer.
Disembarking at Plymouth. Immigration officials board the steamer before disembarkation at Plymouth to take up the "alien order," previously furnished by the Purser to those landing in England, and to stamp passenger's Landing Cards.
Examination of baggage by customs on shore. Cigarettes, cigars, tobacco, etc., perfumes, wines and spirits are liable to duty if brought in the United Kingdom.
Passengers are reminded that under the laws of the United Kingdom the importation of dogs into Great Britain is prohibited unless a permit has been first obtained from the Board of Agriculture.
Disembarking at Boulogne-sur-Mer. Inspection of passports will be made on board and Landing Cards issued by immigration officials.
Customs examination of baggage will take place on shore. Cigarettes, cigars and tobacco, etc., are subject to duty.
Disembarking at Rotterdam. All baggage is examined by customs officials upon being landed on shore. A police officer, however, comes on board before the ship docks to endorse passports and issue Landing Cards. These Landing Cards must be surrendered when leaving the ship.
The Hand-Me-Down
STCA's own guide of up-to-date information, published yearly for Holland-America Line Passengers . . . it contains addresses of hotels, pensions and restaurants, discovered by students and teachers—former STCA Passengers. It also contains airplane schedules, doctors in Europe, and non-guidebook, things to do.
The Hand-Me-Down is more complete than ever before. Copies may be obtained from the Purser's office at the special price of $2.00.
For Shopping and Information Service
"Quatre Rue Scribe," the Paris Office of the Holland-America Line, can help you make your visit to Paris more pleasant. We have an information and shopping service just beginning its eighth season.
We have complete information about hotels, restaurants, shops, theatres, sightseeing trips, etc. Wet can help you buy economically. We can offer you a 24 hour film developing service, which you will also find in our London Office.
This information and Shopping Service is an exclusive Holland-America Line feature, and we hereby invite you to take advantage of it.