SS Potsdam Passenger List - 2 August 1913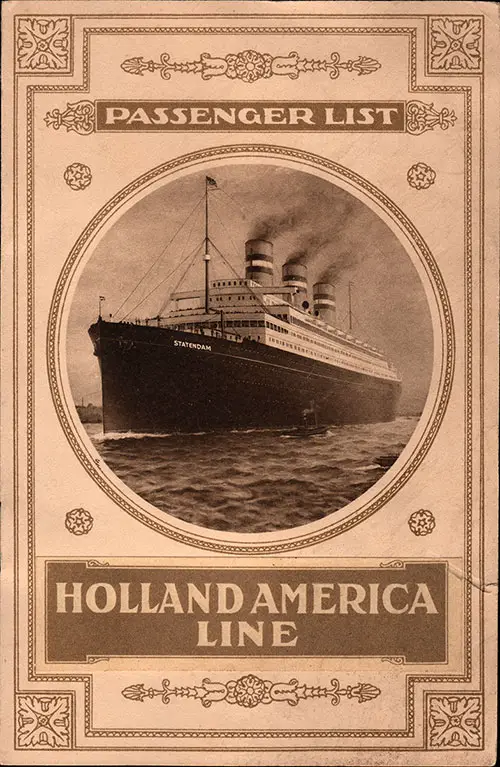 Front Cover of a First and Second Cabin Passenger List from the SS Potsdam of the Holland-America Line, Departing Saturday, 2 August 1913 from Rotterdam to New York via Boulogne-sur-Mer, Commanded by Captain B. C. Van Walraven, Lt. RNR. GGA Image ID # 17c1e9bc38
Senior Officers and Staff
Commander: Captain B. C. Van Walraven, Lt. R.N.R.
Chief Officer: Kok
Chief Engineer: Van Steenwyk
Purser: Hopman
Chief Steward: Tresfon
Physician: Dr. Crofts
First Cabin Passengers
Mr. R. Adam
Mr. C. Amann
Miss Marg. Bartlett
Mr. Harcourt Blades
Mr. Edward Blades
Mr. J. F. Brunaugh
Miss M. M. Cahalan
Miss Helen M. Capron
Mrs. Wm. A. Carey
Miss Helen G. Chase
Mr. Paulin Chaufour
Mrs. Paulin Chaufour
Mast. Polain Chaufour
Mr. Henri Chaufour
Mrs. Henri Chaufour
Mr. A. Coen
Miss E. J. Combs
Mr. Francis Coxe
Mr. A. C. Davis
Mr. Jos. D. F. Duggan
Mrs. P. K. Erdman
Miss Sarah W. Erdman
Mr. K. P. Erdman
Mr. A. van Es
Mrs. George C. Fahey
Miss Eliz. Fitzpatrick
Miss Genevieve Flattery
Mrs. C. K. Fleming
Mr. R. F. Foerster
Mr. A. M. Graves
Miss Mildred Greene
Mr. J. Halsey Reock
Mrs. Belle v. d. Harbert
Mrs. T. B. Heckmann
Mrs. W. J. Hickey
Miss Helen Kelly
Mr. Edward Kibler
Mrs. Edward Kibler
Dr. Ing. Wm. B Kouwenhoven
Mrs. Wm. B. Kouwenhoven
Mr. P. Kruisheer
Mr. Jean Levy
Mrs. Jean Levy
Mr. C. W. O. Lucardie
Miss Ludden
Miss E. de la Mar
Mrs. Harry van Mater
Miss Frances S. van Mater
Miss Anna J. McKinney
Mr. August Miller
Mrs. August Miller
Mr. Mortimer G. Nichols
Miss A. M. Patten
Miss Maryetta Reeside
Mr. Isidore Reif
Miss Agnes Ryan
Mr. F. J. Schüssel
Mr. Robt. L. Sheppard
Miss F. Shultz
Mrs. Frank Simpson
Mr. W. S. Sloan
Miss Alrna Stanley
Miss Z. I. Vance
Hon. Judge W. H. Vanderburgh
Mrs. W. H. Vanderburgh
Mr. M. Verner Simpson
Mrs. M. Verner Sinipson
Miss Annie May Wallace
Miss H. Wansink
Miss L. C. Ware
Mrs. Heinrich Wolff
Mr. A. K. Zartman
Mrs. A. K. Zartman
Mr. W. von Zimmermann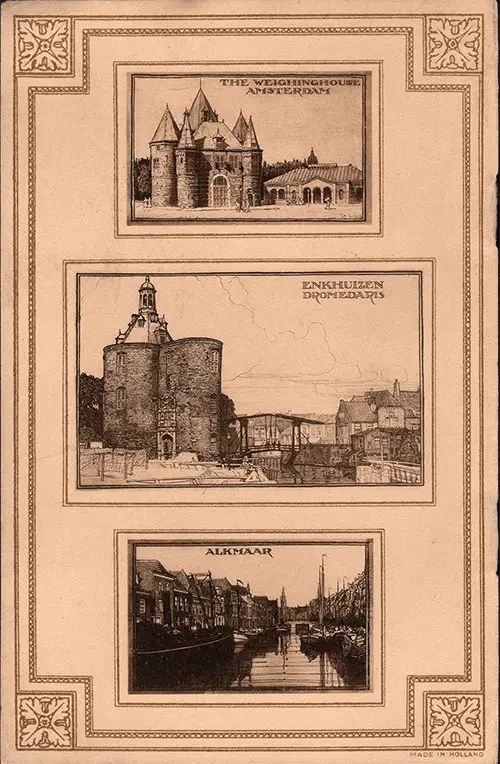 Back Cover of a Cabin Passenger List from the SS Potsdam of the Holland-America Line, Departing Saturday, 2 August 1913 from Rotterdam to New York via Boulogne-sur-Mer. GGA Image ID # 17c2c00246
Second Cabin Passengers
Mr. Herch Adef
Mrs. Riwke Adef
Mr. A. Adema
Mr. Benzion Adler
Miss Elisabeth Algra
Miss Mary Allaart
Mr. H. Amama
Miss Anna Ambra
Mr. Aug. J. M. Andreoli
Mrs. Aug. J. M. Andreoli
Mr. Joseph Andreoli
Mr. André Andreoli
Miss Marie Andreoli
Miss Henriette Andreoli
Mr. D. Antonisse
Miss Rachel Aprill
Mr. Adolf Baumgarten
Mr. Raul F. Bay
Mr. R. van Bekkum
Mr. D. van den Berg
Miss Emma Bergdolt
Mrs. M. van den Berkhoff
Miss Pessie Bernstein
Mr. Jan Beugelink
Mrs. W. Blees
Miss Czarm Blum
Miss Jettie Bokser
Mr. A. Boogert
Miss Taube Bornstein
Mrs. G. Bos
Miss Betsy Bouma
Miss Grietje Braaksma
Mr. Wolf Braunstein
Mr. Leib Brodski
Mrs. Feige Brodski
Mr. J. van den Broek
Mrs. J. van den Broek
Mr. P. van Broeke
Mr. W. T. Bruyn
Miss Martje Buist
Mr. J. D. Chevallier
Mrs. J. D. Chevallier
Mast. M. J. Chevallier
Mr. Hans Christiansen
Miss F. D. van Cleeff
Miss Marianna Chmielinska
Mrs. Dwosche Chwast
Mr. Cyrelle Codron
Miss Josephine Coopman
Mr. H. J. Copperberg
Mr. J. I. Custer
Mrs. J. I. Custer
Miss Regina Czeser
Mr. Mordche J. Czipeck
Mr. Dambie
Mr. Marinus Damsteegt
Mrs. Riwe Daschewsky and Infant
Mr. Alexander Delbosq
Mr. Markus Dianiant
Miss Viktoria Dourkovszka
Mr. Mendel Drancz
Mr. Jaukel Drancz
Miss Hennie Drancz
Miss Taube Dritman
Mr. Leon Drozdzik
Mr. Abraham Ebner
Mr. Eezso Engel
Mr. F. Engelsman
Mr. Ulto Englerth
Mlr. M. H. W. Evers
Mrs. W. H. W. Evers
Mast. A. Evers
Miss M. G. P. Evers
Miss Rochel Farber
Mr. Janen S. Feuerstein
Mrs. Dworce Fiedel
Mast. Aron Fiedel
Miss Chaie M. Fiedel
Miss Schifre Fiede
Mast. Chaim Fiedel
Mrs. Schewa Fischman
Mast. Schloime Fischman
Miss Donie Fischman
Mast. Bertzie Fischman
Mr Charles Francois
Mrs. Charles Francois
Mr. Louis Francois
Mr. Adrien Francois
Miss Juliette Francois
Mast. Henry Francois
Mr. Israel Fullenbaum
Mr. Abram I. Gersch
Mrs. Ester Gersch
Mrs. Clara Givry
Mast. Emile Givry
Mr. Otto Gnerich
Mrs. Otto Gnerich
Mast. Karl Gnerich
Miss Frieda Gnerich
Mr. ل. Gobetz
Mrs. Gittel Goldetz
Mast. Welwel Goldetz
Miss Esther Goldetz
Miss Bune Goldetz
Miss Gittel Goldetz
Mrs. Ruchel Goldiez
Miss Mancie Goldman
Mr. Paul Gottlieb
Mrs. Anna Graafsma
Mast. Ysbrand Graafsma
Miss Elisabeth Graafsma
Miss Hitje Graafsma
Mr. Chaim Grodik
Mrs. Lina Guttman
Miss L. Guttman
Mr. S. Gysberts
Mrs. S. Gysberts
Mr. Heinrich Halfman
Mrs. Anna Hamarowitz
Mast. Mariam Hamarowitz
Mast. Leopold Hamarowitz
Mr. Julius Hang
Mr. P. Harberts
Mrs. P. Harberts
Miss Brechtje Harberts
Mast. Marinus Harberts
Mr. H. Harberts
Mr. M. Heemskerk
Mr. Lambertus Hekman
Mr. Elo Helman
Miss Etie Helman
Mr. N. Helsloot
Mr. Karl Herber
Mr. Marinus J. van der Heyden Jr.
Mr. B. Heytvelt
Mrs. L. B. Heytvelt
Mrs. J. M. Hillmann
Miss Margaretha Hillmann
Mast. Jacob Hillmann
Miss Hendrika Hillmann
Mrs. Ignaczné Hirsch
Miss Bertba Hirsch
Mast. Mor Hirscb
Miss Rifke Hirsch
Mrs. Anna Hoehn
Miss Anna Hoehn
Mr. J. Hoep
Mr. J. Hoogerwood
Mr. W. Hoogerwood
Miss M. F. Huisman
Miss Elisabeth Huysse
Mrs. Gizella Imling
Mast. William Imling
Mr. A. Jahn
Mrs. H. Janszen
Miss Wilhelinina Janszen
Miss Peppie R. Jaryczower
Mr. P. Kaan
Miss Gittel Kaplan
Miss Lea Kaplan
Mr. Moritz Katscher
Mr. Feiwel Katzik
Miss Terezia J. Kerstens
Mrs. Aug. Kettnich
Mr. Yp Keulen
Mr. Peter Kienstra
Mr. Machiel Klein
Mrs. Mackiel Klein
Mast. Pieter Klein
Mast. Jantje Klein
Mast. Wolf Klein
Mrs. A. Klynsoon
Miss Agnes Klynsoon
Miss Digna Klynsoon
Mr. Jankel Kneider
Rev. Ambrose Kohlbeck
Mr. Jacobus Kooi
Mr. Lipe Koppel
Mrs. Scbemdel Kornfeld
Miss Perl Kornfeld
Mr. Mendel Kornfeld
Mr. Jaukel Kornfeld
Miss C. Korte
Mrs. Beta Kortesz
Mr. Jan Kotec
Mr. Jan Kotecki
Mr. H. Krak
Mr. August Kremis
Mrs. August Kremis
Mr. Anton Kudlinsky
Miss Pauline Kyreylis
Mr. Willem Chr van der Laan
Miss Helene P. Lameer
Mr. Oscher Landsman
Mr. Oege Lap
Mrs. Mariem Laufman
Miss Clara Laufman
Mr. P. J. van der Leemputte
Mrs. Peige Lehrer
Miss Hudie Lehrer
Mast. Josef Lehrer
Mast. Leike Lehrer
Mrs. Malcie Lentz
Mast. Zalmen Lentz
Miss Scheindel Lentz
Miss Rachel Lentz
Mast. Leiser Lentz
Mr. Leiser Lewin
Mrs. Emma P. Loesch
Mr. Eide Lukin
Mr. Th. Luschen
Mrs. Th. Luschen
Miss Cornelia G. Luschen
Miss Elisabeth Luschen
Mr. Israel Malionowski
Mrs. Rifke Malionowski
Miss Ester Malionowski
Mrs. Brigitte Manger
Mr. Barend Marinus
Mr. J. H. van Marle
Mrs. Lilly Marx
Miss Eva Maurer
Mr. Anton Mayer
Rev. Anton van der Meer
Miss Hene Meth
Mrs. M. van der Meulen
Mast. Gosse van der Meulen
Mast. Jan van der Meulen
Miss Elisabeth van der Meulen
Mast. Jacobus van der Meulen
Miss Anltje van der Meulen
Mast. Pieter van der Meulen
Mrs. G. Meyer
Mast. Folkert Meyer
Mast. Jacob M. Meyer
Mr. M. Moget
Mr. Oscar Moldan
Mr. Albert Moldan
Mr. Klaas Mollema
Mr. R. Niemann
Mr. Jurgis Nagrodskas
Mrs. Rosalia Nagrodskas
Miss E. Noll
Mr. Louis Noll
Miss A. van den Oever
Miss Klaziena Olthof
Mr. Gerrit A. Th. Overweg
Mrs. Ferenczne Papp
Miss Mariska Papp
Miss Alice Papp
Mr. Itzik Perlstadt
Mr. Aron Portnoj
Mr. B. Pruyn
Mr. Marin Quina
Mr. A. Th. van Raaphorst
Mr. H. M. van Raaphorst
Mrs. Marianna Ratuszna
Miss Anna Ratnszna
Mrs. Ruchel Reichman
Miss Riwke Reichman
Miss Chaje Reichman
Miss Machle Reichman
Miss Leie Reichman
Miss Maria Reh
Mrs. Heine Reiser
Mr. Fritz Richter
Mr. Adolf Rogalski
Mr. Chiel Rosenfeld
Miss Rose Rosenthal
Mrs. Louisa Ross
Miss Florence Ross
Mrs. M. Rubner
Mr. Stanislaw Rzeminski
Miss Magdalena Rzeminska
Mrs. Johanna Sanderson
Miss Petronella Sanderson
Mr. Frederic Santi
Mr. Egbertus M. Schaar
Mrs. Margaret Scharf
Miss Lena Scharf
Mrs. Frume N. Scharf
Miss Brave I. Scharf
Miss Kathe Schaudry
Mr. Freerk van der Scheer
Mrs. Anna Schimek
Mr. Carl Schleien
Mr. W. A. Schmickler
Mr. Fritz Schneider
Mrs. Fritz Scnhneider
Miss Iwoire Schoichet
Mr. P. J. Schouten
Mr. Berl Schuler
Mrs. Kreindel Schulman
Miss Ester Schulman
Mast. Abram Schulman
Miss Rochel Schulman
Miss Leie Schulman
Miss Riwke Schulman
Miss Golde Schulman
Mast. Itzchok Schulman
Mrs. A. Schuurman
Miss D. Schuurman
Miss R. Schuurman
Mrs. H. Schwarzenbach
Mast. H. Schwarzenbach
Mr. Moritz Schwartz
Mrs. Hinde Schwartz and Infant
Mrs. Reizie Semel
Mast. Awrum A. Semel
Mast. Mojsche S. Semel
Mrs. Marianna Sikorska
Mr. J. Slappendel
Miss B. Slappendel
Mr. John Sommer
Mrs. John Sommer
Mr. Antonie Sonbricas
Mrs. Antonie Soubricas
Mrs. S. Spitters
Miss Neeltje Spitters
Mast. Pancras Spitters
Mr. Frans Spitters
Mast. Laurens Spitters
Mr. Morris Sporn
Mr. Feiwel Stieglitz
Mrs. Jente Stieglitz
Mr. Klaas Stielstra
Mr. Jacobus A. Stroo
Mrs. Olga Sysun
Mast. Gergya Sysun
Miss Manka Sysun
Mr. Schmiel Tabak
Mr. Josef Tabak
Mrs. Schewa Tabak
Mr. Moische Teiw
Miss Anna Tempel
Mr. Johannes D. Tiinmer
Mr. Frank Timpel
Miss Jeute Titewsky
Miss Tonia Trummer
Miss Jennie Tuchinski
Mr. Joh. van Veen
Mr. August Venhorst
Mr. Johan Vintila
Mrs. Johanna Visser
Miss Anna Visser
Mrs. R. K. Visser
Miss Anna W. Visser
Miss R. K. Visser
Mrs. M. J. Visser
Miss A. C. Visser
Miss Neeltje Visser
Mrs. Corrie Vogt
Mrs. Dirkje van der Wal
Mast. Siebren van der Wal
Mr. John C. Weber
Mrs. John van der Weele
Miss Ottilie Wenz
Mr. B. Wertstein
Mr. George Wiedmann
Mr. M. Wilderom
Mrs. M. Wilderom
Mr. Age Wobma
Mr. Douwe Wobma
Miss Emilia. Wojnicka
Mr. Pieter van der Wolf
Mr. J. van der Worp
Miss A. van der Woude
Miss Dreisic Wurfel
Mr. A. van Wyngaarden
Mr. Antonin Zdarsky
Mr. Mariem Znanicski
Mrs. Anela Zuromski
Miss Maryanna Zuromski
Mr. Moische Zwik
Mrs. Reisel Zwik
The Fleet of the Holland-America Line
consists of the following steamships:
Twin screw Steamship "Rotterdam"
Twin screw Steamship "Nieuw Amsterdam"
Twin screw Steamship "Noordam"
Twin screw Steamship "Ryndam"
Twin screw Steamship "Potsdam"
ranging from 12,531 to 24,170 tons gross register, whereas Triple screw Steamship "Statendam" of 32,500 tons gross register is building.
All steamships are of enormous tonnage, and splendidly equipped for the safety and comfort of' Passengers. They are all provided with the latest improvements, have bilge keels, superb decks, halls, saloons and large staterooms, and are fitted with the Marconi system of wireless telegraphy and the Submarine Signal Receiving Apparatus.
They carry the U.S. and Royal Netherlands Mails and maintain a regular weekly service between New York and Rotterdam, stopping both ways at Boulogne-sur-Mer for the landing and embarkation of Passengers.
Moreover SS "Rotterdam" and "Nieuw Amsterdam" will, on the eastbound voyage, call at Plymouth for the landing of Passengers to Great Britain.
For full information, sailings, and rates, apply to the Passenger Offices of the Holland-America Line, or to its local Agents.
Notes for Passengers
On the voyage from New York to Rotterdam SS Rotterdam and SS Nieuw Amsterdam call first at Plymouth and then at Boulogne-sur-Mer for the landing of Passengers.
Public Telephones, with booths and an operator, are located on the Holland-America Line Pier, foot of 5th St., Hoboken, N.J.
The HOLLAND-AMERICA LINE takes pleasure in announcing that, for the convenience of its Passengers, it has established a Porter Service for the carrying of packages, hand-baggage, etc., between the HOLLAND-AMERICA LINE docks and the Railroad and Ferry Terminals, or any part of Hoboken, Jersey City, New York and Brooklyn.
On arrival or departure dates of every steamer, uni-formed attendants with the word "Attendant" on their collar, and "Holland-America Line" on their cap can be engaged for above named services at the docks or railroads or ferry- terminals at the following fixed charges:
Between Holland-America dock, and...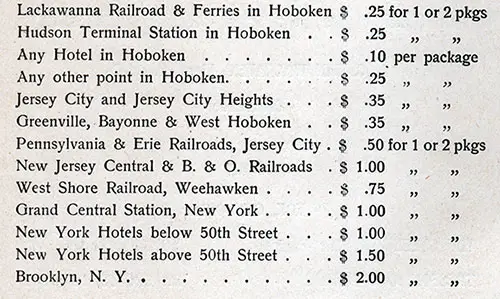 Porter Service List of Charges, August 1913. GGA Image ID # 17c304f831