SS Nieuw Amsterdam Passenger List - 17 September 1910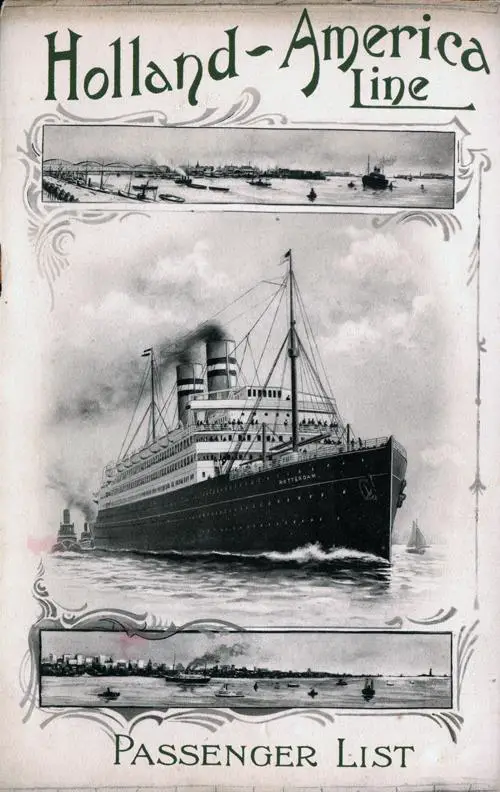 Front Cover of a First and Second Cabin Passenger List for the TSS Nieuw Amsterdam of the Holland-America Line, Departing 17 September 1910 from Rotterdam to New York via Boulogne-sur-Mer, Commanded by Captain A. Roggeveen. GGA Image ID # 17bf1b327d
Senior Officers and Staff
Commander: Captain A. Roggeveen
Chief-Officer: Hartogh Heys
Chief-Engineer: Merkelbach
Purser: Geleedts
Chief-Steward: Zoutendyk
Physician: Dr. Dowling
First Cabin Passengers
Mr. Edw. P. Alexander
Mr. Julian Alexander
Mrs. E. M. Alexander
Miss A. D. Alexander
Mrs. N. B. Appel
Mrs. O. Applegate
Miss C. M. Applegate
Mr. R. Aronson
Miss Elizabeth Gowdy Baker
Mr. B. D. Bartlett
Mrs. B. D. Bartlett
Mr. Ernst H. Bauer
Mr. R. van den Baumen
Mrs. L. G. Benziger
Mrs. Bertha Benziger
Mr. Abraham Bieringer
Mr. W. D. Blair
Mrs. W. D. Blair
Mr. Henry F. Boardman
Mrs. Henry F. Boardman
Miss Wynanda K. Boardman
Mr. Derick L. Boardman
Mrs. D. G. Boissevain
Mast. Holly Boissevain
Mast. Freddy Boissevain and Governess
Miss Annie A. Brainard
Mrs. J. E. Brennan
Mr. J. P. Bretz
Mrs. C. F. Bridge
Rev. Prof. Dr. C. A. Briggs
Mrs. C. A. Briggs
Miss Grace Briggs
Miss Olive Briggs
Mrs. H. Brooks
Miss K. F. Brownell
Mr. G. Bunzl
Mrs. G. Bunzl
Miss Madeleine Bunzl
Miss Irene B. Butler
Miss Margaret Carey
Miss Louise Carey
Miss A. Ceytte
Mrs. Charles C. Clark
Mr. C. D. Clarke
Mrs. C. D. Clarke
Mrs. Robert Clarke
Mrs. C. S. Comsbock
Miss Dorothy B.Comsbock
Mr. Luther Conradi
Miss C. E. Converse
Miss Florense Converse
Mr. Geo L. Cragg
Mrs. Geo L. Cragg
Mr. I. Daszynski
Miss Kate Dinnan
Mr. Herbert Dittler
Mr. Henry Dreyfoos
Mrs. Henry Dreyfoos
Mr. R. Dudensing
Mrs. R. Dudensing
Mast. Richard Dudensing
Mr. A. B. Ehrlich
Mr. Carl Ehrmann
Mrs. William B. Elliot
Miss Myra Elliot
Miss Adele Elliot
Miss Allitta Emery
Mr. D. H. Ezerman
Mrs. D. H. Ezerman
Miss Mary Ezerman
Mast. Willem Ezerman
Miss Mary L. Fay
Mrs. Leopold S. Fechheimer
Mrs. J. C. Fennell
Mr. Chas. B Fennell
Mr. Adelin Fermin
Mr. Ernest H. Finman
Mrs. Ernest H. Finman
Mrs. Frieda Fischer
Mrs. James Flanagan
Miss Agnes Flehinghaus
Dr. Marie K. Formad
Miss Gertrude Foster
Miss Emma Foster
Mr. Spaulding Fraser
Mrs. Spaulding Fraser
Dr. Rowland G. Freeman
Mrs. Rowland G. Freeman
Mr. Rowland G. Freeman Jr.
Mrs. R. E. Frolich
Mrs. Lena Gidion
Miss Hattie Gidion
Mr. John A. Gifford
Miss Gifford
Miss Alice C. Gifford
Mr. Charles A. Gifford
Mrs. Charles A. Gifford
Mr. C. Conyngham Gifford
Mast. John A. Gifford
Mast. Donald S. Gifford
Mrs. J. M. Goetchius
Mr. S. Gotthelf
Mrs. S. Gotthelf
Miss Sylvia Gotthelf
Miss Jeanette Gotthelf
Mrs. C. J. Gould
Mrs. J. H. Gower
Miss M. B. Gower
Rev. Chas. P. Grannan
Miss Ella M. Graveson
Mr. H. D. Greenwald
Mrs. H. D. Greenwald
Mr. Frank K. Greenwald
Miss Myra C. Greenwald
Mast. Lawrence G. Greenwald
Miss S. M. Grimm
Mr. Lawrence I. Grinnell
Mr. Robert S. Grinnell
Miss Gertrude Guilford
Mr. Dirk Haagmans
Mr. C. R. Hansel
Mrs. C. R. Hansel
Miss Florence H. Hansel
Mr. Robert P. Hargitt
Mrs. Robert P, Hargitt
Miss Virginia Hartshorne
Miss Mathilda Hassler
Mr. R. D. Hastings
Mr. H. P. Hastings
Mrs. B. A. Hegeman Jr.
Miss Virginia Hegeman
Mr. Jacob Heldman
Mrs. Jacob Heldman
Mrs. Wm. Herman
Mast. Edward Herman
Mr. Wm. Herman
Mr. Henry Hess
Mrs. Henry Hess
Mr. H. Lawrence Hess
Miss M. D. Hess
Miss Phylis Hess and Maid
Mr. Charles Heymann
Mrs. Charles Heymann
Miss Leona Heyman
Mast. Melville C. Heymann
Mrs. H. M. Hitchings
Miss Christine Hitchings
Mrs. J. H. P. Hodgson
Miss Ensley Hodgson
Miss Martha A. Hornsey
Mrs. B. Hornthal
Mr. F. A. Horsey
Mrs. F. A. Horsey
Mr. J. Hunziker
Mrs. J. Hunziker
Miss Doril Hunziker and Maid
Mr. Spencer M. Hurtt
Rev. A. Janssens
Mrs. Edith Jayne
Miss E. L. Jayne
Rev. Charles E. St. John
Mrs. Charles E. St. John
Mr. Everett St. John
Mr. Harold St. John
Mr. H. R. Jolles
Mr. J. C. Jolles
Mr. A. Kapteyn
Mrs. B. Karfiol
Miss Jeanette Karfiol
Miss Celilia Kays
Mr. George W. Keel
Mrs. George W. Keel
Mr. D. B. Kimball
Mrs. D. B Kimball
Miss Elsa Kleinschmidt
Mr. Kruyf
Mr. Willy Lamping
Mr. Gardiner Lathrop
Miss Lothrop Lathrop
Miss Gretchen Lehmann
Mr. Arthur E. Leussler
Mrs. Arthur E. Leussler
Mast. Arthur G. Leussler
Mr. John Lodge
Mrs. L. K. Lodge
Mrs. A. Loeb
Miss Marguerite H. Loeb
Mrs. Edmond de Long
Mr. John W. Lowman
Mrs. John H. Lowman
Mr. Albert Lucas
Mrs. Albert Lucas
Dr. S. Lustgarten
Mrs. S. Lustgarten
Miss Katharine McReynolds
Mrs. Kate Meddaugh
Mr. Gustav E. Meissner
Rev. Dr. H. Pereira Mendes
Mrs. H. Pereira Mendes
Mr. A. Peza Mendes
Mrs. J. Kortland Meyers
Mrs. D. Miller
Mrs. Dexter F. Mills
Mr. Wm. D. Murphy
Mrs. Wm. D. Murphy
Mr. Duncan Murphy
Miss Emma I. Newson
Mr. S. Noach
Miss J. D. Noyes
Mrs. L. Nussbaum
Mr. John M. Olin
Mrs. John M. Olin
Mr. Max L. Oppenheimer
Mrs. Max L. Oppenheimer
Miss Lillian Oppenheimer
Mrs. Antonie Oppenheimer
Mrs. Max Oppenheimer
Mr. Ferd. Oppenheimer
Mrs. Ferd. Oppenheimer
Miss Beatrice Oppenheimer
Mr. John A. Orb
Mrs. John A. Orb
Mast. Jack Orb
Miss Catherine Orb
Mrs. H. M. Parry
Miss Ruth Parry
Miss Jeanette Parry
Mast. David Parry
Mr. G. W. Patterson
Mr. G. W. Patterson Jr.
Mr. Robert Patterson
Mrs. A. H. Peirce
Miss Louise V. V. Peirce
Miss Charlotte V. Peirce
Miss Alice Phillips
Mr. S. van Praag
Mrs. S. van Praag
Mrs. Benjamin Pritz
Miss Fanny Pritz
Mr. Walter H. Pritz
Dr. McCluney Radcliffe
Mrs. McCluney Radcliffe
Miss Sarah C. Radcliffe
Mr. Chas. J. Richter
Mr. E. Robitzek
Mrs. E. Robitzek
Mrs. J. West Roosevelt and Maid
Mr. Nicholas Roosevelt
Mrs. Paul B. Rossire
Mr. Walter H. Rothwell
Mrs. Walter H. Rothwell
Mr. Sacksionie
Dr. C. E. de M. Sajons
Mrs. C. E. de M. Sajons
Dr. Louis Sajons
Mr. M. Salzman
Mrs. M. Salzman
Miss Beatrice Salzman
Miss A. Schimmel
Hon. Samuel D. Schmucker
Mr. I. Schnitzler
Mrs. I. Schnitzler
Miss Emma Schreffer
Dr. Hamilton Schuyler
Mrs. Hamilton Schuyler
Miss V. D. Scudder
Mrs. Patty B. Semple
Mrs. M. E. Serlé
Miss Estelle Shepherd
Mr. Berthold Sinauer
Mrs. Berthold Sinauer
Mast. Edgar M. Sinauer and Infant, and Nurse
Mr. A. Sinsheimer
Mr. W. R. Spaulding
Mr. W. B. Uitwerf Sterling
Mrs. W B. Uitwerf Sterling
Mrs. L. Stieglitz
Miss Flora Stieglitz
Miss Elizabeth Stieglitz
Mr. K. Strauss
Mrs. E. R. Strongman
Mr. C. O. Strutz
Mr. C. O. Strutz
Mr. Jos. Swarcrok
Mr. G. Tegelaar
Mr. Th. G. Thomson
Mrs. Th. G. Thomson
Mrs. Anna H. L. Thomson
Miss Anna Louise Thomson
Mast. Th. G. Thomson
Mr. H. Threse
Mr. C. H. Tissington
Mrs. C. H. Tissington
Mr. I. B. Treadwell
Mrs. C. S. Tuller
Mrs. David Ullman
Mr. J. A. van der Voort
Miss L. Wagner
Miss Pauline T. Wagner
Miss A. M. Walker
Mrs. Clara M. Waller
Miss Maria F. Waller
Miss Margereth G. Wailer
Miss Virginia Wallis
Miss Sarah Weiskopf
Mrs. Benjamin Weitzenkorn
Miss Ruth Weitzenkorn
Mr. Benjamin Weitzenkorn
Miss M. B. Wells
Mr. Melvin L. White
Mrs. Melvin L. White
Miss Julia H. Whitehead
Dr. Alfred Wiener
Mrs. Alfred Wiener
Miss Edith Wiener
Miss Ruth Wiener
Mrs. E. I. Wilkes
Miss W. Wilkes
Mrs. Frank Williams
Mr. M. Wolff
Mrs. M. Wolff
Mast. lying Wolff
Miss Helen Wolff
Mast. Lawrence Wolff and Governess
Miss E. D. Wood
Miss Babette Wunsch
Mrs. J. Zemon
Mr. Chas. Zimmerman
Mrs. Chas. Zimmerman
Mr. Chas. Zimmerman Jr.
Miss Annette Zimmerman
* Embark at Boulogne-sur-Mer.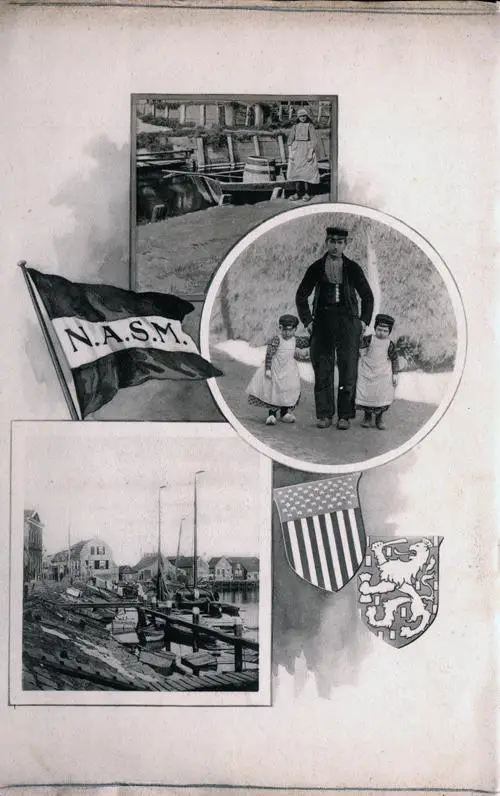 Back Cover of a Cabin Passenger List for the TSS Nieuw Amsterdam of the Holland-America Line, Departing 17 September 1910 from Rotterdam to New York via Boulogne-sur-Mer. GGA Image ID # 17bff460d1
Second Cabin Passengers
Mrs. Louise Abecker
Mr. F. G. Achterberg
Mr. Wilhelm Ahlrichs
Mr. Hermann Ahlrichs
Mr. H. F. C. Ament
Sister Anne
Mrs. J. Appleman
Mr. D. van Asperen
Mr. A. Bartel
Mrs. A. Bartel
Miss G. Bartel
Miss J. Bartel
Miss S. B. Bartel
Mr. Max. Beck
Mr. Julius Beck
Mrs. John Bellers
Miss Maria Bellers
Mr. John Bellers
Miss Marg. Betzer
Mr. M. J. Blair
Mr. Hugo J. Blaschke
Mr. Gerrit Bleeker
Miss Geertruida Bloemedaal
Mrs. M. C. Blom
Miss Chr. M. Blom
Mr. L. Bonjour
Mr. W. Boot
Mrs. W. Boot
Miss Nelly Boot
Miss Maud Boot
Mr. Peter Born
Mrs. Peter Born
Mast. Peter Born
Miss Johanna Born
Mr. Johannis Bouwman
Mr. Theodorus C. van Boven
Miss Helene Boy-de-la Tour
Mr. Fred. Brandewiede
Mr. Robert Breiter
Mrs. Robert Breiter
Mrs. Fannie Brightman
Mr. C. van den Brink
Mr. Peter Brown
Mrs. Petronella Brown
Miss Emma Bruhmann
Mast. Gerrit O. W. Bruins
Miss Willemyntje J. Bruins
Mr. Henry Bucholz
Mrs. Henry Bucholz
Mrs. A. M. Bulte
Mr. Erich Cahn
Mrs. Mathilde Cahn
Mrs. Gasse Carrp
Mrs. Carolina Ciebuska
Miss Ester Ciebuska
Mr. Henry Cohn
Mrs. Matt. Conway
Miss Susan E. Conway
Miss Thresa A. Conway
Miss Gertrude Conway
Mr. Matt. Conway
Mr. Wm. Cooper
Mrs. Wm. Cooper
Mr. J. M. Da Costa
Mr. J. van Dam
Mrs. J. van Dam
Mast. J. H. van Dam
Mr. Chas. Danegger
Mrs. Chas. Danegger
Mast. Chas. Danegger
Mast. Rud. Danegger
Mr. Hendrik J. Davelaar
Mrs. Hendrik J Davelaar
Mast. Gerrit J. Davelaar
Miss Jannigje Davelaar
Mrs. A. M. Denig
Miss Sarah Denig
Mast. Alfred Denig
Miss Henriette Denniston
Mr. Albert Deriaz
Miss Rosa Deutsch
Mrs. Elias Deutsch
Miss Johanna Deutsch
Miss Melania Deutsch
Mrs. Julia Dienes
Rev. J. Dolje
Mr. D. Doljèn
Mrs. D. Dolman
Mast. Willy Dolman
Mast. Dirk Dolman
Mr. J. Donk
Mrs. J. Donk
Mr. Jacob H. Doornbos
Mrs. Marie Drinhaus
Mr. J. C. Duinker
Sister Edelburge
Mr. F. G. Eisele
Sister Elizabeth
Miss Lydia Ellinger
Mr. Nickolas Elsinger
Rev. J. Engberink
Mr. Jan Erben
Miss Francoise Feuillet
Miss Fiebinger
Mr. Jacob Fischer
Mrs. Jacob Fischer
Mast. Jacob Fischer
Mr. Wm. Fischer
Mr. Gotthilf Fischer
Mr. L. W. Fisk
Mr. Fred. G. Fitscher
Mrs. C. Freund
Mast. Conrad Freund
Mast. Marinus Freund
Mrs. F. W. Fyma and Infant
Mr. F. W. Fyma
Sister Gabriel
Mr. John van Gasteren
Mr. Jacob Gebhard
Mrs. J. de Geus
Miss A. M. de Geus
Mr. Otto Gimbel
Mrs. Tillie Goldinger
Mr. Kryn Gortsema
Mr. E. Gouspy
Mrs. Lora Grabscheid and 2 Children
Mrs. Mathilde Grieshaber
Miss Erna Grieshaber
Miss Irma Grieshaber
Mast. Theodor Grieshaber
Mr. Lieuwe Groeneveld
Mrs. Geertruida Groot
Miss Anna Groot
Mrs. Josepfine Haefeli
Miss Bertha Haefeli
Mr. Chas. Hamma
Mrs. Chas. Hamma
Mr. Alexander Hanau
Mrs. J. Hansen and Infant
Mrs. Anna Harrison and Infant
Mr. K. Havlicek
Miss M. J. Heck
Mr. John Hefti
Mrs. Louise Hefti
Mr. Marten Heilbut
Miss Johanna Heinl
Mr. Edw. G. Heinmiller
Mrs. Martha Heinz
Miss Lillie Heinz
Mr. Carl Heisch
Mrs. Kath. Heisch
Mr. Dirk van Hell
Mr. G. J. van Hemert
Mr. G. J. Henneman
Mr. Arnold Hes
Mr. H. Heynen
Mr. Klaas Hiemstra
Mrs. Klaas Hiemstra
Mr. Tammo Hoeksema
Mr. Anton Hoerbe
Mr. Andrew Hudak
Mrs. Andrew Hudak
Miss Irene Hudak
Mrs. B. Hufnagel
Mr. Lorenz Ilis
Sister Jeanne
Mr. Vladimir Jiranek
Miss Julia Joerger
Mr. Robert Johannis
Mr. Ren. Johnson
Miss M. Junod
Mr. Ferd. Kähler
Mrs. Laura Kähler
Miss Martha Kahler
Mr. Koop Kalteren
Rev. Alois J. Kampmann
Miss Christine Kapplein
Mr. A. A. Kelder
Miss Margarete von Keller
Mr. Otto Keller
Mrs. Marie Klima
Miss Marie Klima
Mr. Emil Kling
Mr. Evert Klomp
Mrs. Evert Klomp
Miss Maria Klomp
Miss Everdina Klomp
Mast. Hendrik Klomp
Miss Gerritje Klomp
Miss Aaltje Klomp
Mast. Albert Klomp
Mast. Meuwes Klomp
Mr. Wynand Klomp
Mrs. Josefa Knoszak
Mrs. Louise Koch
Mr. Fritz Koch
Miss Gertrude Koch
Miss J. M. de Kock
Mr. B. M. Kock
Mr. E. W. Koenen
Mrs. E. W. Koenen
Miss Albertha W. Koenen
Mast. Dirk Koenen
Miss Geertruida Koenen
Mast. Lambertus Koenen
Mr. R. Kooiman
Miss G. Kooiman
Miss Helena Kreutz
Mr. G. J. Krösschell
Miss F. van de Kuil
Mrs. L. Kunis
Mr. Tamos Kurlansky
Mrs. Bertha Kurlansky
Mr. Joseph Kuynders
Mr. Theodor Lammich
Mr. Abram Langenbach
Mrs. Abram Langenbach
Mast. Christiaan Langenbach
Miss Reintjes Langenbach
Mast. Cornelis Langenbach
Mast. Bernard Langenbach
Miss C. J. Lenselink
Miss Margaretha Leurle
Mr. Lucien Levy
Mrs. Rebecca Lewin
Mast. Lester M. Lewin
Mr. P. Linden
Mrs. P. Linden
Miss Elise Linden
Mast. Paul Linden
Mr. Michael van der Linden
Miss Amalie Loewenthal
Miss Luscheim
Mr. August Lutz
Mrs. H. Mais
Sister Marie
Mr. J. A. Mata
Miss Martha Mattheus
Mr. Jan Meernink
Mr. G. F. E Meistering
Mrs. Ida F. Meistering
Miss Helena Mesh
Mr. A. W. Michaeles
Miss Amelia Miller
Miss Blanche Milot
Mr. Leopold Moll
Mrs. Bernardina Mollerus
Mr. Maurits Monasch
Mr. Wilh. Morch
Mrs. Maria Moricke
Mr. H. G. Moulton
Miss Ettilie Muhlbauer
Mrs. Marie Muller
Mr. John Nabbefeld
Mrs. C. Neirinckx
Mr. Albert Neugebauer
Miss Thyra Nielsen
Mr. C. S. Niesen
Mr. Joh. Nohstadt
Rev. J. van den Noort
Mrs. A. A. Numans
Mr. A. J. A. Oosterbaan
Mr. Piet Oosthoek
Miss Elisabeth Oostveen
Mrs. Klaas Ozinga
Mrs. Karl Pauli
Mast. Edward Pauli
Miss Katherine Pelck
Mr. A. Peters
Mrs. A. Peters
Mrs. Fany Pfluger
Miss Susanne Pfluger
Miss Anna M. E. Plaat
Mr. Julius Pos
Miss Sophia Prior
Mrs. G. M. Provily and Infant
Miss Wilhelmina Puster
Miss Karolina Puster
Miss A. de Raay
Mrs. Shewa Reif
Mr. A. C. Remynse
Mr. Franz Risse
Mrs. Tonia Rodyk
Mast. Gerrit Rodyk
Mrs. Lina Rosing
Mr. Antonie Roskam
Mr. Peter Ruger
Mrs. Peter Ruger
Mr. Walter Salomonp
Miss Josephine Schäffner
Mr. Felix Schanz
Mrs. Felix Schanz
Mr. Henry Schildgen
Mrs. J Schirrmeister
Mr. Simon Schlangen
Mrs. Simon Schlangen
Mrs. Theresia Schmeisser
Mast Ferdinand Schmeisser
Mast. Theodor Schmeisser
Mr. Louis Schmidt
Miss Anna Schmidt
Mrs. Garrie Schmidt
Miss Belle Schmidt
Miss Mary Schmidt
Miss Ada Schmidt
Miss Ruth Schmidt
Mrs. Mary Schmitt
Miss Rose Schmitt
Miss Bertha Schmutz
Mr. N. Schneider
Mr. Hugo Schoder
Mr. John Schoepfle
Mrs. John Schoepfle
Miss Gertrud Schoepfle
Mr. Edmond Schoonbaart
Mrs. Marie Schoonbaart
Mr. Ferd. Schürmann
Mr. Philipp Schwartz
Mrs. Susanna Schwartz
Mr. W. E. Seipel
Mrs. W. E. Seipel
Mr. John Sieradzki
Mrs. John Sieradzki
Miss Maryanna Sieradzki
Miss Helena Sieradzki
Mrs. Babetta Signer
Miss Gerritje Sikking
Mrs. Sophie Simmen
Mast. Bernard Simmen
Miss C. Sonepouse
Miss M. Sonepouse
Mr. Carl Specht
Mrs. Jacob L. Speiser
Miss Dorothea G. Speiser
Mrs. Marie Speleers
Miss Therese Sporrer
Mr. Andreas Staus
Miss Anna Staus
Mr. Sake Stoker
Mrs. Klasina Stoker
Miss Klasina Stoker
Mr. Eduard Strauss
Mr. August Strotbeck
Mrs. Geertje VStüssi
Mr. Henry WaStüssissi
Mr. X. deStüssii
Mr. P. v. Walderveen
Mr. Wulfert Wallenburg
Mrs. Sti,entje Wallenburg
Miss Hendrika Wallenburg
Miss Styntje Wallenburg
Mr. E. W. Washburn
Mrs. E W. Washburn
Mrs. Martha Weber
Mr. Adolf Weiss
Mrs. Adolf Weiss
Miss Elisabeth Weiss
Mr. Herbert Wydom
Mast. Herb. Wydom
Mrs. Herbert Wydom
Mr. Cornelis de Young
Mrs. Babette Strissi
Miss Rosa StUssi
Miss Alice Sttissi
Mr. Chas. Sundermeyer
Mrs. Chas. Sundermeyer
Miss Anna Surleau
Mr. L. Swets
Mr. Willem Termaat
Miss Marguerite Thomesson
Mr. Stanislaw Timowicz
Mrs.Stientjenemann
Mr. Frank Roy Traprie
Mrs. A. M. Tromp
Miss N. Tromp
Mr. R. H. Chr. Tromp
Mr. G. C. Tromp
Mr. Karl Ulrich
Willem Vaessen
Sister Valentine
Mr. Hendrik Veenhof
Mr. Peter van Veenhuizen
Mr. Emil Vogel
Mrs. Adriana de Vogel
Mr. Harm. Voorenkamp
* Passengers that Embark at Boulogne-sur-Mer.
The Fleet of The Holland-America Line consists of the following steamships:
Twin screw Steamship "Rotterdam"
Twin screw Steamship "Nieuw Amsterdam"
Twin screw Steamship "Noordam"
Twin screw Steamship "Ryndam"
Twin screw Steamship "Potsdam"
Twin screw Steamship "Statendam"
ranging from 10,500 to 24,170 tons gross register. All steamships are of enormous tonnage, and splendidly equipped for the safety and comfort of Passengers.
They are all provided with the latest improvements, have bilge keels, superb decks, halls, saloons and large staterooms, and are fitted with the Marconi system for wireless telegraphy and the Submarine Signal Receiving Apparatus. They carry the U. S. and Royal Netherlands Mails and maintain a regular weekly service between New York and Rotterdam, stopping both ways at Boulogne-sur-Mer for the landing and embarkation of Passengers.
For full information, sailings, and rates, apply to the General Passenger Agencies of the Holland-America Line or to its local agents.
The orchestra of well-trained musicians on board of SS "Nieuw Amsterdam" will play as indicated below:
10:00 to 11:00 am Second Class Dining Saloon
1:00 to 2:00 pm First Class Dining Saloon
4:00 tp 5:00 pm Second Class Dining Saloon
7. to 8:00 pm First Class Dining Saloon
9:00 to 10:00 pm First Class Social Hall
The above named hours may be altered according to circumstances.
Information for Passengers
Berths and Staterooms should be reserved as soon as possible in order to secure the most favorable location, especially during the summer season, when all available rooms are usually engaged considerable time (sometimes months) previous to departure of the steamship. When applying for accommodations, either by mail or telegraph, the name of the steamship, date of departure, number and sex of Passengers, and desired class of accommodations, should be stated.
Berths are not considered engaged unless secured by paying a deposit of $ 25.00 per berth for the first cabin and $ 10.00 per berth for the second cabin accommodations. The balance of the passage money must be paid not later than two weeks before sailing; if this has not been paid on or before that time, the Company reserves the right to resell the allotted accommodations. Deposit moneys are refunded only if notice of cancellation is given not later than two weeks before sailing.
Passengers who do not sail on the steamship for which they have engaged accommodations or purchased a ticket, will forfeit fifty percent of the passage money, unless notice is given not later than two weeks previous to sailing.
Return and Prepaid Tickets entitle holders to passage only during the season and for the accommodations for which they have been issued . If used at any other season or for other accommodations than the face value indicates, holders will be required to make additional payment, or will be refunded any eventual difference in accordance with rates and rules in effect.
Return or Prepaid Tickets are good for one year from date of issue and are not transferable. Upon application to one of the Company's Passenger Offices, they may be extended by paying the difference between the rate in effect at the date of issue and time of sailing, in accordance with the conditions on the passage contract.
Return Accommodation may be secured through the Company's Passenger Offices or Agents. They should be engaged when securing berths for the outward trip, or as soon thereafter as possible. If a passenger is prevented from sailing on a steamship for which return accommodations have been secured, a transfer to an earlier or later steamship can be made by applying to any of the Company's Offices or Agencies, provided application for the transfer be made not later than two weeks previous to the departure of the steamship on which berths had originally been reserved.
Interchangeable Tickets. — The holder of a return ticket first or second class has the option of returning by one of the following lines : American Line, Atlantic Transport Line, Austro-Americana, Compagnie Generale Transatlantique, Cunard Line, Dominion Line, Hamburg America Line, Leyland Line, Norddeutscher Lloyd, Red Star Line and White Star Line, subject to the rules and regulations of the line by which the ticket is used. Return tickets of any of the above lines will in the same way be honored by the Holland-America Line.
If Unused Return Tickets are offered for cancellation, the amount paid for the round trip, less full outgoing fare and agent's commission, will be refunded against delivery of the return certificate to one of the Company's General Passenger Offices after authorization has been received from the Company's General Passenger Office at Rotterdam.
Through Checking of Baggage for Paris. — Baggage of cabin Passengers from New York to Paris via Boulogne-sur-Mer, can be checked through at our docks in Hoboken before embarkation, or on board the steamer.
Steamer Trunks should not be higher than 13 inches, and of the usual width and length, so that they can be placed under the berth or sofa in the stateroom.
Larger Pieces of Baggage are not permitted in the staterooms, but are stowed away in the baggage hold.
All pieces of baggage destined for staterooms must be marked "wanted", those for the baggage hold "not wanted," and must bear passenger's name, destination, number of berth and name of steamship; tags may be had at all Company's offices and agencies or, on board, from the Baggage master. Eastbound Passengers from the interior should have their baggage checked to the Holland-America Line dock, foot of Fifth Street, Hoboken, N. J., by the baggage express agent on the train, previous to arrival in New York, Jersey City, etc .
Custom House Examination. — The baggage of Passengers leaving the steamship at Boulogne-sur-Mer, will be examined by the French Custom House officers at the Gare Maritime at said port, or on arrival at Paris. The examination by the Holland Custom House officials will take place either on board, two or three hours previous to arrival at Rotterdam, or at the Hook of Holland, at the pier of the Holland-America Line, built at the "Hook" in 1903, and which pier may be used as a landing place for Passengers and their baggage whenever tide or other circumstances may prevent the steamship from proceeding at once to Rotterdam.
Orders for Delivery of baggage free of charge at the railway depots in Rotterdam and Boulogne-sur-Mer are taken by the Baggage master on board the ship.
Bicycles, provided properly crated, will be taken as baggage at owner's risk, at a fixed rate.
Steamer Chairs, of improved construction, may be rented at the different offices of the Company, on the dock and on board the steamer for one trip, at a fixed rate.
This Company will not be responsible for money, jewelry or other valuables of Passengers.
Passengers are warned not to keep such articles in their staterooms. Keys to the staterooms may be obtained from the chief steward upon application.
Each steamship is supplied with a safe in which all articles of value may be deposited.
Both SS "Rotterdam" and "Nieuw Amsterdam" are provided with a safe deposit which is at the disposal of Passengers.
Inflammable or explosive articles are not allowed on board.
Arms must be surrendered to the purser during the voyage.
Seats at Table. — Seats at table are allotted after sailing.
Mail will be accepted by the Purser after leaving New York and forwarded by pilot from Sandy Hook, without responsibility for proper mailing, however, on the part of the Company. Letters or postcards to be posted at Boulogne-sur-Mer should be put into the mailbag which will be hung in due time in a convenient place. Passengers are requested to put their letters etc. into the mailbag themselves.
Stamps, stationery, postal cards, cable and telegraph blanks can be obtained from the saloon steward .
Letters and Telegrams. — The Company is willing to accept letters or telegrams for Passengers to be delivered on board on arrival or departure, without assuming, however, any responsibility for their proper delivery. The name of the passenger should be distinctly written, also the name of the steamship on which Passengers travel. Undelivered letters are returned to the Post Office.
Money. — Money of the United States or of European countries is accepted on board the steamships of the Holland-America Line in payment of all bills, at fixed rates of Exchange. Foreign moneys are bought and sold at current rates at the Company's Offices in Europe.
The attention of the managers has been called to the fact that certain persons, believed to be professional gamblers, are in the habit of traveling to and fro in Atlantic steamships.
In bringing this to the knowledge of travelers, the managers, while not wishing in the slightest degree to interfere with the freedom of action of patrons of the Holland-America Line, desire to invite their assistance in discouraging games of chance, as being likely to afford these individuals special opportunities for taking unfair advantage of others.
In the event of any disagreement with the Purser relative to tickets required, privileges allowed, etc. Passengers should pay the "Purser's claim", take his receipt and refer the case for adjustment to the Company's Office at Rotterdam or New-York, where an eventual overcharge will be promptly refunded. The Purser has no discretionary power in such matters, but is governed by rules which he is not authorized to change.
On the voyage from New York to Rotterdam SS Rotterdam and SS Nleuw Amsterdam call first at Plymouth and then at Boulogne-sur-Mer for the landing of Passengers.
Public Telephones, with booths and an operator, are located on the Holland-America Line Pier, foot of Fifth St., Hoboken, N. J.