TSS Rotterdam Passenger List - 15 June 1929
Front Cover of an Student Third Cabin Association (STCA) Passenger List for the SS Rotterdam of the Holland-America Line, Departing 15 June 1929 from New York to Rotterdam via Plymouth and Boulogne-sur-Mer, Commanded by Captain Krol. GGA Image ID # 17c9f4c65a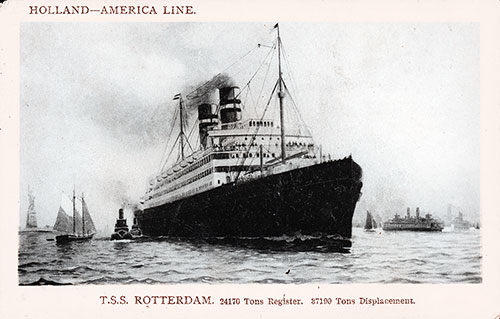 Picture Postcard of the Holland-America Line TSS Rotterdam. 24,170 Tons Register. 37,190 Tons Displacement. Postally Used on 1 May 1909. US Postage One Cent Stamp Affixed. Front Side: GGA Image ID # 15c393757a; Back Side: GGA Image ID # 15c3a3ce4b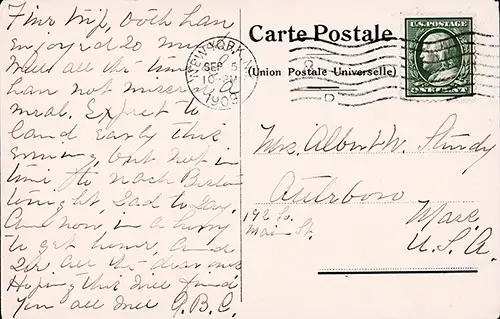 Senior Officers and Staff
Commander: Captain Krol
Chief Officer: Stout
Chief Engineer: Bolsius
Purser: Ziessen
Physician: Dr. Dowling
Chief Steward: Sobering
List of S.T.C.A. Honored Guests
Leader: Mr. Leonard G. Rice
Hostess: Mrs. Rolando Boecklin
Lecturer: Mr. Alphons Vorenkamp
Librarian: Miss Claudia Hatch
Orchestra: Columbia University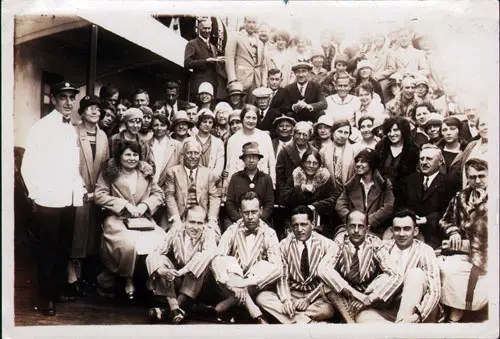 STCA Students And Staff Members On Board The TSS Rotterdam, 1929. GGA Image ID # 17ca6a4de8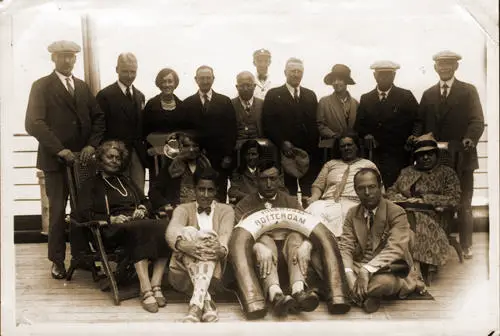 Group Photo of Unidentified STCA Passengers on board the TSS Rotterdam, 1929. GGA Image ID # 17ca6d15b7
List of S.T.C.A. Passengers
Miss Sophie Abbott
Miss D. Aberett
Mr. Harry G. Allen
Mrs. Mabel Allen
Professor Robert H. Anacher
Mrs. Robert H. Anacher
Mr. E. G. Anderson
Mrs. Cornelia Anderson
Mr. Peter Anstruther
Mr. Theodore Appia
Mr. E. G. Arnold
Miss Caroline B. Averhill
Miss Frances Bass
Mr. Lester Babcock
Mrs. Lester Babcock
Mr. Robert L. Bailey
Miss Christine B. Barel
Mr. John Barhydt
Miss T. A. Barker
Dr. Albert M. Barrett
Mrs. Albert M. Barrett
Mr. Frank Bauer
Mrs. Samuel L. Beall
Mr. Abner T. Beasley
Miss Mary Beeryman
Miss Delia Bell
Mr. E. Benguiat
Mrs. L. L. Bennett
Master Hugh Bennett
Mr. C. H. Bennett
Mr. Richard M. Bennett
Mr. A. Bensinger
Miss Jane Bensinger
Miss Carol Bensinger
Miss Athlein Benton
Mr. Harry Best
Mrs. Charles Bethlehem
Miss Bethlehem
Mr. Carl Beumer
Mrs. Carl Beumer
Mr. Harry Beyers
Mrs. Harry Beyers
Miss Hermina Biba
Mr. Gerard J. Bies
Mrs. Gerard J. Bies
Professor George A. Bingley
Miss Blanchet
Professor R. P. Boas
Mrs. R. P. Boas
Mr. Rolando Boecklin
Mrs. Rolando Boecklin
Mr. William Boone
Dr. B. T. Bottolfson
Mrs. B. T. Bottolfson
Miss Sarah Bowditch
Miss Marguerite Bowers
Miss Bowles
Mr. Thos. A. Bowles
Mr. E. R. Boyd
Mr. Frank Bozyan
Miss Elizabeth Bradley
Miss Kate Breas
Mrs. L. B. Bresee
Mr. Fred Brick
Mrs. Maize A. Brick
Mr. H. Brinsmade
Miss Marie L. Brisse
Miss Helen Bristow
Mr. Fred F. Brown
Mr. Leon Brown
Mr. Brown
Miss Georgia Brune
Mr. Wm. Robert Bryant
Miss Anne Burke
Miss Lucile Burke
Mrs. Flora Bursley
Miss Mary Bursley
Mr. Philip Bursley
Mr. Gilbert Bursley
Miss G. Busch
Mr. Alfred Busselle, Jr.
Miss Cager
Dr. Emilie Cailliet
Niss Elizabeth Cardwell
Miss Velma Carter
Miss Helen Castor
Miss Frances J. Camell
Miss Margaret Chandler
Miss Marion Chandler
Mr. E. Chapman
Miss Betty Chittenden
Miss Felicie Claptien
Miss Jeanne Claptien
Mr. S. W. Cleveland
Miss Josephine Clyde
Miss Beatrice Cobb
Miss Alma Cockerell
Miss Dorothy Coggeshall
Mrs. Adolph Cooper
Mr. G. F. Conner
Mrs. Clara Corveheyn
Master Peter Corveheyn
Miss Dessie Cox
Mr. Jaques Crommelin
Mr. W. Culver
Mr. Robert Curtis
Mr. Percy Dairs
Mr. Charles E. Davis
Mr. John Davis
Miss M. J. Davis
Mr. C. R. de La Vergne, Jr.
Mrs. H. DeVleeschhouwer
Mr. Ferdinand Dierze
Mrs. Ferdinand Dierze
Mr. Rene Dierze
Mrs. Rene Dierze
Mr. Porter Dietrich
Mrs. William Dietz
Miss Barbara Donald
Mr. John Dorfner
Mr. Alden B. Dow
Mr. J. A. Downs
Mr. Gaston Duhamel
Miss Dorothy DuBois
Mr. Paul Dubreuque
Miss Kitty Dunlap
Mr. Alfred Egerter
Mrs. Claire Ehrlick
Mr. J. Russell Elkinton
Mr. Karl F. Erickson
Miss Ada B. Erwin
Mr. W. D. Eve
Professor Paul Fatout
Miss Dora W. Faxon
Mr. Anthony Felix, Jr.
Mr. Fred Fichter
Mr. Carlton Fishel
Miss Margaret Forbes
Mr. Lester Ford
Mr. E. W. Fordyce
Mr. E. W. Fox
Mr. Wallace D. Fraser
Mr. Henry Friend
Mr. Charles E. Fry
Prof. Carl Fryxell
Miss Virginia Fuller
Mr. Edward Funke
Mr. James A. Gager, Jr.
Mr. Frederick R. Gasmd
Mr. John A. Gautier
Mrs. Gwendoline Gilbert
Miss Louise fGladish
Miss Margaret Graham
Mr. Leo Green
Miss Faye C. Green
Mrs. Chester Greene
Mr. Chester Greene
Miss Phyllis M. Gregory
Mr. Paul A. Grigaut
Mrs. Alette Groot
Miss Catherine Groves
Mr. J. L. Gubbles
Mrs. J. L. Gubbles
Mrs. M. S. Gudernatsch
Mr. Gert Gudernatsch
Mr. W. W. Gwin
Mr. Harry Hagey
Mr. Ned Hagey
Mr. Robert W. Haller
Mr. William F. Hammond
Mrs. M. Harder
Miss Ann C. Harmon
Miss L. Harowitz
Mr. Thomas J. Harper
Mr. Wallace Harper
Miss Frances Harris
Miss Claudia Hatch
Mrs. Thomas W. Haught
Miss Alice J. Hauser
Mr. Willis Hawley
Mrs. Willis Hawley
Mr. Earl S. Hays
Mr. Henry A. Hayungs
Miss Violet Hayward
Miss Louise H. Hazard
Miss Eva Healy
Miss Eileen Healy
Miss N. Heaney
Miss Ilda Heaton
Mrs. K. Heeres
Mr. Borden Helmer
Mr. Theodore Hetzel
Mrs. Theodore Hetzel
Miss Murilla Hicks
Miss Higgins
Miss Ruth L. Higgins
Miss Emma A. Hilshman
Mrs. George Hitmer
Miss Marguerite Hodnett
Miss Beatrice Hoffman
Mr. Maurice Holahan
Miss Eleanor Holt
Mrs. L. D. Hoppe
Miss Idella Horsey
Miss Lillian Horowitz
Miss Ottilie Hotz
Mr. Raymond Howell
Miss Alice Hubbard
Mr. George L Hughes Jr.
Mr. Robert Hunneman
Miss Clara B. Hunt
Miss Rita Hutsel
Miss Hilda Hutsel
Miss Lenore Hyman
Miss Louise H. Irving
Dr. J. Jacobs
Miss F. Jacobson
Mr. C. A. Janeway
Miss Harriet Jeffers
Mr. Jobke
Mr. E. Struble Johnson
Mrs. Oakley C. Johnson
Miss Margaret Jones
Mr. Edward Justis
Mr. Lajos Kada
Mr. H. Kahn
Mr. Harold Kaminski
Mr. Cornelius Kelder
Mrs. Dederica Kelder
Master Edward Kelder
Miss Easter Kellogg
Mrs. William Kennon
Mrs. Cornelia Kesselaar
Mast. H. P. Kesselaar
Mr. William Kirn
Mr. Harry Klemmetsen
Mrs. Karry Klemmetsen
Mrs. Mary Koning
Mr. Johannes Koolen
Mr. Walter Krebs
Mrs. Walter Krebs
Mrs. William Kruegel
Miss Ruth Krimsky
Mrs. A. E. Kuymans
Miss Jean K. Lacock
Dr. W. J. Lacock
Mrs. W. J. Lacock
Mr. Anton W. Lample
Dr. Arthur John Langan
Mr. A. D. Langmuir
Mr. George M. Lawrence
Mr. Robert Lee
Mr. Morris Leiborvitz
Miss Ruth Lewman
Mr. James Liebman
Mr. Charles A. Lloyd
Miss E. Spencer Lloyd
Miss B. E. Lloyd
Mr. C. Lockwood
Miss Janis Loeb
Mr. Jesse Long
Mrs. George Lynch
Miss Joan Mary Lynch
Mr. J. C. Lyons
Mrs. J. C. Lyons
Miss Elizabeth Lyman
Miss Jeanne Mallein
Mr. Lawrence E. Mallinchrodt
Miss Florence Marks
Professor Lawrence Martin
Mrs. Lawrence Martin
Mr. Frank H. Martin, Jr.
Mr. John Q. Mask
Mr. Charles F. Matthaer
Mrs. Charles F. Matthaer
Mr. Bernard Mayer
Mr. Frans Medema
Mr. John F. Meehan
Miss Margaret E. Meisel
Miss Margaret Menhofer
Miss Grace F. Merritt
Mr. Harry Men
Mr. N. Meyer
Mrs. N. Meyer
Miss Anna Meyer
Miss Helen Mighell
Miss Carey D. Miller
Mr. Kenneth B. Miller
Mrs. Pauline Wittwer Miller
Miss Katherine Miller
Mr. E. B. Milliken
Mrs. E. B. Milliken
Mr. Arthur L. Minassian
Mrs. R. L. Miquelle
Dr. W. A. Montgomery
Mr. T. V. Moore
Miss Virginia Morrison
Mrs. Emilie Moulu
Mr. Edwin L. Munsey
Mr. Andrew F. Murray
Miss Bess L. McAllister
Miss Jean E. McAllister
Miss Louise McCabe
Mr. F. B. McCall
Mrs. F. B. McCall
Miss K. C. McCallie
Mr. Art McCanne
Miss Emily McClelland
Mr. Elmer McFarland
Miss Catherine McGrath
Miss Edna L. McKee
Professor R. H. McLean
Mrs. R. H. McLean
Miss Sally McLean
Miss Josephine McNamara
Miss Gladys Neal
Miss Elizabeth Nicholas
Mr. Frank C. Nichols
Mr. Victor Nissen
Mr. Eugene Oeters
Mrs. Madeleine Oeters
Miss Aline Oeters
Miss Madeleine Oeters
Miss Adelaide Oldfield
Mr. Louis O'Neill
Mr. Joseph O'Neill
Mr. Lars Onsager
Dr. J. S. Overall
Mr. Roger W. Parkinson
Miss Marie Patiska
Mr. E. J. Pattee
Miss Jeanita Peterson
Mlle. Edmee Petit
Miss Bertha Petit
Mrs. Charles Polch
Mr. Franz J. Polch
Mr. Karl J.' Polch
Mr. Louie A. Poletowski
Mr. Robert Popper'
Mr. Richard Post
Miss Mary Poteat
Mr. Louis Pursel
Mr. William W. Pusey
Mr. Carl Raswan
Mrs. Carl Raswan
Miss Mildred Raswan
Master Harold Raswan
Miss Anita Raswan
Miss Lydia B. Raymond
Mr. Robert Reinhard
Mr. N. H. Reininga
Mr. Georre W. Renchard
Mr. Leon Reni-mel
Mrs. Leon Reni-mel
Master Alec Rice
Mr. Leonard Rice
Mrs. Leonard Rice
Mr. Otis Rice
Rev. John Ringger
Mrs. Katherine Roberts
Mrs. E. H. Robinson
Mr. George K. Robinson
Mr. Henri Rood
Mr. Henry S. Rorer
Miss Jesephne Rosenthal
Mr. Louis C. Roth
Miss Bertha Rothstein
Mr. Clarence D. Roullard
Mrs. Clarence D. Rouillard
Mr. Hunter Rouse
Miss Edith D. Ruggles
Mr. Ralph Russell
Miss Florence Rutchik
Miss Alice Safford
Miss Dorothy Sage
Mr. William Saltonstall
Mr. Charles F. Schillinger, Jr.
Mr. Clyde Schmochtenferger
Miss Harriet Scholder
Miss Esther Schofield
Mr. Alfred Schofield
Miss Julia Schweibold
Miss Kate Schweibold
Professor Walter Schwenn
Mr. Richard D. Seaborn
Miss Agda Seagren
Mr. G. K. Seibert
Mrs. G. K. Seibert
Mr. Earl Seldon
Miss Sadie Sherman
Miss Miriam Sherman
Mr. George S. Sherrod
Mr. Granville Sherwood
Miss Lillian Simerka
Mrs. Simerka
Mr. Leo Siskin
Mr. Joseph Siskin
Mr. Kennard Skilling
Mr. Daniel J. Smith
Miss M. E.. Smith
Miss Linda Smith
Mrs. Mildred Smith
Miss Carolyn Smith
Miss Mary Smith
Mr. P. H. Smith, Jr.
Miss Rita Smith
Mr. W. F. Smith
Mr. J. B. Sniffen
Mr. Robert Spence
Miss Mary Stephens
Miss Julia Stover
Miss Virginia Streeter
Miss Frances Strother
Miss Enola Subat
Dr. John Subat
Judge J. B. Sullivan
Mrs. J. B. Sullivan
Miss Stefanie Swarowsky
Mr. Robert C. Symington
Miss Edith C. Symington
Mr. C. Tabbers
Miss Theodora Talcott
Mr. A. S. Talmadge
Mrs. A. S. Talmadge
Rev. Isaac Teal
Mrs. Isaac Teal
Mr. H. Vincent Thelander
Mrs. J. O. Thomas
Master Thomas
Miss Katherine Thorington
Miss Margaret Thorington
Mr. Leland L. Thorne
Miss Virginia Thorne
Miss Elizabeth Townsend
Mrs. Veronica Traeger
Miss Gertrude Traeger
Mr. Peter C. Traphagen
Mr. Peter C. Traphagen
Mr. Paul Tremp
Miss Jewel Trippe
Miss Sue R. Tucker
Mr. Richard G. Tyler
Mrs. Richard G. Tyler
Mrs. Rebecca Udell
Miss Rose Udell
Miss Julia Ulery
Miss Katherine Ulery
Mrs. W. Van den Hengel
Master George Van den Hengel
Mr. Henry J. Van Havelingen
Mrs. Henry J. Van Havelingen
Mrs. M. C. H. Van Herwerden
Mr. Egbert Van Leeuwen
Mrs. Egbert Van Leeuwen
Master Leo Van Leeuwen
Master Egbert Van Leeuwen, Jr.
Mr. Parley Van Wagoner
Mrs. Henri B. Van Zelm
Mr. John T. Varner
Mr. Henry Visscher
Mr. Johannes Visscher
Mrs. Johannes Visscher
Mr. Alphons Vorenkamp
Mr. John N. Ware
Mrs. John N. Ware
Miss Dorcher Ware
Mr. A. B. Wassenberg
Mr. H. Mustyn Watkins
Mr. John P. Weber
Mrs. John P. Weber
Miss N. Weinberg
Mrs. B. C. Wentworth
Mr. Samuel Weston
Miss M. S. Wheeler
Miss Leona C. White
Mrs. Anna Wierings
Miss Hilda Wierings
Mr. Arthur G. Williams
Mrs. Arthur G. Williams
Mr. William Wilmurt
Mr. Arthur R. Wilmurt
Mrs. Howard Williams
Mr. H. N. Williams
Mr. David Wilson
Mr. Francis Wilson
Mr. John Wilson
Mr. Robert L. Wilson
Miss Elsie E. Wilson
Miss Wilson
Miss A. J. Wittgrefe
Mr. Albert K. Wittmer
Mrs. Albert K. Wittmer
Dr. E. S. Wittwer
Mrs. E. S. Wittwer
Miss Henrietta Wittwer
Miss Edith S. Woodruff
Mrs. Harold Worthington
Mr. Henry L. Wright
Miss Shirley Wright
Miss Dorthy Wulf
Mr. Ernest E. Wyman'
Mr. J. Houston Young
Mr. G. H. Zimmer
Mrs. G. H. Zimmer
Announcing the 1929 Edition of the "Hand-Me-Down"
21 guide book to Europe of inexpensive hotels, pensions, restaurants discovered by our Passengers who travelled with us in 1927 and 1928 and compiled by the Student Third Cabin Association of the Holland America Line for the benefit of their 1929 Passengers.
Price $1.50
On SALE at S-T-C-A Library and Purser's Office
Holland America Line
24 State STREET, New York City
STCA Representatives will be in the London and Paris Offices of the Holland-America Line During July, August and September, 1929.
Paris: 4 Rue Scribe
London: 18-19 Pall Mall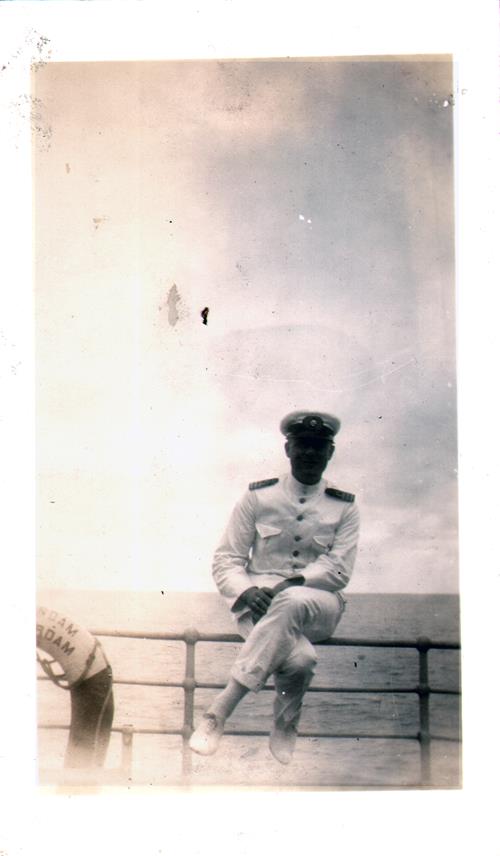 Holland-American Line Officer J. Munnik on board the TSS Rotterdam, 1929. GGA Image ID # 17ca89debf
About the S.T.C.A. Passenger List
1929-06-15 List of S.T.C.A. Passengers, TSS Rotterdam, New York to Plymouth, Boulogne-sur-Mer, and Rotterdam. Captain Krol. STCA stands for Student Third Cabin Association - It offers a special Tourist Third Cabin on the Holland-America Line ships which was created by two Yale students in 1923. It differs from other Tourist Third Cabins in being maintained entirely for college people and those with whom they naturally associate.
In addition to most congenial fellow Passengers on the ocean, it offers cabins, decks and public rooms that were formerly second class on the steamers Rotterdam, New Amsterdam, Volendam, and Veendam, and remarkable Tourist Third Cabin accommodations on the new Holland-America Line flagship Statendam.
The service on these vessels is all that could be desired, the food is first class, well prepared and simply served, and everything is kept scrupulously clean. Included with this passenger list is a photograph of Officer J. Munnik and two group photos (unidentified individuals) of the the STCA members who were on this voyage.