SS Rotterdam Passenger List - 20 July 1926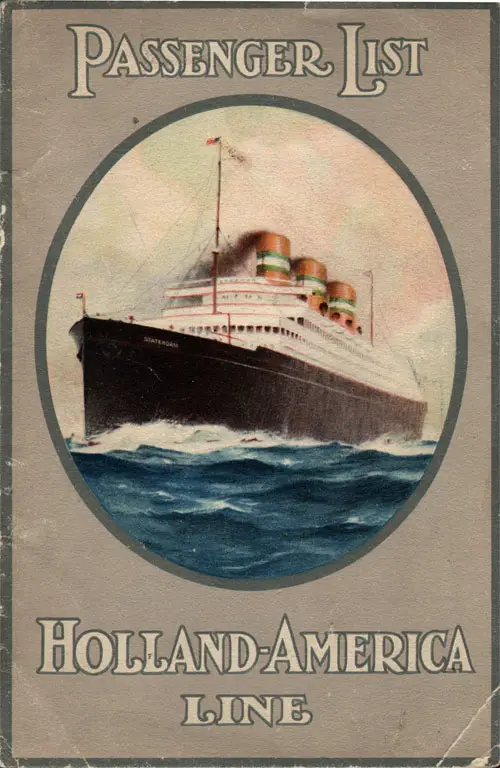 Front Cover of a First and Second Cabin Passenger List for the SS Rotterdam of the Holland-America Line, Departing Tuesday, 20 July 1926 from Rotterdam to New York via Boulogne-sur-Mer and Southampton, Commanded by Commodore Van Den Heuvel. GGA Image ID # 17c8d1fd9b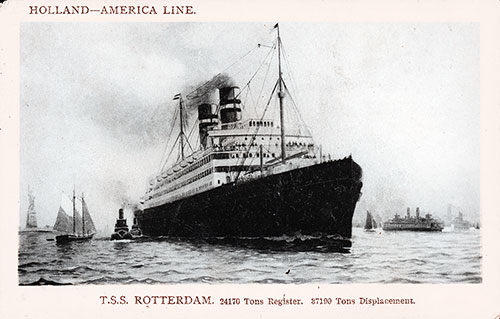 Picture Postcard of the Holland-America Line TSS Rotterdam. 24,170 Tons Register. 37,190 Tons Displacement. Postally Used on 1 May 1909. US Postage One Cent Stamp Affixed. Front Side: GGA Image ID # 15c393757a; Back Side: GGA Image ID # 15c3a3ce4b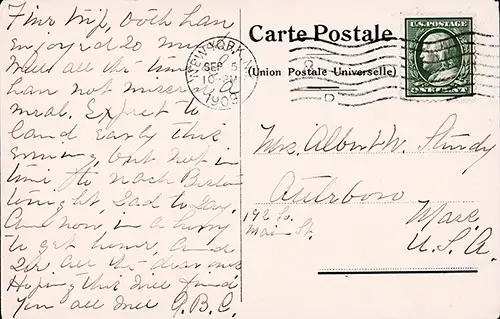 Senior Officers and Staff
Commander: Commodore Van Den Heuvel
Chief Officer: Veldheer
Chief Engineer: Roona
Purser: Reyntjes
Physician: Dr. Kelly
Chief Steward: Smits
First Cabin Passengers
B Miss B. Adams
B Mrs, M. K. Albee
S Mrs. E. J. H. Ammidon
Miss E. H. Ammidon
Mr. H Ammidon
Miss F. Ammidon
Mr. W. H. Baldwin
Mrs. W. H. Baldwin
Mrs. P. Ballantine
Miss B. J. Ballantine
S Miss E. Ballman
Mr. G. Bamberger
Mrs. G. Bamberger
B Mr. L. Bauer
Mr. J. M. Blattner
B Mr. A. Blumenthal
S Mrs. E. G. Bond
Mrs. J. J. Bouman
Miss M. Bridgetts
B Miss G. Brooks
B Miss A. Brooks
Mr. T. J. Brons
Miss A. H. Brons
Mr. J. W. Burns
Mrs. J. W. Burns
B Mr. H. Busse
B Mrs. E. W. Butts
B Miss E. L. Butts
Prof. H. M. Calogovic
B Mrs. J. Cameron
B Miss M. Cameron
B Mr. J. P. Chamberlain
B Mrs. J. P. Chamberlain
B Mr. H. P. A. Clausen
B Mrs. H. P. A. Clausen
Mr. G. M. Clausen
Mrs. C. M. Clausen
Miss H. Clausen
Miss B. Clausen
B Mr. Clawton
B Mrs. Clawton
B Mrs. B. Cook
S Mr. J. E. Coulter
S Mrs. J. E. Coulter
Mr. J. F. Cullman
B Mrs. J. F. Cullman
B Miss M. Cummings
Miss M. Dowd
B Mrs. F. W. Dupee
B Miss M. C. Dupee
S Mrs. F. Elser
S Miss C. Elser
S Miss I. Elser
S Miss A. Elser
Mr. C. English
Mrs. C. English
Col. M. S. Fanning
Mrs. M. S. Fanning
B Miss D. Ferguson
Mrs. B. S. Firth
Mr. F. Fleischauer
Mrs. M. E. Flynn
B Mrs. C. J. C. Frank
B Mr. J. Gillespie
B Mrs. J. Gillespie and Child
B Mr. J. D. von Glahn
B Mrs. J. D. von Glahn
B Mrs. J. von Glahn
B Miss A. von Glahn
B Major E. L. N. Glass
B Mrs. E. L. N. Glass
Rev. J. H. Gleason
Mr. F. A. A. van Gogh
B Mrs. H. Gold
S Mr. C. W. Gooch
Mr. H. H. Good
Mrs. H. H. Good
S Mrs. K. Grau
B Dr. L. Grebesok
Mr. D. C. Griesheimer
B Miss C. Guerin
Miss G. Halbren
S Mr. A. H. Harwood
B Mr. S. Herrmann
B Miss E. E. Hubachek
B Miss B. Hubachek
S Miss A. M. Huddleston
B Mr. H. Hutton
B Mrs. H. Hutton
B Miss N. B. Johansen
Mr. N. Johnson
Miss E. Kallenbach
Mr. J. S. C. Kasteleijn
Mrs. J. S. C. Kasteleijn
Miss A. J. Kasteleijn
Mr. E. C. Klaiber
Mrs. E. C. Klaiber
Mrs. M. van Klaveren
B Miss A. Kneeland
B Mr. R. D. Kohn
B Mrs. R. D. Kohn
B Mr. B. Kohn
Mr. A. Kunert
Mr. J. A. Lamon
Mr. I. Levin
Mrs. I. Levin
Mrs. I. Levinson
Mr. L. W. Leyds
Mr. F. M. Long
Mrs. F. M. Long
Mrs. J. I. Long
B Mr. E. S. Lorsch
Mr. G. Mair
Mr. L. G. Mantel
S Mr. S. Marks
S Mrs. S. Marks
S Mr. W. L. Marston
S Mrs. W. L. Marston
B Mr. J. W. Masury
B Mrs. J. W. Masury
Mr. A. C. McCord
B Mr. J. W. McDonnald
B Mrs. J. W. McDonnald
S Miss G. McEntee
Mr. H. Miller
B Mrs. H. W. Munroe
B Miss L. Munroe
B Mr. B. Newcombe
B Mrs. B. Newcombe
B Mr. J. T. Norton Jr.
S Mr. M. H. Otto
S Mrs. M. H. Otto
S Miss C. A. Pattie
Hon. F. Posthuma, Vice'Consul of the Netherlands at Chicago, Ill
B Miss E. C. Pugh
B Mr. S. J. Reichman
B Mrs. S. J. Reichman
B Miss M. Rohrman
B Mr. Rolls
B Mrs. Rolls
B Mrs. M. B. Rosenbaum
Miss T. Rukoff
B Mrs. M. C. Sax
S Miss E. Scarlett
Miss A. Schaler
S Mr. M. A. Schmitt
B Miss. B. Scott
B Miss F. C. Semmes
Mr. F. S. Senton
Mr. H. Stahl
Dr. W. Steffen
Mr. F. Steffen Jr.
S Mr. A. G. Steinman
S Miss J. C. Steinman
S Miss M. Steinman
Miss A. W. Stewart
B Mr. O. L. Stix
Mrs. W. H. Sykes Jr.
Miss P. Sykes
B Miss A. P. Taintor
B Mrs. E. H. Thinker
Rt. Rev. J. H. Tihen, D.D. Bishop of Denver
Mr. M. H. Treadwell
Mrs. M. H. Treadwell
Mrs. E. Visser
Miss I. J. J. Visser
Mr. J. Visser
Mr. H. H. Wallower
Mrs. H. H. Wallower
B Mr. Waterman
B Mrs. Waterman
Mr. N. B. Watkins
Mrs. N. B. Watkins
Mr. L. S. Watkins
Mrs. F. Weigel
Prof. F. A. F. C. Went
B Mr. Paul Whiteman
S Mr. J. B. Winfree Jr.
Mr. O. A. Winterstein
Miss A. C. Winterstein
Miss A. A. Winterstein
Miss M. S. De Witt
Mr. P. L. Witzell
Hon. A. R. Zimmerman, Former Commissioner General of the League of Nations for Austria
S Mr. Ch. F. Zoylner
S Mrs. Ch. F. Zoylner
B Embark at Boulogne-sur-Mer. S Embark at Southampton.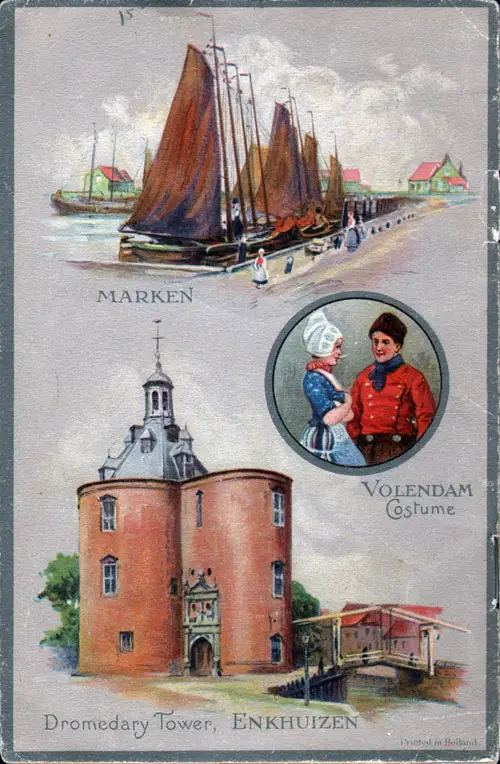 Back Cover of a Cabin Passenger List for the SS Rotterdam of the Holland-America Line, Departing Tuesday, 20 July 1926 from Rotterdam to New York via Boulogne-sur-Mer and Southampton. GGA Image ID # 17c8e99c0d
Second Cabin Passengers
S Mr. H. Antoville
Mr. H. Bakker
Mrs. H. Bakker
B Mr. T. Barrel
B Mr. W. Bell
Mr. J. G. Th. Berning
Mr. H. de Boer
Mr. E. Bohs
Mr. A. Booy
Miss A. C. Bouwer
Mr. F. v. d. Broek
Mrs. F. v. d. Broek
Mast. F. G. v. d. Broek
Miss M. Bruch
Miss H. Buczak
S Rev. J. J. Butler
Mr. G. Christiani
Mrs. A. Coller
Miss H. Coller
Miss W. Cox
Mr. W. E. Creyghton
B Mr. B. Cullen
Mrs. J. Czajkowski
Miss W. A. Czajkowski
B Mr. P. Davin
B Mrs. P. Davin
Mrs. M. H. Devisscher
Mast. C. C. A. Devisscher
B Mr. K. Dieterle
B Mr. T. Fulton
B Mrs. T. Fulton
B Mr. Ch. Gaylord
Mrs. A. Gontarz
Miss A. Gontarz
Miss M. Gontarz
Miss L. Gontarz
Mr. O. Gueth
Mrs. O. Gueth
Mr. C. M. de Haas
B Mr. W. Hall
B Mrs. W. Hall
Mrs. H. Harbosch and Infant
B Mr. C. Hazlett
B Mrs. C. Hazlett and Son
Mrs. L. Hergert
Miss E. Hergert
Mr. M. v. d. Hoek
Miss A. Hölscher
B Mr. W. Holzhaus
B Mrs. W. Holzhaus
Mr. Tj. Huisinga
S Miss R. Jackerson
B Mr. J. Jarman
B Mr. A. Jung
Mr. J. D. Kersten
B Mr. M. M. Kipfer
B Mrs. M. M. Kipfer
B Mast. J. H. M. Kipfer
Mr. O. Kjos
Mrs. O. Kjos
Dr. H. S. van Klooster
Mrs. A. Kochheim and Infant
Miss A. Kochheim
Mast. J. Kochheim
Miss M. Kronke
Mr. W. Kuikman
Mrs. W. Kuikman
Mast. M. Kuikman
Mast. J. Kuikman
Mast. W. Kuikman
Mr. P. F. Lehman
Mrs. P. F. Lehman
Miss J. Lentulay
B Mr. F. Leoncavallo
B Mr. M. Levine
Miss A. M. Loewe
Mr. F. van Loon
Sister L. Ludwig
B Mr. M. Malnek
B Mr. G. Marsh
B Mrs. G. Marsh
Mr. F. Martens
Mrs. F. Martens
Miss J. Maus
B Mr. McGuarn
B Mr. H. McLean
Miss E. D. Merz
Mr. A. E. Meyenberg
Mrs. A. E. Meyenberg
Mr. P. Mitacek
Miss C. Moresco
Miss F. Moresco
Miss C. S. Mulder
Mrs. H. Nockher
Mrs. H. Oelgarth
Mr. R. Olsson
Rev. Mother O. Overwaul
B Dr. B. W. Pasternacki
Sister C. Piel
B Mr. H. Perretti
B Mrs. H. Perretti
B Mr. M. Perryz
B Mr. M. Pingitore
B Mrs. M. Pingitore
Mr. E. Rath
Mrs. C. A. H. Reinpoldt
Miss C. A. H. Reinpoldt
Miss G. J. Reinpoldt
B Mrs. M. Renault
B Miss C. Renault
Mrs. E. Ronde
Miss A. Ronde
Mr. B. J. Rosmuller
B Mr. N. Sasserton
Mr. H. Schaay
Mr. M. A. Schanz
Mr. O. Scharer
Miss E. Scharer
Mrs. E. Schaub
Mr. F. Schloz
B Mr. H. Schoeberlein
Mr. J. Schwitter
B Mr. L. E. Sharpe
B Mr. W. Shurman
B Mrs. W. Shurman
Mr. W. Soet
B Mr. T. Sperzel
B Mrs. T. Sperzel
Rev. H. A. R. Spoorenberg
Mr. C. Stolk
Mrs. C. Stolk
Mast. C. Stolk
Mast. M. Stolk
Mast. L. Stolk
B Mr. C. Strickfaden
B Mrs. C. Strickfaden
Mrs. A. Stroehle
B Mr. S. Taylor
Mr. H. Thiele
Mr. Chr. Timmner
B Mr. R. Turner
B Mrs. R. Turner
Miss G. Voss
Mr. H. Voss
Mr. C. de Vries
Mr. G. A. de Werd
Mr. E. H. Wieringa
Mrs. E. H. Wieringa
Miss A. E. Wieringa
Mast. L. H. Wieringa
Mast. H. E. Wieringa
Mr. J. Wilkens
Mr. R. Wilkens
Mr. W. J. van Wijk
B Mr. A. Young
Miss G. Zigterman
B Mrs. W. Zimmerman
B Embark at Boulogne-sur-Mer. S Embark at Southampton.
CONDITIONS.
Securing of Berths. Berths are reserved upon payment of one fourth of the full passage money with a minimum of $ 60,— for each berth in the first class and upon payment of $ 20.— for each berth in the cabin- or in the second class. The balance on the passage-ticket must be paid at least three weeks before sailing.
When sending deposit-money, Passengers are requested to state at the same time their full names and whether the berths are intended for ladies, gentlemen, or married couples. In case, upon receipt, all berths should be engaged, the money so paid will be refunded or accommodation reserved on a later steamer, if desired.
Holders of Return tickets can apply for accommodation for the return trip upon writing to the Company to this effect, stating the number of their ticket, the names of the Passengers entitled to transportation, the name of the steamer and date of sailing.
If accommodation at the rate paid should not be available, higher or lower priced accommodation if available will be offered, and when accepted, the difference in price will be collected or will be refunded as the case may be, before the Passenger embarks.
Orders given by telegraph must be followed immediately by the deposit-money or full passage amount and confirmed by letter.
No orders for berths will be accepted, if the date of sailing is not named.
Tickets are strictly personal and cannot be transferred to others without the consent of the Company; they are valid only for the steamer and sailing named in the ticket.
Passengers wishing to cancel their passage or wishing to be transferred to another sailing, must give notice to that effect at least three weeks in advance.
Should Passengers fail to notify the Company in accordance with the above, 50 0/0 of the passage money will be forfeited, unless in case of "vis major" (sickness) or in case the Company has been able to resell the accommodation, originally reserved for the Passenger, in which latter case 10% of the passage money will be deducted for booking fee when refunding the amount paid.
Round Trip Tickets. Round trip tickets are issued without any reduction; these tickets are valid one year from date of issue.
Baggage for Transportation in Bond. Baggage intended for delivery at ports in the United States other than the port of arrival, or in transit through the United States to a foreign country, may be forwarded without the assessment of duty at the port of New York, by the various railroads and express-companies, whose representatives will be found on the pier, provided the intention of Passengers to have their baggage forwarded in bond be indicated in the customs-declarations to be filled out on board before the steamer's arrival, and provided the value of such baggage be stated in said declarations.
Baggage Insurance. The Company's liability for baggage is strictly limited, but arrangements have been made whereby Passengers can have same insured against loss by sea or land.
A circular with full particulars re this insurance can be had on application at the Purser's Office.
Deck Chairs. The steamers are provided with a limited number of deck chairs which can be hired either at the different Offices of the Company or on board at $1.50 for the single voyage. Such chairs must be returned to the Chief Steward on or before arrival.
Steamer Rugs. Steamer rugs can be hired on board from the Purser at the rate of $1.50 for one trip; they must be returned to the Chief Steward on or before arrival.