TSS Statendam Passenger List - 6 August 1936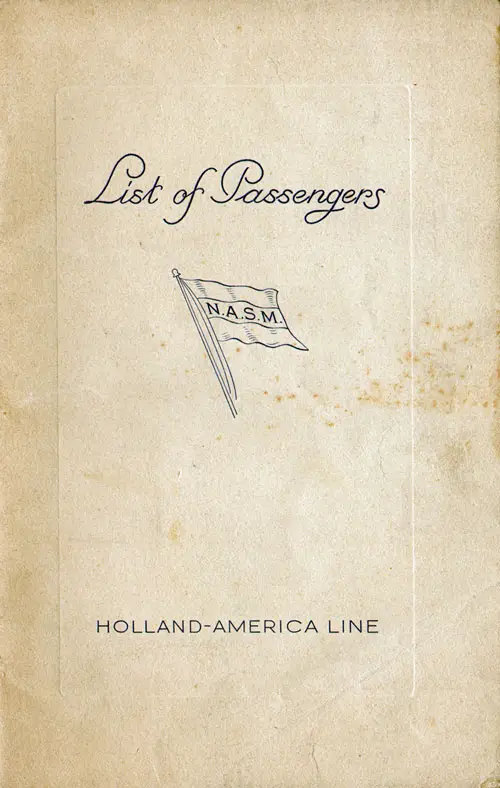 Front Cover of a Cabin, Tourist and Third Class Passenger List for the SS Statendam of the Holland-America Line, Departing Thursday, 6 August 1936 from Rotterdam to Boston and New York via Boulogne-sur-Mer and Southampton, Commanded by Commodore J. J. Bijl. GGA Image ID # 17ce6b5069
Senior Officers and Staff
Commander: Commodore J. J. Bijl
Chief Officer: J. MUNNIK
Chief Engineer: A. Van SON
Physician: Dr. TH. N. CASSIDY
Purser: G. V. REYNTJES
Chief Steward: R. SOBERING
List of Cabin Class Passengers
Mrs. G. A. Abbott
BOS Mr. A. P. Agosti
BOS Mrs. A. P. Agosti
BOS Miss C. Agosti
B Mr. A. J. Alsberg
B Mrs. A. J. Alsberg
B Mr. A. Alsberg
B Miss M. Alsberg
Mr. A. S. Altheimer
Mrs. A. S. Altheimer
Mr. R. J. Altheimer
Mr. E. W. Altheimer
Mrs. E. J. Alvut
Hon. Wm. N. Appel
BOS Mrs. Wm. N. Appel
Mr. P. Appenzellar
Mrs. P. Appenzellar
S Miss M. Arnold
Mr. I. A. Bach
Miss H. Baer
S Mr. E. R. Baird
S Miss V. Baird
Mr. M. E. Bartram
S Mr. H. Baum
S Mrs. H. Baum
S Mr. J. Baum
S Mr. A. A. Beaumont
S Mrs. A. A. Beaumont
Miss D. Berger
Mr. J. A. Binney
S Major B. C. Bisland-Frederick
S Mrs. B. C. Bisland-Frederick
S Mrs. H. R. Bloom
Mrs. E. Blumlein
B Mr. J. F. Braim
B Mrs. J. F. Braim
S Mr. W. Breslauer
Mrs. M. S. Brian
Miss M. Briggs
Mr. C. B. de Bruyn
Mrs. C. B. de Bruyn
Mrs. M. W. Bryant
Mr. V. Burger
Mrs. V. Burger
Miss E. Campbell
Miss L. Campbell
S Mr. W. C. Cannon
S Mrs. W. C Cannon
S Mr. D. Cannon
S Mrs. B. Casserly
BOS Mr. H. F. Chadbourne
BOS Mrs. H. F. Chadbourne
BOS Mr. H. B. Chadbourne
BOS Mrs. I. M. Chadbourne
BOS Miss N. Chadbourne
Dr. A. G. Chmelnik
S Mr. S. L. Cluett
S Mr. G. S. Cluett
B Mrs. H. J. Cochran
Mr. H. J. Cochran, Jr.
S Mr. Ch. O. Cooper
S Mr. E. J. Cornwell
S Mrs. E. J. Cornwell
S Miss M. Cornwell
S Mr. J. W. Crockett
S Mrs. J. W. Crockett
Mr. L. Danz
Mrs. L. Danz
Miss A. L. Davis
S Dr. C. R. Davis
S Mrs. C. R. Davis
S Miss H. L. Davis
Miss E. Dempewolf
Miss G. Dempewolf
Mr. E. C. Derby
Mrs. E. C. Derby
S Mr. S. H. Derbyshire
S Mr. A. Devereux
S Mrs. A. Devereux
Miss C. Donato
S Mr. W. H. Doubler
S Mrs. W. H. Doubler
Mrs. W. M. Drennen
Mrs. M. Dreyfus
Mr. J. Dreyfus
Mr. J. J. Drucker
Mrs. J. J. Drucker
Mrs. C. H. Duling
Miss D. Duling
S Mr. R. A. Duncan
BOS Mrs. B. M. Dunn
Mr. S. Durlacher
Miss D. Durlacher
Mr. K. Elsbach
Mr. S. F. Emerick
Mrs. S. F. Emerick
Mrs. G. R. Emery
S Mr. J. P. Falter
S Mrs. J. P. Falter
S Miss E. Faris
Mr. H. M. J. Fein. Charge d'Affaires of the Netherlands at Mexico City
Mr. L. M. Feldman
Mrs. L. M. Feldman
Miss B. P. Feldman
Mr. P. Finkelstein
Mrs. P. Finkelstein
Miss A. J. Finnegan
Miss A. Finnegan
Mr. H. L. Frank
Mrs. H. L. Frank
Mr. V. J. Frank
Mrs. V. J. Frank
Mr. J. Frank
B Mr. E. Freydberg
B Mrs. E. Freydberg
Mrs. M. Fuller
S Mr. R. A. Furness
Mr. H. Gale
Mrs. H. Gale
Mr. C. F. Gerhards
Miss S. E. Gibian
Miss T. Gibian
Mrs. H. Gitchell
Mrs. E. Z. Goldberg
Mr. D. Goldschmidt
Mrs. D. Goldschmidt
S Mr. P. Gomberg
S Mrs. P. Gomberg
Mrs. Wm. F. Greaves
Mrs. M. Green
Mr. W. Grullemans
S Mr. M. Gunst
S Mrs. W. F. Haass
S Mr. R. T. Hale
S Mr. Ch. F. Halsted
S Mrs. S. Harris
S Mr. W. Harris
S Mrs. W. Harris
B Mrs. B. Harris
B Miss L. Harris
B Mr. A. Harrison
B Mrs. A. Harrison
S Mrs. N. N. Harwit
B Mrs. A. Haskell
S Mr. R. G. Hawley
BOS Miss K. Hay
S Mr. G. Hayman
S Mrs. G. Hayman
Mr. H. R. Heitman
S Mr. S. B. Hemingway
S Mrs. S. B. Hemingway
S Mr. R. H. Henney
S Mrs. R. H. Henney
S Mr. A. J. Henney
S Mr. J. S. Herrmann
B Mr. F. Hewey
B Mrs. F. Hewey
Mr. W. H. Hoagland
Mrs. W. H. Hoagland
Miss B. Hoagland
S Mr. A. Hollinshead
S Mrs. A. Hollinshead
S Mr. J. Hollinshead
S Dr. A. Holzman
S Mrs. A. Holzman
Miss M. E. Howald
Miss M. Howell
S Miss M. Howland
B Mr. H. Hyman
B Mrs. H. Hyman
Mr. H. P. Jacobi
B Miss L. R. Jacobs
S Miss A. A. Johnson
Mr. J. Juras
Mrs. J. Juras
Miss Th. juras
Miss L. juras
B Mr. Th. F. Keating
B Mrs. Th. F. Keating
B Miss M. L. Keating
S Mrs. C. B. Kehl
S Mr. W. B. Kehl
S Miss R. L. Kelly
B Dr. Chas. J. Kickham
B Mrs. Chas. J. Kickham
B Miss P. Kickham
S BOS Miss E. Kimball
B Mr. M. Kinzler
B Mrs. M. Kinzler
Mrs. M. van Klaveren
B Mr. J. Klein
B Mrs. J. Klein
Mr. R. J. Kleipool
S Miss S. C. Knoll
B Miss Th. Koelbl
S Miss S. Kreutzenauer
B Mrs. C. Kroeck
B Mr. K. Kroeck
BOS Mr. C. A. Laubach
BOS Mrs. C. A. Laubach
Mrs. C. W. Lee
Miss G. Lee
B Mrs. D. Leerburger
S Mr. M. M. Lemann
S Mrs. M. M. Lemann
Mast. Th. B. Lemann
Mast. S. B. Lemann and Governess
Dr. L. Levy
Mr. H. F. Lofquist
S Dr. A. G. Loomis
S Miss H. De Lorenzi
S Mr. F. S. MacGregor
S Miss I. Maddison
Mr. P. Mak
Mr. M. Mamlok
Mrs. M. Mamlok
Mr. Th. J. J. A. Manders
S Dr. A. Margolies
S Mrs. A. Margolies
S Mr. G. B. Marsh
S Mrs. G. B. Marsh
S Dr. E. L. Martin
S Mrs. W. Martineaur
Mrs. St. Elmo Massengale
B Mrs. J. Materi
Mrs. C. W. Mayer
Miss I. McConachie
Miss E. M. McConachie
Mr. J. J. McEncroe
Mrs. J. J. McEncroe
S Mr. R. Mead
S Dr. C. H. Merrill
S Mrs. C. H. Merrill
S Mr. E. M. Meyer
S Mrs. E. M. Meyer
S Mr. C. Millar
S Mrs. C. Millar
Mrs. S. Miller
Miss I. Miller
Mrs. M. Misch
S Mrs. Chas. E. Mongan
S Miss E. T. Mongan
S Mr. L. T. Mom
S Miss C. E. More
S Mr. L. N. Moskowitz
Mrs. Th. Motley
Miss A. Motley
S Miss M. H. Murphy
B Mrs. D. Newberger
Mrs. G. C. van Norden
Mr. J. H, van Oosten
Miss E. O. Parker
Mr. R. Parkhurst
Mr. L. Parkhurst
S Miss M. Parks
B Mr. J. C. Peterson
S Mr. E. L. Pierce
S Mrs. E. L. Pierce
S Miss V. Pope
S Mr. E. Q. Potter
S Mrs. E. Q. Potter
S Miss E. Pratt
Mrs. H. Purvis
Miss E. Purvis
Mr. G. H. Purvis
Mrs. D. Ralston
B Mr. H. N. Rapaport
B Mrs. H. N. Rapaport
B Mr. A. A. Raphael
B Mrs. A. A. Raphael
Mrs. K. L. Rayfield
Mr. R. M. Remick
Mrs. R. M. Remick
Mrs. E. H. Renner
Mr. W. G. Rice
Mrs. W. G. Rice
Miss A. L. Rice
Mr. C. G. Rives
Mrs. C. G. Rives
Mr. C. G. Rives, III
BOS Miss M. N. Rodgers
Mrs. M. Roesling
Mr. A. L. Rohrer
Dr. H. T. Rosenthal
B Mrs. D. Rothbaum
Mr. A. Rothenberg
S Mr. A. H. Rubenfeld
S Mrs. A. H. Rubenfeld
B Miss M. L. Rubenfeld
Mr. G. Ruck
Mrs. G. Ruck
Dr. H. F. Sachs
Mrs. H. F. Sachs
S BOS Mrs. W. Salisbury
Mr. B. Scherpbier
S Mr. F. P. M. Schiller, R.C
S Mr. F. N. Schiller
S Mr. G. Schultz
S Mrs. G. Schultz
S Mrs. R. Schwartz
Mr. J. B. Scofield
Miss B. Scofield
S Mr. J. T. Scott
S Mrs. J. T. Scott
S Mast. J. Scott
S Miss L. Shannon
S Miss J. Shannon
S Miss R. G. Sheldon
Dr. M. Sichel
Mrs. M. Sichel
S Dr. H. D. Silver
S Mrs. H. D. Silver
H. Simms
S Mrs. H. Simms
Dr. M. E. Simon
Mrs. E. Simon
Mrs. B. Simon
B Mrs. F. Simon
Miss E. J. Simpkin
Mrs. B. B. Smith
Mr. C. Smith
S Mr. H. V. B. Smith
Mr. A. Solomon
Mrs. A. Solomon
Mrs. J. S. Speer
S Miss M. Steeds
Mr. D. T. Steelman
Mr. B. F. Steffy
B Miss D. Stephenson
Mrs. J. Stern
S Mr. M. Sternberg
S Mrs. N. S. Sterry
S Miss L. Sterry
S BOS Miss A. A. Stewart
S Mr. A. I. Strang
S Mrs. A. I. Strang
S Mr. D. N. Sweeny
S Mrs. D. N. Sweeny
Mr. A. C. Troutman
Mrs. A. C. Troutman
Mr. F. Vorsanger
Mrs. F. Vorsanger
Mrs. C. J. Weaver
B Mr. B. Weinstein
B Mrs. B. Weinstein
S Dr. Ph. Weintraub
S Mrs. Ph. Weintraub
S Mr. Salon Weit
S Mrs. Salon Weit
Mr. A. J. L. Wenink
Mrs. A. J. L. Wenink
S Miss E. White
Mrs. G. H. Whiteley, Sr
Mr. J. O. Whiteley
Mrs. J. O. Whiteley
Miss C. L. Whiteley
Miss A, O. Whiteley
Miss S. Whiteley
Miss C. S. Whiteley
S Mr. L. Wiesenfeld
S Mrs. L. Wiesenfeld
S Miss B. Wiesenfeld
S Miss S. Wiesenfeld
Mr. G. Willett
S Miss M. P. Yates
Mrs. G. Willett
B Mr. B. Young
BOS Miss E. M. Young
Miss M. Ziegler
Dr. A. J. Zobel
Mrs. A. J. Zobel
Miss C. A. Zobel
Mr. M. Willett
Mrs. M. Willett
S Miss C. Wood
S Miss M. M. Wooton
B Mrs. T. M. Wurtzburger
S Mr. E. A. Yates
S Mrs. E. A. Yates
S Miss B. Yates
B Embark at Boulogne-sur-Mer. S Embark at Southampton. BOS Disembark at Boston.
Notice: All Passengers will receive a landingcard and are requested to present same before leaving the steamer to a U.S. Immigrant Inspector for endorsement.
Tourist Passengers
Mr. A. T. Aalbers
Mrs. A. T. Aalbers
S Miss Josephine Adrian
B BOS Mr. Robert H. Altham
S Miss Evelyn Andrews
Mr. Paul Arley
Mrs. Paul Arley
Miss Constance Arley
Mast. Corn. Arley
S Mrs. Alice N. Bagby
B Mr. Ch. E. Bailey
B Mrs. Ch. E. Bailey
B Miss Gertrude Baraban
Mrs. Wilh. Baumbach
B Mrs. Felice Bauml
B Mast. John H. Bauml
S Mr. William M. Beale
B Miss Ethel Berliner
S Miss Marilee Bernstein
S Miss Lois J. Bernstein
S Mrs. P. M. Bigelow
B Mrs. Alice Bodlaender
B Miss Stefani Bodlaender
B Mr. Silvio Bodlaender
Mr. Menno Braaksma
S Miss Florence Bradley
S Miss Marg. Brian
B Mr. L. B. Brigham
B Mrs. L. B. Brigham
B Miss Elizabeth Bright
S BOS Mrs. M. Brodie
B Miss Gertrude Burns
B BOS Mrs. Alice H. Cameron
B BOS Miss Ruth Cameron
Miss Chard
B BOS Miss Priscilla H. Chase
B BOS Miss Barbara E. Closs
S Prof. Harrison C. Coffin
S Mrs. Harrison C. Coffin
S Miss Margaret Coleman
B Mrs. Susan H. Conlan
B Miss Edna M. Conlan
B Mrs. Thos. J. Connor
Miss Bertha Cook
BOS Miss Esther Cook
S Mr. Sam Cooper
S Mrs. Sam Cooper
S Miss Irene Copeland
B Miss Eleanor W. Crane
S Mr. Francis J. Daily
BOS Mrs. Robert Daley
S Mr. A. S. Daniel
S Mrs. A. S. Daniel
B BOS Mrs. Ryle Danielson
Mrs. Mary Dankwerth
Mrs. W. Decker
B Mrs. Pauline Dejonckeere
B Mrs. W. F. Delaney
S Mrs. W. C. Dooris
Miss M. C. Dooris
Miss Eliz. Dorward
Mrs. Blanche Douglas
S BOS Mr. Wm. Downing
ThMrs. Wm. Downing
B BOS Miss Ethel Downs
S Mr. John Dunlop
B Miss Alleine L. Dunn
Mr. W. Dijkstra
Mrs. W. Dijkstra
Dr. M. Ecker
Capt. Frank X. Edthofer
Miss Marie E. Egan
Miss Mary J. Egan
Miss Anita M. Egan
Miss Mina Ernsthal
B Mr. E. M. Evans
S Mr. Featherstone
S Mrs. Featherstone and two children
S Mr. P. Fedorichtchev
B Dr. Raman Fournier
B Mrs. Raman Fournier
B Mast. Raman Fournier
S Miss Elis. Fowler
B Mrs. S. Frank
B BOS Mr. B. Freedman
B BOS Mrs. B. Freedman
Miss Frances M. Fritchey
Mr. Paul Frohlich
Mr. Herman Frohlich
Mrs. Rose Fuchs
Miss Sonja Fuchs
Mast. Joseph Fuchs
B Miss H. M. Gamer
S Mr. W. Garrity
S Mrs. W. Garrity
S BOS Mrs. Aida Geneen
Miss J. Gleason
Mrs. C. H. Goosen
B Miss B. L. Gorfinkle
Mr. Ludwig Götz
S Mr. N. Goustchin
S Mr. Ira M. Greene
B Mr. John K. Greenebaum
Rev. R. G. Greven
B BOS Miss Catherine Haynes Griesemer
B Mrs. J. C. Griffith
B BOS Miss Nellie Gruber
B BOS Mrs. Maude Gutzmer
B BOS Miss Jean Gutzmer
S Miss Eugenia M. Hall
B Miss Marg. Harrison
Mrs. A. Haythorn
B BOS Mr. N. A. J. Healy
Mrs. G. Heilbronner
Miss Elis. Heilbronner
Miss Lore Heilbronner
B Mr. Ad. Heiman
S Mrs. Dorothy B. Helft
Mr. J. Hendricks
B Mrs. L. Herst
Mr. Hendrick Heydenrijk
Mr. F. C. Heylman
Mrs. F. C. Heylman
B Prof. Herbert W. Hill
Mr. G. Hoedemaker
Mrs. G. Hoedemaker
S Mrs. Sarah L. Hohnan
B BOS Miss Anne Homer
B BOS Miss Frances Homes
B BOS Mrs. Rosamond H. Hopper
S Miss Anne Howard
B BOS Miss Dorothy Hunter
B BOS Miss Agnes Hurley
BOS Miss Madeline M. Hyde
S Miss Josephine de Jong
Mr. Walter Kahn
Mr. J. H. Kamp
Mrs. J. H. Kamp
S Mr. Louis Kanstor
S Mrs. Louis Kanstor
Mrs. E. Kaptijn
Dr. Rud. Kayser
B BOS Miss E. M. Kelley
B Mrs. Austin Kinnaird
S Mr. B. Kirschner
B Mrs. Ray Kobiliansky
B Miss Muriel Koithan
S Mr. S. Kolesov
BOS Mr. Herman Kolp
Mrs. B. Kooistra
Mr. York Korting Fischer
Mrs. York Körting Fischer
Mast. H. B. Korting Fischer
S Mr. T. Kronenberg
S Mrs. T. Kronenberg
Mr. J. F. Kroon
Mrs. J. F. Kroon
Mrs. T. Kuiken
Mr. Max Lamm
Mrs. Max Lamm
Mr. Kurt Lamm
Mr. Jos Lamm
BOS Rev. John P. Lauer
B Miss Verna Lauritson
Miss Anna Lausaskas
Mr. Maurice Lazare
Mr. G. J. van Leeuwen
fflMiss Marion G. Lees
Mr. Benedikt Levi
B BOS Miss Eliz. Levitov
Miss Mella Levy
Mr. J. Liberles
Mrs. J. Liberles
Dr. Ernst Lichtenstein
Mrs. Ernst Lichtenstein
S Mr. Louis L. Link
Mr. Eugen Lob
Mrs. Eugen Lob
Miss Lore Lob
Mast. Martin Lob
Mr. Emil Lowenstein
Mrs. Emil Lowenstein
Mr. Hugo Lowenthal
B Miss Eva M. Luse
B Miss Clara E. Luse
S BOS G. B. MacMurray
S BOS Mr. G. MacMurray
S Miss Rosana Manchester
S Miss Josephine Manchester
B Miss Barbara Mann
S Mr. G. Marcinovskii
Mr. Judelis Marks
Mr. Emanuel Marks
B Mrs. Rose Mary
Mr. Ludwig Mayer
Mrs. Ludwig Mayer
Miss T. Mayer
B BOS Miss Winifred B. Mayhew
B BOS Miss V. McAllister
Mrs. C. McFarland
S Miss Jean McLachlan
B BOS Miss Marg. L. McNamara
B BOS Mrs. Charles F. McNeil
Dr. Karl Meyer
Mrs. Karl Meyer
Mast. Robert Meyer
S Mrs. Francis T. Miller
S Mr. G. McCulloch Miller
S Mr. Lawrence McK. Miller
Mr. N. Mire
S Mrs. Esther L. Moore Meehan
S Miss Ruth Moore Meehan
Mr. Heinz Moses
B BOS Miss Frances M. Murphy
S Miss Lydia Murray
S Miss Carol Murray
S Miss Mary Mutrie
B BOS Mr. Rowland M. Myers
Mr. John Nauta
Mrs. John Nauta
S Miss Barbara Nelson
Mr. D. Neuhaus
Mrs. D. Neuhaus
S BOS Miss S. Annie Norton
Mrs. A. van Oeveren
S Mr. V. Olechnovitsch
Mr. Kurt Oppenheimer
B BOS Miss Marg. L. Payson
Mrs. Diane van Pelt
S Miss Jane Peters
B BOS Miss Micaela C. Phelan
S Miss Annabelle Phillips
Sister M. P. Pohl
Mr. L. Ponsen
S Mr- J. Popov
S Mr. Wm. Prichard
S BOS Prof. B. E. Proctor
S BOS Mrs. B. E. Proctor
S Mr. A. Prudnikov
S BOS Miss Jane Rainey
S BOS Mr. Philip Riley
S BOS Mrs. Philip Riley
B Miss M. Roeszler
S Dr. A. Rogow
S Mrs. A. Rogow
S Prof. R. Seldon Rose
S Mrs. R. Seldon Rose
S Miss Gertrude Rose
B Mr. Wilmer Ross
B Mrs. Wilmer Ross
Mr. Omge Rottschaffer
Mrs. Omge Rottschaffer
Mr. Ernest Ruegg
Mrs. Emma Schoneich
Mrs. C. M. Schoonhoven
S Mr. J. Schwartz
Mr. Arthur Seemann
Mr. L. J. Selleger
Dr. J. B. Sens
S Mrs. D. R. Shaw
S Miss M. Shaw
B Miss Winnafred Shepard
S BOS Mrs. F. E. Shirk
S BOS Miss M. L. Shirk
S Mrs. O. M. Shreve
S Miss Sallie Shreve
B Miss Vera R. Simmons
B BOS Mr. Charles A. Sink
B BOS Mrs. Charles A. Sink
Mrs. John Sipsma
B Miss Marie Skinner
Mrs. Cath. F. Slis
Mast. Pieter L. Slis
Miss Maria Slis
B Mr. James Smith
B Mr. Robert Smith
B Mr. M. G. Smith, Jr.
B Mr. John Smits
B Mrs. John Smits
S BOS Mr. Irving M. Sobin
S BOS Mrs. Irving M. Sobin
B Mrs. John Spear
Miss Marg. Spitzer
S Mr. Paul F. Stanton
B BOS Mr. Rich. H. Staples
B BOS Mrs. Rich. H. Staples
Mr. V. A. Stauffenegger
Mrs. V. A. Stauffenegge
B BOS Miss Mary Louise Steil
S Miss C. Steinhardt
Mr. Markus Stern
BOS Mr. R. Stevenson
BOS Mrs. William Stevenson
BOS Miss Julie Stevenson
B Miss Anna B. Sutter
Mr. Schelto Swart
S Prof. C. L. Swift
B BOS Mr. Frank Taylor
B BOS Miss Wanda Taylor
B Mrs. H. A. Terwilliger
BOS B Miss Dorris Thuman
BOS Mr. A. Tiesselinck
B Mr. A. Travitzky
Mr. Karl Uhrmann
Mrs. Rosa Uhrmann
Mr. Albert Uhrmann
Mrs. Jennie M
Vanderzijden
Mrs. A. F. Veldhuyzen van Zanten
Mast. Paul Veldhuyzen van Zanten
S BOS Miss L. Watson
BOS Mrs. John Welinske
S BOS Miss Laura Wiggins
B Miss Betty Williams
Mrs. Hans Wolf. Mast. Hans Wolf
S Miss H. Wolfe
S Mrs. Ruth H. Wolfe
B Miss Phoebe J. Woolf
B Miss Ruth Wrightson
S Mr. Innis Young
S Mr. William Young
S Mrs. William Young
Miss Hannah Ziegler
Miss Aline Zondervan
B BOS Miss T. Zweigenbaum
B Embark at Boulogne-sur-Mer. S Embark at Southampton. BOS Disembark at Boston.
Notice: All Passengers will receive a landingcard and are requested to present same before leaving the steamer to a U.S. Immigrant Inspector for endorsement.
Third Class Passengers
B Miss M. Aden
Mrs. W. Baak de Wijn
S Mr. H. H. Bailey
S Miss R. E. Bailey
B Mr. E. P. Bagg, HI
B Mr. F. P. Barker, Sr
B Mrs. F. P. Barker, Sr
B Miss N. Barker
B Miss M. Barker
B Mr. F. Barker, Jr.
Mr. G. Becker
Mr. G. Bekkering
Mrs. G. Bekkering
Mr. J. Bekkering
Mrs. F. Berghage
S Miss N. D. Black
B Mr. S. Blood
Mrs. G. Boeder
S Miss D. Borman
Prof. D. Bradley
S Miss B. Bridges
Mrs. G. Broeils
Miss M. Broeils
Mr. M. J. Brouwer
Mrs. M. Brouwer
B Mr. D. Bruce Jr.
B Miss B. Bruce
Mrs. J. Brunia
Mr. G. Bultman
Mrs. A. Bultman
Mr. C. F. Busacker
Mrs. A. Cajak
S Mr. G. Cassamajor
S Mrs. F. G. Cotter
Miss M. Cox
B Mr. R. H. Davenport, Jr.
Mrs. E. Davidson
Miss M. E. Davidson
S Mr. W. A. Davin
B Mr. H. H. Davitt
Mr. W. Delvos
Mrs. W. Delvos
S Miss A. Durant
B Miss H. Durholdt
Mr. A. J. Eiff
Mr. T. R. Eskesen
Mrs. T. R. Eskesen
Miss C. Eskesen
Miss M. Eskesen
S Miss J. Fay
Miss J. Gimbel
B Mr. J. B. Goldfarb
Mrs. L. Goles
Mr. J. Goudzwaard
Mrs. J. Goudzwaard
B Mr. C. W. Graham
Mr. S. de Haan
S Mr. A. H. Halle
S Miss C. Hallett
Mr. H. H. Happel
Mrs. H. H. Happel
Miss B. Harper
S Mr. E. P. Harrington
S Mrs. E. P. Harrington
S Miss J. Harrington
Mr. M. Hartog
Mr. F. Heller
Mrs. F. Heller
S Mr. J. C. Henry
B Miss E. Heustis
B Miss P. Hippee
Mr. C. J. den Hollander
B Miss M. Howe
B Miss J. Hudson
S Miss M. L. Hudson
Mr. H. Hylkema
Mrs. J. Hylkema
Mast. R. Hylkema
Miss A. Hylkema
Mr. T. Janse v. Bodegraven
Mr. G. Jansen
Mrs. G. Jansen
Mr. Y. Johannesma
Mr. G. Jones
Miss A. Joustra
Mrs. Th. Jungblutt
Mast. Th. Jungblutt, Jr.
Mrs. J. H. Kabboord
Mast. J. Kabboord
Miss C. Kabboord
Mast. W. D. Kabboord
Mr. S, Kaufmann
Mrs. E. Kaufmann
Mast. H. Kaufmann
B Miss M. Kerey
Mr. H. Kloots
Miss I. Koch
Mr. J. Koekoek
Mrs. J. Koster
Mr. A. v. d. Kraan
Mr. W. Kraan
Mrs. P. Kraan
B Mr. W. Kubner
B Mrs. W. Kubner
Mrs. C. Kuerten
S Dr. J. Lansbury
B Mr. D. D. Leahy
B Mrs. D. D. Leahy
Mr. H. D. F. Leck
Mrs. H. D. F. Leck
S Mr. H. S. Lee
S Mrs. H. S. Lee
B Mr. S. J. Lewis
Miss J. Lewis
B Mr. J. W. Lippincott
B Mr. P. H. Lombard
S Mr. J. R. Lynes
S Mrs. J. R. Lynes
S Miss F. MacLeod
S Miss L. MacLeod
Mr. H. Mentis
Mrs. M. Mentis
Mr. B. Miller
Mrs. B. Miller
Miss F. Miller
Mast. C. Miller
Mrs. G. Miller
B Mr. F. S. Moore
Miss B. Page-Perin
Mr. V. M. Patterson
Miss L. Patterson
B Mrs. K. Phillips
Miss B. Peebles
Miss I. Perry
B Mrs. O. Peter
B Miss L. H. Peter
Mr. F. v. d. Ploeg
Mrs. F. v. d. Ploeg
Miss S. Poortinga
S Miss E. Potts
S Miss A. Powell
Mr. J. de Raat
Mr. C. Ravestein
Mrs. D. Ravestein
Mast. J. Ravestein
B Mr. M. Rieck
Mrs. M. Rinkema
B Mr. M. G. Robinson
Mr. J. Rohlfs
Mr. H. Rositzke
B Mr. H. Russell
B Miss B. Sadovsky
S Miss M. Saltonstall
S Miss M. N. Saunders
Miss L. Schachat
B Miss E. Scholz
Miss M. Schreutelkamp
Mrs. M. Schroeder
Mr. W. Schulz
Mrs. O. Schulz
Miss O. Schulz
Mr. G. Sipsma
Mrs. G. Sipsma
Mr. K. Sipsma
Mrs. K. Sipsma
Mr. A. Sluys
B Prof. L. P. Smith
Mr. D. C. Smith
Mr. T. C. Smith
S Miss B. Smith
R. N. Stone
S Mrs. R. N. Stone
Mr. A. Strikwerda
S Mr. J. M. Sugarman
Mr. C. E. Swart
Mr. D. Swierstra
Mrs. D. Swierstra
Mrs. W. Tap-Janssen
Miss A. Tap-Janssen
Miss A. Tietig
Mr. P. van Till
Miss A. van Till
Miss A. N. M. Tintner
Miss Tintner
Miss A. B. Tobin
Mr. H. Treskes
Mr. J. Trompas
B Mr. J. Trumpy
S Miss E. Truslow
B Mr. J. B. Turner, Jr.
Mr. F. A. Twitchell
B Miss M. A. Twomey
Mr. J. v. d. Vrede
Mr. E. Vernier
Mr. J. Visser
Mrs. F. Visser
Mast. E. Visser
Mast. P. Visser
Miss M. Visser
Miss. J. Visser
Miss N. Visser
Miss G. Visser
Mr. J. de Voogle
Mr. J. de Vries
S Mr. L. L. Wadsworth
B Mrs. E. D. Warge
B Mrs. H. B. Watson
Mr. H. v. d. Weide
S Miss J. Wilson
B Miss J. Witteveld
Mr. A. Worries
S Miss R. Wyman
Mr. W. van Zytveld
B Mr. B. S. Weiss
Mr. J. Welsh
Mr. A. P. Werkhoven
Mrs. A. Werkhoven
B Dr. A. E. Wheeler
B Mrs. R. C. Williams
B Embark at Boulogne-sur-Mer. S Embark at Southampton. BOS Disembark at Boston.
Notice: All Passengers will receive a landingcard and are requested to present same before leaving the steamer to a U.S. Immigrant Inspector for endorsement.
Tourist Class S.T.C.A. Staff
Leader: Mr. Frederick Victor Austin
Asst. Leader: Mr. Richard C. Carroll
Hostess: Miss Elizabeth Gannaway
Asst. Hostess: Mrs. Esther C. Carroll
Librarian: Miss Virginia Imlay
Orchestra: Ohio Wesleyan Parsons
General Information for Passengers
Mail and Telegrams. Mail and telegrams for Passengers are brought on board steamer before embarkation and placed in the Passengers' rooms. For any inquiries relating to mails, Passengers are invited to call at the Chief Steward's office.
Seats at Table. Application for table seats may be made to the Chief Steward. Hours for meals are posted on the ship's bulletin board.
Return Tickets. The Purser will be glad to radio, free of charge, to the New York office of the Line, if you wish to make return reservations on any steamer of the Line.
Valuables. For the convenience of the Passengers the Line has provided safe deposit boxes in the Purser's office in which any valuables may be deposited upon payment to the Purser of $ 5,—; this amount to be refunded when the key of the deposit box is returned. However, the Line does not assume any responsibility for the safe custody of such articles. (Passengers may, if they wish, protect themselves by insurance).
Personal Funds. For the convenience of Passengers the Purser is prepared to cash a limited amount of recognized Travelers' Checks or to exchange money at official rates as posted at the Purser's office. A receipt is issued on such transactions on the Company's Form.
Personal checks cannot be cashed on board.
Divine Service. Divine service will be held on Sundays, at hours announced on the bulletin board, if a recognized clergyman on board is willing to officiate.
Ship's Newspaper. "The Ocean Post", containing latest wireless news and closing prices of the leading securities on the New York Stock Exchange, is published on board. A copy of this newspaper is placed, when issued, in passenger's stateroom with the compliments of the Line.
Port Holes. Passengers are warned to refrain from opening or closing port holes themselves. If Passengers wish to have their port holes closed or opened, they should call their room steward. Passengers ignoring this warning do so at their own risk and the Company assumes no liability in case of accident.
Medical Attention. The Holland-America Line assumes no responsibility for services rendered by the ship's Physician.
The services rendered and the medicines prescribed by the Physician are free of charge, except that in cases, where Passengers require the service of ship's Physician for the treatment of ailments for which they already were under the care of a Physician at the time of embarkation, the ship's Physician may charge a reasonable fee for such services, subject to the approval and sanction of the Commander.
Additional Payments on Board. Passengers paying any supplements for room transfers, additional passage money, freight, telegrams, etc , should obtain a receipt from the Purser on the Company's Form.
For radiograms receipt will be furnished by the wireless operator.
Steamer Chairs, Rugs and Chair Cushions. Deck chairs, rugs and chair cushions may be hired on application to the Deck Steward.
The hire for deck chairs amounts to $ 1,50 for the voyage, whereas the hire for rugs and chair cushions amounts to $ 1,— each for the voyage.
U. S. Head Tax. Passengers in transit through the United States, or Tourists on a visit, who intend to stay in the United States less than 60 days, should express themselves as such towards the U. S. Immigration Inspector in charge upon arrival of the steamer in the United States, when interrogated by that official.
Passengers will then obtain from this Inspector a United States Head Tax Refund Certificate (Form 514), which should be filled out and signed as directed when leaving the United States.
This document must be forwarded to the Holland-America Line, 29 Broadway, New York, together with the Company's Head Tax Receipt, and refund of the Head Tax will follow.
Most of the Trans-Atlantic Steamship Lines, including the Holland-America Line, as a courtesy towards their Passengers, have authorized their pursers to make refund of the Head Tax to Passengers on the voyage back to Europe, in which case the Head Tax Refund Certificate as well as the Head Tax Receipt of the Steamship Company who brought the passenger to America, will be taken up by the ship's Purser when making the refund.
Baggage. There is a baggage room on board steamer where Passengers may store such personal belongings as cannot be placed in their cabins, as well as baggage of any kind.
The baggage room is open at hours as posted, and all inquiries pertaining to the storing or forwarding of baggage should be addressed to the Baggage Master.
Baggage Insurance. The Company's liability for damage to or loss or detention of baggage is strictly limited, and Passengers are, therefore, advised to protect themselves by insurance against risk of loss, theft, damage, pilferage, etc. Policies may be obtained at current rates at any office of the Line or through the Baggage Master on board this steamer.
Landing at New York. Motor Coach Service. For the convenience of Holland-America Line Passengers and their friends a motor coach service to and from the Holland-America Line Piers and the centrally located New York Hotels McAlpin and Commodore via the new Holland Tunnel is operated by the Fifth Avenue Coach Company and the Public Service Co-ordinated Transport of N. J.
Through the Purser you can reserve a place in one of the Motor Coaches to either the Hotel McAlpin or the Hotel Commodore at least 12 hours before arrival in New York.
The charge for this reservation, for which you will receive a ticket, will be $1,— including the transfer of your hand baggage (not more than two pieces of hand baggage). Large baggage must be sent on separately.
The Holland-America Line accepts no responsibility whatsoever in connection with this coach service.
Notice: All Passengers will receive on board a landingcard and are requested to present same before leaving the steamer to a U.S. Immigrant Inspector for endorsement.
Booklet Number P. - 1600 - 8-36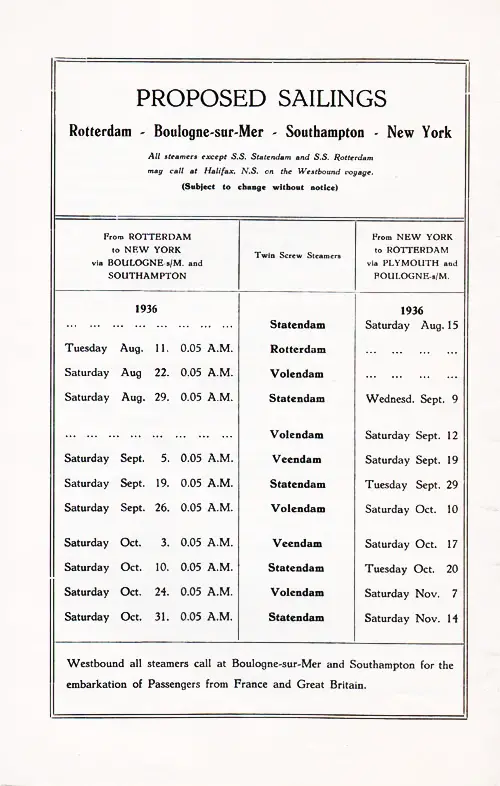 Proposed Sailings, Rotterdam-Boulogne sur Mer-Southampton-New York, from 11 August 1936 to 14 November 1936. Ships Included the Rotterdam, Statendam, Veendam, and Volendam. GGA Image ID # 1dfdc2adae