Phalerum, Athens, Greece Passenger Lists 1926
Passenger Lists available from the GG Archives from the Port of Phalerum, Athens, Greece. Organized by Date of Departure, Steamship Line, Steamship or Ocean Liner, Class of Passengers, Route, and the Ship's Captain.
Phalerum was a port of Ancient Athens. It was situated 5 km southwest of the Acropolis of Athens, on a bay of the Saronic Gulf. This bay is also referred to as Bay of Phalerum.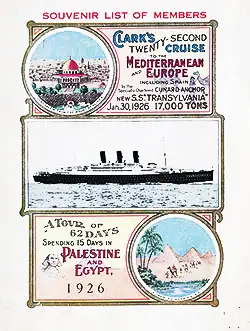 1926-01-30 Cruise SS Transylvania Passenger List
Steamship Line: Anchor Steamship Line
Class of Passengers: Cruise
Date of Departure: 30 January 1926
Route: New York to Funchal (Madeira); Lisbon; Cadiz, Spain; Gibraltar; Algiers; Tunis, Carthage; Phaleron Bay (Athens); Constantinople; Haifa; Alexandria; Naples; Villefranche (Nice); Monte Carlo; Cherbourg; and return to New York.
Commander: Captain D. W. Bone