Cádiz, Spain Passenger Lists 1926
Passenger Lists available from the GG Archives from the Port of Cádiz, Spain. Organized by Date of Departure, Steamship Line, Steamship or Ocean Liner, Class of Passengers, Route, and the Ship's Captain.
Cádiz is an ancient port city in southwest Spain, built on a strip of land surrounded by the sea in the Andalusia region. The home of the Spanish Navy, the port boomed in the 16th-century as a base for exploration and trade. It has more than 100 watchtowers, including iconic Torre Tavira, traditionally used for spotting ships, and 18th-century Cádiz Cathedral, on the waterfront.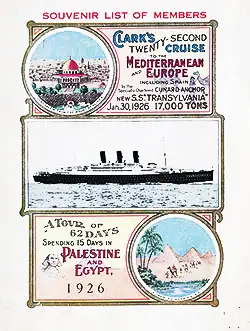 1926-01-30 Cruise SS Transylvania Passenger List
Steamship Line: Anchor Steamship Line
Class of Passengers: Cruise
Date of Departure: 30 January 1926
Route: New York to Funchal (Madeira); Lisbon; Cadiz, Spain; Gibraltar; Algiers; Tunis, Carthage; Phaleron Bay (Athens); Constantinople; Haifa; Alexandria; Naples; Villefranche (Nice); Monte Carlo; Cherbourg; and return to New York.
Commander: Captain D. W. Bone