Bombay (Mumbai) India Passenger Lists 1954
Passenger Lists available from the GG Archives from the Port of Bombay (Mumbai), India. Organized by Date of Departure, Steamship Line, Steamship or Ocean Liner, Class of Passengers, Route, and the Ship's Captain.
The presidency of Bombay extends from Baluchistan to Mysore and has an area of more than 120,000 square miles. Its capital, the great city of Bombay, stands on an island connected with the mainland by an artificial causeway. The harbor is the finest in India. "In the beauty of its scenery, as well as in the commercial advantages of its position, Bombay," says— The Traveler's Companion, is unsurpassed by any of the cities in the East."
Lofty and handsome buildings meet the traveler's eye as he enters the harbor, and the beauty of the whole scene is much enhanced by a background of hills, most remarkable of which is the Bawa Malang, or Mullingar, on whose summit is an enormous mass of rock bearing the ruins of a fort. Numerous islands are also to be seen, chief among them being Bassein, Trombay, Salsette, and Elephanta.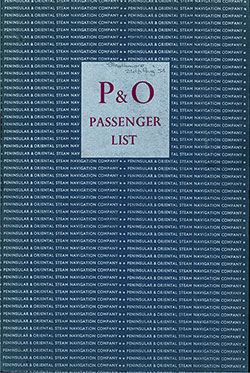 1954-08-24 RMS Strathmore Passenger List
Steamship Line: Peninsular & Oriental Line (P&O)
Class of Passengers: First Class
Date of Departure: 24 August 1954
Route: London to Sydney via Port Said, Bombay (Mumbai), Colombo, Fremantle, Adelaide, and Melbourne
Commander: Captain A. G. Jenkins