Vigo, Spain Passenger Lists 1909-1935

General View of Vigo, Spain in 1907. GGA Image ID # 17654431d5
Passenger Lists available from the GG Archives from the Port of Vigo, Spain. Organized by Date of Departure, Steamship Line, Steamship or Ocean Liner, Class of Passengers, Route, and the Ship's Captain.
Vigo is a city on the Atlantic Ocean in the province of Pontevedra, in Galicia, north-west Spain. The Port of Vigo covers a length of more than 20 km and offers more than 9 km of docks.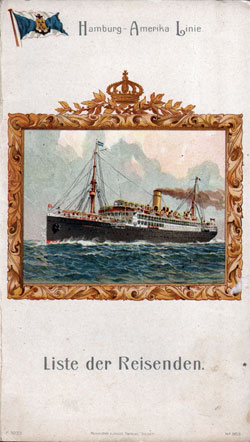 1909-09-20 SS Koning Wilhelm II Passenger List
Steamship Line: Hamburg Amerika Linie / Hamburg American Line (HAPAG)
Class of Passengers: First Class
Date of Departure: 20 September 1909
Route: Boulogne-sur-Mer to Rio de Janeiro and La Plata via Southampton, Vigo, and Lisbon
Commander: Captain P. Wiehr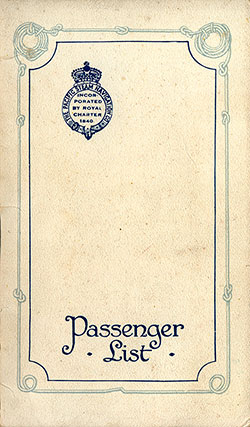 1925-01-22 RMS Oroya Passenger List
Steamship Line: Pacific Line (P.S.N.C.)
Class of Passengers: First and Second Saloon
Date of Departure: 22 January 1925
Route: Liverpool to Valparaíso via La Pallice, Corunna, Vigo, Lisbon, Recife, Salvador, Rio de Janeiro, Montevideo, Buenos Aires, Port Stanley, Punta Arenas, Coronel, and Talcahuano
Commander: Captain A. W. Pearse, R.N.R.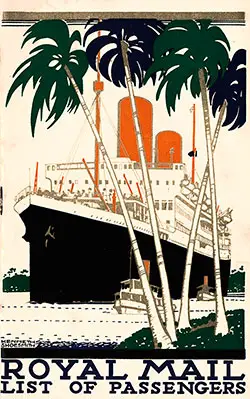 1935-06-01 SS Asturias Passenger List
Steamship Line: Royal Mail Lines
Class of Passengers: First and Second Saloon
Date of Departure: circa 1 June 1935 (Note 1)
Route: Southampton to Buenos Aires via London (Tilbury), Cherbourg, Boulogne-sur-Mer, Spain (Coruña Galicia [A Coruña], Las Palmas, Vigo), Portugal (Leixöes, Lisbon), Madeira, St. Vincent, Cape Verde Island, Brazil (Bahia, Pernambuco [Recife], Rio de Janeiro, Santos, São Paulo), Montevideo, Uruguay
Commander: Captain A. Purvis
Note 1: Passenger List did not provide departure date from Southampton - Only the Arrival date (18 June 1935) for Buenos Aires Argentina