Suva, Fiji Passenger Lists 1954
Passenger Lists available from the GG Archives from the Port of Suva, Fiji. Organized by Date of Departure, Steamship Line, Steamship or Ocean Liner, Class of Passengers, Route, and the Ship's Captain.
Suva is the capital of Fiji and is a harbour city built on a peninsula reaching out into the sea. It has a mix of modern buildings and traditional colonial architecture.
The city is perched on a hilly peninsula between Laucala Bay and Suva Harbour in the southeast corner of Viti Levu. The mountains north and west catch the southeast trade winds, producing moist conditions year round.
Suva is the commercial and political centre of Fiji, though not necessarily the cultural centre. It is Fiji's main port city.
Although Suva is on a peninsula, and almost surrounded by sea, the nearest beach is 40 kilometres (25 mi) away at Pacific Harbour and the nearby coast is lined by mangroves. A significant part of the city centre, including the old Parliament buildings, is built on reclaimed mangrove swamp.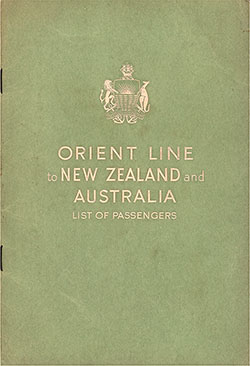 1954-10-08 RMS Orion Passenger List
Steamship Line: Orient Line
Class of Passengers: Tourist Class
Date of Departure: 8 October 1954
Route: Vancouver BC to Sydney via San Francisco, Honolulu, Suva (Fiji), and Auckland
Commander: Captain A. E. Coles, R.D., R.N.R.