Vancouver, British Columbia Passenger Lists 1954
Passenger Lists available from the GG Archives from the Port of Vancouver, British Columbia. Organized by Date of Departure, Steamship Line, Steamship or Ocean Liner, Class of Passengers, Route, and the Ship's Captain.
Vancouver, considered the greatest ocean port in Canada, has points of resemblance to San Francisco, and the province as a whole has an abundance of beaches, harbor seals, large coastal trees, abundance of good Chinese restaurants, snow-capped mountains, and lush vegetation.
The Port of Vancouver flanks Burrard Inlet. Behind it are the mountains lush with trees and stuffed with minerals. Before it are the rich and poor nations of the Pacific — japan, China, Australia, Indonesia, Korea, the Philippines, Thailand, New Zealand, India, South and Central America and the United States.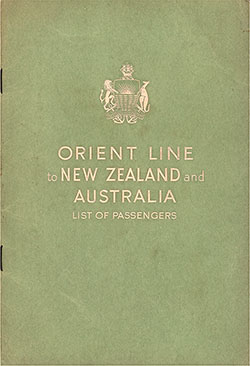 1954-10-08 RMS Orion Passenger List
Steamship Line: Orient Line
Class of Passengers: Tourist Class
Date of Departure: 8 October 1954
Route: Vancouver BC to Sydney via San Francisco, Honolulu, Suva (Fiji), and Auckland
Commander: Captain A. E. Coles, R.D., R.N.R.