Dublin, Ireland Passenger Lists 1936-1938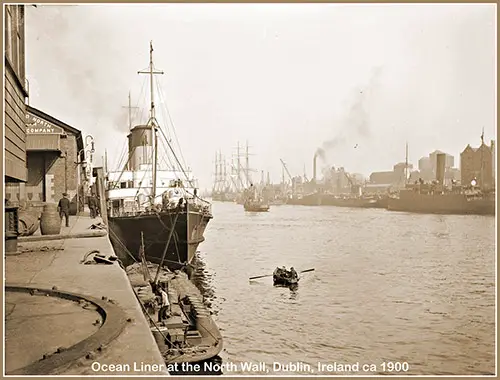 Ocean Liner at the North Wall, Port of Dublin, Ireland, ca 1900. Photo by Robert French. GGA Image ID # 1d49e17fea
Dublin is the capital and most populous city of Ireland. Following the partition of Ireland in 1922, Dublin became the capital of the Irish Free State and later the Republic of Ireland.
Dublin is the country's leading port and distribution center. Facilities at the port include extensive transit sheds and bonded warehouses. Vessels berth at the wharves and unload directly to the docks. Facilities are available to unload cargoes of oil, grain, and refrigerated goods.
Cork, Waterford, Limerick, Galway, Drogheda, Dundalk, and Sligo have less elaborate facilities. Still, all provide accommodations for oceangoing vessels and their cargoes. Cobh is the main port of call for transatlantic passenger vessels; Dun Laoghaire is for mail boats.
Passenger Lists available from the GG Archives Calling at the Port of Dublin, Ireland.
1930s
Anchor Steamship Line
Cunard Line
Note: Typically, only the origination and final destination ports are listed in each link. Other intermediary ports of call are not listed.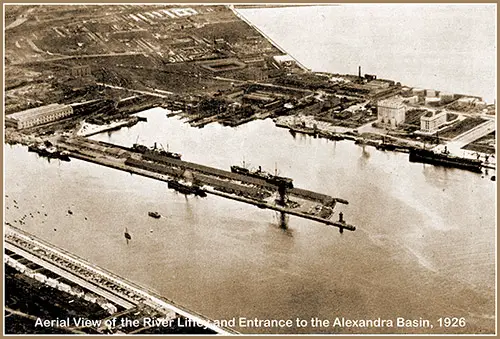 The River Liffey and Entrance to Alexandra Basin as Seen from the Air. Reproduced from an Aerial Photograph Obtained by Army Air Corps. Official Handbook of the Port of Dublin, 1926. GGA Image ID # 1d49f22c3e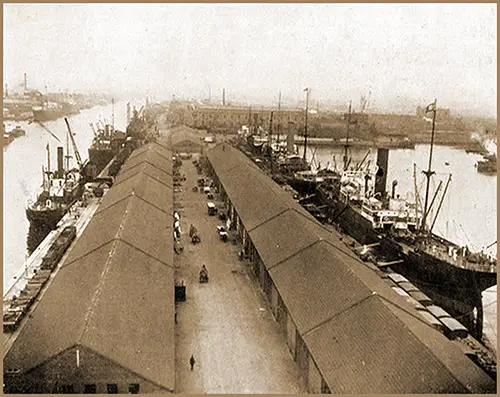 Ocean Liners Docked at the Port of Dublin, Ireland, ca 1910. GGA Image ID # 1d49f6c1fd
Related Categories
Ephemera & History
Steamship & Ocean Liners
Ports of Call Information