SS Lafayette Passenger List - 16 September 1922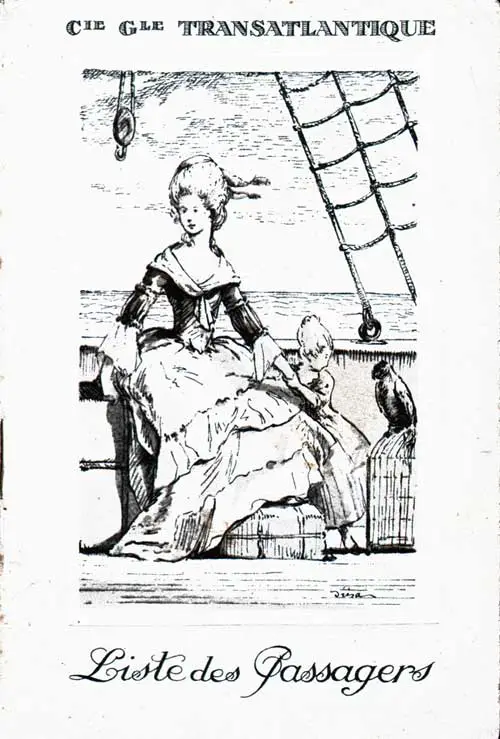 Cabin Passenger List for the SS Lafayette of the French Line, Departing 16 September 1922 from Le Havre for New York via Plymouth, Commanded by Captain Victor Brevet. Written in French.
Notable Passengers included Jacques Cartier (and entourage) of the French luxury jeweler and watch manufacturer Cartier.
Senior Officers and Staff
Captain: Victor BREVET, Captain au Long Cours
(Chevalier de la Legion d'Honneur)
Second Captain: M. de KERENFLECH
First Lieutenant: M. LE HUEDE
Second Lieutenant: M. TOQUE
Third Lieutenant: M. LE GALL
Student Officer: M. CHAIN
Steward: M. ROUMEGUERE
Second Steward: M. QUILLERY
Physician: Dr METZ
Telegraphist: M. AUDOUARD
Telegraphist: M. AUTIN
Telegraphist: M. PELFRENE
Chief Engineer: M. DESPREZ
Second Engineer: M. SAUVAGET
Officer Engineer: M. LION
Officer Engineer: M. OLLIVIER
Officer Engineer: M. DUPRAY
Officer Engineer: M. CIRON
Assistant Engineer: M. DUPRAY
Assistant Engineer: M. BRETON
First Maitre d'hôtel: M. PRINGAULT
Second Maitre d'hôtel: M. MENGUY
First Class Passengers
Mrs. M. Auboin
Miss Q. R. B. Audrews
Mr. Louis Allard
Miss Beldaux
Mr. Otto Berg
Mr. Riccardo R. Bertelli
Mrs. Riccardo R. Bertelli
Miss Riccardo R. Bertelli
Mrs. Bustanoby
Miss V. Ballard
Mr. J. Bedetti
Mrs. J. Bedetti
Mrs. G. Beverley Hill
Mr. Otto Berg
Mr. Oliver K. Bovard
Mrs. Oliver K. Bovard
Mrs. N. Bequié
Miss E. M. Bennett
Mr. Fred Boyd
Mr. Jean Binet
Mr. Boyd
Mrs. Boyd
Mrs. Bethel
Miss Bethel
Mr. Cookrau
Mrs. Cookrau and Maid
Mrs. Jacques Cartier enfants et Governess Valets and Maids
Mr. R. C. Chase
Mrs. R. C. Chase
Miss R. C. Chase
Mr. Camino Carlos
Mrs. M. Choppel
Mr. J. Cueto
Miss J. Cueto
Mr. Cessens
Mr. Caro Delvaille
Mrs. Caro Delvaille
Miss Therèse Delvaille
Mrs. M. Chawoz
Mr. Chatham
Mr. Ch. Colt
Mrs. W. L. Cummings
Miss Nolly Cummings
Miss W. L. Cummings
Mrs. Coucy Brown and Children
Mr. G. Carlo
Mrs. E. Carlo
Miss Virginia Dilworth
Mrs. Lucile De'court
Miss B. Devenny
Mrs. Duane
Miss Duane
Mr. M. Duane
Mr. Daveuport Brown
Mrs. Daveuport Brown
Miss Marie Daveuport Brown
Mr. W. Dana
Mr. W. M. Ellicott
Mrs. W. M. Ellicott
Miss Fertig
Mr. E. Frisch
Mrs. E. Frisch and Child
Miss E. Fenner
Miss Elize Fenner
Miss Mary Fay White
Mr. Ch. Fehlman
Rev. Elmer Forbes
Mrs. Elmer Forbes
Mr. James Fessender
Mrs. James Fessender
Miss Fellous
Mr. G. Fournier
Mr. N. P. Gattling
Mrs. N. P. Gattling
Mr. N. P. Gattling Jr.
Mr. H. R. A. Grieser
Miss C. Rice Goodpaster
Mr. E. Gallet
Mrs. E. Gallet
Professeur Gottheil
Mrs. Gottheil
Mr. Gerarty
Mr. Isidore Gross
Mrs. H. R. A. Grieser
Miss Marie Grieser
Mrs. Berthe Helmuth
Mrs. Augusta M. Hines
Mrs. M. R. Howe
Miss B. Howe
Mr. C. Hopping
Dr Heinroth
Mrs. Heinroth
Miss Mary Harris
Mr. Percy Hards
Mr. M. G. Honter
Mrs. M. G. Honter
Mr. J. Helmuth
Mrs. J. Helmuth and Child
Miss Mary Hanity
Mr. Vernon Hull
Mr. Maxvell Howell
Miss Pauline Heermancc
Mr. Iellnar
Mr. M. Johnson
Mrs. N. S. Jenny
Mrs. Leonard Jones enfant and Maid
Mrs. Junot
Mr. C. W. Knobloch
Mr. Ch. Kubler
Miss S. Krasney
Dr Felix A. Larue
Miss M. Lame
Miss L. Lame
Rev. R. Lavigne
Mrs. L. Lavigne
Miss Loiselle
Dr L. E. La Tetra
Mrs. L. E. La Tetra
Miss Helen La Tetra
Dr Taylor Lewis
Mrs. Louis Loiseau
Miss Nicida Loiseau
Miss Ophelia Loiseau
Miss M. Loiseau
Mr. D. C. Little
Mrs. M. Lafforgue
Mr. Louis Loiseau
Miss Leon
Mrs. Lee
Dr L. M. Lawson
Mrs. L. M. Lawson
Mr. Richard de Latour
Mr. Alex. Morales
Mrs. Alex. Morales
Mr. Alex. Morales
Mr. F. J. Moore
Mrs. F. J. Moore
Mr. Chas R, Miller
Mrs. J. Machin
Mrs. A. L. Marie
Mrs. W. C. Mittenberger
Miss W. C. Mittenberger
Mrs. A. Mac Arthur
Miss A. K. Macready
Mr. R. A. Macready
Mrs. R. A. Macready
Miss D. S. Macready
Mrs. R. Mac Cracken
Mr. R. Mac Cracken
Dr Charles V Morrill
M. R. Nelson
Dr Jose T. Nonidez
Mr. M. Pontecorvo
Mrs. M. Pontecorvo
Miss M. Pontecorvo
Mr. M. G. Palliser
Mrs. M. G. Palliser
Miss M. Palliser
Miss Mercy E. Powers
Mrs. E. Perzuelo
Mr. Planchet
Mrs. Planchet and Child
Miss Blanche Prenez
Mr. Filika C. Plai:ias
Mr. R. E, Prince Jr.
Mr. R. E. Prince Jr.
Mr. E. G. Prince Jr.
Mrs. R: Prince Jr.
Mr. M. F. Pickering
Mr. Quedrue
Mrs. Quedrue and Child
Mr. Harry Queen
Mrs. Harry Queen
Miss Reynolds
Miss G. Roberts
Miss Harriet Raudolph
Mrs. Jacob Riis
Mr. Roger W. Riis
Miss Russel
Mr. Rosenfeld
Mr. Rolland Robinson
Prof. Robert Rogers
Master Rogers
Mrs. Rogers
Miss Rogers
Mr. de Saint-Phalle
Mrs. de Saint-Phalle and Children
Mrs. Allen M. Summer and Maid
Miss A. M. Simpson
Mr. Walter Sherman
Mr. Thomas C. Sheehan Jr.
Mr. Norbert Salter
Mr. Norbert Salter
Mr. Sharp
Mrs. H. C. Seward
Mr. G. O. Seward
Mr. Leopold Seyffer
Mr. Simon
Mrs. Peter Schwenk
M. Peter Schwenk
Dr F. Tarquechel
Mrs. F. Tarquechel
Miss Tarquechel
Mr. Titus
Mr. Emile J. Thenot
Mrs. Emile J. Thenot
Mrs. L. Thorne
Mr. J. Thorne
Mr. J. Thorne, Jr.
Mr. E. Thorne
Mrs. Tournier
Mr. John; A. Thomas
Mr. A. Thouin
Mrs. A. Thouiu
Mr. E. Tramonte
Mrs. E. Tramonte
Mrs. G. F. Tenntlle
Miss G. F. Tennille
Mr. Tracy
Mrs. Tracy
Mr. Thevenaz
Mrs. Thevenaz
T. V. W. Thomas
Mrs. H. Taniel
Mrs. May F. Van Voorhis
Mrs. M. Verhaenreu
Mrs. Lucie Valère
Miss Louise Villettee
Miss G. Vernon
Mr. J. D. Welfley
Mr. R. A. White
Mrs. R, A. White
Mrs. G. Wentz
Miss Luise Worthington
Mrs. Ch. Seymour Westbrook
Miss Alyce Wormswood
Mrs. Woolman
Mr. H. D. Wood
Mr. W. Worthington
Mr. Louis Weill
Miss Hilda Wright
Mr. Weill
Mrs. T. Williams

Supplementary List of First Class Passengers
Mr. W. S. Brewster
Mrs. P. Browne
Miss E. Browne
Enfant J. Browne
Miss E. Boucher
Miss Barbara Chara
Mr. E. Chenot
Mrs. A. Chenot
Mr. W. B. Cockran
Mrs. A. Cockran and Maid
Mr. R. Duane
Mrs. C. B. Duke
Miss M. Dinah
Mr. W. Feltner
Miss N. Fleury
Miss C. Geraty
M. C. Giusti
Mrs. E. Giusti
Miss M. Graillot
Miss E. Graillot
Mr. J. C. Hunter
Sister O. Hiort
Miss E. Hofer
Sister E. Junod
M. E. V. Kane
Mrs. A. Lasley
Mr. A. Levy
Mrs. E. Levy
Mr. P. P. Lincoln
Mrs. M. C. Lincoln
Enfant Y. C. Lincoln
Mrs. Loiselle
Rev. A. Leon
Mr. J. M. Noriega
Mr. K. Ohta
Mrs. M: G. Pickering
Mrs. F. C. Plakias
Mr. R. E. Prime
Mme.R. E. Prime
Mr. R. E. Prime
Mr. E. G. Prime
SisterMarie Ravelet
Miss G. de St-Phalle
Mr. P. Taormina
Enfant L. Thorne
Miss E. Tondeur
Mr. A. White
Mrs. M. White
Mrs. E. E. Wood
Corrections
Mr. J. Fessender Should Read M. J. Fessenden
Mrs. J. Fessender Should Read Mrs. J. Fessenden
Miss Mary Hanity Should Read Miss Mary Harrity
Mr. M. G. Honter Should Read M. M. J. Hunter
Mrs. M. G. Honter Should Read Mrs. M. A. Hunter
Dr L. E. La Tetra Should Read Dr L. E. La Fetra
Mrs. L. E. La Tetra Should Read Mrs. A. P. La Fetra
Miss La Tetra Should Read Miss H. P. La Fetra
Mrs. E. Perzuelo Should Read Miss E. Pozuelo
Not On Board
Miss Bethel
Mr. Cookrau
Mrs. Cookrau and Maid
Mr. Cesseus
Mrs. Chavoz
Mr. Chatam
Mrs. Coucy Brown and Child
Mr. G. Carlo
Mrs. E. Carlo
Miss Fertig
Mr. E. Frisch
Mrs. E. Frisch and Child
Mr. Ger a rty
Mr. Iellnar
Mrs. Junot
Mrs. L. Lavigne
Miss W. C. Mittenberger
Mr. M. F. Pickering
Mr. F. C, Plakias
Mr. R. E. Prince
Mr. R. E. Prince
Mr. E. C. Prince
Mr. R. A. Macready
Mrs. R. Prince
Mr. M.'Pontecoevo
Mrs. Pontecorvo
Miss Pontecorvo
Mr. Planchet
Mrs. Planchet and Child
Miss B. Prenez
Mr. Rosenfeld
Mr. Rolland Robinson
Mr. Norbert Salter
Mr. Norbert Salter
Mrs. H. C. Seward
M. G. O. Seward
M. E. J. Thenot
Mrs. E. J. Thenot
Mr. J. Thorne
Mr. J. Thorne Jr.
Mr. H. D. Wood
Mrs. Ch. Seymour Westbrook
Mrs. Woolirran
Mr. L. Weill
Mr. Weill
Corrections, Continued
Mr. E. Tramonte Should Read M. E. Tramonti
Mrs. E. Tramonte Should Read Mrs. J. Tramonti
Mrs. H. Taniel Should Read Mrs. F. Tarriel
Mr. F. Tarquechel Should Read M. F. Taquechel
Mrs. F. Tarquechel Should Read Mrs. C. Taquechel
Miss Tarquechel Should Read Miss M. Taquechel
Mrs. L. Valere Should Read Mrs. L. Valair
Mrs. M. Verhaenreu Should Read Mrs. M. Verhaeren
blme M. Villettee Should Read Miss L. Willetts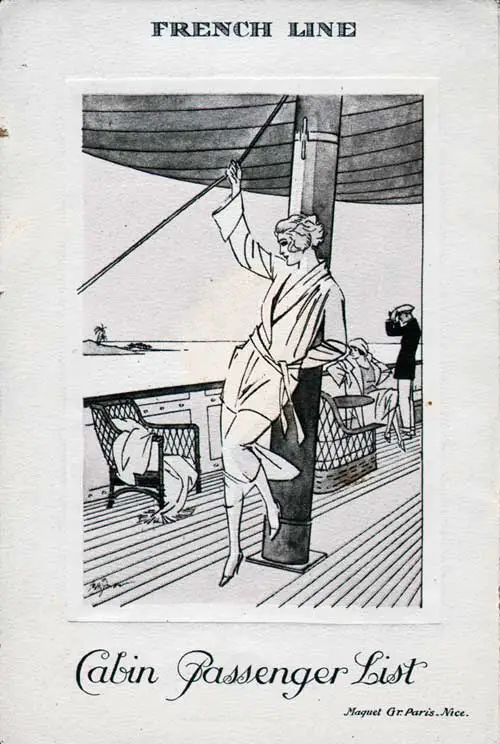 Second Class Passengers
Mr. Armstrong
Mr. Amsley
Mr. Jacques Acbli
Miss C. Buat
Miss G. Bataille
Mrs. E. Bourgue
Miss E. Bless
Miss A. Bagault
Mr. A. Baltzly
Mr. Buesser
Mrs. Buesser
Dr A. Béziat
Mr. John F. Fost
Miss Fullerton
Mrs. M. Godart
Mrs. M. Gachotte
Mrs. A. Gachotte
Miss T. Grunnder
Mr. R. Grossenbiicher
Mrs. Godart and Child
Mr. F. Guardato
Mr. M. Guardato
Miss A. Chevret
Mrs. Cavailler
Mr. Cavailler and Child
Mr. M. Clavel
Mrs. M. Clavel
Mrs. Van Conza
Miss A. Van Conza
Miss E. Van Conza
Miss Ev. Van Conza
Mr. Van Conza
Mr. Arnold Conza
Miss M. Denoyer
Miss C. Denieri
Mrs. M. Deutsch
Mr. Ph. Mc. Donald
Miss Desimeur
Miss E. Eldin
Mr. Dean M. Fuller
Mrs. C. Horterre
Mrs. W. Hall
Mr. Alfred C. Hotta
Miss Rose G. Jacobs
Miss Ruth Jacobs
Mr. V. Kaufman
Mrs. M. Kristofer
Mr. A. Levy
Mrs. A. Levy
Miss M. Leinbacher Lynch
Mrs. C. May
Miss E. May
Miss L. Monnier
Mrs. de Marivetz
Miss H. Miller
Mrs. A. Meyer
Dr. J. J. Mills
Mr. M. F. Macorra
Mr. M. Macorra
Rev. Père J. J. Moron
Miss Mathilde Meunier
Mrs. Maya and Children
Mr. Moschtlowich
Mr. A. H. Okean
Mr. John Plevnick
Mr. Ch. B. Qualia
Mrs. Ch. B. Qualia
Mr. Mandel Reitelman
Mrs. Fenelone Roch
Sister Julie du Sacré-Coeur
Sister Calixte-Joseph
Sister Marie
Sister Joseph-Marcel
Sister Claire-Helène
Mr. David Spivak
Rev. J. Schmitt
Sister Patrice de Jésus
Sister Alexandra
Sister Madeleine
Sister Joseph
Sister Elizabeth
Sister Theresa
Sister Sainte-Gertrude
Sister Francis-Elisabeth
Miss Thomas
Mr. R. S. Telfer
Mr. Jose Temprano
Prof. Angel C. Vazques
Rev. Père Vagué
Mr. Franc Veraskas
Mr. I. Wackenthaler
RECAPITULATION
Premiere Classe 267
Deuxieme Classe 111
Troisieme Classe 45
Total 423
Supplementary List of Second Class Passengers
M. Ambrosini
Mrs. Suz. Albrecht
Mrs. R. Bresler
Miss F. Bresler
Miss L. Bresler
Miss Cheval
M. F. Cucco
M. F. Caillarec
Mrs. Y. Caillarec and Child
Mrs. Cecile Debans
Mrs. Clara Fluniach
Mrs. K. Fischer
M. Salomon Gelmen
Miss Ila Gelmen
Miss Leia Gelmen
Miss Broch- Gelmen
Mrs. Luisa Gianotti
M. Alf. Gianotti
M. Ch. James
Miss E. Kaiser
M. M. Lopez
M. Fiorentino Marino
Miss M. Marino
Miss M. Marino
Miss E. Marcus
Miss Ev. Marcus
Miss Renee Nicol
M. F. Ringger
M. M. Radenisky
Mile-H. Sanchez
M. Alb. Skean
Miss Xhrouet
Corrections
M. Ainsley Should Read M. Ansley Newman
Miss Bless Should Read Mrs. Bless
Mrs. Van Conza Should Read Mrs. Conza
Miss A. Van Conza Should Read Miss A. Conza
Miss E. Van Conza Should Read Miss E. Conza
Miss Ev. Van Conza Should Read Miss Ev. Conza
M. Van Conza Should Read M. Conza
Miss C. Denierie Should Read Miss C. Donarie
Mrs. A. Gachotte Should Read Miss A. Gachotte
Mrs. M. Godart Should Read Mrs. Gaudard
Mrs. Godartand Child Should Read Miss Gaudard and Child
M. Alfred Hotta Should Read Mr. Alfred Hottes
Miss Rose G. Jacob Should Read Mrs. R. G. Jacobs
M. Moschtlowitch Should Read M. Maschkowitz
Not On Board
M. Armstrong
M. Cavailler
Mrs. Cavailler and Child
M. John F. Fost
M. F. Guardato
M. M. Cuardato
Mrs. W. Hall
Mrs. May
Miss H. Miller
Mrs. Maya and Child
M. M. A. Okean
Miss Thomas
M. F. Veraskas
Archival Finding Aid
Collection Name: Passenger List Collection
Collection Series: CGT French Line
Collection SubSeries: Westbound Voyages
Title: Passenger List, 1922.09.16, SS Lafayette, CGT French Line, Westbound
Language: French
Provenance: Private Acquisition
Date Received: October 2011
Accession Number: 190577937332
Repository Code: GaWsGGA
Repository: Gjenvick-Gjønvik Archives
Location: Atlanta, Georgia
Contents: Graphic Cover, Title Page, Senior Officers and Staff, List of First Class Passengers, Supplemental List of First Class Passengers, Errata of First Class Passengers, Non Boarding First Class Passengers, Errata (Suite) of First Class Passengers, List of Second Class Passengers, Récapitulation for First, Second and Third Class Passengers, Supplemental List of Second Class Passengers, Errata of Second Class Passengers, Non Boarding Second Class Passengers
Pages: 14 Excluding Covers
Prepared by: Paul K. Gjenvick