SS Ile de France Passenger List - 15 April 1937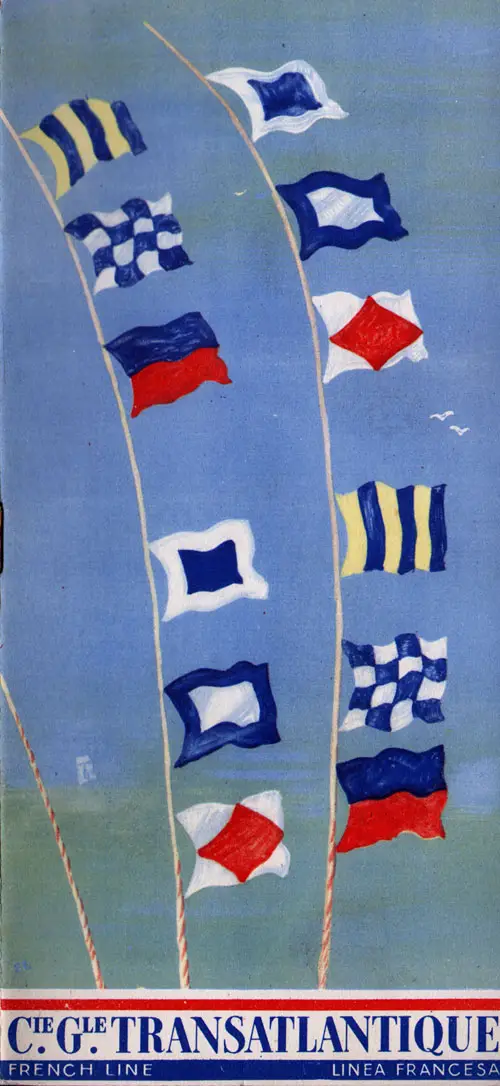 Front Cover, Good Will Tour Passenger List for the SS Ile de France of the French Line, Departing 15 April 1937 from Le Havre for New York via Southampton, Commanded by Captain Jules Chabot. GGA Image ID # 1e0c551f54
Senior Officers and Staff
Captain: Jules Chabot
Second Captain: Pierre BIDAL
Chief Engineer: Jean FLAGEUL
Chief Steward: Roger A. RAULIN
Senior Physician: Dr. Amaury VANNESSON
Chief Assistant Engineer: Pierre ALLAIN
Steward: H. de FONROCQUE-MERCIE
Assistant Physician: Dr. Michel DELAFON
Chef Opérateur T. S. F.: Alexis LE GUILLOUX
Post Office Clerk: Jean SÉNÉCHAL
Assistant Steward: Olivier ROUSSELON
Chef des Cuisines: Emmanuel LE RUNIGO
Maitre d'Hotel: Pierre LACROIX
Front Office: Charles LORENZ
Baggage Master: Pierre MARCHAND
Assistant Baggage Master: Jacques de MEZIERES
List of Passengers
Mr. Louis Aarons
Miss Gus Abramson
Mr. U. S. Adler
Mrs. U. S. Adler
Mr. David Adlman
Mrs. David Adlman
Mrs. Charlotte B. Agnew
Mr. Samuel Agranovitz
Miss Tessie Akerberg
Mr. Harry Allen
Mrs. Harry Allen
Mr. R. C. Allen
Mr. Joseph D. Alpern
Mrs. Joseph D. Alpern
Mr. Milton Alpern
Miss Belle Alprin
Miss Gloria Alprin
Mr. Morris O. Alprin
Mr. Walter Alprin
Mrs. Morris O. Alprin
Mr. Joseph N. Amigone
Mrs. V. J. Andretta
Mr. V. J. Andretta
Mr. Eugene Ansel
Miss Hannah J. Appel
Miss Henrietta Ash
Miss Belle Augenstern
Mr. Lynfred Badgley
Mr. Thomas Balish
Mr. Georges Baring
Mrs. Alice Barnhardt
Mr. Frank Barry
Mr. Fred Becker
Dr. J. Becker
Mr. Allen Bell
Mrs. Bell
Mr. Henry Bender
Mrs. Henry Bender
Miss Grace Berard
Mr. Howard S. Bernon
Mrs. Maurice Bernon
Mr. Benjamin Bernstein
Mr. Phillip Bernstein
Mr. M. Bertrand
Mrs. M. Bertrand
Mr. C. Beyer
Dr. Henry M. Biel
Mrs. Thomas S. Bienz
Mr. R. B. Birch Jr.
Mr. Harold Blodget
Mr. Calip Blouin
Mrs. Emma Blume
Miss Pearl Blumenthal
Mr. Max Blumenthal
Mr. John Bombard
Mr. George Booth
Mrs. George Booth
Mr. Ed. Borden
Mrs. Ed. Borden
Mr. Nathan Borish
Mrs. Blanche Botsford
Mr. Constantin Bounakes
Miss S. M. Brady
Mrs. Elizabeth Brady
Mr. Joseph H. Brauer
Mr. Ben Brest
Mr. Robert Brest
Mr. William B. Brittain
Mrs. William B. Brittain
Miss Irene Brooks
Mrs. A. Raymond Brooks
Mrs. N. Blanche R. Brooks
Miss Agnes Brown
Miss Annette D. Brown
Mr. James G. Brown
Mr. Louis Brown
Mr. C. W. Browne
Mr. William Bruhmuller
Miss Esther Burke
Miss Jeannett Burke
Miss Marian Burke
Mr. Thomas Burke
Mr. C. T. Burket
Mr. Otto Burneleit
Mr. Harold Busch
Mrs. Harold Busch
Mr. Sebastian Cabrera Jr.
Mrs. Sebastian Cabrera
Miss Mary Cadigan
Miss Elisabeth Cake
Mrs. Rose Caplan
Mr. Hugh A. Carney
Miss Loretta Caulfield
Mr. Jean Cause
Judge Anthony Centracchio
Mr. Vincent M. Chaine
Mr. Harry Chapperon
Mrs. Nathan Charsky
Mr. Victor E. Chartrand
Mrs. Victor E. Chartrand
Mr. N. Chepenick
Mr. L. Scott Cherchesky
Mr. Allan Chester
Mr. Harry K. Childs
Mr. John J. Ciancia
Mr. John J. Clarkson
Mr. Charles Cleary
Miss Josephine Clifford
Miss Hellen Cohen
Miss Lilian Cohen
Mr. Alex Cohen
Mrs. Alex Cohen
Mr. Benjamin Cohen
Mr. Jerome Cohen
Mrs. Grace Cohen
Miss Hellen Cohn
Mr. Ralph E. Colley
Mrs. Mabel L. Colley
Miss Aimee H. Collier
Mrs. W. H. Collier
Miss Rose Anna Colucci
Miss Kathryn R. Condon
Miss Frances Cone
Mrs. V. W. Coney
Mrs. J. Patrick Connelly
Rev. Joseph G. Conway
Mr. S. C. Cooling
Mrs. S. C. Cooling
Miss Etta Cooper
Mrs. Kathryn M. Cordes
Mrs. Walter F. Costello
Mr. Samuel Cousins
Mr. J. H. Crosier
Mrs. J. H. Crosier
Mr. John F. Crowley
Miss Margaret Cummings
Miss Mittie Dance
Mr. J. C. Davis
Mr. G. de Andrade
Mr. James J. de Gasper
Mrs. James J. de Gasper
Mr. Thomas De Nucci
Miss H. Deitel
Mr. E. W. Delzer
Mr. Paul Demontreux
Mr. Alphonse Dimezza
Mr. Edouard J. Diozzi
Mr. Salvator d'Ippolito
Mr. John Dobrow
Miss Mary Donahue
Miss J. Donnellan
Miss M. Donnellan
Miss Katherine Donnelly
Mr. Francio Donnelly
Mr. Thomas Dowd
Miss Maye Doyne
Mr. Edward Dragon
Miss Edna Dretel
Mrs. W. Paul Dunn
Miss Cecilia Dwyer
Mr. Ernest A. Ebel
Mrs. Leona B. Eckstein
Mr. Arthur M. Ehrlich
Mr. Sam Eig
Mr. Irving Eisenberg
Miss Lillian A. Engel
Mr. M. H. Englander
Miss Beatrice Eskin
Miss Irma Estabrock
Mr. Spencer Everly
Col. Th. Fairservis
Mrs. Th. Fairservis
Mrs. Faulkner
Mr. Feld
Mrs. Marion Hermine Feld
Mr. Feldman
Mr. Jack Feldman
Miss Feley
Mr. R. S. Fellers
Mr. Bernard Fenn
Mr. Eugene Fenton
Miss Marie B. Ferranti
Mr. Felix Fertig
Mr. M. E. Fillet
Mr. Edward I. Fine
Mrs. Edward I. Fine
Mr. I. E. Fine
Miss Marcia Finger
Mr. Arnold Finger
Mr. Isadore Fishman
Mr. Louis Fishman
Mrs. William J. Fitzgerald
Mr. Arthur T. Fitzsimmons
Miss Barbara Flaherty
Miss Sally Flaherty
Mrs. William E. Flaherty
Mr. Joseph Fleischman
Mrs. J. Fleischman
Mr. D. F. Flood
Mr. Louis Flumere
Mr. Joseph Ford
Mrs. Joseph Ford
Mr. Edward H. Frank
Miss Irene L. Friedman
Miss Mildred Friedman
Mr. Irving Friedman
Mr. Joseph Friedman
Mrs. Helen Friedman
Miss A. L. Frishberg
Mr. Philippe Fugere
Mrs. Philippe Fugere
Mr. Joseph J. Furman
Mrs. Joseph J. Furman
Mr. Abraham Fuss
Mr. Albert Fuss
Mr. Herin Gable
Dr. Julian B. Galvin
Mr. M. F. Galvin
Mr. Ralph Gamba
Mr. Adam S. Gander
Mr. Conrad J. Gander
Mrs. Anna M. Gander
Mrs. Conrad J. Gander
Mrs. David Garfinkel
Mr. Murray Garten
Mrs. Murray Garten
Mrs. A. L. Geilich
Mr. Frank Genessen
Mrs. Frank Genessen
Miss Esther Genetti
Mr. George P. Gervais
Mr. Hormidas Gervais
Mrs. Hormidas Gervais
Mr. Paul Gilles
Mr. E. S. Gillette
Mr. Thomas C. Gilpin
Mrs. Thomas C. Gilpin
Mr. Philip Glanzman
Miss F. Glasser
Miss Ruth C. Glavin
Mr. Arthur S. Gold
Mrs. Arthur S. Gold
Mr. Joseph Goldber
Mr. Morris Goldberg
Mrs. Joseph Goldberg
Mrs. Morris Goldberg
Dr. Henry Goldman
Mr. Harry Goldman
Mr. Sam Goldman
Mrs. Henry Goldman
Mr. Morris Goldstein
Miss Estelle Golomb
Mrs. Edna Augusta Goodman
Mr. S. Gootner
Mrs. S. Gootner
Mr. Abraham Gordon
Mrs. Abraham Gordon
Mr. Thomas Gorton
Mr. B. V. Granfield
Mrs. B. V. Granfield
Mr. Grape
Mr. Lionel Green
Mrs. A W. Greene
Mrs. Sarah Greenwald
Miss Lillyan Grob
Mr. Charles Grossman
Mrs. Charles Grossman
Mr. Herald Grossman
Mrs. Florence Grossman
Mr. William G. Gucker
Mrs. William G. Gucker
Miss Ann C. Guerin
Mrs. Alice Gurevitch
Mr. Maurice A. Haas
Mrs. Maurice A. Haas
Mr. John Hall
Mrs. John Hall
Mr. F. Haring
Mrs. F. Haring
Miss Irene Harkins
Mr. P. Harnett
Mrs. Mary Harnett
Mr. Harry Harris
Mr. Hynan Harris
Mr. Osborne S. Harris
Mr. Russell C. Harris
Mrs. Osborne S. Harris
Mrs. Aida F. Haskell
Mr. Harry L. Hastings
Mrs. Harry L. Hastings
Miss Helen Hefferman
Mrs. Dorothy Helo
Mr. C. A. Heney
Mrs. C. A. Heney
Mr. Paul Henkel
Mrs. Paul Henkel
Miss Jessica L. Hess
Mr. John Hess
Mrs. Carmela T. Hess
Miss Ruth Hesse
Miss Frances Heuberg
Mr. Sam Higger
Mr. M. M. Himler
Mrs. M. M. Himler
Mr. Frank Hirsch
Mr. Louis Hirsch
Mrs. A. Schon Holzman
Mrs. Dolores de Rivas Howe
Mr. Stanley A. Howell
Mr. Silwyn E. Humphrey
Mrs. Eva Hungerford
Mrs. Nan Hurwitch
Mr. Theodore Ingrassia
Mr. Hugh Irwin
Mr. Max Jacobs
Miss Anna Janecki
Mr. Louis Jaus
Mr. Raymond Jensen
Mrs. Raymond Jensen
Mrs. Frances Jones
Miss Jean Kahn
Mrs. Ida R. Kahn
Mr. Abraham Kamberg
Mrs. Abraham Kamberg
Miss Agnes M. Kane
Mr. M. F. Kane
Miss B. Kantor
Mr. J. Kantor
Mrs. Beatrice Kantor
Mr. Herman Katz
Mr. Charles Keller
Miss Louise M. Kelly
Mr. John Kelsey
Mr. Morris Kerman
Mrs. Morris Kerman
Mr. Maurice King
Mr. McDonald King
Mr. Chry K. Charles A. Klausner
Mrs. Mary Klausner
Dr. M. M. Knoller
Mrs. M. M. Knoller
Mr. Michael F. Kobrin
Mr. Robert Kohloss, Jr.
Mr. Horace Kola
Mr. S. W. Kopman
Mr. Louis C. Kott
Mr. Elias Kraft
Mrs. Elias Kraft
Mrs. Ruth Kreinick
Mr. Pierre Kressmann
Miss J. Alice Krueger
Mr. J. D. Krueger
Mr. J. A. La Fortune
Mrs. J. A. La Fortune
Mr. William Lambert
Mr. Keslie Landman
Mr. Maurice Landry
Mr. G. Lane
Mrs. G. Lane
Mr. H. B. Lanson
Mrs. H. B. Lanson
Mr. P. S. Launsback
Mrs. P. S. Launsback
Mr. Napoleon Lavoie
Mr. Bradley M. Layburn
Mrs. Bradley M. Layburn
Mrs. Muriel Lederman
Mrs. George Leininger
Mr. Edwin Leisenring
Mrs. Edwin Leisenring
Mr. Francis J. Leonard
Mr. Marion A. Leonard
Miss A. F. Leonard
Mr. Maxwell Lerner
Mr. Milton Levey
Mr. Samuel Levey
Mrs. Samuel Levey
Miss Rae Levin
Mr. Henry H. Levin
Dr. S. Levitas
Mrs. S. Levitas
Miss Frances Levy
Mr. Harry Levy
Mr. Samuel Levy
Mr. Ben Lewin
Mrs. Mary Lippman
Mr. Jordan Lippner
Mrs. Jordan Lippner
Mr. E. W. Loebs
Mrs. E. W. Loebs
Mr. W. T. Long
Mr. Harold Long
General A. F. Lorenzen
Mr. Robert S. Lourie Jr.
Miss Winfred Lowe
Mrs. Sarah Lucas
Mr. Mandel Lurie
Mrs. Mandel Lurie
Mr. John Lyons
Miss Jean Mahler
Mr. Charles Mahony
Mrs. Charles Mahony
Mr. Paul Maioli
Mrs. Walter Margolin
Mr. Henry Marims
Mr. Samuel Markowitz
Miss Mollie Marks
Mr. Edward B. Marks
Miss Edythe C. Martignette
Mr. Charles Martignette
Miss Elsie M. Marx
Miss Helen Mauger
Mr. Joseph Mayes
Mr. Russell Mayes
Mrs. Joseph Mayes
Mrs. Berry McAllester
Miss Margaret McCormack
Hon. W. H McDonnell
Mrs. W. H. McDonnell
Mr. Howard McGaughey
Mrs. Howard McGaughey
Mr. John McGoohan
Mrs. John McGoohan
Miss Louise McGowan
Mr. Matthew L. McGrath
Miss Marie McGuinness
Mr. J. J. McGuirk
Mrs. J. J. McGuirk
Mr. Thomas McHugh
Mr. J. W. McKenna
Mrs. J. W. McKenna
Mrs. Anna G. McKinney
Mr. H. J. McMackin
Miss Helen McQuade
Mr. M. Medwin
Miss Mary J. Merchant
Mr. Gerald Mermer
Mrs. Gerald Mermer
Mrs. J. Michaels
Miss Edythe L. Miles
Mr. Joseph Millenson
Mrs. Joseph Millenson
Mr. Morris Miller
Mrs. Bessie Millers
Mrs. Morris Miller
Mr. Max Mindel
Mrs. Ruth Mindel
Mr. Charles Miner
Mr. Charles Mintz
Miss Anna Mitchell
Mr. Alick W. Mollott
Mr. Jacob Mollott
Mr. Edward Monte
Mr. Peter Montenaro
Dr. Joseph Montiminy
Mr. William Mooney
Mr. Moore
Mr. John Moran
Mrs. John Moran
Miss Mary Morath
Miss Mary Margaret Morgan
Mrs. E. Morris
Miss Harriet Morrow
Dr. Lester Moskowitz
Mrs. Lester Moskowitz
Mr. John Mungan
Miss Irene Naas
Mr. Bernard M. Naas
Mrs. Bernard M. Naas
Mr. B. H. Nachman
Mr. John Nagle
Mrs. John Nagle
Mr. William Nass
Mr. Charles Needle
Mrs. Charles Needle
Miss Anred Nelson
Mr. William Nelson
Miss Anna Newman
Mr. William Nolan
Mrs. Elisabeth Noonan
Miss Mary F. Norton
Mr. Novak
Mrs. Nellie Ober
Mrs. L. M. Oberkirch
Mr. William J. O'Connor
Mrs. Bettina Oldman
Mrs. Edward Oldman
Mrs. Harriet Oldman
Mr. Frank J. Oliver
Mrs. Frank J. Oliver
Mr. William F. O'Neil
Mrs. Lillian Oppenheim
Mrs. L. Orbach
Hon. Samuel Orlando
Mr. Jules Orteig
Miss Ethel Pashinsky
Mr. Matt G. Patterson
Mrs. Matt G. Patterson
Mr. Joseph Pearlstein
Mrs. Joseph Pearlstein
Mrs. Ella C. B. Penders
Mr. Edward Perreault
Miss Gussy Phillips
Mr. Joseph Piciulo
Mrs. Joseph Piciulo
Mr. Werner Pigors
Mr. Guy Piscopo
Miss Margaret W. Plunkett
Mr. E. P. Powers
Mr. Maurice Powers
Mrs. E. P. Powers
Mr. Leon Prager
Mr. J. Pransky
Miss Catherine Prindeville
Mr. D. W. Putman
Mrs. D. W. Putman
Miss Anne Quartin
Mrs. Jenny Rabinovits
Mr. Elias Rabinowe
Mrs. Elias Rabinowe
Mr. Joseph Rebotsky
Mr. Oscar Rees
Mr. Albert Reinitz
Mrs. Albert Reinitz
Mr. M. H. Reiss
Mrs. M. H. Reisst
Dr. Willian Riley
Mr. Abe V. Rink
Mrs. Georgeana Robbins
Mr. Frank Roberts
Miss Mary Roche
Mr. Gus Roeder
Mrs. Gus Roeder
Miss Eleanore Rogers
Mrs. Helene D. Rogers
Miss Lily Rome
Mr. Abraham Rosenthal
Mr. Abraham Rosner
Mrs. Abraham Rosner
Miss Palma G. Ross
Mr. John Rossell
Mrs. John Rossell
Mrs. Etter Roth
Mr. Harwey Rothberg
Mr. Samuel Rubenstein
Mr. Gerard K. Rudulph
Mrs. Harry G. Russell
Mr. Anthony Russo
Miss Marion E. Ryan
Mr. David Sachs
Mr. Abraham Sadowsky
Mrs. Abraham Sadowsky
Miss Eva Salmenson
Mr. Albert Salter
Mrs. Albert Salter
Mr. M. Salzman
Mr. John P. Santucci
Mrs. John P. Santucci
Mr. Jack Savar
Mr. Robert Sawyer
Mr. Nathaniel Saxe
Mrs. Vivian Schaefer
Miss Ray Schatz
Mr. John L. Schellenberg
Mrs. John L. Schellenberg
Mr. Charles Schlossman
Mrs. Charles Schlossman
Miss Sonia Schneck
Miss Ruth Schneider
Miss Gertrude Schneiderman
Dr. Louis Schraffa
Mr. Wm. Schreck
Mrs. Wm. Schreck
Mr. C. Cassard Schroth
Mr. Harol G, Schryuer
Mr. Samuel E. Schultz
Mr. Leonard Schuman
Mr. Lester Schwartz
Mrs. Paul Schwartzbach
Mr. Harry Schwarzchild
Mrs. Harry Schwarzchild
Miss E. E. Scott
Mrs. B. C. Scott
Miss Lillian Segues
Mr. Herman Shafer
Mr. S. Shapiro
Mr. Marion B. Sharp
Miss Irene Shaughnessy
Miss M. T. Shaw
Mrs. Nellie Shea
Mr. David Shoolman
Miss Lilian Silverman
Mr. Samuel Silverman
Mrs. Samuel Silverman
Mr. Herman Silverstein
Miss Tessle Simon
Mr. Alfred A. Simon
Mr. Henry Simon
Mrs. Henry Simon
Mr. J. L. Simon
Mrs. J. L. Simon
Mrs. Edgar Simon
Mr. Wm. S. Sims
Mr. Harry Singal
Mr. Robert Skehana
Mrs. Elsie Slack
Miss E. Smart
Dr. H. Smith
Mr. Armando Solaroli
Mrs. Armando Solaroli
Mr. Arnold Spector
Mrs. B. A. Speegle
Mr. Herbert L. Spilzer
Mrs. Herbert L. Spitzer
Mr. J. Spund
Mr. Michael Stahl
Mrs. Michael Stahl
Mrs. Ane Starr
Miss Norma Steckler
Mr. Simon Stein
Miss Margaret Sterbutzel
Mr. John Stevens
Mrs. John Stevens
Miss Florence Stone
Mrs. Ruth Stone
Mrs. Theresa Stone
Miss Charlotte Streb
Mr. Striker
Mrs. Striker
Mr. Edward Sullivan
Mr. Frank E. Sullivan
Mrs. Frank E. Sullivan
Mr. George J. Sullivan
Mrs. Leah Sumper
Miss Shirley Swartz
Mr. Herman Swartz
Mrs. Herman Swartz
Mr. Lester Tacy
Mrs. Lester Tacy
Mr. James Leroy Tallon
Mr. Jacob Targ
Mrs. Mathilda Tatel
Mr. Jack G. Tatelman
Mr. Fred C. Taylor
Mrs. Fred C. Taylor
Mr. C. W. Thompson
Miss Evelyn Mae Thorpe
Miss Helen Tidd
Mr. Harry Tidd
Mrs. Harry Tidd
Mr. James L. Tigani
Mr. Paul Tonkelson
Mrs. Paul Tonkelson
Mr. William Toolay
Mr. Trembley
Mr. Louis Trenches
Mrs. Louis Trenches
Mr. John Trimper
Miss Joan Tucker
Mr. George Tucker
Mr. Max Tucker
Mrs. Sally Tucker
Miss Mola Turk
Mrs. A. E. K. Turman
Mr. Solve Tuso
Mr. S. Unger
Mr. Harold Vadney
Mr. Valenti
Miss Therese Vesce
Mr. August L. Volk
Mrs. Grace Volk
Dr. Edward L. Waldron
Mr. Gus Waldron
Mr. Leonard T. Waldron
Mr. B. Walerstein
Mrs. B. Walerstein
Dr. J. A. Walker
Mr. N. N. Wallack
Mrs. N. N. Wallack
Mr. Samuel Warshaw
Mrs. John C. Watson
Mr. Harold Weicensang
Mrs. Anna Weintraub
Mr. Harry Weisburg
Mr. Abe Weisinger
Mr. David B. Weiss
Mr. Fred Weiss
Mr. Henry Weiss
Mrs. Henry Weiss
Mr. Leon Weiss
Mr. Sam Weiss
Miss Lucille Weistreich
Mr. David G. Weitzman
Mr. Milton Werop
Mrs. Milton Werop
Mr. Albert R. White
Mr. T. Wiehe
Mrs. T. Wiehe
Miss Shirley Wiener
Mr. Harry Wiesenberg
Mr. B. Wilansky
Mr. Irvin Wile
Mrs. Irvin Wile
Mr. Henry Wincher
Mr. Joseph Wineaple
Mr. Daniel Wohl
Mr. Frank W. Wohl
Mr. Sidney Wolf
Miss Woods
Mr. Edward E. Wren
Apparently this was a special trip, and there were lots of demonstrations and lectures on board, and I see one of the Passengers was G. Selmer Fougner, the wine/spirits/food critic for The Sun(later the Herald - New York newspapers).  He was The very first and most famous 20th century wine writer.  Frank Prial wrote a long article about him in the NY Times in 1992 . 
Prial said Fougner wrote his column daily from 1933 "Along the Wine Trail" , of some 3,000 words daily, until his death in 1941.  Known as "The Baron" he replied to over 300,000 readers' inquiries during that time, in addition to writing his daily column! The purpose of the column was "to instruct the public in the finer points of eating, and especially drinking, that had been lost during the years of Prohibition."
I did see this must have been a big deal voyage - as the NY Times had a March 24, 1937 article "Restaurateurs Honor Fougner" G. Selmer Fougner, newspaper man and wine expert (he founded over 14 food and wine societies, such as Les Amis d'Escoffier", was the guest of honor last night at a dinner of the Society of Restaurateurs at the Hotel Astor.  More than 600 persons attended the dinner, which was also a farewell to restaurant and hotel men who will sail April 1 to visit the wine-growing regions of France.  Paul Henkel, president of the society, presided."
-- Additional Commentary provided by Mrs. S. G. Saltzman