SS La Savoie Passenger List - 7 May 1921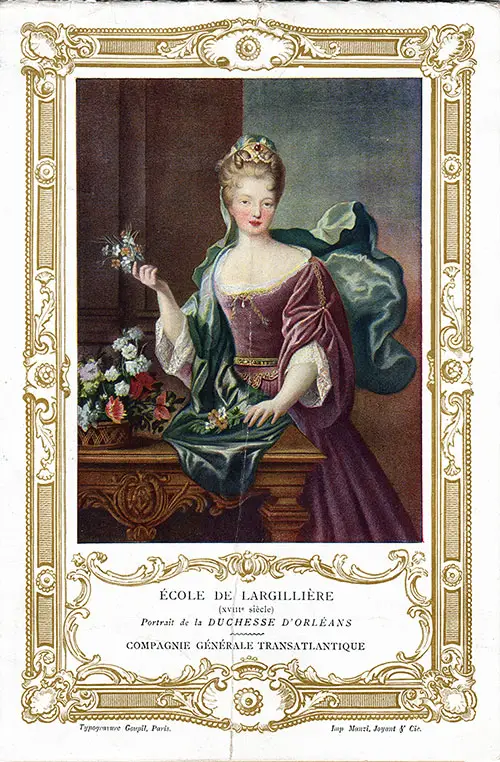 Cabin Passenger List for the SS La Savoie of French Line, Departing 7 May 1921 from Le Havre for New York, Commanded by Captain H. Boisson. Arrived Pier 57, North River on Monday, 16 May 1921 at 11:00 am.
Senior Officers and Staff
Captain Mr. H. BOISSON, e I-e, Captain
Second Captain Mr. J. HINGANT
First Lieutenant Mr. M. FOUCQUE
Second Lieutenant Mr. G. LEROUX
Third Lieutenant Mr. J. ELISSAGARAY
Pilot Mr. P. SEGUIN
Steward Mr. E. PICARD
Physician Dr. G. MACE
Telegraph Officer Mr. G. VIENNE
Telegraph Officer Mr. J. KERISIT
First Maitre d'Hotel V. RONCERAY
Second Maitre d'Hotel J. MENGUY
Chief Engineer Mr. E. SANBŒUF
Second Engineer Mr. A. MINET
Third Engineer Mr. C. DUPRAY
Fourth Engineer Mr. R. GUY
Fifth Engineer Mr. M. BRUNE
Sixth Engineer Mr. R. OLLIVIER
Seventh Engineer Mr. H. AYRAL
Student Mechanic Mr. P: PLEVEN
Student Mechanic Mr. L. BEUVE
Student Mechanic Mr. D. ARNAUD
Student Mechanic Mr. R. VIOLETTE
Assistant Mechanic Mr. Y. QUERE
Electrician Mr. M. Marchal
Post Office Clerk Mr. M. MONTMAUR
Public telephones at the disposal of passengers on the Dock of the Débarguement companion in New York.
On the Front Cover (Below right): School Largilliere (18th Century) Portrait of the Duchess of Orleans
First Class Passengers
Mr. H. Adams
Mr. S. Apell
Mr. G. Badeaux
Mrs. G. Badeaux
Mr. J. Bartlett
Mr. A. Birkenholz
Mrs. G. Bodvin
Mr. L. Brugger
Mr. R. Callazo
Mrs. R. Callazo
Mr. G. Carpentier
Mr. L. Cazenave
Mr. L. Cella
Mrs. C. Chartier
Mrs. A. Crombie
Mr. J. Czarnochi
Mr. D. Davila
Mrs. C. Davila
Miss C. Davila
Miss E. Davila
Mr. E Delgado
Mr. J. Delon
Mr. P. Depland
Mrs. P. Depland
Mr. P. Depland
Mr. F. Descamps
Mrs. Mr. Drukker
Mr. J. Dupas
Mrs. R. Emery
Mr. F. Fabre
Mr. G. Faunce
Mrs. S. Feifer
Mr. J. Fitzgérald
Mr. J. Fructus
Mr. J. Gardner
Mrs. H. Gardner
Mr. S. Glombenski
Mr. M. Glynn (Former Governer)
Mrs. Mr. Glynn
Mr. E. Greene
Mr. C. de Guigné
G. G. Gutman
Mr. Albert Guyot (Auto Racer)
Miss B. Hamilton
Mr. R Harkness
Miss D. Harwey
Mr. J. Heddinger
Mr. F. Hentsch
Mr. Louis Inghibert (Auto Racer)
Mr. E. Jamet
Mr. A. Johnson
Mr. Paul Journée (Heavyweight)
Miss F. Kapp
Mr. R. Kolbell
Mrs. R. Kolbell and Child
Mr. J. Kucher
Mr. R. Kuebl
Mr. M. Lasser
Mr. J. Lowes
Mr. E. Luidsey
Mr. P. Marcot
Mr. E. Mas
Miss G. Matter
Mr. A. Mesnager
Mr. M. Michelson
Mr. F. La Monaca
Mr. G. Moore
Mr. R Morgan
Mrs. R Morgan
Miss L. Morris
Miss T. Muniz
Mr. B. Norris
Mr. J. Ollitrault
Mr. G. Petit
Mr. H. Pierret
Mr. O. Piette
Mr. S. Piller
Mr. J. Robut
Mr. J. Rampon
Mr. A. Robert
Mr. W. Sargent
Mrs. W. Sargent
Mr. J. Schiopul
Mrs. L. Sené
Mr. E. Shipman
Mr. G Sisson
Mrs. E Stadthen
Mr. F. Stewart
Mr. A. Taylor
Mrs. R. Toop
Mr. B. Turner
Mrs. B. Turner
Mr. R. Vicuna
Mr. L. de Vilallonga
Mr. E. Vincent
Mrs. E. Vincent
Mr. J White
Mr. J. Witkowski
Mr. S. Zielinsky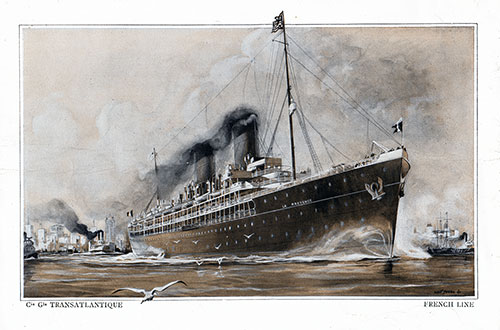 Back Cover - SS La Provence of the CGT French Line
Second Class Passengers
Mrs. M. Abraham
Mr. F. Agras
Mr. J Albrecht
Mrs. D. Albrecht and Two Children
Miss L. Albrecht
Mr. P. Albrecht
Miss H. Albrecht
Mr. B. Baraimca
Mr. J. Berlaudo
Mr. J. Baker
Mr. J. Brandli
Miss M. Barabaih
Mr. A. Baschi
Miss G. Bofill
Mrs. Berger and Child
Miss R. Bohnhollzer
Mr. P. Castagné
Miss A. Chéronnée
Mr. J. Cavanna and Child
Mrs. L. Cousédiné
Mr. C. Cambini
Mrs. H. Dupayage
Mr. O. Dupayage
Mr. G. Denaréer
Miss Dilleuburg
Mr. H. Ehrensberger
Miss A. Endour
Mr. J Froment
Mr. Ph. Furnas
Mrs. M. Fishman
Mr. D. Franceschi
Mr. M. Favre
Mrs. F. Fashio
Mr. J. Fortely
Mr. E. Gruber
Mr. B. Gelfenbun
Mrs. B. Gelfpnbun
Mr. B. Gelfenhun
Mr. J. Gecina and Child
Mrs. P. Gallabutia and Child
Miss G. Georzopoulos
Miss C. Georzopoulos
Mr. H. Henk
Mrs. M. Henk
Miss L. Hitchéer
Mrs. A Hunt and Two Children
Mr. H. Kurdelski
Mrs. H. Kurdelski
Mr. S. Khauri
Miss M. Kaeneff
Mr. M. Kraemer
Miss R. Kyner
Mr. F. Krasny
Mrs. A. Krasny
Mr. J. Lippitt
Mr. l'abbé Lescure
Mr. l'abbé Lemeulin
Mr. M. Lancick
Mrs. A Lislansky
Miss Z. Lislansky
Mr. L. Listansky
Mr. Laporte
Miss O. Lavellé
Mr. A. R. Lewis
Mr. L. Lévis
Mrs. L. Lévis
Mr. E. Mayer
Mrs. M. Morier
Mrs. M. Meyer
Mrs. L. Maulon
Miss M. di Mautchiva
Mrs. O. Michalick
Miss S. Michalick
Miss M. M. Michalick
Miss J. Michalick
Miss H. Michalick
Mr. B. Mazzouhi
Mrs. B. Mazzouhi and Child
Mr. P. Mendive
Mrs. P. Mendive
Mr. A. Micheletti
Mr. A. Morgara
Mrs. C. Morgara
Mrs. A. Mirablon
Mr. M. Miesse
Mr. H. Naosir
Mr. A. Niéré
Mr. D. Niéré
Mr. F. Pfeffer
Miss J. Papovic
Mr. J. Papatheodors
Mr. A. Poste
Mrs. R. Poste
Mr. A. Perrot
Miss F. Rosenberg
Miss H. Rosenberg
Miss M. Rosenberg
Mr. J. Rosenberg
Mrs. J. Rosenberg
Mr. J. Reymond
Mrs. D. Rivolta
Mrs. M. Rivoire and Child
Mr. G. Rivoire
Mr. L. Régis
Mr. E. Risner
Mr. J. Sereno
Mr. J Scherer
Miss N. Sabilman
Miss J. Sabilman
Mr. M. Sabilman
Miss L. Sourzat
Mr. L. Seagnelli
Mr. A. Starni
Mrs. J. Sanfard
Mrs. M. Samuel
Miss H. Samuel
Miss J. Samuel
Mr. A. Spastof
Mrs. Q. Spastof
Miss A. Tamco
Mr. D Tzinuis
Miss T. Tzhnas
Mr. Tadrja
Miss C. Ugarte
Miss F. Ugarte
Mr. H. Ugarte
Mr. J. Vasquez
Révérend F. Voldina
Miss C. Wealer
Mr. J Wealer
Mr. S. Wolf
Mr. J. Wiendensohler
Mr. Q. Yanakieff
Récapitulation
101 First Class
146 Second Class
277 Third Class
524 Total Passengers