SS La Savoie Passenger List - 6 October 1923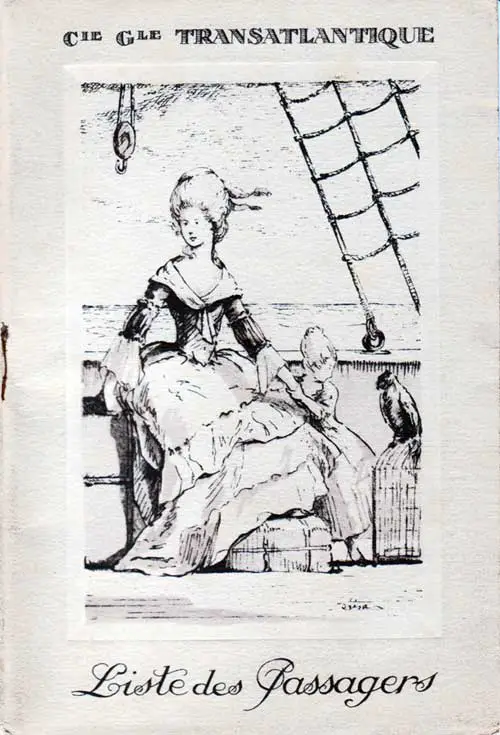 Cabin Passenger List for the SS La Savoie of the French Line, Departing 6 October 1923 from Havre for New York, Commanded by Captain Aubert.
Senior Officers and Staff
Captain: Mr. Aubert Commander
Second Captain: Mr. DUCREUX
Chief Engineer: Mr. DHEILLY
Purser: Mr. PICARD
Surgeon: Mr. PRICKER
Chief Steward: Mr. LESQUELEN
List of Cabin Passengers
Miss M. S. Arnold
Miss A. L. Arnold
Miss M. Alligros
Mr. P. Allenne
Mrs. Beck
Miss M. J. Blackstock
Miss E. A. Blackstock
Miss L. Bunyan
Mrs. Carlotta Brianza
Miss S. Blin
Miss B. Beil
Miss S. Benazet
Mrs. J. Burnier
Mrs. Branco and child
Mr. J. Brachet
Mrs. Joseph Broa
Miss M. L. Brennan
Mr. W. H. Bishop
Mrs. Bennett Adams
Mr. A. P. Bourgandez
Mr. Boussange Delegue
Mrs. Boussange Delegue
Mrs. O. Bertola
Rev. H. de La Chapelle
Mr. C. Cellai
Mrs. M. C. Ciani
Miss J. K. Crosby
Miss M. Crosby
Miss F. Campbell
Miss C. Cuningham
Miss M. Cavaignac
Mr. H. L. Colman
Mrs. H. L. Colman and Infant
Mr. L. Castaings
Mrs. Amanda Clark
Mr. H. Cash
Mrs. H. Cash
Miss G. Cullinan
Miss F. Cooper
Miss D. E. Cox
Miss Nicole Chavane
Mrs. M. Castle
Mr. L. Colton
Mrs. L. Colton
Miss E. Colton
Mr. Cossens
Mr. C. A. N. D. Chuvan
Miss A. D. Duncan
Miss E. M. Duncan
Miss M. J. Duncan
Mr. Z. Desrumaux
Mrs. Z. Desrumaux
Mrs. L. Dixon
Miss Harriet Dean
Mrs. C. Dalas
Miss M. F. Donnelly
Mrs. Desreux
Miss Desreux
Mr. N. Dupuy
Mrs. Dupuy
Mrs. Demaison
Mrs. Dechaene
Miss E. Dechaene
Mrs. A. Damiens
Miss H. Damiens
Mr. G. Damiens
Mrs. A. David
Mrs. E. T. Ellison
Mr. Nic. Ernster
Mrs. Nic. Ernster
Miss Alix Elix
Mrs. Espaillat
Mr. Eram
Mr. Eagan
Mrs. Eagan
Miss M. T. Frazier
Miss E. Finn
Mr. G. Ferrand
Miss E. Froitier
M. J. Filiatre
Mrs. J. Filiatre
Miss S. Fontvieille
Mrs. C. M. Ferguson
Miss M. Ferguson
Mr. W. S. Ferris
Miss G. Fautrad
Mr. J. Flamand
Mrs. J. Flamand
M. Ed. M. Farrell
Mr. Chas L. Fitch
Mrs. Chas L. Fitch
Mr. H. Gardini
Mrs. H. Gardini
Miss F. E. Grant
Mrs. Gross
Miss Gross
Miss M. Guillou
Mr. Melvin Green
Mrs. Melvin Green
Mrs. Melvin J. Green
Mr. Montgomery M.Green
Miss J. Garnier
Mrs. C. S. de Gonzalez and Maid
Mrs. J. Gillette
Mrs. Harmon
Mrs. E. C. Hoyt
Miss E. Huestis
Miss E. Herriman
Miss E. Hester
Miss Pauline Hopkins
Mrs. M. C. Huse
Mr. J. P. Hauenstein
Mrs. J. P. Hauenstein
Mr. H. Harvey
Mr. L. Harson
Mr. Ernest Hess
Mr. J. Huguet
Mr. S. Heng
Miss M. M. Henderson
Mr. L. Hasselmans
Mrs. L. Hasselmans and Infant
Mr. J. Herrmann
Mrs. J. Herrmann
Mrs. D. Hay
Mr. Hutchinson
Miss E. Joly
Mrs. A. Jacobson
Mr. Pericles Jones
Mrs. A. S. Jerwan
Miss B. Kendall
Mrs. E. A. Kindervater
Mr. Kirraco
Miss M. de Kosenko
Miss E. de Kosenko
Mrs. de Luna
Mrs. H. R Listenfeltz and child
Miss C. Levenson
Miss L. Lemoine
Mrs. Henri Leger
Mr. Thos. E. Lane
Mrs. Thos E. Lane
Mrs. M. Laloue
Mr. A. Lavignon
Mrs. A. Lavignon and Infant
Miss M. L. Le Moal
Mr. M. Lindon
Miss E. Lienard
Rev. Libert Silva
Mr. A. Leschot
Mr. Lanternier
Mrs. Lanternier
Mrs. Landis
Mrs. M. Lavergne
Mr. J. Lavergne
Miss M. Mc Gowan
Miss Masquelier
Mr. Maxwell
Mr. Paul Morris
Mrs. X. Martinez and child
Mr. J. Merlhe
Mr. F. H. Myers
Miss Mc Andrew
Mr. C. Marenti
Mrs. A. Marenti
Miss E. S. Mershon
Mr. W. H. Mc Allister
Mr. R. W. Mc Rae
Miss S. Wendell Mitchell
Mrs. M. B. Morris
Mr. Edw. B. Morris
Mr. H. Mangeret
Mrs. H. Mangeret
Mr. J. Martin
Mrs. M. Malbrant
Mr. C. Moonier
Mrs. C. Mesnard
Mrs. Mead
Mr. B. Meras
Mr. D. Monzeglio
Mrs. D. Monzeglio
Mr. P. Miranda
Mrs. P. Miranda and Infant
Mr. L. Maestro
Mr. Myers
Mrs. C. Mijan
Miss Si. Mijan
Miss M. Miller
Mrs. A. Maio and party
Mr. M. Maloney
Mr. H. R. Noyes
Miss May Noble
Mrs. Eugenie S. Ohann
Miss Y. Olier
Miss L. Pillant
Mrs. G. Piolat and Children
Mesdames Phelps
Mr. E. Puig
Miss Pierce
Miss Portlan
Mrs. C. A. Paterson
Miss A. A. Patterson
Mrs. Peterson
Mrs. A. Pennington
Mr. A. L. Penzo
Miss J. Quadri
Rabbis E. Rasoumy
Mrs. Em. Rey
Mrs. Ruano Bohislav
Mr. E. W. Rankin
Mr. F. W. Ray
Rev. P. P. Roux
Mr. W. Rollins
Miss E. L. Rousseau
Mr. F. Robert
Mrs. F. Robert
Mrs. E. A. Sanderson
Mrs. N. B. Sharp
Miss M. F. Sullevan
Mr. J. M. Sost
Mrs. J. M. Sost
Mr. F. Shaw
Miss Y. Soubeyre
Miss M. Stollenwerck
Miss M. T. Schmitt
Miss L. Svet
Miss A. M. Seimolins
Mrs. A. Serrimon
Mrs. M. Stager
Mrs. B. Singer
Miss E. Singer
Rev. C. L. Souvray
Mrs. E. Smith
Mr. J. M. Sanquin
Mr. R. Stapfer
Mr. Schreiber
Mrs. Schreiber
Miss W. L. Stidman
Mrs. Wm. Shippen and 2 Maids
Miss J. Sudan
Mrs. R. Stierer
Miss N. Sills
Miss Ch. Satterlee
Miss J. Sudan
Comtesse de Sancton
Mr. R. de Toledo
Mrs. R. de Toledo
Mr. L. de Toledo
Miss B. Thuillier
Miss B. Tonjas
Miss M. Touilliart
Mr. H. Tyberghien
Mr. C. Taylor
Mr. Thomas
Mrs. Thomas
Mr. J. Tardy
Mrs. L. Teach
Miss N. Volk
Mr. Vosberg
Mrs. Vosberg
Miss G. Vuillaumie
Miss H. Varin
Mr. H. Vaux
Mrs. H. Vaux and child
Mrs. M. Vollmeke
Mr. Hugo Vollmeke
Mrs. A. Viole
Miss S. J. Walker
Mrs. Z. M. Willson
Mr. J. Wood Wagner
Mrs. J. Wood Wagner
Dr M. Whelpton
Mrs. Arthur H. Winslow
Miss S. H. Winslow
Miss M. Werynzynska
Miss Warin
Mr. E. A. Young
Additional Passengers
Mr. E. Asquini
Mrs. S. Asquini
Mr. A. Baldessan
Mrs. M. Baranoski
Mr. R. Boud
Mr. J. Boscher
Mrs. M. Bosher
Mr. F. Chase
Mrs. G. Choupeau
Miss M. Dufour
Mr. F. Fugague
Miss B. Horber
Mr. C. Kiriakon
Mrs. G. Lursner
Miss J Lursner
Miss C. Lursner
Miss C. Lursner
Mrs. M. Lemand
Miss D. Lemand
Mrs. F. Lapert
Mrs. M. Lens
Mr. L Landis
Miss M. Landis
Miss M. Martin
Mrs. E. Mentinini
Mrs. M. Mathews
Miss E. Mathews
Mr. Marino
Mr. E. Nosburg
Mrs. L. Nosburg
Mr. F. Peratta
Mr. J. Pajurs
Mr. F. Ramon
Mr. Rabbiosi
Mrs. Mf Rabbiosi
Miss A. Rabbiosi
Mr. J. Sulpicy
Mr. O. Sching
Miss M. Stevenson
Miss E. Seamann
Mrs. F. Singer
Miss P. Singer
Master M. Singer
Master M. Singer
Mr. R. Semen
Miss Turner
Mr. S. Tubenshlak
Mrs. A. Vaio
Master A. Vaio
Master L. Vaio
Master G. Vaio
Miss N. Wolkow
Mrs. N. Wexler
Miss L. Wexler
Mr. Stanley Wens
Passengers Not on Board
Miss S. Benazet
Ma S. Hang
Mr. J. Herrmann
Mrs. J. Hermann
Mr. Kirraco
Mrs. C. Mijan
Miss M. Mijan
Mrs. A. Maio and party
Miss A. M. Sermolins
Mrs. E. Smiih
Miss J. Sudan
Miss N. Volk
Mr. Vosberg
Mrs. Vosberg
Miss Warin
RECAPITULATION
Cabins . 331
3. class. . . 43
Total . . 374
Information for Passengers (Subject To Change)
Going to New York :
All baggage (excepting hand bags, etc.) must be checked at Gare St. Lazare the day before departure. Cabin trunks will be sent direct from the steamer train to the proper cabins.
Passengers are cautioned that the utmost care should be taken in filling out the questionnaire for the United States Immigration authorities, as any error may result in considerable inconvenience, or possibly in detention of the passenger. Great care should also be exercised in filling out the United States Customs declarations, showing the exact number of fesobaggage, listing a llarticles full acqu iredd inceleav leaving hettedkaands,ngthevaiuef such articles.
Returning citizens are entitled to free entry of one hundred dollars worth of goods acquired abroad. In filling out this declaration, a close adherence to the directions given thereon will obviate a great deal of delay on reaching New York.
Arrival in New York .
All hold and cabin baggage is removed from the steamer as quickly as possible upon arrival, and is placed on the pier beneath the letter corresponding to the initial letter of the passenger's last name. When all baggage has been assembled, the passenger presents, at the Customs desk, the numbered slip torn from the bottom of the declaration, and an inspector will be assigned to examine the passenger's baggage
The receipt for baggage checked at Gare St Lazare before departure from Paris will be taken up by a representative of the Company's baggage department as the passenger passes out through the Customs barrier in New York
The Company's Baggage Master on the Pier, will, on request, check baggage to home, hotel or railroad station.
Representatives of railroad. telegraph, and express companies will be found on the pier, at the service of Passengers.
Telephone booths are located on the pier for local or long distance service.
Public taxicab stands are located in front of the pier.
Information Bureau and Wireless.
Passengers desiring any special information are respectfully requested to apply to the passenger Information Bureau in the Purser's Office
The steamer is almost always in communication either with shore stations or passing steamers. Information may be given regarding rates and messages will be received for transmission. No member of the Ship's staff other than those on duty is authorized to accept such communications. Passengers are requested to ask for a receipt on the Company's form for the telegram.
Changes In Accommodations :
No changes can be made in the accommodations of Passengers except officially by the Purser.
Tourist Information Bureau :
A tourist information bureau has been established on board of the Paris and is in charge of a competent representative of the Office National du Tourisme Here all travel and tourist information may be obtained, reservations made for hotels, steamers, railroads, and automobiles and necessary tickets secured.
North African Motor Tours:
Full information, reservations and tickets for the North African Motor Tours, conducted by the Compagnie Generale Transatlantique may be obtained at the Purser's Office.
Baggage Insurance :
Passengers are urged to insure their baggage, as the French Line's liability is strictly limited in accordance with the contract ticket. All inquiries regarding baggage should be made to the baggage master on the pier before sailing, or to the baggage master on board.
Valuables :
The French Line cannot accept responsibility for money or valuables kept in staterooms. They should be left at the information bureau for deposit in the ship's safe. No charge being made for the carriage, the French Line cannot accept any responsibility for loss or damage, however, arising but Passengers can protect themselves by insurance.
Exchange of Money :
For the convenience of Passengers, the information bureau attendant is prepared to exchange a limited amount of money : rates will be quoted on application.
Claim, Etc.:
Passengers desiring so file letters of claim, commendation, or complaint, are requested to present them to the Purser.
Recovery of U.S. Head Tax :
All aliens sixteen years of age and over are required to pay a United States Government Head Tax of $8.00 at time of purchasing their tickets for the Westbound voyage. Children under sixteen years, when accompanied by father or mother, are exempt. Aliens in transit through the United States, or on a temporary visit not exceeding 60 days, can secure refund of this Head Tax, providing they inform the U. S. Immigration Inspector, on arrival at New York, of their intention to leave the United States within 60 days, and obtain from him Transit Certificate, form 514. This certificate must be signed by the Conductor of the Train or Purser of the Vessel on which the passenger leaves the United States, and returned to the Company's Office at 19 State Street, New York City within 120 days from date of arrival.
Post Office
A Post Office under the management of a representative of the French Government Postal Service is on board, where postal money orders, stamps and post cards may be obtained, mail registered, and all usual post office business transacted.
Passengers' addresses :
Passengers' addresses may be left at the Information Bureau, in order that any letters received after Passengers have left the ship may be forwarded.
Passengers may have Mail, Telegrams and cables sent to the care of any of the French Line Chief Offices.
Meals :
Meals will be served as follows :
Breakfast 7 to 9:30 am 7 to 8:30 am
Luncheon 12:15:00 pm Noon
Tca 3 to 5 P.M 3 to 4:00 pm
Dinner 7:30 pm 7 P. M.
tj mongais.
is sounded half an hour before and at the beginning
Seats at Table :
Seats at the dining-tablks are assigned by the Second Steward irnmediatly after sailing, governed as far as possible by the wishes of the Passengers. Children are not entitled to scats in the main dining-saloon unless full fare is paid.
Smoking :
Passengers are requested not to smoke in the dining rooms, Music rooms, Library, or Staterooms.
Wines :
Wine is served without charge at luncheon and dinner during the voyage. When ordering special wines, champagnes. cordials apertifs, ctc., Passengers are requested to sign cards at table. Accounts for these will be presented at the end of the voyage by the dining room sergeant to W horn payment should be made.
Bar :
The bar opens at 7.30 am and closes at 11:00 pm, but it is within the discretion of the Captain, at any time during the voyage, to close them, should he consider this course advisable.
Professional Gamblers
Passengers are informed that professional Gamblers are reported s frequently crossing on Atlantic Steamers, and are warned to take precautions accordingly.
Ice Room :
The Ice Room is at the disposal of Passengers who disire to preserve fruits, flowers, or other perishables during the voyage.
Baths
Passengers will please arrange the hours for their baths with the bathroom steward or stewardess.
Berth-Ladders
These may be obtained on application to the steward or stewardess.
Chairs and Ruggs :
Deck chairs can be hired from the deck steward at a charge of 01.50 each for the duration of the voyage. Steamer rugs are also available at 01.50 each. Chair cushions can also be arranged for with the deck steward. Blankets and pilllows must not be taken from the staterooms for use on deck.
Medical Attention :
The ship's Doctor is at the disposal of Passengers requiring his professional services, for which no charge is made. In all cases, medicine will be furnished free by the Company when prescribed by the Doctor.
Barber :
The barber-shop is open from 8:00 am to Noon and 2 P. M. to 7:00 pm, and a fixed tariff of charges is posted therein. The barber is also allowed the privilege of selling various articles.
Hair Dressing :
The ladies' hiardressing parlor is open from 8:00 am to Noon and 2:00 pm to 7:00 pm, and a fixed price-list may be found posted there.
Dogs :
Dogs will be carried at the owner's risk, in the kennel, at the rate of;15.00 each and tickets for them should be obtained at the time of securing passenger's own ticket. In instances where this has not been done, the Purser is authorized to collect the charges. Dogs to be landed in England require a special license from the Secretary of Agriculture in London. Without such license they will not be received on board ship. There are no restrictions as to the landing of dogs in France.
Cleaning of Shoes :
Shoes kit outside of cabin doors in the evening will be cleaned free of charge. However, the French Line accepts no responsability for thefts resulting from passenger taking advantage of this service.
Church Services
Mass on Sunday at 9:30 am in the grand salon
Deck Games and Amusements :
Golf, Croquet, Bull Board, Shuffleboard, Deck Quoits, Tonneau and other games are provided on deck and may be had from the deck steward on application. Chess, Checkers, Dominos, Jacquet, etc., can be had on application to the lounge or smoking room stewards.
Photographic dark room :
A dark room fitted with all necessary equipment is available for use of Passengers.
Library:
A large and well-chosen library is at the disposal of Passengers and books rnay be obtained from the steward in charge, subject to the rules of the Company. Passengers are urged in the interest of their fellow-Passengers, not to delay in returning books to the library after they have been read. The full value of lost or damaged books must be paid Eiy the borrower.
Picture Postcards :
Picture postcards and sectional views of the steamer can be obtained at the library
Orchestra
An orchestra of professional musicians is on board and plays every day.
Cie G. TRANSATLANTIQUE
Mail Service
Paris - Havre - New York.
By the twin screw steamer
"LA SAVOIE"
Gross tonnage 11.900 — Displacement 17.400
Horse power 22.000
Length 583 ft Width 60 ft
The S/S " LA SAVOIE " is equipped with long distance wireless telegraph; also with the Bell Safety Signal which signals at a certain distance the approach of other vessels and adds in the safety of steamers, especially in case of fog.
The hull of the S/S " LA SAVOIE " is divided into numerous waterlight compartments, automatically aperated from the Bridge in case of danger.
The S/S " LA SAVOIE " in also equipped with a complete system of fire signals consisting of electric lamps and bells.
The MAGIC of ISLAM
French Line
North AFRICAN Motor Tours
In an Enchanted Land
September 15 th to May 15 thj
Delightful Trips by Luxurious Motor Among the Living Pages A At" Arabian Nights "—A Gr.t Travel Adventure, Easily Accessible to the Tourist, Through the " Garden A Allah " to the Edge of the Great and Mysterious D.ert of Sahara.
Than tours are conducted by the Compagnie Generale Transatlantique in cc test with its splendid fleet of fast trans-Atlantic steamers between New York-Havre-Paris and its Mediterranean and North African services.
This tour service embraces quite a number of different itineraries, in connection with which may also be taken various side trips. The cost includes all expenses, good first-class cabins of the Company's mail steamers,all hotel accommodation and meals, table wine, lunch en route, motor journeys, caravans, servic. of guide, gratuities, etc, so that the traveller may know, before setting out, exactly what the journey he has selected will cost him.
The Company has erected a series of some 24 hotels at the various beauty spots at which its cars stop and it is grace to these hotels that the Tours are rendered possible, for there is no other accommodation whatever in most of the spots. These hotels, styled Transatlantique remain under the direct management of the Company and offer every comfort being equipped with all conveniences, bathrooms, shower baths, etc, whilst the Cuisine is in the same splendid style as found aboard the Company's steamers so that, be the traveller in the most out of the way oasis or amidst the sands of the Sahara he is assured of every comfort for the inner as well as the outer man. For example : at F. the Company has purchased a former Moorish palace and here the tourist is regaled in Moorish fashion amidst the original surroundings for everything has been most carefully preserved intact.
A feature of the tours is that at several chosen spots open air camps have been erected. These are of course provided with proper hotel beds" bathrooms and conveniences, so the tourist may pass the African nights under canvas, an experience of sheer delight.
The Company will be glad to answer all enquiries and to advise travelers in the selection of a tour. All information is given on board at the Tourist Information Bureau
QUICKEST Route To Japan and China
(Yokohama, Kobe, Nagasaki, Shanghai and Houghong)
Through bookings via United States
S a i' in from Havre by the Fen c hine fine steamers
in connection t San Francisco it steamers of foy ahn
Kaisha.
The special through rate to Pacific Ocean points includes First Class berth on the Atlantic steamers and similar accomodation on the Pacific Ocean steamers, also First Class on American rails. Passengers desiring to have higher rated berths on steamers will be charged the difference in the Ocean Rates. Particulars given on application. Passengers will also be required to pay the cost of meals and sleeping berths on American rails