SS City of Baltimore Passenger List - 24 July 1937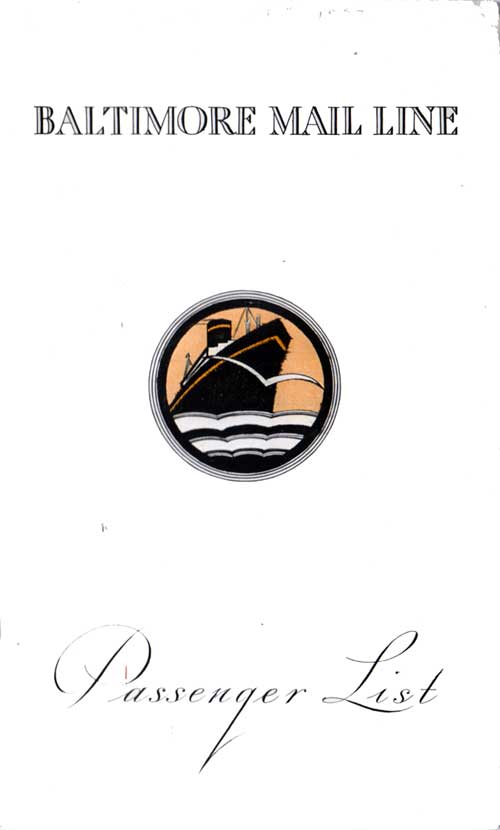 Front Cover of an Annotated Passenger List for the SS City of Baltimore of the Baltimore Mail Line, Departing 24 July 1937 from Hamburg and Southampton to Norfolk and Baltimore, Commanded by Captain F. E. Cross. GGA Image ID # 1739925bf9
List of Senior Officers:
Captain: F. E. Cross, Lt. Cmdr., U.S.N.R
Chief Engineer: A. Petrie, Lt. Cmdr., U.S.N.R
Chief Officer: D. R. Phoebus, Lt., U.S.N.R
Purser: Ray Cleveland
Surgeon: Ashur R. McComb, M.D
Chief Steward: Emile Bascz
List of Passengers
Mr. Joseph Amstutz
Mrs. Norman H. Angell
Master John H. Angell
Miss Bessie J. Ansell
Mr. J. F. Bartlett
Mrs. Bartlett
Miss Augusta H. Binford
Mrs. Josephine Booher
Mrs. M. C. Broome
Miss Barbara Broome
Mrs. James Brown
Miss Betty Brown
Master David Brown
Master Douglas Brown
Mrs. Eva G. Burns
Mrs. R. H. Campbell
Mrs. Thornton Chase
Miss Martha Chase
Dr. Arthur M. Chatham
Mrs. Chatham
Miss Ellen B. Chatham (Note 1)

Mrs. Elizabeth Chilton
Major Maximilian Clay
Mrs. Clay
Miss Virginia Clay
Dr. Martin Cooley
Mrs. Cooley
Mr. A. P. Drury
Mrs. Drury
Mrs. M. A. Dunnegan
Capt. Elliott Fishburne
Miss Proebe Fleming (Phoebe?)
Mrs. Constance Fletcher
Mrs. Mae Gatling
Miss Wilma Goff
Mrs. H. A. Grant
Mrs. E. A. Hahn
Mrs. Edith Hecht (Note 2)

Mr. B. A. Hermes
Mrs. Hermes
Mr. Hermann Holzgreff
Mrs. E. G. Keith
Mrs. Marie Lage
Mrs. F. A. Lawrence
Master David M. Leach
Miss Stepanka Mala (Štěpánka Malá)
Mr. George Menke
Mrs. W. H. Mennigke
Mrs. D. B. Moorhouse
Miss Eleanor Mulliken
Miss Margaret Oliver
Miss Elizabeth L. Oliver
Dr. Helen T. Ratterman (Note 3)

Mrs. Elizabeth Rees
Miss C. A. Roberts
Mrs. F. E. Robinson
Dr. A. Rowbotham
Mrs. Rowbotham
Miss Sara Rowbotham
Judge Carl Runge (Note 4)

Miss H. Schmidt
Mr. Richard C. Scott-Williams
Mrs. M. W. Stewart
Mrs. Frank Suttell
Mrs. Ellen Travis
Mrs. E. Murray Tyler
Mrs. H. L. Varian
Mr. C. A. Wittig
Miss Mary Woodworth
Passenger Notes
Note 1: Nursing Student - Western Reserve University School of Nursing, Cleveland, OH (See The American Journal of Nursing, Vol. 32, No. 5 (May, 1932), pp. 577-579).
Note 2: Her husband, Dr. Reuben Hecht (1909-1993) established in 1973 the Herzl Institute for Research and Study of Zionism and in 1974 the Reuben Hecht Chair in Zionism. In 1984 he established, in the University of Haifa, the Reuben and Edith Hecht Museum.
Note 3: Women's Lawn Tennis Player circa 1915
Note 4: Judge of Civil Court, County of Milwaukee, City of Milwaukee