SS Rex Passenger List - 9 August 1938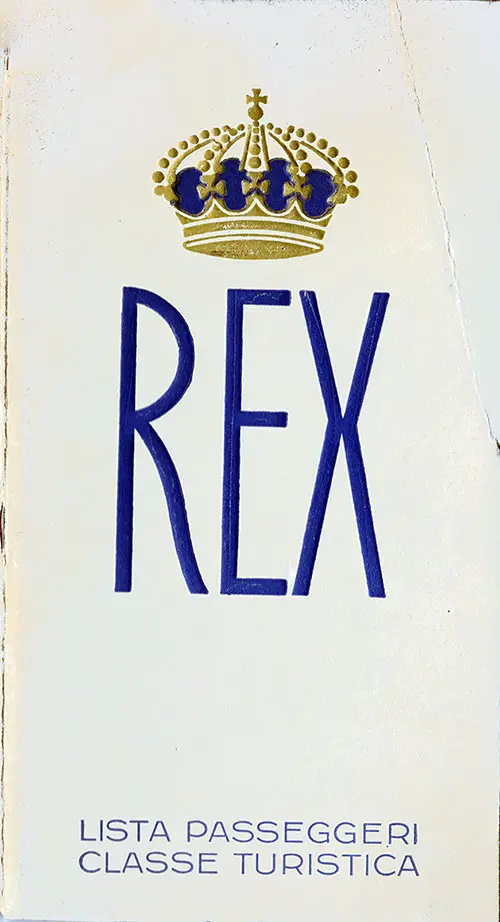 Front Cover of a Tourist Class Passenger List for the SS Rex of the Italia Line, Departing 9 August 1938 from Naples to New York via Genoa, Cannes, and Gibraltar, Commanded by Captain Giorgio Cavallini.
Senior Officers and Staff
Captain Cav. Uff. Cap. Giorgio Cavallini
Staff Captain Cav. Uff. Cap. Pasquale Pezzuto
Engineering Director Cav. Uff. Vittorio Badaracco
Chief Engineer Cav. Renato Regolini
Physician Dott. Cav. Luigi Gullini
Physician Dott. Cav. Marcello Antonio Di Re
Purser Comm. Luigi Pesenti
Assistant Purser Cav. Costanzo Defferari
Tourist Official Cav. Leopoldo Ottaviani
Chaplain Monsignor Umberto Cassani
Steward ERNESTO PerONI
Tourist Class Passengers
From Naples
Mr. Carmelo Attard
Miss Dolores Asiano
Miss Rosa Asiano
Mrs. Therese Acampora
Mr. Amedeo Amoroso
Mrs. Susan Antcniello
Mr. Anthony Antoniello
Mrs. Luigia Ascatigno
Mr. Giuseppe Aguglia
Mrs. Paolina Marchese in Aguglia
Miss Eva Altieri
Mr. Joseph Andronaco
Mrs. Sadie Andronaco
Mr. Pacifico Antonelli
Mr. George Alden
Mr. Chas Beatty
Mrs. Chas Beatty
Mr. Charles Bache
Mrs. Charles Bache
Miss Joan B. Battin
Mr. Vito Leonardo Bruno
Mrs. Geraldine Bruno
Miss Marie Bruno
Mr. Alfredo Berrettini
Mr. Frank J. Bovey
Miss Eve Bovey
Rev. John Bonet Ginart
Miss Filomena Barbano
Sister Mary Genevieve Burke
Mrs. April Bert
Mr. George Burkot
Mrs. Robert Burke
Miss Vera Burke
Mrs. Estrea Bagtas
Mrs. Maria Bersani
Mr. Lyndon Crawford
Miss Clarice Coke
Mr. Achille A. Chiappetta
R. Padre Alberto Consalvo
Mrs. Maria Chiusolo
Miss Anna Chiusolo
Miss Lucia Chiusolo
Mr. Mario Chiusolo
Mother Grace Cronin
Mr. Angelo Caci
Mrs. Marietta Siracusa Caci
Miss Gertrude Clausen
Mr. Mariano Costa
Mrs. Costantina Costa
Mr. Thomas Christy
Master Thomas Christy Jr.
Mrs. Penelope Christy
Miss Hellen Christy
Mr. Michele Chiascione
Mrs. Lucia Chiascione
Mrs. Laura Cella
Miss Beatrice Cella
Mr. Ralph M. Carson
Mr. Mario Cavalli
Mrs. Mario CavaIli
Miss Mary Elizabeth Conway
Rev. Gabriele Catalano
Miss Maria Catalano
Miss Rosa C atalano
Mrs. Eugenie Cameron
Mrs. Natalie H. Cameron
Miss Victoria M. Christensen
Mr. Nicholas Carvelos
Mr. Harold Chinn
Mrs. Panagiota Carvelas
Mr. Ignazio Dispenza
Mrs. Domenica Dispenza
Mother Hortense Doyle
Mother Agnes Donavan
Mrs. C. W. Durbrow
Mr. Angelo De Felice
Mr. Nicola Di Spazio
Mrs. Antonietta Di Spazio
Mr. Stephen Dondero
Miss Beatrice Dondero
Mr. Alessio Di Giaimo
Mrs. Concetta Di Giaimo
Miss An a De Mattia
Mrs. Bracha Dworman
Miss Menachem Dworman
Miss Lucrezia R. Donati
Mrs. Vincenza De Vito
Mr. Giuseppe Di Bari
Mrs. W. E. East
Mr. Thomas Fifield
Miss Edith A. Farnham
Rev. Padre Antonino Franco
Mother Carmen Florit
Mother Mary- Fitzpatrick
Mr. Luigi Felice
Mr. Jose Carlos Ferreyros
Mr. Sabino Ficca
Mrs. Annina Ficca
Mr. Pietro Fiorentino
Mr. Vincenzo Ferreri
Mother Guadalupe Marron-Alonso
Dr. James C. Graves
Mrs. James C. Graves
Miss Ruth E. Graves
Dr. Amy M. Gilbert
Mr. Joseph Guzzino
Mr. John J. Garruto
Mrs. John J. Garruto
Mr. Joseph Galletta
Mrs. Josephine Galletta
Master Domenick Galletta
Mr. Charles H. Guptill
Mrs. Fortunata Giammaria
Mr. Vincent Gatto
Mr. Pietro Giunta
Mrs. Grazia Giunta
Miss Alice L. Goldfield
Mrs. Dora Goldsrein
Prof. John Uray
Miss Assunta Gasperi
Mrs. Helen G. Halley
Mother Helen Healy
Mrs. Helen Jensen
Miss Joyce K. Jones
Mother Elizabeth Kraemer
Mother Brigid Keogh
Mr. Melville Keating
Mrs. Melville Keating
Mr. Hanns Klein
Miss Jane Key
Mrs, Katherine Keogh
Mr. William Keough
Mrs. Helen Kootsikas
Master John Kootsikas
Sister Mary Philip Lavelle
Mr. frank Laporte
Miss Nellie Laporte
Mrs. Serafina Lonano
Miss Vivien Lonano
Mrs. Rosaleia Longo
Mr. Pasquale Leone
Mrs. Antoniatta Leone
Mr. Leo Low
Musician Composer
Leo Low (1878-1960) One-time director of the prestigious Hazomir Choral Society, Leo Low, born in Wolkowysk, Russia, was a composer of both secular and liturgical music, a prominent choral conductor, and a champion of Jewish/Yiddish choruses
Mrs. Bertha Low
Mr. Michael Lazzo
Mrs. Evangeline Lazzo
Master Nicholas Lazzo
Miss Eugenia Lazzo
Sister Mary Wilfrid Mulcahy
Sister Mary Xavier Mc Quode
Mrs. Vincent Maini
Miss Lina Margherita Maini
Miss Benedetta Vittoria Maini
Mr. Alexander Motti
Mr. James Masi
Mrs. James Masi
Mr. Nicholas Merrick
Miss Francesca Messana
Miss Ida Miglionico
Mr. Ralph Manganaro
Mrs. Ralph Manganaro
Mr. Jay Mancuso
Mr. Philip Mongiovi
Mrs. Josephine Mongiovi
Miss Helen Mongiovi
Mrs. Vincenza Manuto
Mr. Nicholas Mazzarelli
Mrs. Antonia Mazzarelli
Mr. Anthony Modica
Mrs. Anthony Modica
Mrs. Reta R. Mc Even
Mr. A. Nocella
Mrs. A. Nocella
Mr. Ernest Nathan
Dr. Salvatore Novello
Miss Mildred Ozersky
Mother Aileen Purtell
Miss Bessie Post
Miss Vora Prickett
Mr. Vincenzo Picone
Mrs. Rose Picone
Miss Eleanor P. Picone
Mr. Phillip Pisciotta
Mrs. Phillip Pisciotta
Mr. Wilford Pisciotta
Mr. Phillip- Jr. Pisciotta
Miss Georgia Paciarelli
Mr. Angelo M. Paladino
Mrs. Anna M. Paladino
Miss Helen Paladino
Miss Maria Paladino
Miss Anna C. Paladino
Miss Carmela Paladino
Miss Mary L. Pelloni
Mr. Philip Pensovecchia
Miss Caterina Pomponi
Mr. George Pappas
Mrs. Lambrini Pappas
Master Anastas Pappas
Mrs. Nicolina Poglese
Miss Pauline Pace
Mr. Giuseppe Prinzo
Mrs. Degnamerita Infante
Mrs. Filomena Infante
Miss Dorotea Valvano
Mr. Alfonso Passarelli
Macch. Nay. Giuseppe Rasera
Mr. Antonio Renella
Miss Agnes Raddatz
Mother Mary Sessions
Mother Ann Stoepel
Mrs. Rosaria Stancampiano
Miss Giacoma Crinzi
Mr. Joseph Saponaro
Mrs. Joseph Saponaro
Mrs. Ctirlee Shelby H. Jr.
Master Curlee Shelby IV
Mr. Robert H. Sherwood III
Mrs. Gertrude F. Struble
Miss Lulu A. Saunders
Mr. Arestedes Strenglis
Mrs. Helen Strenglis
Miss Politimi Strenglis
Miss Marea Strenglis
Mr. Louis R. Saporiti
Mrs. Louis R. Saporiti
Cap. Santo Cay. Scuderi
Ten. Giorgio Sbezzi
Mrs. Evelyn Spadaro
Mr. Vito Sanfilippo
Miss Anna Smith
Mr. Nicola Saggese
Mrs. Maria Saggese
Mr. Gerard Saggese
Miss Josephine Saggese
Mr. Athas Sackos
Mrs. Alexandra Sotrop
Mr. Ernest Sotrop
Miss Maria Sotrop
Miss Marion Sharkey
Mr. Emil L. Seda
Mr. Joseph Samia
Mrs. Ester N. Danesi Traversari
Miss Anna Tirocchi
Miss Angelina Taranto
Miss Anna Taranto
Miss Priscilla Tyler
Mrs. Rosaria Todaro in Talluto
Mr. Roberto Traina
Miss Sally Van Schaick
Miss Adele Ventura
Mr. Patsy Voci
Mrs. Angiolina Voci
Mrs. Lena Vogel
Mr. Herbert Vogt
Rev. Norman T. Weyand
Arch. Walter Weisz
Miss Alice Weisz
Dr. Arnold A. Zacchino
Mrs. Arnold A. Zacchino
Miss Anna Zalokar
From Genoa
Mrs. Lucy Argan
Mr. Roberto Andreini
Mrs. Corinne Bono
Mr. Ferdinando Barbero
Mrs. Carolina Barbero
Mr. Victor D. Brooks
Miss Mary Blair Bartlett
Mrs. Emma Bachechi
Mr. Arnold Bellini
Dr. Paolo Beccaria
Mr. Emilio Bagnasacco
Mrs. Marcellina Borgatello
Miss Augusta Borgatello
Mrs. Lucia Bosco
Miss Teresa Bongiovanni
Mr. Battista Broglino
Mrs. Rose Broglino
Sister Marla Barth
Mr. Victor Brooks
Mrs. Marianna Boscarino
Dr. Geo A. Corio
Mr. Alex Cugini
Mr. Mario J. Chirico
Mrs. Joseph A. Clair
Mr. Albert Campassi
Mrs. Marguerita Corotto
Miss Lorraine Corotto
Master Gene Corotto
Mr. Antonio Corso
Mr. D. Celli
Miss Norine Clark
Hon. D. Joseph De Andrea
Mrs. D. Joseph De Andrea
Mr. Ernesto D'Alessandri
Mr. Felix Devoti
Dr. Ernst Th. Duschak
Mrs. Klara Duschak
Mrs. Paola Darui
Miss Concetta De Martino
Mr. Giacomo Einstein
Miss Alice Fried
Mr. Egon Fried
Mr. Hans Fried
Dr. Louis Fratello
Mrs. Louis Fratello
Mrs. Lizzie Fantozzi
Mrs. Maria Fantozzi
Mrs. Emmie Franck
Mr. Cesare Giachetti
Mrs. Godeglia Giachetti
Dr. Med. Rapolas Gordonas
Miss Socorro Garfias
Mr. Max Goldbaum
Mrs. Ellinor Goldbaum
Miss Irene Goldbaum
Miss Susi Goldbaum
Miss Jeanne Giganti
Sr. M. Margaret Gergely F.D.C
Sr. M. Melissa Gubicza
Mrs. John N. Gilbert
Mrs. Wilbur C. Gilbert
Miss Elisabeth Gilbert
Miss Doroty Hill
Sister Franzisha Herbstrith
Mr. Manfred Hecht
Mr. John A. Hughes
Miss Frances Keene
Rev. Louis La Ravoire Morrow
Mr. Leo Lob
Mrs. Carolina Lombardi
Mrs. Teresa Lucozzi
Master John B. Lucozzi
Mrs. Domenica Lenzini
Mr. Fred Miller
Dr. John W. MacDonald
Mrs. John W. MacDonald
Dr. William C. MacDonald
Mr. Angelo Morelli
Rev. Silvio Masante O.S.J.
Hollywood Press Correspondent
Mrs. Maria Magario
Mr. B. Monge
Mr. Siegfried Manber
Mrs. Fanni Manber
Mr. T. Micheletti
Mr. Espartero Melchiorri
Miss Evaline Merchant
Miss Enrichetta Migli Morandi
Mrs. Rachele Marzoli
Mr. Walter Meyer
Mrs. Esther Meyer
Master J. Herbert Meyer
Master Daniel Meyer
Miss Rosina Mitchell
Miss V. Mary Murphy
Miss Florence Misgen
Mr. Giovanni Moirano
Mr. Ezra Nasser
Mr. Charles Owen
Mr. M. Aaron Orange
Mrs. Pauline S. Orefice
Mr. Richard Orefice
Mr. Joseph Priolo
Miss Jane F. Priolo
Mrs. Angelina Puleo
Miss Anna Puleo
Mr. Giovanni Pramaggiore
Miss Adelaide Pramaggiore
Mr. Guillermo Grijullo Pomposo
Mrs. Josefine Pohl
Mr. Peter Pohl
Mr. Elio Petri
Mrs. Agnes Piaui Leon
Mr. Giacomo Pensa
Miss Mary Piantino
Sister Otti Riedel
Mr. John P. Rostan
Mrs. John P. Rostan
Dr. Oscar Rodin
Mrs. Oscar Rodin
Mr. Ricardo Rossi
Miss Julia Ryan
Mrs. Harold P. Schoonmaker
Mr. Peter E. Schmitt
Mrs. Maria Salamone
Mr. Norman H. Snow
Mrs. Norman H. Snow
Mr. Geoffrey T. Somers
Mrs. ieoffray T. Somers
Miss Elizabeth Sager
Miss Margaret Schaffer
Mr. T. R. Schweiger
Sr. M. M. Toth F. D. C
Miss Margaret Taylor
Miss Lilian Taylor
Mr. Willi Theiner
Mrs. Marie Theiner
Mr. Joseph Tosi
Miss Adele C. Tosi
Mrs. Louisa Tosi
Sr. M. Hilaria Takab F. D. C
Mrs. Walter Voight
Miss Aileen Voight
Mr. Wolfgang von Eckardt
Miss Margaret M. Walsh
Dr. H. A. Wakefield
Sr. M. Margaret Melinda W. F. D. C
Mrs. Sophie Wormann
From Cannes
Dr. Irving Applebaum
Mrs. Irving Applebaum
Dr. Erich Adler
Mrs. Liese Adler
Mr. F. Ralph Breitenstein
Mrs. Helen Sheahan Chewning
Miss Helen Chewning
Mr. Charles Carroll
Mrs. Gertrude Casbarro
Mr. Louis Casbarro
Miss Margaret Downs
Mr. John H. Dietrich
Mrs. John H. Dietrich
Miss Emilie Furstenberg
Mr. Pilade Fabiani
Mrs. Olga Fat
Mr. Theodore Fabiani
Mr. Charles Fabiani
Mrs. Peter L. Gordon
Mr. H. Stuart Hughes
Miss Cay Hillegas
Miss Eleanor Frances Jackson
Mr. Earl N. Keefer
Mrs. Earl N. Keefer
Mr. J. G. Moore
Miss Margaretta Q. Nelson
Mrs. Roscoe W. Phillips
Mr. Kenneth Swartwood
Mrs. Marjorie B. Swartwood
Mr. Fullerton Wells
Mrs. Fullerton Wells
Miss Mildred Zeitlin
From Gibraltar
Mrs. Dolores Blanch Vila
Miss Dolores Munoz Blanch
Miss Carmen Munoz Blanch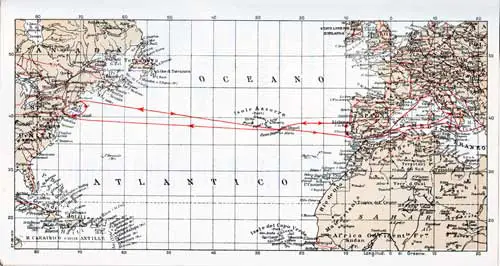 Track Chart for 9 August 1938 Passenger List, SS Rex, Italia Line
General Information for Passengers
Berthing of Passengers - No alteration in Cabin can be made except through the Purser. Receipt for any difference paid, as per the Company's fixed Tariff, will be given to Passengers by the Purser, who will also duly note on passage tickets changes of accommodation.
Medical Attendance - For medical and surgical attendance to Passengers, ship' s surgeons are entitled to professional fees, to be charged as per published schedule, available at Purser's Offices.
Said medical and surgical attendance will be free of charge, if Passengers are suffering from seasickness, or are affected by infirmities or injuries deriving from statical conditions of the ship or in any way pertaining to navigation, and also in cases of contagious diseases which are subject to denunciation.
Return accommodation - For the convenience of those Passengers who may be returning from the United States to Europe and have not yet made the necessary arrangements, the Enquiry & Travel Office will be pleased to radio the New York Office for any accommodation required. This will enable Passengers to complete their arrangements before leaving the steamer and will consequently save them time and trouble.
Wireless Services — The vessels belonging to the Societa Italia are equipped with a most powerful and up-to-date radiotelegraphic plant. In this way the ships remain in communication with any part of the world by the medium of the chain of wireless stations on terra-firma.
All through the voyage, this vessel is in continuous touch with Italy, Europe, and the United States of America. Thus, the Marconigrams are transmitted, or received, direct; so that a quick service and a rapid exchange of business, or private, messages can be effected at any moment.
The Radiotelegraphic Station will be found on Sport Deck.
For the greater convenience of Passengers no Marconigrams arriving during the night will be delivered to Addressee before 7,30 a. m., unless the Passenger has expressly requested the Enquiry & Travel Office to hand him same at once on receipt during the night.
Mail Service — Three different types of messages can be sent from on board:
a) Marconigrams
b) Ocean radioletters (SLT) (reduced rates)
c) Marconigram - letters (OL)
Marconigrams — Messages of an urgent nature should be sent as " Marconigrams " and same are telegraphed right through.
A marconigram to Italy or to North America sent this way from steamer cost less than a cable sent from on shore at the ports of call.
Ocean Padioletters (SLT) — Are accepted at reduced rates for the United States and Canada. The service is of the deferred type. Registered addresses are not admitted such addresses to be written in plain language. Ocean Radioletters are sent by radio from steamer to one of the shore stations of North America who forward them to destination by air or ordinary mail.
Rate Italian lire 47,15 for 24 words, plus Italian lire 1.87 for each extra word.
Marconigram - letters (OL) — Are only accepted for Italy. The service is of the deferred type. Such messages are sent by wireless to any italian vessel proceeding to Italy and the receiving vessel arranges for the forwarding to destination by ordinary mail at first port of call in Italy.
Rate Italian lire 10.60 for 20 words, and Italian lire 1.00 for each extra word.
Night radiotelegrams for United States. - For Passengers convenience it was recently established a service of Night Radiolelegrams (NRT) to United States.
These messages are accepted at the Radio Office not later than midnight (ship's time) and delivered to destination next morning.
Messages are admitted in plain language only, but telegraphic address may be used.
The word (NRT) is to precede the address, and it is charged for.
Tariff
Per word . . . . Lit. 3,54 (equal to about It 0,19)
Service On Land — News can be sent to Passengers by their relations or friends, if these are residing in Italy, by means of Marconigrams transmitted to the vessel via "Coltanoradio".
Relations or friends resident in other European countries will find it advisable to forward their Marconi-grams, intended for the ship, by the medium of the aforesaid " Coltanoradio " Station, the vessel being in continuous communication with same.
Marconigrams can be presented at any Telegraphic Office, using the following Form of Address:
Passenger's Name
Vessel's Name
"Coltanoradio'
This is to be followed by the text.
Wireless Telephony Station — The vessel is also equipped with the most perfect and up-to-date radiotelephonic plant (ultra powerful "Marconi") for transmitting and receiving, therefore secures a regular service during the navigation, both with Europe, the U. S. A., Canada, Mexico and Cuba.
The normal range of this set of apparatus allows of direct communications from ship to North America, immediately after leaving Italy. As soon as the vessel has left America, Passengers can communicate with all the principal European Towns.
Suggestion and Complaints — Passengers are requested to ask for the Special Book, and insert in same any suggestions or complaints they may wish to make with regard to inconveniences noted by them in the Ship's Radiotelegraphic Service.
For full details and tariffs please apply direct to the Wireless Station on board.
Telephone Service on Board The Vessels at Genoa and Naples. — During the days of arrival &/or sailing of the vessels from the port of Genoa. as well as during the vessels' stay at Naples, both on outward and homeward voyages from New York, a telephone service (interurban) at tariff rates is made expressly available on board this vessel for Passengers' requirements.
A person appointed by the Telephone Company is on board at Passengers' disposal during the time established for the service in question.
Mail — Mail received after Passengers have left the ship is forwarded to the address furnished by them on the Identification Cards.
High Seas Mail — The Enquiry and Travel Office is acting also as oficial Agent of the Italian Post Administration; therefore accepts registered mail.
Banking Services - Passengers may avail themselves of the banking services (exchange of money, letters of credit, travelers cheques, banking enquiries, etc.) at the Bank located in the Entrance Hall, the care of which in entrusted to an Official of the Banca Commerciale Italiana.
A special booklet containing details of this service will be distributed to Passengers upon their request.
Important Notice.—Anyone entering or leaving Italy in allowed to carry a maximum amount in Italian cash money of 350 Lire
Exporting and importing of 500; and 1000 Lira Banknotes is prohibited.
Any amount found not in accordance with these provisions is seq uestered by Italian Custom Authorities.
Valuables - The Company is not responsible for loss or thr,ft of valuables, money, etc. Same should be handed to the Purser for deposit in his safe. In such cases valuables should be consigned under seal with the name of the depositor clearly shown.
No charge is made for such service and the Company accepts no liability in connection therewith.
Baggage Insurance — As the Company's liability for baggage is strictly limited, it is strongly recommended to Passengers to insure their baggage as, in the event of loss or damage to the same, the Company cannot under any circumstances, accept liability beyond the amount specified on the steamer contract ticket. - Baggage can be insured at the Enquiry & Travel Office, such insurance covering all risks on land or sea.
Passengers Are Not Allowed To Trespass the limit of their own class.
Lifebelts — A special board containing Instructions for the Use of Lifebelts is posted in every Stateroom. Passengers are requested to take notice of the above mentioned Instructions as indicated.
Professional Gamblers — Passengers are informed that professional gamblers seeking to play for high stakes, are reported as crossing on Atlantic steamers.
Cinema- Films — Passengers are strictly forbidden to keep cinema -films in their cabins. Such must be delivered to the Enquiry and Travel Office in order to be stored in a suitable rocm during the voyage.
Collections, charitable or otherwise are strictly forbidden.
For further information, please consult the "Ships' routine".
Useful Information for The Arrival at New York
Hotel Reservations in New York By Wireless - Telegram — Passengers may send, free of charge, wireless telegrams in code reserving accommodation at New York hotels. Full particulars may be obtained at the Enquiry & Travel Office.
Arrival at New York — Passengers are landed at the Pier 92 North River, where Passengers will find taxis, telephones etc. If the vessel arrives at the Pier after 8 p. m., Passengers have the option of remaining on board over night and landing after breakfast the following morning.
Landing Cards, Port of New York — Before leaving the vessel, holders must present landing cards to the U. S. Doctor and to U. S. Immigration Inspector for endorsement.
American citizen must present Landings Cards only to the U. S. Immigrants Inspector for the visa.
Delivery of Baggage in New York — Passengers are especially requested to claim their baggage before leaving the Custom' s Baggage Room on the Pier, as, otherwise, considerable delay and extra charge for carriage will be incurred in forwarding to destination any baggage not accompanying Passengers on the railway.
Forwarding of Passengers — For the convenience of all Passengers disembarking at our piers in New York who are destined to interior points, the Railroad Lines out of New York, as well as Steamship Lines for Boston have representatives on the wharf to meet Passengers and arrange to issue railroad tickets to all points in the United States, Canada and Mexico, as well as tickets to Boston, via steamer. These representatives will also arrange to check baggage from ours pier through to destination, relieving Passengers of the annoyance of purchasing their tickets at-the depot or of re-checking their Baggage. Transfer charges from our piers to rail depots or steamship dock must be paid by Passengers.
Recovery of U. S. Head Tax - This tax can be recovered by Passengers, if same has been paid, provided they inform the U. S. Immigration Inspector on arrival at New York of their intention to leave the U. S. within sixty days (the time prescribed by U. S. Law) and obtain from him Transit Certificate Form 514.
It is also necessary for Transit Certificate Form 514 to be handed to the Transportation Company, when complete, in time to allow same to be placed before the Immigration Authorities in Washington within 120 days of Passenger's arrival in the United States.
Unless this regulation is complied with, the Tax cannot be recovered.
Claims and Complaints - Passengers' criticism and suggestions relative to the services on board receive the most particular attention of the Company. Passengers are requested to address themselves in this connection either to the Captain or to the Direction, at the "Italia" Company's Headquarters, Piazza De-Ferrari, Genoa.