SS Saturnia Passenger List - 4 July 1950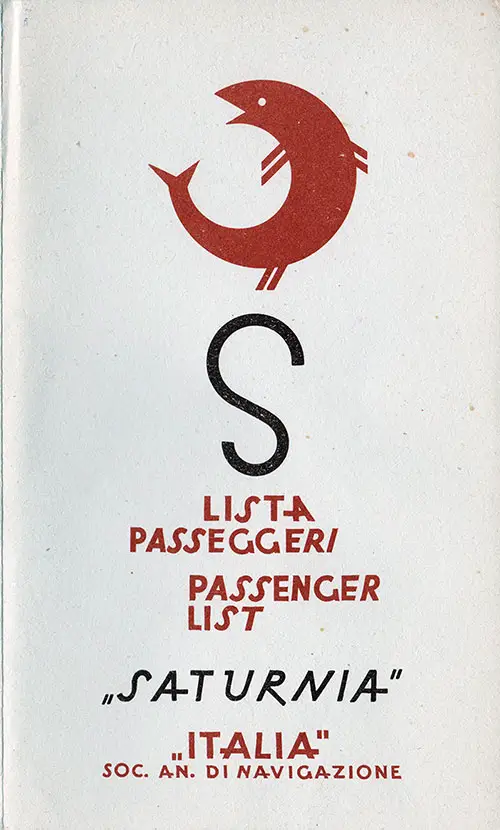 Front Cover of a First Class Passenger List for the SS Saturnia of the Italia Line, Departing 4 July 1950 From Genoa to New York via Cannes, Naples, and Gibraltar, Commanded by Captain Arrigo G. Gladulich.
List of Senior Officers
Commander Capt. ARRIGO G. GLADULICH
Staff Captain Capt. Mario Rossi
Chief Engineer Carlo lionig
Asst. Chief Engineer Guglielmo Cassutti
Chief Doctor Dr. Luigi Gullini
Asst. Chief Doctor Dr. Antonio Di Re
Chaplain Mons. Prof. Luigi Panigada
Chief Purser Emilio Empoldi
First Purser Antonio Sivelli
Tourist Officer Regis Straulino
Maitre d' Hotel Bernardino Savoldelli
Chef de Cuisine Ernesto Cavallini
Ports of Call
Genoa 4 July 1950
Cannes 4 July 1950
Naples 5 July 1950
Gibraltar 8 July 1950
New York 15 July 1950

First Class Passengers
Genoa to New York
Mr. Barbieri Joseph
Mrs. Boland Thornton P
Mr. Caselli Aldo
Mrs. Caselli Mina B
Miss Caselli Simonetta Cosima
Avv. Cetto A leardo
Mrs. Chamberlain Mac Veagh Anne
Mr. Entwistle Lovell J
Mrs. Entwistle Lovell J
Mr. Harper Hubert S
Mrs. Kelly J. T
Master Kelly Michael
Mr. Marchi Angelo M
Mrs. Marchi Anita
Miss Marchi Cecilia A
Rev. Mickun John
Mr. Minetti Louis
Mrs. Moore Charles E
Mrs. OSti Muriel
Mr. Padua=Latuf Francisco
MT. Wilson Burdette John
Mrs. Wilson Kalmar Ruth
Cannes to New York
Miss Auteri=01eri Agatha
Mr. Barry C. Victor
Mrs. Barry C. Victor
Miss Barry Lelia
Mrs. Cole William E
Rear Adm. Nichols Leroy C
Mrs. Nichols Hazel M
Miss Nichols Lee N
Mrs. Tourky O'Neil Mary
Miss Tourky Laila
Master Tourky Ramsy
Master Tourky Adel
Naples to New York
Dr. Aria Michael
Mrs. Atherton C
Dr. Azzolini Corradino
Mrs. Baxter Ruth
Mr. Bompard Ettore
Mrs. Bompard Franca
Mr. Borenstein Emanuel
Mrs. Borenstein Emanuel
Dr. Brocca Angelo
Mr. Cajelli Alberto
Mr. Cavezzali Paolo
Rev. Cogan John F
Rev. Deane Fr. Albert, Passionist
Rev. Madre Della Casa Antonietta
Superiora Generale de& Missionarie del Sacro Cuore
Baroness De Mattheis Mylena
Dr. Domini ci Luigi
Mr. Dorius Ralph W
Mrs. Fabry John C
Baroness Farina Luigia
Miss Leon Farina Nadia
Mrs. Gentile Raffaela
Dr. Ing. Gizzarelli Alfonso
Mr. Gowen Franklin C
Mrs. Gowen Franklin C
Dr. Guzzardo Baldassare
Dr. Lanzetta Gioacchino
Mr. Livingston John K
Dr. Merendino Francesco
Mother Michelini Elettra
Mr. Naclerio Salvatore
Miss Niggli Ursula
Mrs. Nunes Eugene R
Mr. Owens Thomas D
Mrs. Owens Thomas D
Countess Paolozzi Alicia
Miss Paolozzi Cristin a
Miss Paolozzi Francesca
Mrs. Papaleo Paolina
Rev. Parsons Neil J. C. P
Mother Pa storelli Luisa
Mr. Pezza Vincenzo
Mrs. Pezza Filomena
Mr. Porco Antonio B
Dr. Pulieri Giulio
Mrs. Randolph Mary
Miss Rogers Susan M
Dr. Sciacca Orazio
Marquis Dr. Spinola Gastone
Dr. Troisi Fortunato Maria
Dr. Venuti Francesco
Mr. Visceglia Frank
Mrs. Visceglia Rosalie
Mr. York Ralph A
Mrs. York Maria R
Gibraltar to New York
Miss Baker Norwood
Mrs. Bankhead Eugenia
Master Bankhead William B
Mr. Brackin Nelson L
Rev. Gartland John Peter
Mrs. Savage Kate M
Rev. White James P.