SS Colombo Passenger List - 7 September 1927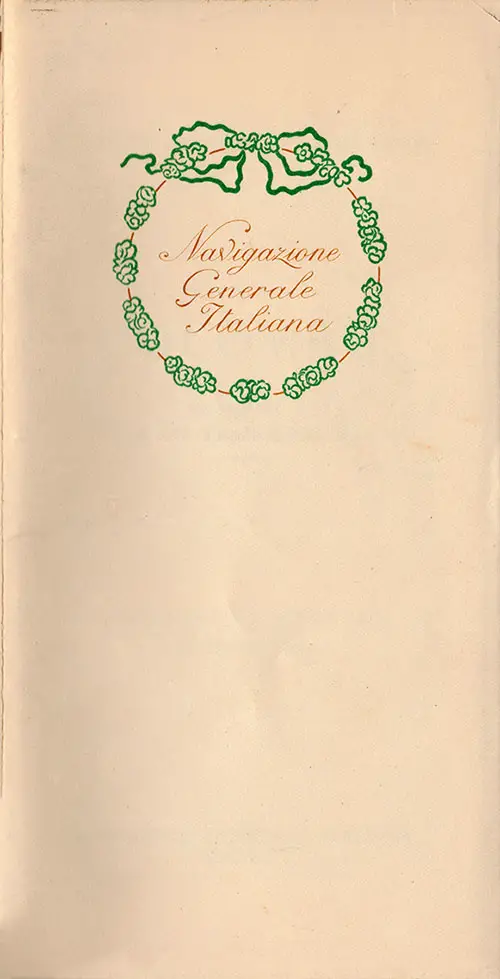 Front Cover of a One Class Passenger List from the SS Colombo of the NGI Line, Departing 7 September 1927 from Genoa to New York via Naples, Voyage 41 Commanded by Captain Cavc. Uff. Francesco Re. GGA Image ID # 1e6060ee3a
Senior Officers and Staff
Commander: Captain Cav. Uff. Francesco Re.
One Class Passengers
From Genova
Miss Rosa Andronaco
Mins Giuseppa Amisano
.Mr. Jeremy F. Bagster Collins
Miss Erzebet Barangai
Miss Helen L. Beccard
Miss Edith D. Beck
Miss Emma M. Bodeschzeiller
Mr. Ambrogio Besozzi
Miss Helen Blumenfeld
Mr. Fermo Barbero
Mrs. Geltrude Burattini
Mrs. Maria G. Bonetto
Mr. Leslie T. Chase
Mr. John B. Creighton
Mrs. Julia G. Creighton
Master Stuart Creighton
Mr. Julian Creighton
Miss Marjorie A. Coxiola
Miss Elvira A. Coxiola
Mr. Frederick Costa
Mrs. Luisa Costa
Miss Anita Costa
Miss Livia Chiozza
Master Eltore Chiozza
Miss Marcella Carlin
Mrs. Matilde Corte
Mrs. Frances De Francesco
Miss Margaret W. Eadie
Mrs. Virginia H. Fullenwider
Mr. Salvatore Ferraro
M r Corrado G. Ferrero
Mrs. Eugenia Ferrero
Miss Andrée G. Frey
Miss Agatha G. F. Fedsk
Master Attilio Ferrero
Miss Bernice R. Goedde
Mrs Lucia Gaddoni
Miss Teresa Gluck
Mrs. Amelia Giacometti
Mr. Hamilton H. Gilkynson
Mrs. Phoebe H. Gilkynson
Miss Grace W. Gilkynson
Master Hamilton H. Gilkynson
Miss Ruth Giacometti
Mr. Enrique M. Guisandes
Miss Louise E. Groisy
Mr. Edward L. Herrick
Mr. Leonard G. Haeger
Mr. Edgar J Higgins
Mrs. Olga F. Holly
Mr. Lester Keane
Miss Sara Kojek
Miss Carrie G. Lawler
Miss Helen C. Lockwood
Mr. Leicester S. Lewis
Miss Marie Legiardi Laura
Master Edmond Legiardi Laura
Mr. Aleraando Lazzari
Mrs. Eliaa Lazzari
Miss Gioconda Lazzari
Mr. Samuel Mc Cune Lindsay
Mrs. Anna R. O. Lindsay
Mrs. Andrey T. Lewis
Mr. Gabriele Lubrano
Mr. John Duff Mc Giloray
Mr. Lewis F. Mott
Mrs. Alice G. Mott
Mr. Frederick G. Morehouse
Mrs. Lilly L. Morehouse
Mrs. Franklin B. Mead
Master John Mead
Mr. Frank Mead
Miss Jane Rhea Massingale
Mr. Frederick Mathesius
Mrs. Irma Mathesius
Miss Eleanor Mathesius
Miss Elisabeth Mathesius
Miss Helen Mathesius
Miss Pauline Mathesius
Mr. Gaddo Marchesini
Mr. Pelio Marrani
Mr. Pietro Molinari
Mrs. Sadie F. Naples
Mr. Augusto Olivier
Miss Bertha Ortega
Mr. James M. Philputt
Mrs. Lilian Philputt
Mr. James De Wolff Perry
Miss Adelaide Peretti
Mr. Emilio Peretti
Mr. Guerino Peretti
Miss Rosa Palette
Miss Ester Ragghianti
Miss Lucia Ragghianti
Master Orlando Ragghianti
Mr. Salvatore Romaniello
Mrs. Battistina Romaniello
Miss Melanie Romaniello
Mr. Frederick G. Reynolds
Mrs. Helen M. Reynolds
Mr. Achille Ragghianti
Mrs. Settima Ragghianti
Mrs. Charlesetta Schaefer
Mr. Peter Sportino
Mrs. Teresa Sportino
Master Peter G. J. Sportino
Mr. Dante Salvetti
Mr. Giuseppe Sciarratta
Mrs. Eleanor B. Tappau
Miss Dalma Toledo
Mies Maria Traverse
Mr. Thaddeus Ughetta
Mrs. Madeline Ughetta
Master Frank Ughetta
Prof. Paul Valenti
Mrs. Rosa Vercelli
Miss Edith Vercelli
Mr. Henry B. Washburn
Mrs. Edith H. Washburn
Master Henry Bradford Washburn
Master Sherwood L. Washburn
Mr. Richard H. Wilson
Mrs. Marie L. Wilson
Miss Helen E. Woods
Miss Evelyn G. Webb
Mr. Charles A. Wager
Miss Rebecca Webb
Mr. Carlo Zuanelli
From Napoli
Mrs. Juana A. Allen
Miss Helene Allen
Miss Elisabeth Abbot
Mr. Hubert N. D. Arndt
Miss Louise Andres
Mrs. Clara Artigiani
Miss liosina Altieri
Miss Heuiamina Artigiani
Master Oino Acciaratti
Miss Ruth Bemis
Miss Margaret Brawley
Miss Margaret Biggs
Mr. Ernest Briggs
Miss Elizabeth Bund
Miss Mildred Battista
Miss Alpha W. Barlow
Mrs. Eleanor G. Board man
Mr. Raffaele Balsamo
Miss Helen Cruikshank
Master Luigi Coppola
Mr. William A. Cammann
Mrs. Catherine Cammann
Mr. Sidney Gone
Mrs. Bessie Cone
Master Frank Cone
Miss Marion Crissey
Miss Catherine Crissey
Miss Rosoline Cassidy
Mrs. Teresa Cardone
Mr. Frank Campobasso
Mr. Edward Costello
Mr. Raymond J. Costello
Mr. Nicholas Catanzaro
Miss Teresa Catanzaro
Mr. Geaeroso Carrozza
Mrs. Maria Carrozza
Mrs. Catariua Ceccarelli
Miss Francesca Ceccarelli
Mrs. Teresa Cuomo
Mrs. Assunta Castellano
Miss Teresa Castellano
Mrs. Lucia Crosta
Mr. Louis D'Amanda
Mrs. Charlotte D'Amanda
Miss Ines D'Amanda
Miss Helen D'Amanda
Mr. Giuseppe De Rosa
Mr. Americo Del Rossi
Mr. Nunzio Del Rossi
Mrs. Teresina Del Bove
Mr. Antonio Di Pietro
Mr. Theodore C. Edwards
Mrs. Rhoda I. Edwards
Mr. Ralph Engelsman
Mrs. Maomi Engelsman
Mr. Henry Frost
Mr Costantino Fuschetto
Mister Irene Gallagher
Miss Marc dl Greenhalgh
Mrs. Rose H. Green
Master Robert Green
Mrs. Villoria Guarino
Miss Mary Hyde
Mr. George Hess
Mrs. Emilie Hess
Mrs. Annie Hyde
Sister Catherine Henry
Mr. Salvatore Imbriale
Mr. William Intelman
Mrs. Jennie Intelman
Miss Alberta Intelman
Miss Frimma Intelman
Mrs. Amalia Lentelli
Mr. Jacob Landy
Mrs. Florence Landy
Mr. Nicola Lamanna
Mr. Salvatore Lamanna
Mr. Frederick Lane
Mr. William P. Merrill
Mrs. Clara H. Merrill
Mr. William P. Merrill Jr.
Miss Geneviene Maloney
Mr. Luigi Marigliano
Miss Sarah Mahr
Mr. Joseph Murphy
Mr. Henry J. Mikell
Mrs. Henrietta Mikell
Miss Henrietta Mikell
Rev. Michael Mueller
Mrs. EIizabeth Metcalf
Mr. Pietro Pizzoferrato
Mr. Vito Pascale
Miss Frances Patton
Rev. Gomm. Domenico A. Porfirio
Mrs. Carmela Porfirio
Miss Cariotta Porfirio
Mi- Pasquale Petrone
Miss Gladys Ross
Miss Anita Rathbum
Miss Maria Ricciardi
Miss Yvette Reals
Miss Amelia Rossi
Mr. John Sheenan
Miss Phyllis Smith
Mr. Willard W. Spencer
Margaret E. Spencer
James Silsbee
Mn Noitha Silsbee
Miss Amanda Silsbee
Mr. Charles W. Stevens
Mrs. Marion P. Stevens
Mrs. Dorothy Schewed
Miss Dorothy Schewed
Miss Mabel B. Swerig
Miss Miriam Thomas
Mr. William S. Turner
Mr. Nick Taccone
Mr. Louis Vederman
Mrs. Anna Vederman
Mrs. Raffaele Visaggio
Miss Maude B. Wilson
Mr. Josepn Wintraub
Mrs. Josepn Wintraub
Mr. Orville Watson
Miss Alyne Whalen
Pr David Wilson
Mrs. Jane D. Wilson
Mr. Robert Zanzinger
Mrs. Luigia Zoratti
Master Lorenzino Zoratli
Mrs. Maria Zudan
From Palermo
Mrs. Teresa Ardicio
Miss Rosa Ardicio
Miss Biagia Avola
Mr. Antonino Biondolillo
Mrs. Maria Cardinale
Mrs. Maria Cipriano
Master Antonino Calabro
Miss Maria De Lisi
Miss Serafina De Lisi
Master Salvatore De Lisi
Master Vito De Lisi
Master Francesco De Lisi
Mrs. Serafina De Lisi
Mrs. Carmela De Luca
Mr. Francesco Guastella
Mrs. Giuseppa Gennuso
Mr. Henry Cates Krovol
Mrs. Francesca Lafata
Mr. Vincenzo Liotta
Mrs. Teresa Liotta
Master Salvatore Liotta
Miss Giuslina Lograsso
Miss Rosa Mauro Sarato
Mrs. Francesca Mercurio
Mrs. Leonarda Munisteri
Miss Antonina Ognibene
Mr. Andrea Ognibene
Mr. Michele Palminteri
Mrs. Lucia Palminterl
Mr. Domenico Pepe
Miss Felicia Quadrono
Mr. Salvatore Sanfilippo
Mrs. Caterina Sanfilippo
Master Giuseppe Sanfilippo
Master Ignazio Sanfilippo
Miss Caterina Sanfilippo
Mr. Enrico Scimeec
Mrs. Caterina Scimeca
Miss Maria Scimeca
Miss Florence Sulla
Mrs. Concetta Salvia
Mrs. Francesca Salmè
Mr. Romolo Tersi
Mr. Antonio Vaccaro
Information for Single Class Passengers
Table service in the dining room:
Breakfast . . from 7 to 9.30 am
Second breakfast at 11 am
Tea at 4 pm
Lunch at 6 pm
Room service is limited only to Passengers who have to stay in the room due to illness.
Wine list — The prices of the wines are taken from a special list available to passengers.
Change of room — Any change of room compared to the seat fixed in the passage ticket must be authorized by the Purser on board, who issues a regular receipt of any differences in the price paid on the basis of the established tariffs.
Health service — Passengers have the assistance of the on-board doctor, which is completely free of charge for illnesses contracted on board.
Safety belts and boat mooring - Instructions for the use of life belts and boat mooring are displayed in each room and Passengers are requested to read them.
Valuables — The Company is not liable for thefts if valuables or money are kept in the room. The Purser is required to receive the valuables that the Passengers wish to be locked in his safe. In this case, the values ​​must be delivered closed and sealed, clearly bearing the name of the depositor. Safekeeping is done free of charge and the Company assumes no responsibility in the event of loss or damage, however, it may occur. Passengers can however cover themselves with insurance.
Baggage insurance - Since the Company's liability for baggage is strictly limited, Passengers are strongly advised to insure their baggage, since in the event of loss, the Company cannot, for any reason, accept liability for an amount greater than that specified in the passage ticket. Luggage can be insured by purchasing the relevant policies from the purser.
Baggage - Large baggage due to its size cannot be placed in the room either! aisle, will be deposited in the spacious and comfortable on-board luggage compartment, which Passengers can access from 2 to 6 pm.
Dogs - Dogs are transported at the owner's risk. Big dogs must be handed over to the person in charge, who will keep them in the ship's kennel and take care of their food. In no case will the permanence of dogs in the premises intended for passengers be permitted.
Library - Passengers will find on board a collection of Italian and foreign literary works and musical works, as per the printed lists available to them. The library is open from 9 am to noon and from 3 to 8 pm. Books can be collected for reading by signing the appropriate register. In case of deterioration or non-return, the passenger will have to pay the amount.
Deckchairs - The rental price of chairs is L50, blankets L30 and cushions L15 per journey. At the end of each trip, the blankets and pillows are washed and disinfected.
Barber, ladies' hairdresser, manicurist - A specific tariff regulates the various services.
Tobacco, chocolates, and confectionary - These can be purchased from the first Waiter on the basis of a special rate available to passengers.
Perfumes - They are sold by the barber at the prices established by the fare available to passengers.
Payments - For all payments made by passengers, a receipt on the Company's form must be issued by the Purser or by the person in charge of sales.
Correspondence - Letters and telegrams can be sent to passengers at the Company's address.
For New York, the mailing and parcel address should be as follows:
« Italia-America Shipping Corporation » - 1-5 State Street - New York.
always with an indication of the name of the passenger and the steamer.
For telegrams: « Itarica » - New York.
Information for Passengers Translated from Italian Text by Google Translate.