SS Saturnia Passenger List - 22 July 1949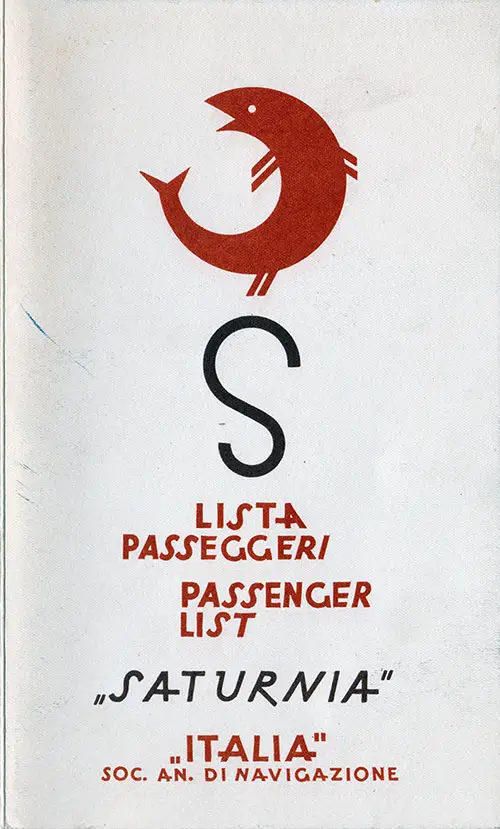 Front Cover of a First Class Passenger List For The SS Saturnia of the Italia Line, Departing 22 July 1949 from Genoa to New York via Naples, Gibraltar, and Azores, Commanded by Captain Gianni Gladioli. GGA Image ID # 1d7ed29a4e
Senior Officers and Staff
Commander Capt. GIANNI GLADIOLI
Staff Captain Capt. Giuseppe Chalvien
Chief Engineer Tullio Antonini
Asst. Chief Engineer Guglielmo Cassutti
Chief Doctor Dr. Giuliano Gasparini
Asst. Chief Doctor Dr. Vittorio Morteani
Chaplain Mons. Prof. Luigi Panigada
Chief Purser Emilio Empoldi
First Purser Felice De Maria
Tourist Officer Bartolomeo Piana
Maitre d' Hotel Umberto Vida
Chef de Cuisine Ricco Torresini
Ports of Call
Genoa 22 July 1949
Naples 23 July 1949
Gibraltar 25 July 1949
Azores 28 July 1949
New York 2 August 1949
First Class Passengers
Genoa to New York
Mr. Avignone Horace
Mrs. Avignone Horace
Mr. Baratta Gustavo
Dr. Barisone Ettore
Mr. Bloomingdale Joseph B.
Mrs. Bloomingdale Lewis Morgan
Mr. Ceppi Mario
Mrs. Chandler Ralph
Mrs. Ciurlo Anita
Mr. Coughlin Henry W.
Mr. Daglio Antonio
Mrs. de Daglio Esther
Mr. Daglio Enrique
Mrs. Eisig Arthur M.
Mr. Fiorelli Settimio
Mrs. Fiorelli Mary
Mr. Fletcher C. Paul
Mrs. Fletcher C. Paul
Mr. Ford Howeth T
Mrs. Ford Howeth T.
Mr. Gaede George C.
Mrs. Gaede George C.
Mrs. Gingrich Arnold
Mr. Gingrich John
Mr. Gingrich Michael
Mr. Johnson Stephen R.
Mrs. Johnson William C.
Mr. Lincoln Donald
Miss Poetzsch Olga F. D.
Mr. Sardi Vincent
Mrs. Sardi Eugenia
Mr. Spada Renato
Miss Sylvester Alice H.
Mr. Thomas Joseph A.
Mrs. Thomas Joseph A.
Mr. Tode Arthur M.
Mrs. Tode Arthur M.
Naples to New York
Mr. A 'vino Vincenzo
Mr. Angel P. Carlos
Mrs. Angel Greiff Margoth
Mr. Barse Dane
Mrs. Barse Josephine
Master Barse Dennis
Mr. Bianchini Gino
Mrs. Bianchini Josephine
Miss Bianchini Isabella
Mrs. Bonomo Janet
Mrs. Camilli Luigia
Miss Cammariere Angela
Mrs. Carotenuto Anna
Mr. Colcher Robert
Miss Colcher Florence E.
Mrs. Consell M. G.
Mr. Converse Frank
Miss Costantino Carmen
Rev. Cotton Francis
Miss D'Amato Rosaria
Mrs. Del Forno V. Antonietta
Mr. De Luca' Ralph
Mr. Denequolo Joseph
Mrs. Denequolo Mattera M. Lucia
Mr. Despradel Roberto
Mrs. Despradel Isabel
Miss Despradel Maria Estella
Miss Famiglietti Golini Maria
Mr. Fermi Oreste
Mrs. Felici Mary
Master Felici John
Rev. Floersh John A.
Col. Giacomelli Mario
Mrs. Giacomelli Margherita
Mr. Giacomelli Carlo
Miss Giacomelli Vera
Mrs. Glosz Rose Marie
Mrs. Golini Filomena
Rev. Gooley Thomas Joseph
Mr. Guarnier Alfred B.
Mrs. Guarnier Marcella
Mr. Lucci Gennaro
Mrs. Lucci Anna M.
Miss Lucci Anna O.
Mr. Lucioni Louis
Mr. Mancini Roberto
Mrs. Mancini Alvino Ermelinda
Miss Mancini Elena
Master Mancini Claudio
Miss Mancini Paola
Mrs. Matthews Constance
Mr. Melissari Enrico
Mrs. Nitti Maria Chiara
Mrs. Parente Pamperia Elisabetta
Mr. Perna Salvatore
Mrs. Perna Jolanda
Mr. Perna Joseph
Master Perna Nicholas
Mr. Piccolino Joseph Fregola
Mrs. Piccolino Grace
Mr. Pirozzi Frank
Mrs. Pirozzi Anna
Mr. Savio Andrea
MTS. Savio Ildegarda
Mr. Suzzi Lorenzo
Mr. Traina Joseph
Mrs. Traina Wanda
Miss Tsao Mariana
Mr. Vicari Pietro
Mrs. Vicari Angelina
Mr. Vitiello Ciro
Rev. Vi€tori Bruno
Mr. Wu John Ching=Hsiung
Mrs. Wu Teresa Li
Mr. Wu Vincent Wen=shiu
Mr. Wu Theodore Tsu=Wang
Master Wu Stephen Chi=Van
Miss Wu Teresa Lan=Sien
Miss Wu Lucy Ling=Hui
Master Wu Jude Shupteh
Mr. Yarrow Morris
Mrs. Yarrow Ellian
Gibraltar to New York
Mr. Fitz Gerald C. C.
Mrs. Fitz Gerald Eugenia S.
Mr. Grissom Robert William
Mrs. Grissom Gene Jacqueline
Miss Grissom Roberta Gene
Mr. Howe James W.
Mr. Runion John Edward
Mrs. Runion Goff Della
Miss Runion Nancy H.