SS Vulcania Passenger List - 14 July 1938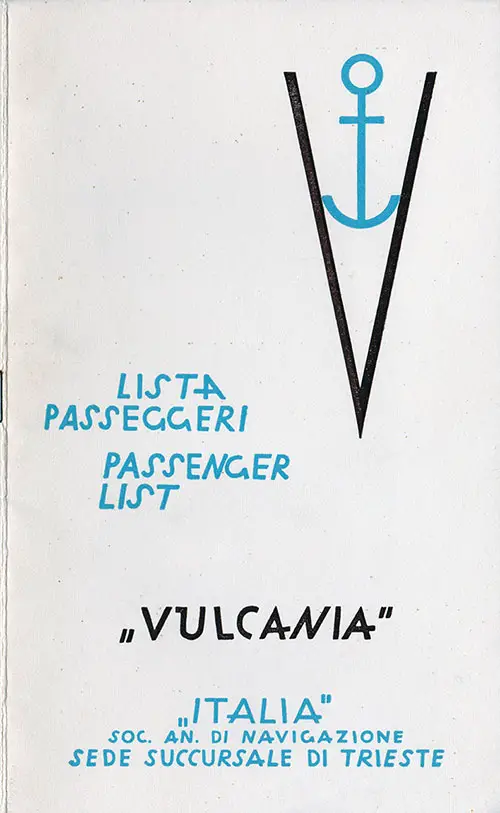 Front Cover of a First Class Passenger List for the SS Vulcania of the Italia Line, Departing 14 July 1938 from Trieste to New York via Dubrovnik, Patra, Naples, Palermo, Algiers, Gibraltar, Lisbon, and Azores, Commanded by Captain William Lazzari, commander.
Itinerary
Travel N. 14 (Round)
Trieste: 14 July1938 = XVI
Dubrovnik: 15 July1938 = XVI
PATRA: 16 July1938 = XVI
Naples: 17 July1938 1938 = XVI
Palermo: 18 July1938 = XVI
Algiers: 19 July1938 = XVI
Gibraltar:20 July1938 = XVI
LISBON: 21 July1938 = XVI
AZORES: 23 July1938 = XVI
New York: 28 July1938 = XVI
Executive Staff Members
Captain: William LAZZARI, commander
Royal Commissioner: Dr. DANTE GAETA
Chief Engineer: Mr. Luigi Bussani
Chief Medical: Dowry PAY, UGO
Portuguese doctor: Dr. PerRY LEITE JOSE ANAHORY
Chief Commissioner: Mr. EMILIO EMPOLDI
Official Tourist: SAVOY Cap MARCELLO
Chaplain: Rev. Comm RIDOLEI Luigi
Master of the Chamber: Joseph ADT
First Class Passengers
-:- -:- A -:- -:-
Mr. Maurice Alce
Mr. Rafael Alunan
Miss Josefa Alunan
-:- -:- B -:- -:-
Miss Emily Ruth Becker
Mr. Henri L. Berger
Mrs. Henri L. Berger
Mrs. Upham Bigelow
Mr. John Brett
Mrs. Tedesco Brett
Mr. William Penn Brockermann Jr.
Mrs. William Penn Brockermann Jr.
-:- -:- C -:- -:-
Mr. Chas. B. Campbell
Mrs. E. S. Campbell
Miss Jean Stewart Campbell
Mrs. Maurie Carver
Gonzaga Marchesa Jocelyn Catalano
Gonzaga Child Marta Catalano
Mrs. Helen C. Chrisantbaki
-:- -:- D -:- -:-
Mr. Edward A. Davies
Mrs. Frances Downing
Mrs. Florence Duffey
-:- -:- E -:- -:-
Dr. Elmer M. K
-:- -:- F -:- -:-
Dr. Constantine Faller
Mrs. Constantine Faller
Mr. Ignafz Fischer
-:- -:- G -:- -:-
Mrs. Miriam Gordon
Miss Kathleen Gordon
Mr. Donald Gordon
Mr. Paolo Grande
Mr. William B. Green
Mrs. William B. Green
Mr. Francisco Jose Guerra
Dr. Charles E. Guthrie
Miss Gale Guthrie
-:- -:- H -:- -:-
Mrs. Mary C. Harden
Sig.ua Lucille Harden
Mrs. Louise G. Hill
-:- -:- K -:- -:-
Mr. Raymund J. Kerner
Mrs. Edward C. Kirk
-:- -:- M -:- -:-
Ing. Giulio Manzi
Mr. Charles Marwedel
Mrs. Charles Marwedel
Dr. Helene D. Mayer
Prof. A. Philip McMahon
Mr. Thomas Monte
Mrs. Thomas Monte
Mr. Robert Monte
Miss May Monte
Mr. George Morgan
Mrs. George Morgan
big. Joseph John Mundet Jr.
-:- -:- N -:- -:-
Mrs. Daphne Munn Nester
-:- -:- P -:- -:-
Mr. Richard A. Parke
Mrs. Richard A. Parke
Dr. Daniel Poll
Mr. Edward Potter
Mrs. Leslie Porter
-:- -:- R -:- -:-
Mrs. E. G. W. Rogers
-:- -:- S -:- -:-
Mr. Heinrich Schweitzer
Mrs. leinrich Schweitzer
Mr. Chas. A. Smith
Mrs. George Edward Smith
Miss Betty Jane Smith
-:- -:- T -:- -:-
Ng. Fred A. Tillman
Mr. E. E. Todd
Miss Lucy Todd
Mr. Pierre Thomaron
Mrs. Aline Thomaron
Mrs. Kathleen Trinchieri
Child Carolita Trinchieri
Baby Paolo Trinchieri
-:- -:- V -:- -:-
Dr. Robert Vincent
Mrs. Denise Vincent
Mr. Warren R. Voorhis
Agencies In Ports Of Call
Trieste: Italia S. A. N., Palazzo del Lloyd
Ragusa: Italia S. A. N
Patrasso s Morphy & Son - Crowe & Stewens
Napoli: Italia S. A N., Piazza Bovio 22
Palermo: Italia S. A. N., Piazza Marina, 87
Algeria: La Mercantile, Boulevard Carnot 19
Gibilterra : John Carrara & Sons, 6o Main Str
Lisbona: E. Pinto Basto & Cia. Lda., Avenida 24 de Julho
P.fa Delgada: Bensaude & Co. Ltd , S. Michael's (Azzorre)
New York: Italian Line, Palazzo d' Italia 624, Fifth Ave